« First-World Problems...
|
Main
|
Gun Thread: 12.5% More Tingly Edition! »
October 09, 2022
Food Thread: Roast Chicken And Peanut Butter Pie? Just Put Some Onion Jam On Them!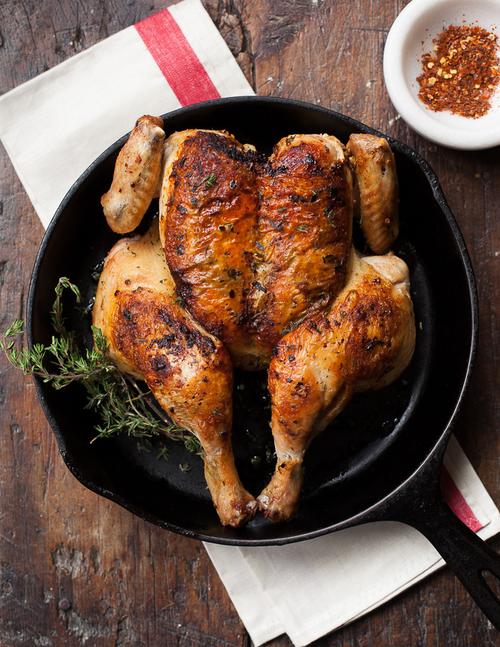 I usually roast chicken on the grill, because...well...it's grilling! And I am an American. But last week it was rainy as hell and I had no burning desire to get soaked while tending to dinner, so my lovingly spatchcocked chicken got treated to some good old cast-iron cooking.
Nothing complicated, but I have discovered that careful attention to temperature is particularly important with chicken, mostly because even when spatchcocked there are significant variations in thickness that easily translate to underdone or overdone if cooked at the wrong temperature.
Which is what I did. I perused the internet and found an interesting recipe, and didn't have the brains to follow it. I did follow the tons of butter and garlic and lemon part, but I added fresh thyme and subtracted 50 degrees from the cooking temperature, because "I AM DILDO! HEAR ME ROAR!"
I am a big fan of gentle cooking for chicken, and I thought that 425 degrees was just too hot, especially in cast-iron with its wonderful heat retention properties.
And I was wrong! But I also checked the temperature with a probe, and when I thought it was done the probe disagreed, and who am I to argue with technology. Luckily I had plenty of time, and realized what I had done wrong, so another 20 minutes in the oven with the temperature set to 425 degrees fixed what ailed Mr. Chicken.
It was delicious! And next time I will try the correct temperature, or more likely I will cook it at my preferred temp and just expect a much longer cooking time.
And that's what makes cooking fun...screwing around and trying new things, knowing that they might not turn out perfectly at first.

******
We are a litigious society, and while tort law is an important part of a free market, so should be judges who look at idiots like Philip White (no surprise...he's from Lose Angeles) and say, "Sit the fvck down and shut the fvck up."
Texas Pete hot sauce facing lawsuit because it's made in North Carolina, not Texas

But Texas Pete addresses this question upfront and does not shy away from its Carolina roots.

"'So how is it that a tasty red pepper sauce made in North Carolina happens to be named 'Texas Pete' anyway?'" the site says on its history page.

The brand's answer cites "legend." According to Texas Pete, Sam Garner and his sons, Thad, Ralph and Harold, were trying to come up with a name for their hot sauce when they turned to their marketing advisor. The advisor recommended "'Mexican Joe' to connote the piquant flavor reminiscent of the favorite food of our neighbors to the south.

"'Nope!' said the patriarch of the Garner family. 'It's got to have an American name!' Sam suggested they move across the border to Texas, which also had a reputation for spicy cuisine. Then he glanced at son Harold whose, nickname was 'Pete' and the Texas Pete cowboy was born."
This is idiocy on a grand scale, and we have more important things to worry about in America than this sort of stuff. Does this mean that every place that advertises "New York Bagels," or "Texas Barbecue," or "Chicago Deep-Dish Pizza," will be sued by some knuckle-dragging, booger-eating loser?
Probably.

******
This looks pretty damned delicious. I especially like the different textures of the light mousse and the much more dense fudge base.
Black-Bottom Peanut Butter Pie
is also pretty easy to make; there is nothing complicated or difficult, aside from the graham cracker crust. I always have a difficult time putting it into the pie dish evenly.
Yeah...I suck at that sort of stuff.

******
From commenter "Rhomboid" comes a really nice and simple recipe for onion jam, which goes perfectly with burgers. Or on top of some fried eggs. Or plain. Or on grilled chicken.
Yes, there is a theme...I like onion jams!

Red Onion Jam
[Recipe courtesy of chef Michael Lomonaco, of Porter House New York]



1/4 cup olive oil

4 red onions, peeled, cut in half from top to bottom and thinly sliced

3/4 cup granulated sugar

1/2 cup balsamic vinegar

1/2 cup dry red wine, preferably Syrah

Kosher salt to taste

Pour 1/4 cup olive oil into a skillet over medium-low heat, add the onions, and cook until they begin to wilt and sweat, taking care not to burn them.
Cook for eight minutes over low heat before adding the sugar.
Continue to cook for several minutes more, stirring occasionally.
Stir in the vinegar and wine and bring to a simmer, cooking until the liquid has evaporated and the onions are caramelized, approximately 10 minutes.
Season with salt and keep warm until ready to serve.
The technique is similar to one that I have used for years, so it is definitely Dildo-Approved!
******
There was a discussion about canning last week on the Food Thread, and commenter "Miley" sent along some photos and notes about her canning adventures. It may seem intimidating, but the outlay is minimal and as long as you adhere to the rules...without any deviation...the food is perfectly safe.
Yes we can!

Through canning, we can extend our garden harvest through the winter months and into the next harvest. It's a major part of prepping and one of the best ways to achieve a degree of independence from the vicissitudes of food supply chains.

A family friend gave us a pressure canner a few years ago, and this summer we finally decided to start using it. Publius' mother had tons of Mason jars stashed away in cabinets and closets. Some are over 100 years old, and were used by his grandmother.

Those of you familiar with the process might want to take a closer look at the prices on these canning lids: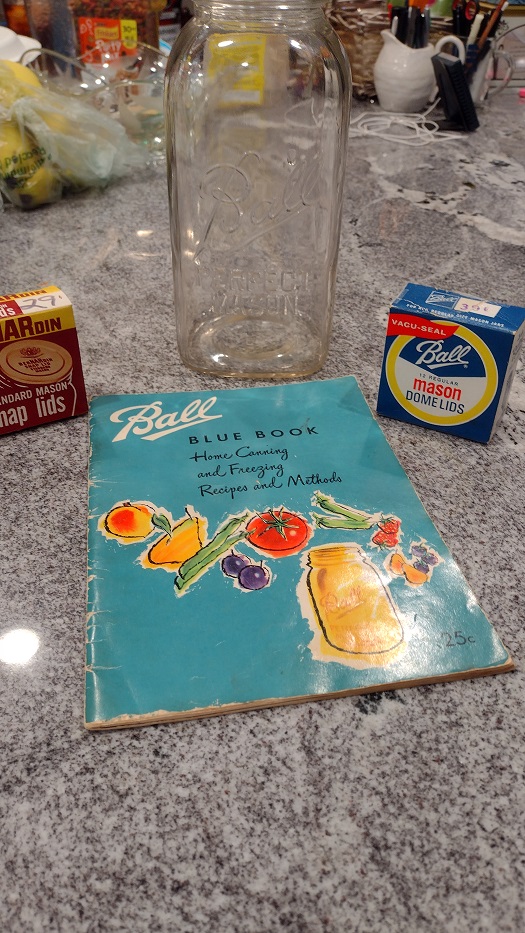 We've canned peaches, tomatoes, okra, okra with tomatoes, green beans, dill pickles, bread and butter pickles, pineapple zucchini, pickled okra, marinara sauce and tomato jam. I watched hours of canning videos on YouTube, and we've recently started canning chicken with vegetables and beef stew. We have so much fun doing this together!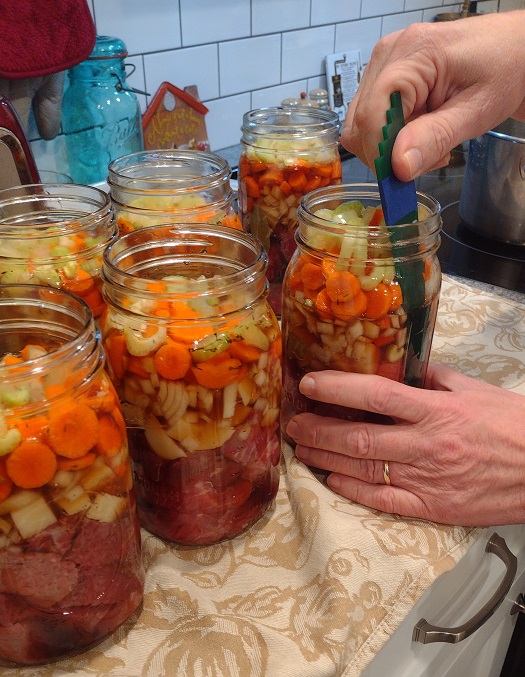 We've canned peaches, tomatoes, okra, okra with tomatoes, green beans, dill pickles, bread and butter pickles, pineapple zucchini, pickled okra, marinara sauce and tomato jam. I watched hours of canning videos on YouTube, and we've recently started canning chicken with vegetables and beef stew. We have so much fun doing this together!

Here's Publius debubbling beef stew (you need to get rid of the bubbles to achieve the correct amount of liquid for 1" of headspace in this process). There are many details in the canning process that must be adhered to for safe canning, but it isn't rocket science - it's thermodynamics.

Next we'll try canning bacon.

Italian homemade sun dried tomatoes

You can also ferment, dehydrate and freeze dry food. Many are talking about a food "situation" to come, and I for one want to be inconvenienced as little as possible!

So what are YOU canning and preserving? Be the ant, not the grasshopper! Youtube is full of informational videos, so you have no excuse.

******
Last week I mentioned what I serve on Passover instead of Gefilte Fish. Commenter "Additional Blond Agent, STEM Guy" asked for the recipe, so here goes! This is the basic recipe, but treat it more as an advisory than a true recipe...I change it every year!

Smoked Salmon With Crème Fraîche

•One pound Nova Salmon (or any good lox/smoked salmon)
•¼ cup finely Minced Shallot
•½ cup Crème Fraîche
•1 ounce Extra Virgin Olive Oil
•Freshly Ground Black Pepper and Salt to taste
•Fresh Dill or Chives for garnish

Separate slices of salmon and chop into ½"x½" pieces, then toss with olive oil and shallots so that the pieces are separate.
Whip the Crème Fraîche with a whisk until smooth and thin. If necessary add a splash of heavy cream or half & half to thin.
Add to salmon and toss gently until coated, adding pepper to taste. Depending on how salty the salmon is the dish might need a bit of salt. But taste first!
Garnish with fresh dill or chives and serve on toasted rounds.
[For Passover I serve this with homemade corn tortilla chips]
******
This guy makes a delicious-looking burger, but damn...he talks...a lot. Too much. Way too much. Please shut up!
[Hat Tip: Misanthropic Humanitarian]
******
Just send me steamers. Lots of steamers, and I will provide special dispensation for those without taste who insist upon maple syrup with their French Toast. And pork rib roasts from the front end of the pig where all the good and fatty meat lives, carrots that don't taste like stalky chalk, spare bottles of Van Winkle Special Reserve 12 Year Old Bourbon, an herb garden that actually produces herbs (but no basil!), well-marbled NY strip steaks and elk backstrap to:
cbd dot aoshq at gmail dot com.
And don't think that the rest of you are off the hook with maple syrup and French Toast: I'm still watching you! And I am watching you perverts who shake Manhattans and keeping a list for the Burning Times.

posted by CBD at
04:00 PM
|
Access Comments