« Daily Tech News 4 October 2022
|
Main
|
Mid-Morning Art Thread »
October 04, 2022
The Morning Report — 10/4/22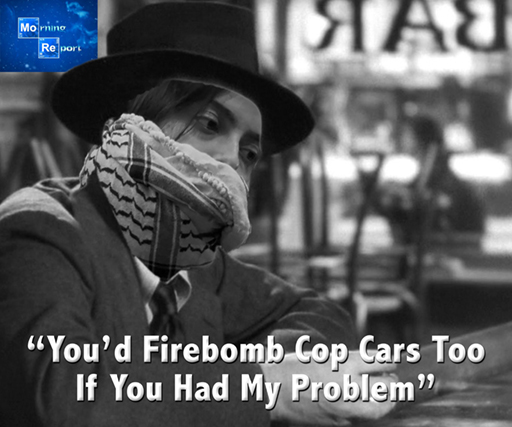 Good morning kids. Tuesday and, SURPRISE! It's October surprise time! With five weeks to go until the midterms, and Herschel Walker by all indications in prime position to beat the wife-beating Warlock Warnock by, at a minimum, enough of a clear margin to beat the cheat if not deliver an ass-kicking, someone comes out of the woodwork to slime him, claiming that Walker, who is ostensibly pro-life, paid for some random dame to have an abortion way back when.
Let me state four things categorically and for the record:
ONE, this is no doubt a ham-fisted, pathetic, bullshit claim that reeks to high Heaven of desperation. If it were true, it would have come out ages ago, probably in the immediate wake of the Dobbs decision that effectively overturned Roe v. Wade. The fact that it didn't, and the fact that every Democrat that is facing disaster or has what was considered a safe seat actually in play for our side, is now running on this issue shows how absolutely bereft they are of a real record, let alone sane policies, to run on. The ruination of our economy and society does not make for a winning platform, especially in the wake of the ruination.
TWO, abortion is now clearly not a winning issue for Democrats with a majority of the American electorate. The latter, to greater or lesser extents is unambiguously in favor of at a minimum some restrictions on pre-natal infanticide, not to mention post-natal infanticide.
THREE: Mehmet Oz, despite his baggage of being a dual citizen as well as an Oprah taint is minimally within striking distance of "Lumpy" Fetterman and quite possibly positioned to pull off a win, so it's kind of shocking that Lumpy's subcutaneous satellite that's marginally smaller than the Death Star has yet to step forward and announce having its exhaust port penetrated by Oz's Turkish delight against its will a long time ago in a galaxy far, far away.
As for Ron Johnson, I don't think Mandela Barnes (a warmed over Huey Newton retread without the leather jacket and beret), even in a state whose capital was and remains an epicenter of the "progressive" cancer that has laid us low, has a shot. Of course, considering what happened in 2020 especially in PA, GA and WI, I'm not going to say a freaking thing more until every last vote from every last '76 Buick LeSabre trunk is counted — a process that takes months — and our team remains on top.
It is hateful to me beyond my capacity to express it to even have to acknowledge that the caveat of having enough votes to beat the cheat is something that just comes with the territory and business as usual in the United States of America. Then again, this is no longer the United States of America and so many other things are so equally hateful that it's a miracle my head has yet to explode. Or that I haven't been arrested for acting upon some of the thoughts that go through my head every friggin' evening and morning as I ponder the headlines.
Finally, number FOUR: Assuming for just a nano-second that there is even a scintilla of truth to the accusation against Walker — hell, even assuming it's 100% true . . .
I. DO. NOT. GIVE. A. FLYING. FUCK.
Even if it were proven that Walker or any candidate, especially one that is not just a GOPe phony "con"-federate, did something even worse than that, all of us as American-Americans now face an existential threat to our personal liberty and safety so dangerous and so direct that any skeleton from said candidate's past would be an irrelevancy.
Psaki-psircling back to the pondering of headlines and other dystopian American scenarios, here are a couple that should make the blood get up to a slow simmer. First, Veep Throat Kamala Harris, whose sole political talent lies in having ingested a supertanker-sized quantity of semen faster than a KC-135 can pump it into the mains of a B-52, might be preternaturally a glittering jewel of vapidity, but she's not stupid. She's an ugly, in your face racist:
"I know we are all thinking about the families in Florida and Puerto Rico with [Hurricane] Fiona and what we need to do to help them in terms of an immediate response and aid," Vice President Harris said at the Democratic National Committee's Women's Leadership Forum on September 30th. "We have to address this in a way that is about giving resources based on equity, understanding that we fight for equality, but we also need to fight for equity. Understanding not everyone starts out at the same place, and if we want people to be in an equal place, sometimes we have to take into account those disparities."

Sadanand Dhume, a senior fellow at the American Enterprise Institute, delivered this derisive retort: "If a hurricane hits a state, we should expect the government to help all those affected: black, brown white, purple, green. And there's no such thing as 'communities of color.' Real people don't talk like this."

The Biden [junta] talks just like this. Indeed, [alleged] Vice President Harris' referral to "equity" as the guiding policy directing hurricane relief assistance follows President Biden's Executive Order 13985 that he issued on his first day in office, entitled "Advancing Racial Equity and Support for Underserved Communities Through the Federal Government."

In keeping with this executive order, the first stated goal of the Biden [junta's] Federal Emergency Management Agency (FEMA), which is supposed to dispense federal aid equally to anyone in need because of a natural disaster, is all about instilling equity as its foundation. This requires, according to FEMA's website, concentrating on "underserved communities" and "specific identity groups."

In short, the Biden [junta's] concept of "equity" means giving priority to people collectively based on group identity over individuals who are in desperate need of assistance but have the wrong skin color or are considered too rich.
Aside from the racialism aspect, which is horrendous enough, remember that Florida and its governor are the political nemeses of the Junta. And since the citizenry of that state voted against them by voting DeSantis and Republicans in, they are, in the Junta's eyes worthy of pain, suffering and death. The calculus is also to try and make Florida's non-white citizens equate the suffering in the wake of a hurricane as that of intentional racist policies direct from DeSantis' desk in Tallahassee. Fortunately, I have seen anecdotal stories of black and Latino Floridians rejecting that narrative.
No surprise that mop-top Malveaux-munching mouthpiece Karine Jean-Pierre had to walk Harris' statement back:


"That is not what the vice president said," Jean-Pierre said. "The vice president was clearly talking about long-term investment, not FEMA [Federal Emergency Management Aid] for hurricane response efforts. The vice president and the president have been clear that the federal government has been and will continue to be there for all Americans recovering from these devastating storms as we're seeing the president and first lady do today and will see them do clearly in Florida on Wednesday."

"We are committed to quickly getting resources to all communities impacted, period," she continued. "Full stop. But we also note that some people, particularly of lower income, have a hard time accessing that help. That's why this administration has also made it a priority to remove barriers and ensure that everyone, regardless of their zip code, and that's what she was talking about."
Aside from the laughable attempt to insist Harris didn't say what she said, notice what Jean-Pierre did say emphasis mine, which translates directly from Jive as "America is an irredeemably racist, white supremacist nation, and Florida is the epicenter of it." Some "walk-back." I speak Jive, and I will make my certification from Ibram X. Krement available later.
Meanwhile, in another part of the forest, Robert Spencer reports a tale of woe about a true "freedom fighter":


Urooj Rahman is an attorney, not a bartender, but she knows her cocktails. She tossed a Molotov cocktail at an NYPD cruiser during the 2020 George Floyd riots in New York City. But now, in asking for a light sentence, she is serving up a different cocktail: vodka with a dash of Islamophobia. And really, it's the Islamophobia that gives it its flavor.

According to court filings, Rahman is asking for a light sentence because, she says, she was very drunk on vodka on the night that she firebombed the police car, and making matters even worse, she is dealing with all kinds of "unprocessed trauma." A good deal of it, her attorneys claim, stems from being taunted as a Muslim after 9/11. Vodka-and-Islamophobia is not as popular as vodka-and-tonic, but you never know, it might catch on.

Rahman's lawyers say she was "numb, disassociated, and inebriated" back in May 2020 when she was spotted in the front passenger seat of her friend and getaway driver Colinford Mattis' SUV, holding a Palestinian scarf over her face with one hand and a Molotov cocktail in the other. Soon after that, she threw the firebomb into a New York City police car, but don't you see, it was all about racism: "Tossing the Molotov cocktail was a way of expressing anger at those police officers around the country for whom Black lives did not matter," her attorneys claim. "It was an act of protest intended to avoid exposing others to harm."

How someone can throw a bottle filled with gasoline and topped with a burning rag into someone else's car and then claim it was done in order to "avoid exposing others to harm" is beyond me, but then again, I haven't suffered the way Urooj Rahman has. The court filing claims that "at 11, when the World Trade Center was attacked, Urooj experienced the harassment that was all too common for Muslims living in the city. She was called names ('ugly Indian,' 'hairy monkey") and begged her mother not to wear her hijab on the street." A clinical psychologist and "leading expert on trauma," Dr. Leslie Lebowitz, claims that this "compendium of adversity" left the young adult Urooj Rahman "without the ability to adequately manage and regulate her feelings" as well as "subject to incapacitating depression, panic and uncontrollable obsessional thinking. . ."

. . . But don't you see? Rahman was teased as a child. Probably every eleven-year-old on the planet can say much the same thing, and few have thrown Molotov cocktails into police cars. But since Rahman's was taunted in an "Islamophobic" manner, and had some rough relationships on top of that (another thing that can be said about millions, if not billions, of people), we are supposed to believe that her suffering was so acute, so unique, that she deserves to suffer no penalty for her crime.

And above all, "Rahman's attorneys also say their client's 'commitment to social justice' should earn her a more lenient sentence." Ah, yes, of course! She's a good Leftist! Let her go! She was working on the side of the angels, and is a victim of "Islamophobia"! It's an absurd defense, but it's a canny one: In today's overheated political climate, if she gets the right (that is, the Left) judge, Urooj Rahman's new cocktail will work just fine, and she will be out on the streets and back working for "social justice" in no time.
Lastly, the thug terrorist who mowed down predominantly white people at a Waukesha Christmas parade is "represent'n" himself in court.

Despite having a fool for a client, how much you want to bet that he gets off with at most a wrist-slap? Ditto for the Molotov cocktail throwers.
Like I said, this is America 2022 and junta enforcers getting away with political terrorism is just like overcoming the steal: business as usual.
ABOVE THE FOLD, BREAKING, NOTEWORTHY
"In 2024, might Kamala Harris do what Mike Pence did not?"
Look Who's Counting

Lloyd Billingsley: "Politically 'sensitive' information on Joe and Hunter Biden remains off-limits to the public."
The Biden Papers

Batya Ungar-Sargon: "Tarring people as racist or immoral for not wanting their jobs to be taken by people who crossed the border illegally is truly despicable, the furthest thing from moral you can imagine. It's to demand that people endorse their own economic abandonment, while you welcome the needy of other countries."
Malig-Nancy Pelosi's "Pick Crops" Line Shows How Democrats Betrayed the Working Class
CIVIL WAR 2.0: J-6 FBI FALSE FLAG "RIOT" & AFTERMATH, LEFTIST PERSECUTIONS, DEMOCRAT PUTSCH, AMERICAN DISSOLUTION
NOTE: The opinions expressed in the links may or may not reflect my own. I include them because of their relevance to the discussion of a particular issue.
ALSO: The Morning Report is cross-posted at CutJibNewsletter.com if you want to continue the conversation all day.
Follow us on Twitter: @CutJibNews
Follow us on Instagram: @Cutjibnewsletter

posted by J.J. Sefton at
07:44 AM
|
Access Comments