« Saturday Morning Coffee Break & Prayer Revival
|
Main
|
Saturday Gardening, Puttering and Adventure Thread, October 1 »
October 01, 2022
Thread before the Gardening Thread, October 1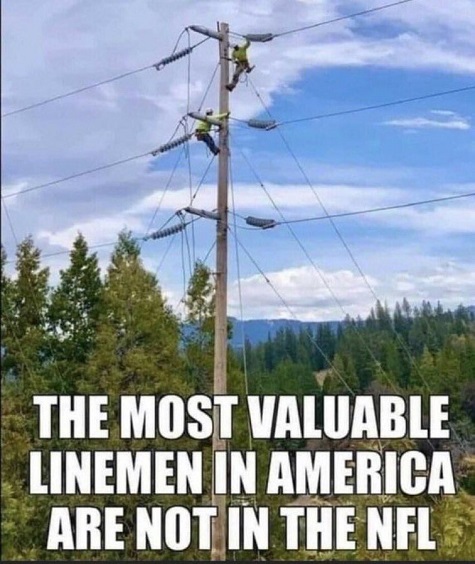 Hurricanes and Energy
Hope everyone made it through the hurricane okay. What a HUGE storm. And it's not over yet. Please check in if you are in the storm's path and you have the means to communicate with us.
*
My niece's husband evacuated his wife and baby and several vehicles before a relatively recent hurricane a little further up the east coast from Florida. Not as big as this one. Before returning home, he bought chain saws and tools to share with friends and a generator. He and a buddy took a truck and small trailer, tools, generator and fuel to a hard hit area to help with recovery.
Could he have done this with an electric vehicle, or did he need another source of energy in addition to electricity?
*
*
What to do if you're without power for days
Power outages bring with them a slew of questions: How can I charge my phone? Can I save the food in my refrigerator? How can I make my home's inside temperature more comfortable?

If the power goes out, turn off and unplug all unnecessary electrical equipment, including sensitive electronics and turn off and disconnect any appliances (like stoves), equipment or electronics you were using. When power comes back on, surges or spikes can damage equipment. But leave at least one light turned on so you'll know when the power comes back on.
Lots of ideas at the link. Not vouching for all of them. Got other suggestions?
*
Is it safe to drive a car that has been submerged in floodwater?
What to do if your car is submerged in floodwater.
*
Okay. What about after a flood? Beware of flooded cars finding their way onto the market far from the hurricane zone.
*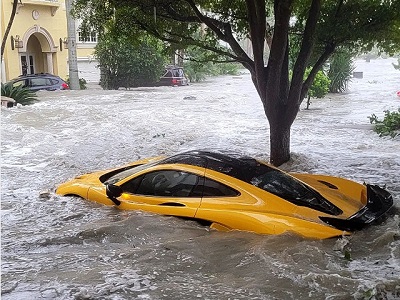 I had a car once that had floodwater reach into the undercarriage. That was bad enough. Had to leave it parked for a while and get some help. It recovered, though.
*
Electric vehicles apparently do not pose extra risks in floods.
* * * * *
So, does that mean lithium batteries are "THE ANSWER"?
Deaths from individual vehicle batteries, more big fires, etc. documented in the thread.
*
Rep. Massie tears apart Mayor Pete's argument that electric vehicles would save Americans money. Fun to watch.
*
"Green" and "sustainable" is poisoning the earth.
By 2030, the United States is expected to see as much as one million total tons of solar panel waste. By 2050, the United States is expected to have the second largest number of end-of-life panels in the world, with as many as an estimated 10 million total tons of panels. What is going to happen to all that waste, much of it toxic?

Wind turbines typically contain more than 8,000 different components. One such component are magnets made from neodymium and dysprosium; rare earth minerals mined almost exclusively in China. Extracting REs is an energy intensive and heavily polluting process, which makes a mockery of "clean energy" all by itself.

In 2020 it was estimated that a 11- to 26-fold expansion of RE supply is needed for meeting global wind-power targets. Mining one ton of rare earth minerals produces about one ton of radioactive waste, according to the Institute for the Analysis of Global Security. According to the Chinese Society for Rare Earths, "one ton of calcined rare earth ore generates 9,600 to 12,000 cubic meters (339,021 to 423,776 cubic feet) of waste gas containing dust concentrate, hydrofluoric acid, sulfur dioxide, and sulfuric acid, [and] approximately 75 cubic meters (2,649 cubic feet) of acidic wastewater."
* * * * *
Kamala Harris sows division among hurricane victims
The Redheaded libertarian brings the fire:
It's incredible to me that Kamala Harris went on national television and said federal aid will be given out racially when some Floridians of all backgrounds have just lost everything

It's beyond adding insult to injury. She used her status & flexed her power to revictimize them.

Federal aid is NOT being given out "equitably". That was another lie out of this establishment who dangles money in front of voter blocs like heroin.
Others continue in the thread.
* * * * *
Weekend Stuff
So, do you have something something you've accomplished recently you could tell us about?
* * * * *
Music
Note to Buck Throckmorton: An upright bass is often called a double bass. Here's some double bass. And trombone. It has to be good. Right?
* * * * *
Hope you have something nice, or meaningful, planned for this weekend. If you are in the hurricane zone, stay safe.
This is the Thread before the Gardening Thread.
Serving your mid-day open thread needs
* * * * *
Last week's thread, Thread before the Gardening Thread, September 24
Comments are closed so you won't ban yourself by trying to comment on a week-old thread. But don't try it anyway.

posted by K.T. at
11:01 AM
|
Access Comments