« The Morning Rant: Minimalist Edition
|
Main
|
41-Year-Old Man Deliberately Runs Down and Murders 18-Year-Old Teen Because He Didn't Like His Political Opinions, Called Him a "Republican Extremist" Like He Heard Biden Call His Political Enemies »
September 20, 2022
Air DeathSantis Has a Flight Today, Direct From Miami to Joe Biden's Beach House in Delaware
Air DeathSantis: Bringing Diversity to those who say they want it, but strangely, can never seem to find it.
Florida Gov. Ron DeSantis' plane he used to send 50 migrants to affluent Martha's Vineyard is on the move again -- heading for President Biden's Rehoboth home in Delaware.

DeSantis last week sparked a spectacular escalation in the ongoing immigration war between the Republican GOP's in charge of the border states and Democrat officials in so-called 'sanctuary cities'.

It now appears that he is sending the Ultimate Air Shuttle to Georgetown, which will touch down at around 1.30pm.
Oooh.
...

Lt. Gov Jeanette Nunez declared over the weekend that DeSantis' administration is planning to send any illegal migrants from Florida to Delaware.
So what? You're a sanctuary state. You promised you would keep any illegals who come.
DeSantis has accused critics of his move to fly migrants to Martha's Vineyard of 'virtue signaling', saying their concern for the welfare of the migrants was a 'fraud'.

He said: 'The minute even a small fraction of what those border towns deal with every day is brought to their front door, they go berserk, and they're so upset that this is happening.'
Meanwhile, the Democrats -- who fund lawyers who tell illegals how to lie to get amnesty -- have now hired lawyers for some of illegal aliens and told them to lie about being tricked and manipulated by DeathSantis.
Lawyers for 30 of the Venezuelan Migrants flown to the affluent island last night called for a criminal probe into DeSantis, accusing him of 'falsely promising them jobs and immigration help.'
Um, he said he was sending them to self-declared 'sanctuary' jurisdictions that promised they would not deport illegals. The fact that you motherf***ers actually hate Brown People and call the military to remove them when they come isn't his lie, it's yours.
Remember, it's DeathSantis, Ducey, and Abbott who are using the illegals as "political pawns," though.
Update: @BigJuicyBooty wants some attention: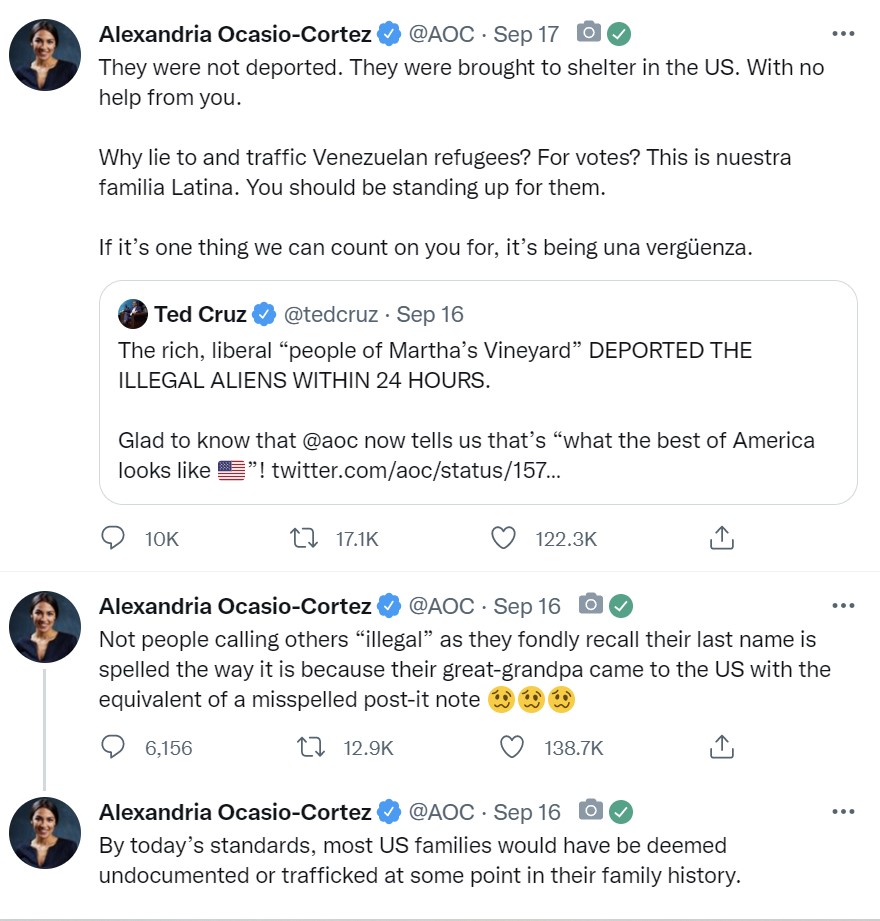 This is a different one. I mean, I linked it before. But it's not the one I linked yesterday.

posted by Ace at
12:00 PM
|
Access Comments