« Mid-Morning Art Thread
|
Main
|
Queen Elizabeth Laid to Rest »
September 19, 2022
THE MORNING RANT: How Can Higher Interest Rates Tame Inflation If Congress Keeps Its Foot on the Deficit Spending Gas Pedal?
Congress and the White House have put us into this inflationary nightmare with massive spending bill after massive spending bill. Of course, this being America in the 21st Century, we no longer expect elected officials to take actions to get us out of this mess. Everyone understands, for some inexplicable reason, that only unelected bureaucrats can make the decisions and take the actions necessary to fix the mess. Thus, our political class expects the Federal Reserve to save this country from an economic collapse.
It's interesting to hear Bill Clinton's former Treasury Secretary, Lawrence Summers, feeling liberated enough to confirm that there is a serious inflation problem. Most Democrats refuse to do so, lest it affect future opportunities for them to enrich themselves in government service.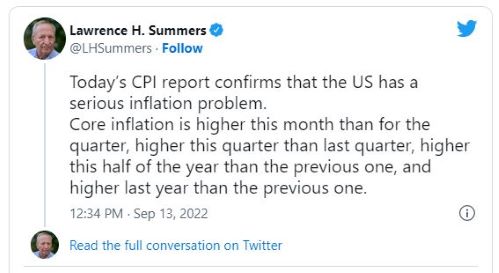 That's all well and good, so what does Mr. Summers propose?
Larry Summers: Fed should impose 1 percent rate hike amid 'serious inflation problem' [NY Post – 9/14/2022]
Ex-Treasury Secretary Larry Summers suggested the Federal Reserve should consider a full-percentage-point rate hike after August's inflation report came in worse than expected on Tuesday.

The August Consumer Price Index showed an 8.3% spike for headline inflation and a 6.3% surge for core inflation, which excludes food and energy prices. Both numbers came in higher than expected, stoking fears that inflation is persistent despite the Fed's policy-tightening efforts to date.
"…despite the Fed's policy-tightening efforts to date."
Hmmm. It's almost as if the Federal reserve cannot tame inflation all by itself. Expecting higher interest rates alone to cure inflation when Congress won't quit its reckless spending is like arguing that the Titanic could have been saved by bigger bilge pumps.
Even more insulting is that Congress had the audacity to name its most recent omnibus, budget-busting, spend-a-palooza the "Inflation Reduction Act." It includes half a trillion dollars in new deficit spending.
The Fed can keep raising interest rates, but so long as the appropriations branch of government (Congress) believes that money is created by Congressional legislation, there is no level of interest rate hikes that will cure inflation.
By the way, do you remember all those Republican "budget hawks" like Paul Ryan? Surely they are critical of this federal spending spree, and condemning all the trillion-dollar spending bills over the past couple of years, right?
Of course not. I can do an internet search and find plenty of instances where Ryan is badmouthing Trump and campaigning against "Trumpists," but for some peculiar reason he seems to be giving Biden and the congressional Democrats a pass on all their spending.
But guess what he is still droning on about? Entitlements. (e.g. Social Security.)
Paul Ryan reveals why entitlement programs need reform [Fox Business – 7/06/2022]
The approximately $7 trillion of additional debt added since the Covid hysteria began is not due to increases to your grandmother's monthly Social Security payment. But Ryan only wants to talk about cutting Social Security.
"Budget Hawks" like Ryan caused so much damage to this country because they are false-flag economic conservatives who are really big-government, big-spending liberals. They wouldn't take action to cut spending on liberal programs and agencies, because it was allegedly always too little to matter. Likewise, they didn't stop spending increases on liberal programs either, because again, too little to matter.
Other than conservative spending priorities, such as the border wall, budget hawks never seemed to oppose any spending increases. But by focusing on "entitlements" which would never be cut, they could pretend they were fiscally responsible while at the same time spending this country into the crisis that we're in.
(By the way, I am not stating that entitlements don't need to be reformed. I will state, however, that entitlements will never be cut so long as other wasteful spending persists. No one is going to sit still for grandma's social security to be cut while at the same time tens of billions of US tax dollars are being laundered through Ukraine, and while graduate students are having their student loans forgiven.)
*****
The Inflation Perpetuation Act would not have passed if "moderate" Democrat Joe Manchin of West Virginia hadn't betrayed his constituents and voted for that atrocity. Even worse, the deficit spending in the act funds all sorts of green initiatives that are designed to harm conventional US energy production.
In exchange, Manchin received a couple of phony promises about getting the permanent environmental bureaucracy to allow some energy permitting processes to proceed in West Virginia.
Guess what! The Democrat leadership lied to Manchin. His vote to betray his constituents had barely cooled before Democrat rank and file demanded that the promises to Manchin be broken.
Democrats Give Pelosi an Ultimatum: Turn on Manchin or Shut Down Government [Newsweek – 9/01/2022]
Dozens of U.S. House Democrats are calling on party leadership to renege on a deal made with U.S. Senator Joe Manchin to revise environmental permitting requirements for energy projects in return for his votes on key pieces of the Democrats' climate and tax agenda passed over the summer.
So, Joe Manchin is now a complete and total pariah. He's under attack by his fellow Democrats in Congress who used him and are now ready to dispose of him. And he's also now loathed by West Virginians for betraying them and aiding in the Greens' efforts to destroy his state's coal and natural gas industry.
Manchin will be up for re-election in 2024, at which time West Virginians will have the opportunity to replace him with a real conservative who will not betray them…
…unless the Republican establishment rides to his rescue.

You have got to be kidding me. No, Newt, what conservatives in West Virginia don't need is a semi-socialist, green-energy advocate representing them in the Senate, whether he has an "R" or a "D" by his name.
Getting big-government, eco-leftists to change their party affiliation is not a political victory, especially in a deep-red state like West Virginia. Replacing big-government leftists with freedom-lovers who will protect America from the climate cult is the political victory that is attainable here.
*****
Songs of the Season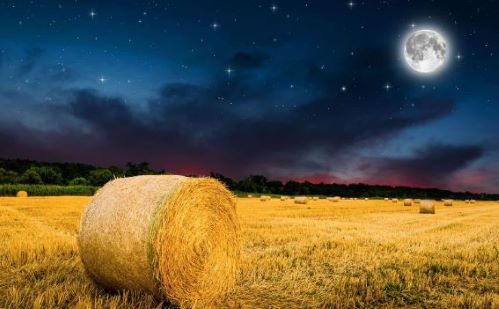 Several of you mentioned this as an appropriate seasonal song. Much obliged. Have a great week!
"Shine on Harvest Moon" – Leon Redbone
(buck.throckmorton at protonmail dot com)


posted by Buck Throckmorton at
11:00 AM
|
Access Comments