« Daily Tech News 25 September 2022
|
Main
|
The FBI Is A Tool Of Political Repression...There Can Be No Doubt »
September 25, 2022
Sunday Morning Book Thread - 09-25-2022 ["Perfessor" Squirrel]

++++++++++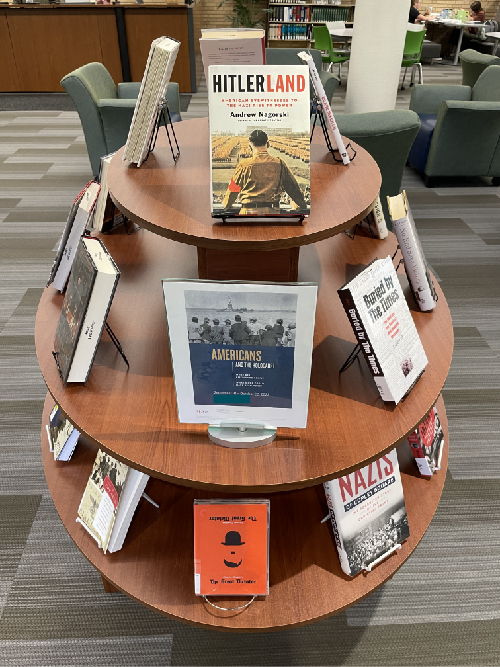 Welcome to the prestigious, internationally acclaimed, stately, and illustrious Sunday Morning Book Thread! The place where all readers are welcome, regardless of whatever
guilty pleasure we feel like reading (I bought this solely for the cover--but thoroughly enjoyed the story!). Here is where we can discuss, argue, bicker, quibble, consider, debate, confabulate, converse, and jaw about our latest fancy in reading material, even if it's nothing more than a history of Nazi atrocities. As always, pants are required, especially if you are wearing
these pants...(inspired by one of today's Moron Recommendations)
So relax, find yourself a warm kitty (or warm puppy--I won't judge) to curl up in your lap, warm up some leftover banana bread, and crack open a new book. What are YOU reading this fine morning?
PIC NOTE
Libraries are not just about books. The library in which I work (but do not work for) is hosting a traveling exhibit from the U.S. Holocaust Museum over the next few weeks. We had an opening reception for this exhibit last Sunday. The pic above is a selection of Holocaust-themed books to commemmorate this event. I have been privileged enough to visit two concentration camps in my life (Dachau and Flossenbürg). Very sobering experiences. You can view a pic of the exhibit in our library HERE.
UPDATE FROM LAST WEEK: So last week I shared a picture of a book called A Book About a Thousand Things by George Stimpson. It's basically a book of miscellaneous trivia. I checked it out from the library this week to actually read it and discovered the following question inside: "What is a moron?" Turns out that the "modern" definition (in 1946) comes from a 1910 meeting of the American Association of the Study of the Feeble-Minded. Morons were declared to be "those whose mental development is above that of an imbecile, but does not exceed that of a normal child of about twelve years" (p. 392).
TXMOME GREAT BOOK GIVEAWAY!
The TXMOME is only 26 days away from today! Thanks to the generosity of several Moron Authors, we will have a number of excellent books to give away as door prizes! You must be present to win, so contact Ben Had to sign up for the TXMOME today! (Email link is in the left hand sidebar...)
Here are the Moron Authors who will be contributing:
Gary Rafferty
Sabrina Chase
Thomas J. Doscher
Matt DeLorenzo
William Leonard
And there will be a few more books by Moron Authors, donated by Yours Truly...
++++++++++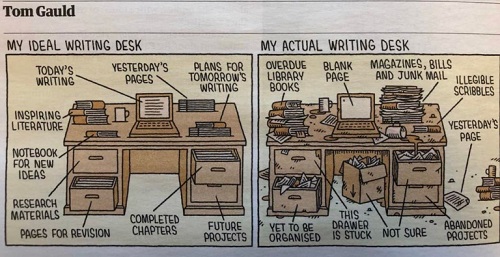 (HT: mindful webworker)
++++++++++
WHERE TO SEND STORIES?
Aspiring Moron Author OrangeEnt sent me the following question:
Hi Perfessor,

I've pretty much finished a short story and I've thought about what to do with it. I googled "where to send stories" and had a lot of hits on it. My question would be what rights do professional writers look for when selling something? One place I'm considering submitting to says they claim "first North American publishing rights" then the rights go back to the writer for other uses. Is there something pro writers look for, or is there a standard rights clause? Is it the same whether using a traditional publishing house, gen circulation magazines, or anthologies? I'm just trying to find out what is standard and what to avoid when I get around to trying to sell my writings.

Thanks,

OrangeEnt

Perhaps our esteemed Moron Authors could enlighten the rest of us about "publishing rights" in the comments below. From my own little digging on the subject, it seems like there are several different kinds of rights available to authors so it helps to know what they are to help maximize your revenue stream. You don't want to just give everything up if you have an opportunity to sell your work in multiple places...
Thoughts?
++++++++++
BOOKS BY MORONS



Readers might like these:

FED UP is about a mild-mannered citizen screwed by the system who decides to set things right.

EDEN WILL BE DETROYED is a spoof on the Garden of Eden story, using modern politically correct ideas as the cause of The Fall.

Enjoy,

H. Narcissus Petit

++++++++++
MORON RECOMMENDATIONS
The classic novel I relied on in elementary school was The Three Musketeers. I had an ancient hardback that one of my siblings likely forgot to return to the library, and it was the perfect rainy afternoon read.

Posted by: Moki at September 18, 2022 09:10 AM (JrN/x)

Comment: I, too, really enjoyed this book when I read it many years ago. I think it truly embraces all definitions of "classic." It's just a timeless tale of adventure and heroism for the ages. I've also enjoyed most of the adaptations I've seen of this story. Highly recommended!
+++++
Recently I've been reading Food and Drink in Medieval Poland by Maria Dembinska, a book donated to the Little Free MoMe Library by an 'ette of great learning at the Yakima MoMe this year. I of course have to sample donated books (for quality!) and this intrigued me. Further intrigue was provided in the preface, where the phrase "smuggled out of Poland" shows up, something rarely said about cookbooks but such was the depravity of Communist Poland in 1983. (Ms. Dembinska bribed a border guard with a silver heirloom to get the book out to the West). It's a bit academic (originally a doctoral thesis) but quite interesting. And the political subterfuge adds a piquant flavor especially in these piping times. I shall see if it provides any helpful hints on baking files into cakes to help political prisoners escape.

Morons may be interested in such recipes as "Beer Soup with Cheese and Eggs".

Posted by: Sabrina Chase at September 18, 2022 09:12 AM (zNcSj)

Comment: How repressive do you have to be to suppress a cookbook from your native country from escaping out into the world? Is Polish cooking really that bad? Wonder if The Deplorable Gourmet will be banned any time soon...On a lighter note, Sabrina Chase has donated several of her books to be given away as prizes at the TXMOME this year! A few lucky winners will walk away with free, signed copies!
+++++
Bridge of Birds and the two following novels by Barry Hughart. A novel of China that never was. You will not be sorry you read this series. Rumored to become a film for many years, but I'm not sure a film could ever do it justice.

Posted by: 42 at September 18, 2022 11:21 AM (H9VVh)

Comment: Barry Hughart is a fairly obscure fantasy author, and that's a shame because his novels are exceptional. Master Li (who has a slight flaw to his character) is an outrageously funny expy of Sherlock Holmes, and his sidekick Number Ten Ox serves as the voice of common sense and peasant wisdom. All of Hughart's books depict a deep dive into ancient Chinese mythology. And the covers on all three are just gorgeous. I highly recommend Bridge of Birds, The Story of the Stone, and Eight Skilled Gentlemen.
+++++
As a classic, I would suggest, Tom Jones by Henry Fielding. On its surface it is the story of a boy becoming a man, but it is full of brilliant observations on human nature and the sort of people you will meet in life. Read it at 15 and you will learn alot; read it again at 30 and you will understand how little you actually knew when you were 15. Highly recommended for young morons.

Posted by: Slash Buzz at September 18, 2022 11:40 AM (0O3aP)

Comment: Tom Jones is another one of those books I picked up from the English department's community bookshelf many years ago. I had heard of it, but I've never gotten around to reading it...I shall have to do that sometime in the near future, I think.
More Moron-recommended reading material can be found HERE! (422 Moron-recommended books so far!)
+-----+-----+-----+-----+
WHAT I'VE BEEN READING THIS PAST WEEK:
The Joiner King by Troy Denning -- This is Book I of Star Wars: Legends - Dark Nest series. Just mindless entertainment, for the most part...
The Unseen Queen by Troy Denning -- Book II of Star Wars: Legends - Dark Nest.
The Swarm War by Troy Denning -- Book III and the thrilling conclusion of Star Wars: Legends - Dark Nest.
A Book About a Thousand Things by George Stimpson -- It has some very interesting facts about, well, a thousand different things. Some of them may very well be outdated, but were as accurate as possible given the knowledge available at the time. Fun read.
Firstborn by Paul B. Thompson and Tonya C. Cook -- First volume in the Dragonlance: Elven Nations Trilogy, when the elves of Krynn split into two factions: the Silvanesti and Qualinesti (a woman was involved).

That's about all I have for this week. Thank you for all of your kind words regarding my Sunday Morning Book Thread. This is a very special place. You are very special people (in all the best ways!). The kindness, generosity, and wisdom of the Moron Horde knows no bounds. Let's keep reading!
Oh, and Amazon's Rings of Power continues to be a dumpster fire of a story for an epic fantasy. I have never seen anyone set over $1 billion on fire with such enthusiasm, unless they worked for the federal government, of course.
If you have any suggestions for improvement, reading recommendations, or writing projects that you'd like to see on the Sunday Morning Book Thread, you can send them to perfessor dot squirrel at-sign gmail dot com. Your feedback is always appreciated! You can also take a virtual tour of OUR library at libib.com/u/perfessorsquirrel. Since I added sections for AoSHQ, I now consider it OUR library, rather than my own personal fiefdom...
PREVIOUS SUNDAY MORNING BOOK THREAD - 09-18-22 (hat tip: vmom stabby stabby stabamillion) (NOTE: Do NOT comment on old threads!)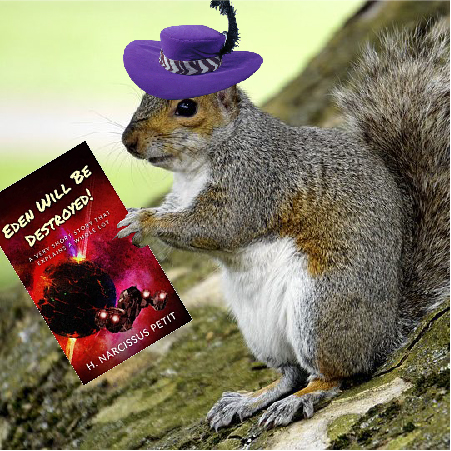 ("Huggy" Squirrel will rebuild Eden in his image!)


posted by Open Blogger at
09:00 AM
|
Access Comments