« Washington Post: Americans "Resigned" to Inflation, "Feeling Better" About Dealing With It
|
Main
|
Fauci Refuses to Turn Over Records About His Coordination With Big Tech to Censor Dissidents »
September 12, 2022
Lefty Politicians and Blue Checks: January 6th Was Just Like 9/11 Only Worse, You Know
The NPCs got their Programming Update yesterday at 12:01 AM: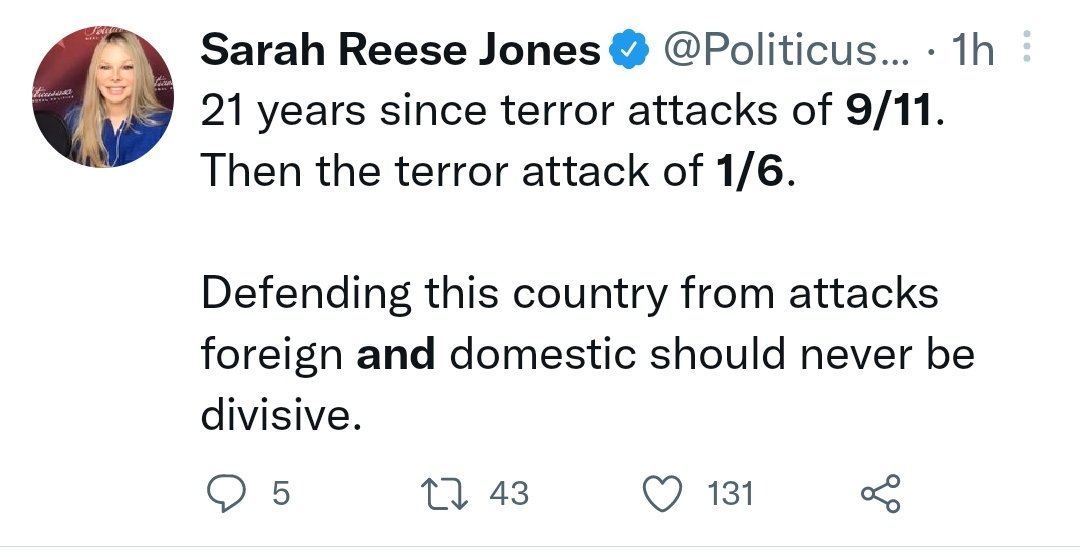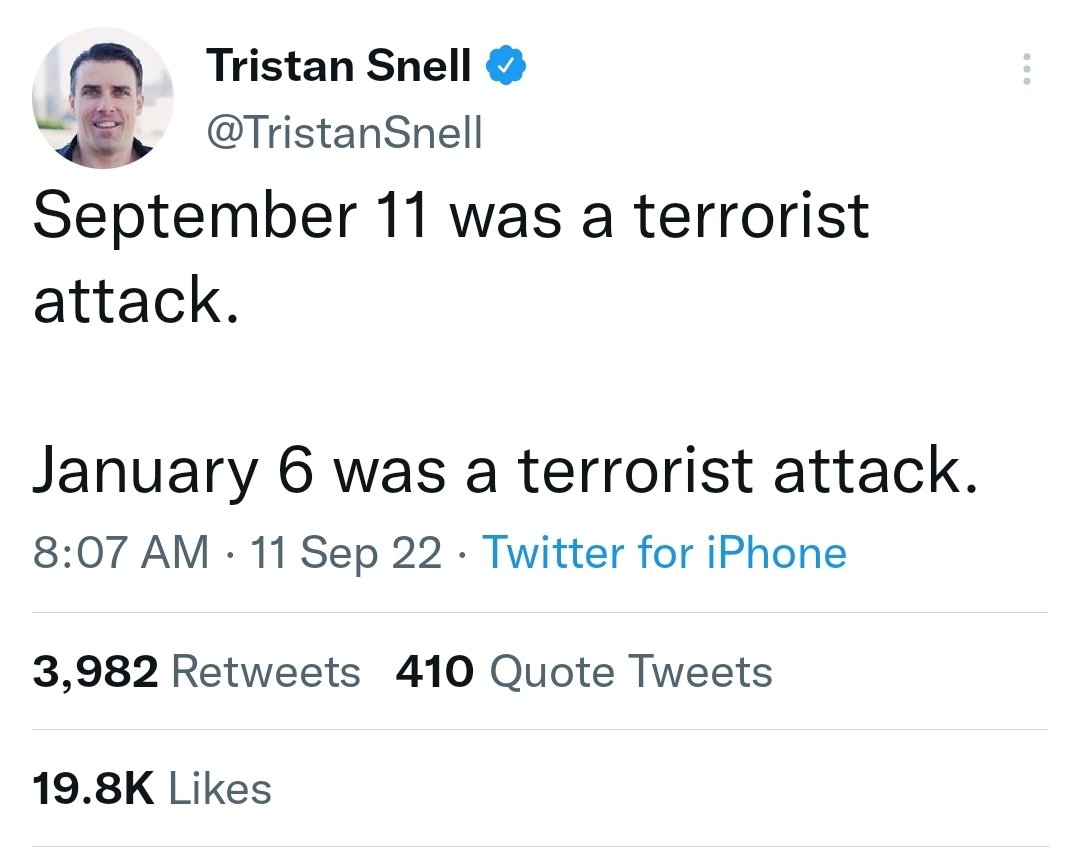 This scumbag couldn't wait to go on TV and claim that protesters who "paraded" and even "gesticulated" were the same as terrorists who murdered 2976 people by flame and falling death:
I know for a fact that 9/11 was not the same as January 6th. Here's how I know: Because within six months, lefties weren't making excuses for the January 6th insurrectionists and claiming that that, based on "their culture" and "their point of view," they were heroes, in a way.
I had begun to understand why leftist protesters are permitted to commit acts of violence as "protest" with minimal or no penalties at all by understanding the French policy: The French considered political protest so sacrosanct and essential to their revolutionary identity that they gave it wide latitude. Excessively wide, in my view.
But I was starting to understand why antifa is permitted violent assault after violent assault without any jail time.
But then people on the right engage in violent protest for about the first time ever and start racking up jail sentences of two to four years of hard time.
And not just the people who actually committed violence. But simply people who "gesticulated" or "paraded" or stole a hat-rack were being given draconian sentences of one to two years in prison, while antifa thugs, who have committed multiple assaults on citizens and cops, and thrown firebombs at vehicles and buildings, continue getting "time served" setences.
This is unacceptable. Either we emulate the French example, whereby we give a very wide latitude to political protesters, or we are emulating the Soviet/Third World example, in which we give a pass to violent revolutionaries favored by The Regime and harsh sentences to Subversive Gesticulators disfavored by The Regime.
It cannot be that the left is permitted to "protest" with firebombs and get time served -- just the time spent in jail needed to process them as their sentence -- whereas grandmothers on the right are being given nine months in prison for "parading" or "gesticulating."
And meanwhile, NeverTrump, our Brave Defenders of Norms - really our snarling dragoons of authoritarianism -- cheerlead for this. Scumbag pseudomoralists like Baseball Cuck claim we must throw people in prison for years for "political violence," but never admit that we are throwing many more people in prison for "parading" and "gesticulating" than for any violence.
They claim they're "Policing Their Own." Bullshit -- they are elitists who consider the working and middle classes, and political populists, to be literal scum of the earth, who are deserving of the most violent forms of political repression. They are not "policing their own;" they wouldn't piss down the throat of a working class man if his heart were on fire. They are policing the despised other.
They hate us. They can take this "policing our own" pose and shove it straight up their well-traveled assholes.

Good point:
two rules?

Soon there will be zero rules.
Posted by: rd
Those who push for two rules will soon have zero.

posted by Ace at
01:50 PM
|
Access Comments