« Lefty Politicians and Blue Checks: January 6th Was Just Like 9/11 Only Worse, You Know
|
Main
|
Fetterman Is Getting Worse, Not Better »
September 12, 2022
Fauci Refuses to Turn Over Records About His Coordination With Big Tech to Censor Dissidents
NeverTrump considers him a hero. He's an "anti-authoritarian."
Despite a lawsuit filed in May, Anthony Fauci has been reluctant to cough up records he has concerning the U.S. government and Big Tech allegedly conniving to censor social media users who spoke out against the official COVID narrative. So a judge gave wee Fauci a little pat on the back to help him spit them out.

U.S. District Judge Terry Doughty, a Trump appointee, issued an order to a number of White House officials, including Fauci, Jen Psaki, Karine Jean-Pierre, and the "Big Guy" himself, Gropey Joe Biden. They have been ordered to produce any and all communications regarding Big Tech and government officials colluding to silence those who dared to deny "the science" on platforms such as Facebook and Twitter.

The attorneys general of Louisiana and Missouri are suing more than 50 officials and 12 departments of the U.S. government, including the Centers for Disease Control (CDC). Some of those mentioned in the suit have chosen not to play ball.

The feds argued that Fauci shouldn't have to provide emails between himself and Facebook CEO Mark Zuckerberg. Judge Doughty decided otherwise. What is Fauci hiding? Perhaps we are about to find out.


Judge Doughty gave Fauci and Jean-Pierre 21 days to fork over any and all communications regarding the alleged censoring. Fauci was also ordered to answer questions regarding his role as the master-blaster at the National Institute of Allergy and Infectious Diseases (NIAID).

"We know from the previous round of discovery that efforts to censor the speech of those who disagree with the government on covid policy have come from the top," Jenin Younes, attorney for the New Civil Liberties Alliance and several of the plaintiffs, said in a statement. "Americans deserve to know Anthony Fauci's participation in this enterprise, especially since he has publicly demanded that specific individuals, including two of our clients, Jay Bhattacharya and Martin Kulldorff, be censored on social media."

Rand Paul says that Fauci is hiding his illegal orders to censor dissenting speech -- and that's not all he's hiding.
Senator Rand Paul (R-Ky.) blasted "America's doctor," NIAID Director Dr. Anthony Fauci, for a COVID "cover-up" involving America's Big Tech firms.

"I think that all of America should be appalled that America's doctor, the leading expert on COVID and public health, doesn't want to divulge information, doesn't want to divulge his communications with Big Tech," Paul said on Fox News Wednesday night.

...

Paul, himself a physician, said, "It goes even beyond" Fauci keeping secret communications with social media firms like Facebook. The diminutive celebrity medical spokesmodel also refused to discuss $193 million in COVID royalties paid to nearly 2,000 NIH scientists."

Fauci's modus operandi, Paul said, "is to cover up and try to not allow any sunshine on any of his activities. That should be a tip-off as to his motives."

...

Zuckerberg, Matt [Margolis of PJMedia] wrote, gave Fauci his "personal cell phone number, just before the social media platform began censoring alleged COVID-19 misinformation."


Earlier records showed that employees of Facebook, Twitter, and Google were communicating with various governmental agencies when deciding what information should be censored on their platforms.

Emails recovered from Big Tech reveal that the US government demanded to know why they hadn't yet banned Covid skeptic Alex Berenson.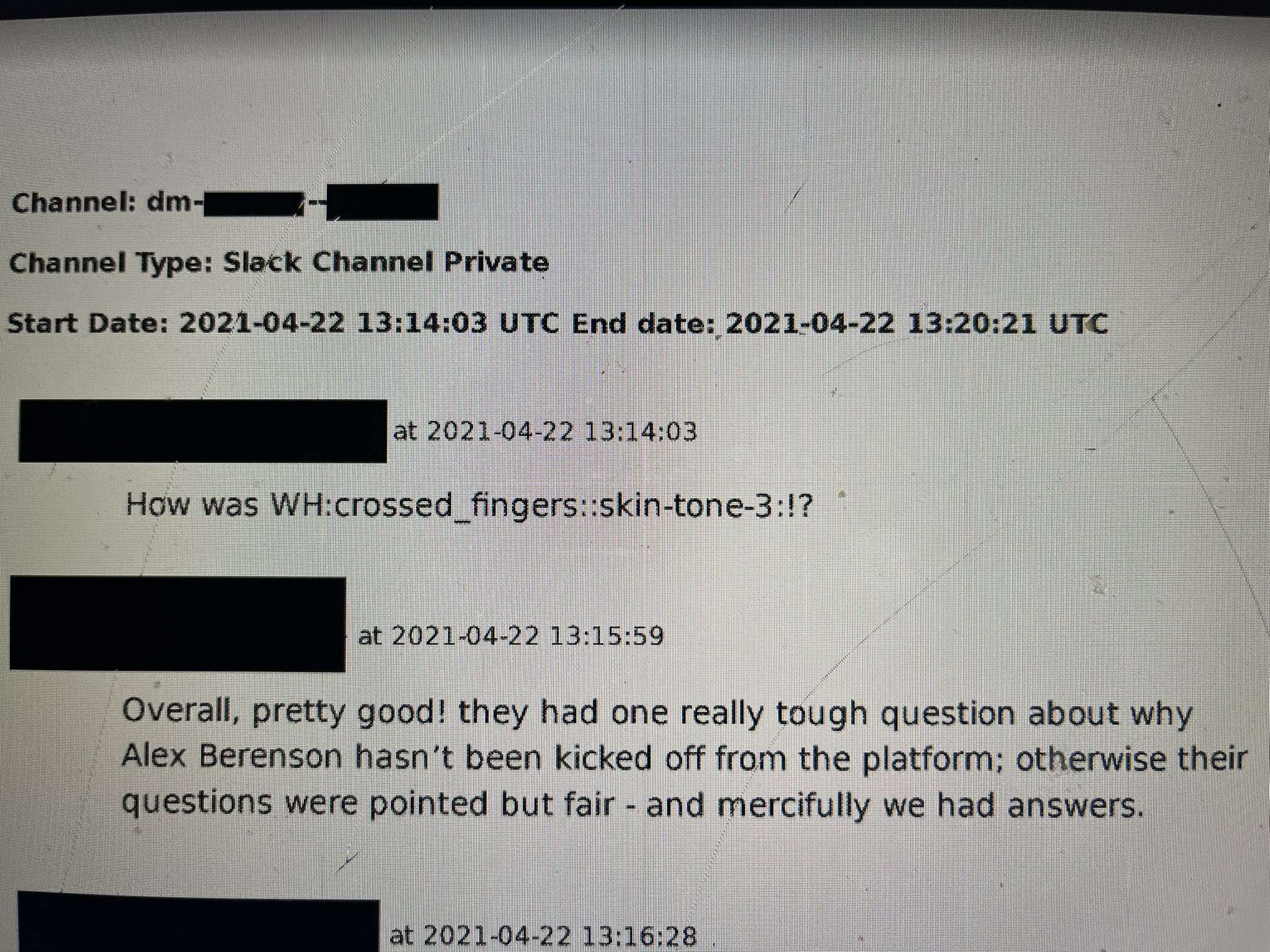 Note that eventually, they did ban him. I guess eventually they ran out of "answers" for the government's "questions."
Good question.
But it's not just a question why this isn't on the front pages of the leftwing media.
Why isn't it on any pages of Corporate-Funded Conservative, Inc. Media?
Oops, I guess I answered my own question.
In the meantime, enjoy running searches for "Berenson" on National Review in a fruitless effort to discover stories about their Big Tech mega-patrons coordinating with government to censor speech.

posted by Ace at
03:32 PM
|
Access Comments