« Duncanthrax's Empire of Bats Cafe
|
Main
|
Daily Tech News 19 August 2022 »
August 18, 2022
If Blood be The Price Of ONT, Lord God We Ha' Paid In Full!
Howdy folks! ONT time, let's appreciate some art!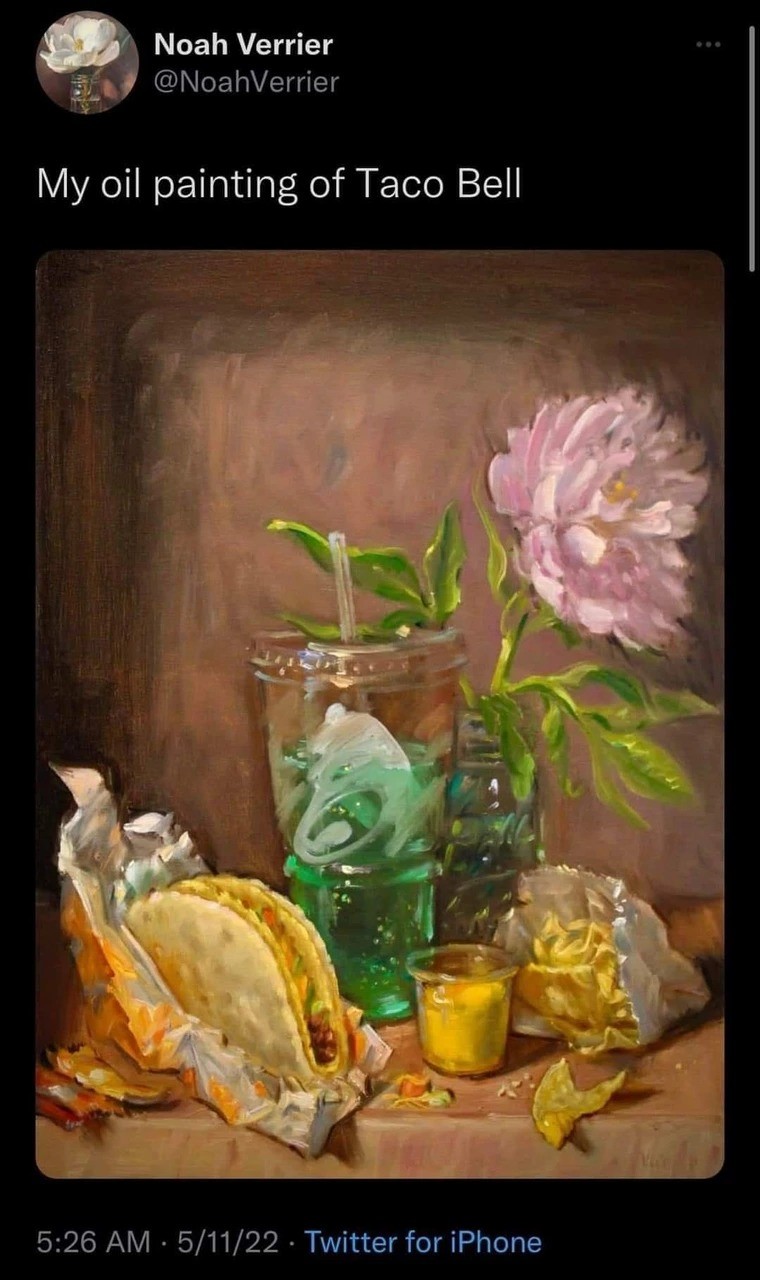 This guy paints still lifes of modern subjects. I know that a lot of you might laugh at the Taco Bell painting above, but honestly, what makes a painting of a bunch of fruit in a bowl a classic but not this? I'm not crowning this guy the next Rembrandt, but Taco Bell, pizza and sushi are as valid a subject for a still life as grapes or books or flowers. Maybe in 200 years they'll be calling this guy an old master.
Sleek

The wonders of the Chrysler Norseman
In the mid-50s, Chrysler spent hundreds of thousands of dollars and 50,000 man hours to design a (frankly beautiful) concept car, the Chrysler Norseman.
And then they shippped it to the US on board the Andrea Doria.
Ooops.
Although the loss of the Norseman is small in comparison—and fortunately some of the car's design features were later incorporated into other Chrysler automobiles—we're still left wondering what might have been. So too was that anonymous Chrysler engineer that the Times quoted in 1956. "Fate," he said, "has denied the public the opportunity to see the wonders of the Norseman
A diver on the wreck found the car in 1994, and reported that it had almost completely deteriorated. "I doubt even Alberta Oil Peon could resurrect it" he is reported as saying*. Go take a look at it, it's a beaut.
*I may have fabricated this quote.

When Will They Learn?
Ford Raises Electric Truck Price By Up To $8,500 After Democrats Pass $7,500 EV Tax Credit
The cause/effect is so blatant here that I wonder if any of these idiots complaining about the high cost of things that the government subsidizes (college, health insurance, Evs, etc...) will be able to put two and two together to get four? I doubt it. Hell, I'd be happy if they could put two and two together and get an integer, much less the right one. But nope, they put two and two together and get cheese, then call for government subsidies for milk. Idiots.
What's This All A Bot Now, Eh?

MASSIVE Democrat 'Bot Farms' Revealed Influencing Elections, War, And Racial Tension

Interesting look at using technology and psychology to manipulate public opinion.
Human beings are social creatures, and there are thousands of studies proving an individual will go along with the group against his or her better judgment, due to psychological pressures regarding acceptance and 'fitting in." As researched in the Asch Conformity Experiments, "nearly 75% of the participants in the [Asch] conformity experiments went along with the rest of the group at least one time. "After combining the trials, the results indicated that participants conformed to the incorrect group answer approximately one-third of the time." "The experiments also looked at the effect that the number of people present in the group had on conformity. When just one confederate was present, there was virtually no impact on participants' answers. The presence of two confederates had only a tiny effect. The level of conformity seen with three or more confederates was far more significant." Individuals will act against their better judgment approximately one-third of the time when present in a group of 5 or more.
When you consider than almost all of the media today thinks Twitter is real life, and the only place to find stories, the effects of this manipulation reach far beyond the confines of social media. So the question becomes, should the right attempt a similar strategy? More important, would the right be allowed to do so, or would these big tech platforms suddenly start enforcing their terms of service? I think we all know the answer to that.

Tonight's Think Piece

What the horrors of Partition can teach us about the danger of identity politics
A fascinating piece by the always thoughtful Daniel Hannan, which starts by ruminating on the horrors of the India/Pakistani split. It was thought that a "peaceful separation" was the answer to conflict between various factions in India. What followed was anything but.
Men, women and children were tortured, mutilated, raped, burned alive, blinded with acid or chilli powder, boiled in cauldrons, hacked to pieces. Bands of goondas slaughtered patients in their hospital beds, children in their classrooms, worshippers in their mosques, temples and gurdwaras.
Some of the grisliest massacres took place on the trains that carried refugees across the border. The engines would pull in at their destinations with gore dripping from every door, and not a single passenger still breathing. Sometimes, a message would have been chalked on the side of one of the carriages: "A present from India" or "A present from Pakistan".

I understand the thinking behind those who say we need a national divorce in this country. But were we to attempt one, how amicable would it be? Would we be treated to scenes of bullet-ridden cars alongside the interstates, filled with the bodies of those attempting to move to the red or blue, painted "A message from the Blue" or "A message from the Red"? It's certainly a possibility, civil wars are the dirtiest wars, where do civil divorces rank?
But maybe not.
Mr. Hannan goes on to recount how people from both sides of the conflict moved to the UK and now, for the most part, coexist mostly peacefully, and he has a theory as to why this is so.
But the single biggest factor is surely that the preponderant ethic in Britain after 1947 was individualism. Our moral code, like our criminal justice system, was based around the idea that we are all personally responsible. We don't get a special pass because we belong to some special sect or class, and nor can we be held liable for the misdeeds of some ancestor.
This is an utterly counterintuitive notion – counterintuitive in the literal sense that it runs up against instincts and intuitions locked deep in our genome. Human beings evolved in kin-groups. For a million years, the preponderant ethic that governed our relations was "my tribe good, your tribe bad".
That ethic continued to rule us as we discovered farming, built cities and invented writing. Law-codes, from Hammurabi's onwards, took caste for granted. Early civilisations were governed by status and tradition rather than by voluntary exchange.
The revolution – and it was truly a revolution, one of the most benign and far-reaching our species has known – was what the Victorian jurist and historian Sir Henry Maine called the move "from status to contract". Maine, who had spent several years in Punjab, saw how unique it to move beyond collectivism and allow private citizens to reach free-standing arrangements with one another, rather than having their lives circumscribed by rank.

There's a lot more, but I can't quote the whole article. You should read it. And however individualistic the UK is, we here in America are traditionally moreso. It's literally the founding principle of our nation. There's a lot of good food for thought packed into one piece.

Culture War Backlash
Bridget Phetasy used to write for Playboy. She's been drifting rightward for a while now. I doubt she could be considered conservative, probably more libertarian-ish, but it's interesting to watch. I met her in DC a few years at Gay Patriot's birthday party, and she's nice enough to hang out with for an evening. She's also one of those (mostly younger) folks who has no qualms about putting her whole life online, and here she unleashes an all out attack on the hook up culture that is so dominant in the Millennial and Zoomer generations. It took guts to write.
I wouldn't have said that at the time, though. At the time, I would have told you I was "liberated" even while I tried to drink away the sick feeling of rejection when my most recent hook-up didn't call me back. At the time, I would have said one-night stands made me feel "emboldened." But in reality, I was using sex like a drug; trying unsuccessfully to fill a hole inside me with men. (Pun intended.)

I know regretting most of my sexual encounters is not something a sex-positive feminist who used to write a column for Playboy is supposed to admit. And for years, I didn't. Let me be clear, being a "slut" and sleeping with a lot of men is not the only behavior I regret. Even more damaging was what I told myself in order to justify the fact that I was disposable to these men: I told myself I didn't care.
I didn't care when a man ghosted me. I didn't care when he left in the middle of the night or hinted that he wanted me to leave. The walks of shame. The blackouts. The anxiety.
The lie I told myself for decades was: I'm not in pain—I'm empowered.

There's more, you should read it all, but she concludes:
Sex can be empowering when you're coming from a position of healthy self-esteem. If you're coming from a place of trauma or insecurity, casual sex won't heal that. In fact, it might set you back and undermine any progress regarding your feelings of self-worth. If you know your value, you're less likely to sleep with someone who doesn't value you. Cherish yourself and you will be cherished. You shouldn't have to withhold sex for a man to respect you; he should respect you regardless. Sexual empowerment has nothing to do with how many people you do or don't sleep with—it has to do with how comfortable you are in your skin—no matter your decision. It's not about waiting until you're in love to have sex; it's about making sure that first, you love yourself. Don't ignore that nagging gut instinct telling you "sexual liberation" leaves you feeling unfulfilled. You can still be sex-positive and accept that for you, sex can't be liberated from intimacy and a meaningful relationship. I regret being a slut. I regret it because I regret that those men can say they slept with me. Still, that's how I know I finally value myself. Every woman should feel this way: Sleeping with me is a privilege. And you have to be worthy.
Welcome to the dark side Bridget. Have some punch and pie.

Thread
Read the whole thing. I think he pretty much nails it. If you don't want to go to Twitter, here's an article where he discusses his points in more detail.

Puck!
Nazem Kadri, Flames agree to seven-year contract, per report
A month ago was a bleak time to be a Flames fan. Bounced out of the playoffs by the hated Oilers, our biggest star, Johnny Gaudreau, walked in free agency and our second biggest, Matthew Tkachuk, told the team he wouldn't resign. In the month since, GM Brad Treliving traded Tkachuk for Johnathan Huberdeau, MacKenzie Weegar, a prospect and a 1st round pick and today he signed Kadri, the top free agent prospect on the market and the solid 2C the team needed. I know few of y'all care, but I'm stoked for next season.
Tonight's ONT has been brought to you by The Legend of Jamsheed:

posted by WeirdDave at
10:58 PM
|
Access Comments