« Report: Alec Baldwin Must Have Pulled the Trigger in the "Rust" Shooting
|
Main
|
Insiders: Jeffrey Toobin Was Yanked Out of CNN's Lineup Like Jeffrey Toobin's Shriveled Shrimpdick During a Conference Call »
August 16, 2022
Kamala Harris' Super-Fans -- the "#KHive" -- Begin to Worry That No One Is Coming to Save Her and Position Her for Success
The #KHive.
How lost do you have to be to be a Kamala Harris stan?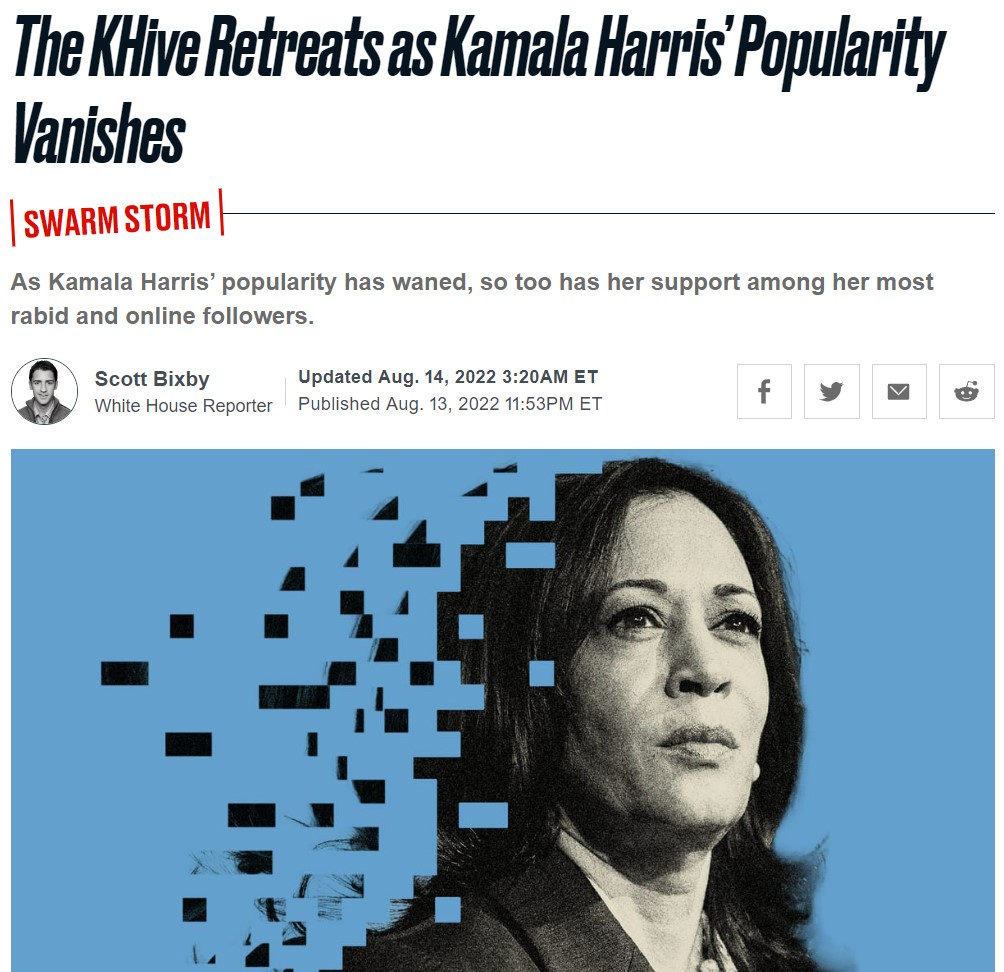 After noting that Kamala Harris' popularity has fallen -- excuse me, when was her popularity ever high? -- AllahPundit's second-favorite website The Daily Beast turns to her online stans, the #KHive.
[W]hile they may not be as rabid as they once were, Harris can still count on the backing of one bastion of supporters: the #KHive.

...

"I am consistently seeing people ask, 'Where is Kamala?'" [a member of the #KHive said].

...

The Daily Beast reached out to more than a dozen high-profile members and former members of the #KHive to see if, after 18 months in office, the vice president has lived up to their hopes. And while most still say that they have her back until the end, some quietly admit that the comedown from the high of a victorious campaign has been harsher than they'd expected--not that they would ever say so publicly.

"I would never, ever say that I regret supporting the first Black woman vice president, ever. But the disappointment is real," said one self-described former member of the #KHive, who requested to speak anonymously so as not to alienate themselves from friends made through the movement. "I was obsessed with the idea of this person who could undo the systemic, the systematic racism and sexism and heterosexism in government with one fell swoop, and now I'm thinking to myself, did I just make up a person in my head who could do those things?"
LOL.

By and large, the #KHive, being composed of the vice president's most fervent--and, like most online fandoms, occasionally insane--supporters, does continue to largely support her. As they have since her relatively short-lived primary campaign, they still sport bee emojis in their Twitter handles and many who spoke with The Daily Beast pointed out that the vice presidency is an office that is, by design, second fiddle. Many feel that Harris is being held to a higher standard by dint of both her race and gender.
Gee I wonder if that would be because the Harris team claims that every single failure is because people are holding her to a higher standard of success because of her race and gender.
When in fact for all her life she's been held to a lower standard. That's why she has continually advanced in politics while continually failing.
...

But even the #KHive has slowed its roll since 2020, with use of the hashtag on social media now being used to antagonize the vice president's fandom as often as it is used to rally it. A Google Trends review shows that interest in the #KHive has decreased substantially since the 2020 election, and some of the biggest figures have left the movement, if one can leave a technically leaderless group of online stans.

...

Some supporters, Evans said, have moved on to help other candidates and causes that they see as allied with Harris' goals.

...

The question of Harris' political future still remains top-of-mind for many #KHive members, who remain confident that despite current polling indicating otherwise, she is best positioned to lead the Democratic Party whenever the opportunity presents itself.

But won't someone have to position her for success for her to be positioned to lead the Democrat Party?
...

But some admitted they got caught up in the stan-ification of politics that became widespread in the extremely online political circles of the 2020 Democratic primaries. Coordinated harassment and doxing campaigns between supporters of Harris, Sanders, Yang, then-Mayor Pete Buttigieg and others caused increasingly frequent headaches for candidates, particularly when they targeted "rival" supporters, staff, and reporters who were seen as insufficiently based.

"We all went a little nuts during the pandemic," said another member of the #KHive, who still uses the hashtag on Twitter but has their mentions turned off so as to avoid being drawn into "my ten-millionth flamewar with some #BernieBot that just gives us both palpitations." Nearly 1,000 days since they were last rivals for the presidential nomination, the blood feud between #KHive members and supporters of Sen. Bernie Sanders (I-VT) continues, to the member's exhaustion.

"Let's chill and let the Vice President do her job," they said of their more laid-back approach. "Acting clownish on Twitter isn't going to make her job any easier."
Her stans are freaking out about this article, accusing the "white" author of attacking a black woman, and accusing him of... "media bias."
Kaivan Shroff @KaivanShroff

Okay so the @scottbix article about Kamala Harris supporters is just as bad as people are saying. Another tone-deaf smear by white male media to paint a predominantly minority political identify as rabid against the backdrop of Republicans threatening violence against the FBI


Of all the news and all the takes one could make during this hugely consequential week, instead @scottbix forces an unsupported narrative to attack the first Black woman VP... who wouldn't see that as media bias?
Okay dude.
Meanwhile:
Kamala Harris, who supported the Defund the Police movement, supported those who attacked police and called them murderers, and raised money to bail out rioters who attacked police, now insists that Donald Trump is wrong to... criticize the FBI, because our flawless law enforcement officers are owed are complete respect.
Miranda Devine @mirandadevine


Kamala Harris suddenly demanding respect for law enforcement after drumming up bail and giddily encouraging the riots of summer 2020: "This is a movement, I'm telling you. They're not going to stop and everyone beware, because they're not going to stop."

posted by Ace at
02:15 PM
|
Access Comments