« Trump Claims The FBI Stole Three of His Passports; The FBI Admits It Took Documents Protected by Attorney-Client Privilege
|
Main
|
Tuesday Overnight Open Thread (8/16/22) In The Cities Edition »
August 15, 2022
Red Skies Cafe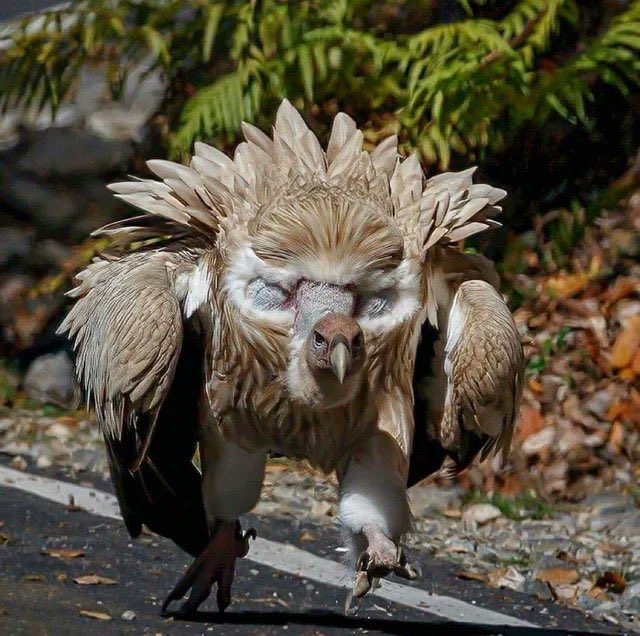 A Himalayan vulture.

It is one of the two largest Old World vultures and true raptors. The average weight of these birds is 20 pounds, with males weighing up to 28 pounds. The wikipedia entry does not mention any kind of warning-coloration to make it look larger, so the apparent "fake face" you see on the bird must just be happenstance in this particular shot of this particular bird. The skin of the vulture is blue; that is what is showing through the feathers to give the appearance of the bluish "eyes" on its shoulders.
Rats are super-survivors, you might have heard.
Local news anchors reporting on their baby.
Very nice prosthetic Predator suit from the new woke-ish Prey movie. The suit looks like the painted latex it is, but that's probably exaggerated by the unforgiving natural light. Maybe with color correction and Hollywood lighting they can make it look organic. (I wouldn't know, I'm not going to see it. I've already seen Predator, multiple times. I'm starting to realize it's insane to keep making the same movie again and again, and also insane to keep watching the same movie again and again.)
Human and fox have to find a way to cooperate, so that they can get the fox out of a deep pit.
Distracted by a cute bitch with long legs.

JackStraw has the most enviable lifestyle. I don't mean because of the sailing, I mean because he's drugged out of his mind on the pot all the time.
These guys are betting an awful lot on the skill of the guy with the calculator:

posted by Ace at
07:45 PM
|
Access Comments