« EMT 8/14/22
|
Main
|
Too Little, Too Late. And More Of A Wait. »
August 14, 2022
Sunday Morning Book Thread - 08-14-2022 ["Perfessor" Squirrel]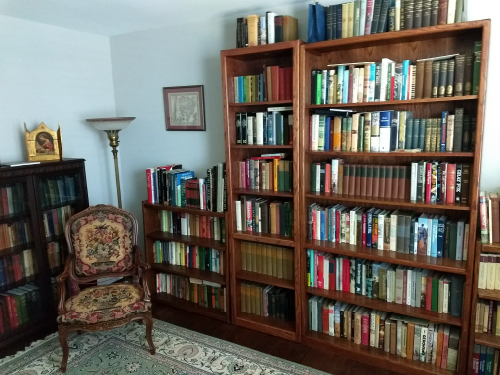 (ht: David Carter)
Welcome to the prestigious, internationally acclaimed, stately, and illustrious Sunday Morning Book Thread! The place where all readers are welcome, regardless of whatever guilty pleasure we feel like reading. Here is where we can discuss, argue, bicker, quibble, consider, debate, confabulate, converse, and jaw about our latest fancy in reading material, even if it's nothing more than the secret documents hidden in Melania Trump's underpants drawer. As always, pants are required, especially if you are wearing these pants...
So relax, find yourself a warm kitty (or warm puppy--I won't judge) to curl up in your lap, tap a keg of maple syrup for your pancakes, and crack open a new book. What are YOU reading this fine morning?
PIC NOTE
Moron David Carter sent me the pic of his upstairs library. It's a very nice little reading corner. When I was looking at the picture, I zoomed in on the map that's hanging on the wall, but couldn't quite make it out. I asked David about it and he replied:
That is a mid-19th century map of Brazil, Bolivia, Paraguay and Uruguay, with a sidebar map of Chili [sic]. I have several maps of Latin American Countries from that period, plus a map of the German and Austro-Hungarian empires from the late 1890s. I've always loved old maps, and, to my delight, stumbled across a 1908 copy of the Everyman's Atlas of the Ancient and Classical World, which is completely made up of fold-out maps (I've attached a photo) [see below - PS].

The upstairs library is heavy on history books, but I also have most of my collection of 18th century English literature there, too - including my pride and joy, the 1904 Parfraets Edition of The Works of Samuel Johnson, each volume of which includes full color plates depicting various notables from the period - plus my collection of Chesterton and Mencken. It's the one room in the house that looks respectable. We are currently stuck holding on to furniture that belongs to our adult sons, so the rest of the house looks rather like a Goodwill showroom.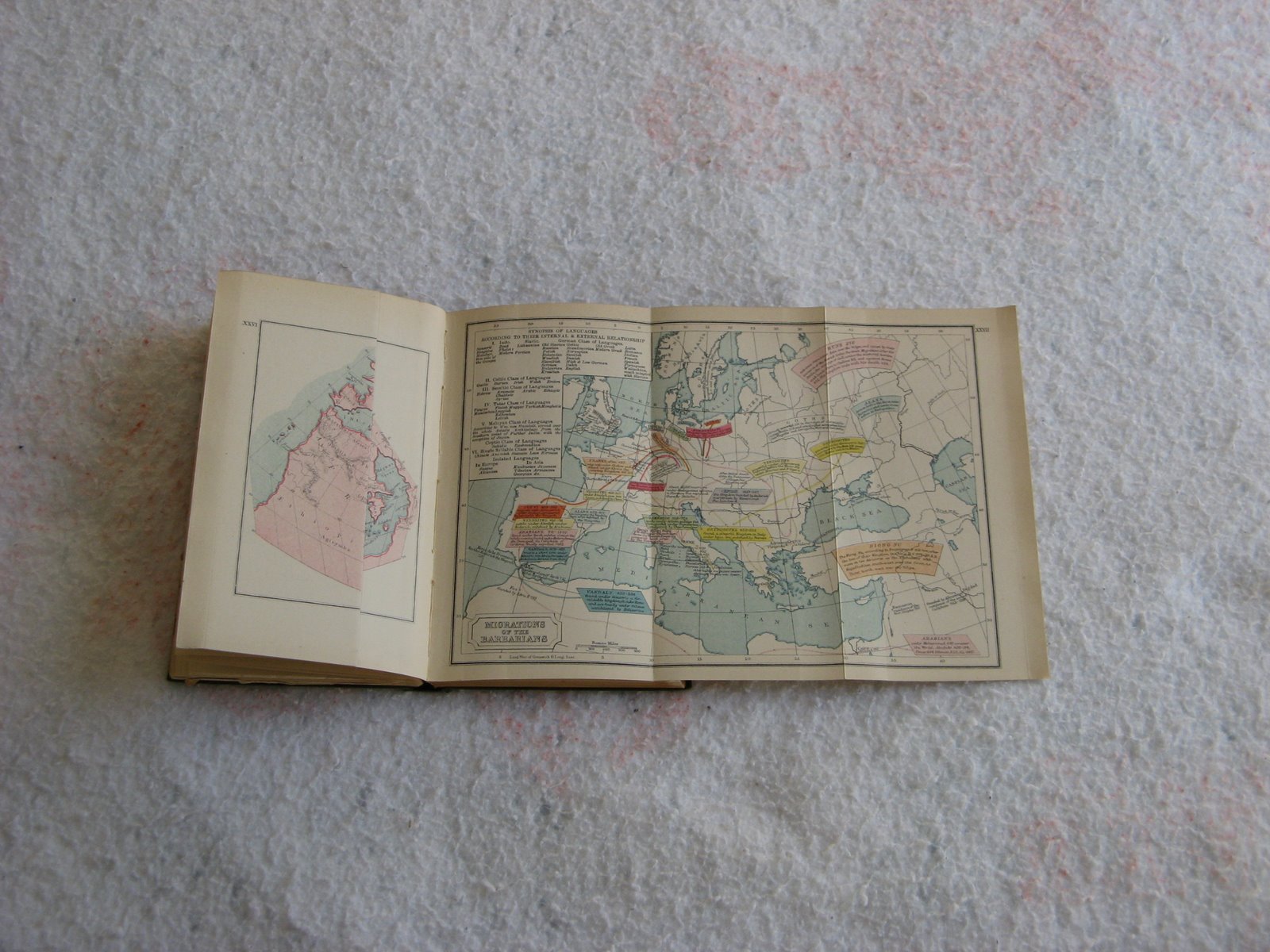 IT PAYS TO INCREASE YOUR WORD POWER
Moron fd posted the following comment last week. I admit I was unfamiliar with a couple of words. I'm pretty sure "escapement in horology" doesn't mean running away from ladies of the evening when their pimps come knocking...
Weasel here's book for you. Free on Gutenberg:

WATCH AND CLOCK ESCAPEMENTS
A Complete Study In Theory and Practice of the Lever, Cylinder and Chronometer Escapements, Together with a Brief Account of the Origin and Evolution of the Escapement in Horology

There appears to be a ton of math, so I know you'll like it.

Posted by: fd at August 07, 2022 11:17 AM (sn5EN)

escapement - n. - A mechanism in a clock or watch that alternately checks and releases the train by a fixed amount and transmits a periodic impulse from the spring or weight to the balance wheel or pendulum. This is what causes the clock's hands to advance in a mechanical clock.
horology - n. - The study and measurement of time. The art of making clocks and watches.
++++++++++
++++++++++
BOOKS BY MORONS (Updates!)
A couple of months ago (06-05-2022), Daniel Humphreys announced a Kickstarter project for his Paxton Locke series of books. That project was successful and his books are now available on Amazon! Congrats!
The series follows a young man cursed with magical powers who ends up working for a secret government agency tasked with protecting the world from the forces of darkness. We know it's fiction because said agency is actually competent. Should be enjoyable for fans of Monster Hunter International and the Dresden Files.

Bob Zimmerman now has hardback and paperback copies of his book, Conscious Choice: The origins of slavery in America and why it matters today and for our future in outer space.
The book puts the lie to the 1619 project. See the blurbs and description here:

And in case you've forgotten, JJ Sefton links to my webpage practically every day, linking to my daily "Today's blacklisted American" column, my regular beat covering space and science, and my periodic essays on culture and politics.

++++++++++
MORON RECOMMENDATIONS
I've just downloaded a Vera Stanhope mystery, The Glass Room by Anne Cleeves. She's always a good reliable read. I loved the Vera series on Britbox. I wish they'd do another season, but from what I've read, the actress who plays Vera says her stamina is pretty much kaput.

Posted by: grammie winger at August 07, 2022 09:09 AM (45fpk)

Comment: I am not familiar with this series, but from researching Anne Cleeves on Amazon, it sounds like her mystery stories are very much character driven. TVTropes compares Vera Stanhope (the main character of this series) to a female Columbo. Irascible, opinionated, yet relentless in the pursuit of justice. Of course, whenever I hear the name "Vera" I tend to think of Jayne Cobb's very favorite gun.
+++++
I also read The Curious Disappearance of Seamus Muldoon, by Muldoon, of course.

When his brother-in-law disappeared on a seemingly normal day, everyone--neighbors, family, friends--had a theory about what have might have happened. Muldoon lays out a number of those theories in short vignettes.

Some are preposterous, but the more likely ones are tragic. My condolences to his family, because the pain of loss never really goes away, and is compounded by the not knowing.

Posted by: April--dash my lace wigs! at August 07, 2022 09:15 AM (OX9vb)

Comment: I don't have much to say here except to express my own condolences on Muldoon's loss. Writing can be a very cathartic way of dealing with tragedy or personal issues.
+++++
The book The Scourge of God was good. It was about Attila the Hun. It showed how the corruption of Roman politics made the Western Empire easy pickings. It also showed how pathetic rulers like Valentinian would rather kill competent generals like Flavius Aetius than rule wisely and well. Some thing never change.

Posted by: Jmel at August 07, 2022 10:50 AM (qL7HS)

Comment: Bad people will do bad things, regardless of time or place. Power corrupts and absolute power corrupts absolutely. The FBI (and by extension the Biden junta) is now the poster child for this adage.
+++++
My all-time favourite book title is A Scent of New-Mown Hay, by John Blackburn because I find it incredibly evocative. It's a fairly obscure sci-fi novel, which possibly no one else on here has read. I certainly could be wrong about. It's a cold war sci-fi/horror novel in which a Soviet experiment wrong and deadly spores are released, which turn human beings into walking fungi. When one of the fungi monsters is close they smell like new mown hay. Back to lurking.

Posted by: N.L. Urker, there are chickens in my trench at August 07, 2022 11:59 AM (eGTCV)

Comment: I had never heard of John Blackburn until now. After looking him up on Wikipedia, I might have to try some of his novels someday. They sound right up my alley. A mix of horror, supernatural, and suspense, along with a touch of science fiction. A Scent of New-Mown Hay was adapted into a BBC radio production in 1969. I love the idea of walking, fungi. There is a trope around this idea: The Worm That Walks.
More Moron-recommended reading material can be found HERE! (347 Moron-recommended books so far!)
+-----+-----+-----+-----+
WHAT I'VE BEEN READING THIS PAST WEEK:
On the Steel Breeze by Alistair Reynolds -- Pretty decent "hard" science fiction (no FTL drives) about some horrible conspiracy involving AIs gone rogue...Haven't had much time to read anything else. It's been a weird week...
That's about all I have for this week. Thank you for all of your kind words regarding my Sunday Morning Book Thread. This is a very special place. You are very special people (in all the best ways!). The kindness, generosity, and wisdom of the Moron Horde knows no bounds. Let's keep reading!
If you have any suggestions for improvement, reading recommendations, or writing projects that you'd like to see on the Sunday Morning Book Thread, you can send them to perfessor dot squirrel at-sign gmail dot com. Your feedback is always appreciated! You can also take a virtual tour of OUR library at libib.com/u/perfessorsquirrel. Since I added sections for AoSHQ, I now consider it OUR library, rather than my own personal fiefdom...
PREVIOUS SUNDAY MORNING BOOK THREAD - 08-07-22 (hat tip: vmom stabby stabby stabamillion) (NOTE: Do NOT comment on old threads!)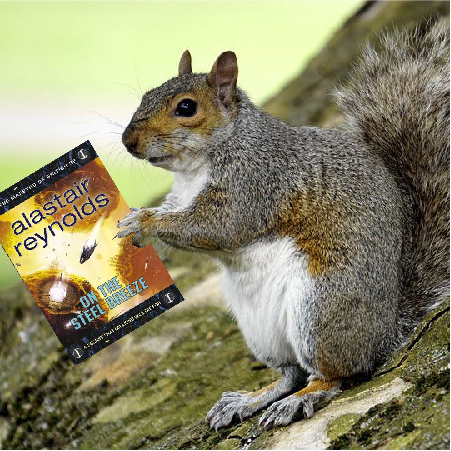 posted by Open Blogger at
09:00 AM
|
Access Comments