« Yes, woke institutions really are that bad
|
Main
|
Ace of Spades Pet Thread, August 13 »
August 13, 2022
Saturday Gardening, Puttering and Adventure Thread, August 13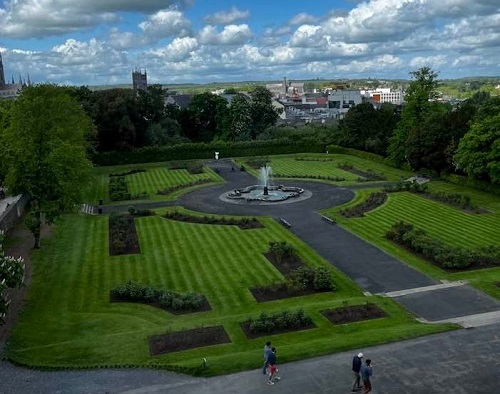 Bunratty Castle and Gardens near Limerick, County Clare, Ireland
My cousin visited recently.
Bunratty is looking quite fine
Vikings once sailed in to dine
Four castles were built*
And fighters were kilt
Now tourists seem rather benign
* Recognize the Motte and Bailey construction style?

Edible Gardening/Putting Things By
From Kindltot, who is canning cherries:
That is not a stove, yet. It is a pile of salvaged pavers that I plan to turn into a stove and a walkway at some point. However it is just the right height to hold my propane cooker.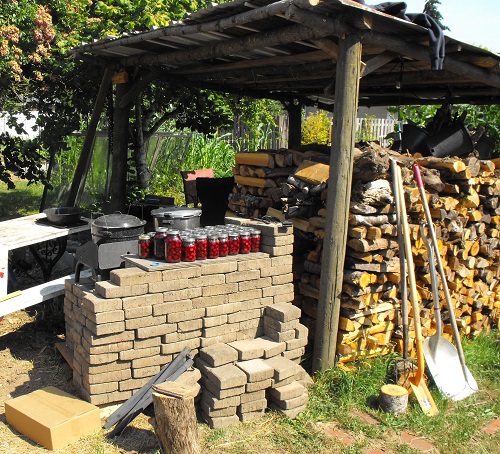 Nice set-up, and fine-looking cherries!
Ah, Nature
From Grimmy:
The last week has been an adventure with pests at Chez Grimmy, especially with my fruit trees! The continuing issue has been Japanese beetles, which chew on everything. The last couple years, we used the little bait bags you can hang from trees to catch them, but they fill up quickly, and get gross. This year, my wife wanted to modify them so they're mounted into 5 gallon buckets with soapy water. It works well, but they STILL get gross quickly, as the soupy carpet of beetles starts to rot, and overnight, animals (racoons and opposums, I assume) love to knock the plastic bait top off (or, worse, into) the bucket.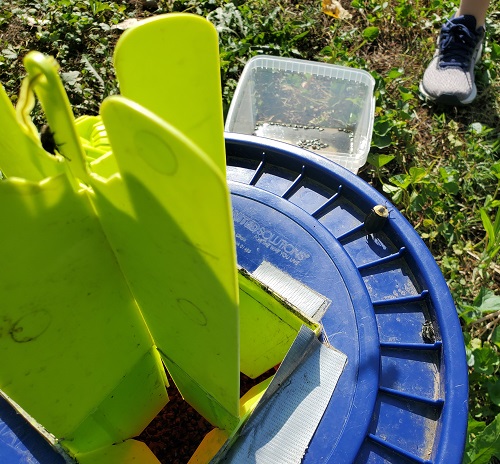 Interesting beetles (the American Carrion Beetle and 4-spot sap beetle) like to hang around the buckets, walking along the floating corpses and eating the bodies.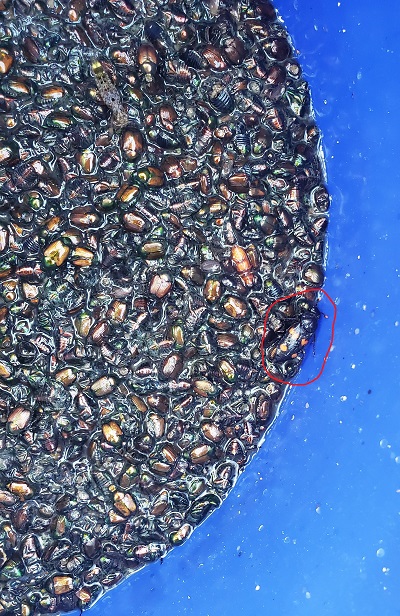 Delightful!
Chipmunks have been chewing my asparagus down, decapitating the new sprouts, and not even having the decency to eat it...they just leave the stalks laying there! Well, after seeing them darting out from under my back steps, I've caught 5 of the little buggers with peanut butter and sunflower seeds in a Havahart trap (a compromise with my animal loving tween daughter), and dumped them at a local park. There are still many more to go.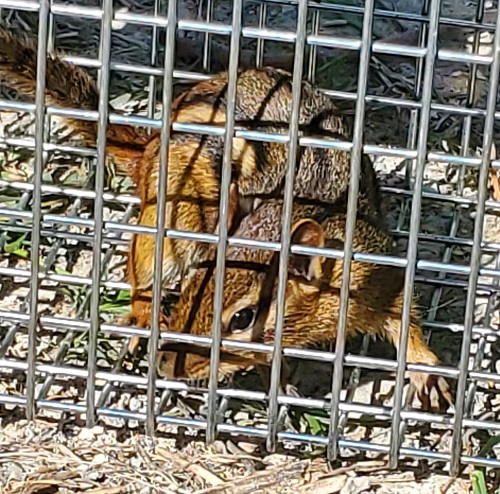 So cute, so destructive!
Finally, I just noticed a few spots of what I assume is cedar-quince rust on my quince tree! I have 4 total, and it can also spread to my medlar trees and aronia bushes! Thankfully, I do have my first (and only) quince fruit this year, so it'll be interesting to see it develop.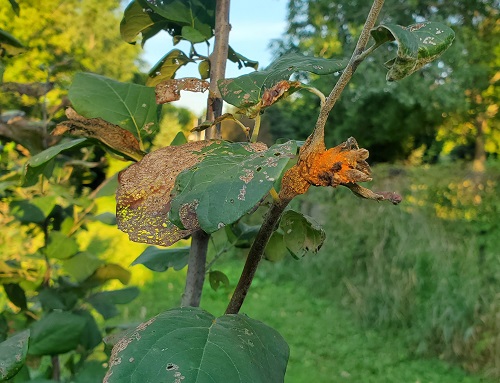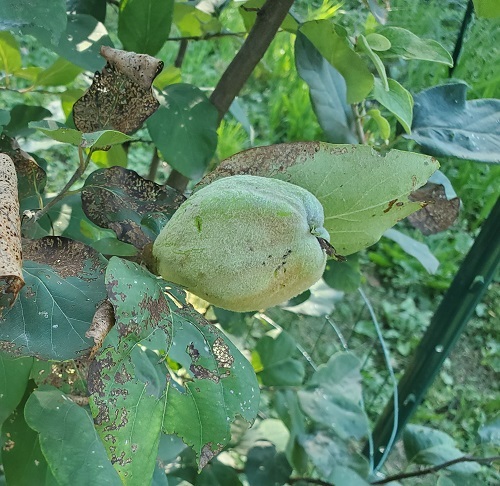 Any tips for Grimmy?

Music
Some Irish fiddling: Swallowtail Jig
Gardens of The Horde
This little guy came in the kitchen on a plant. Mrs. E saved him from Madison The Cat.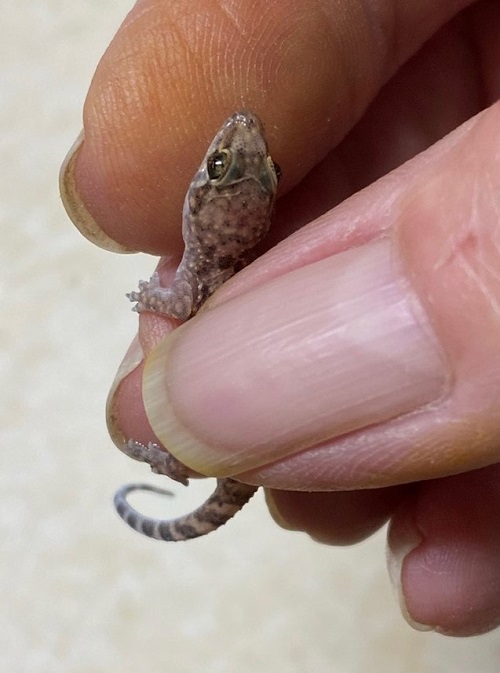 Building in 2014, 6 beds 3' wide average /5' long.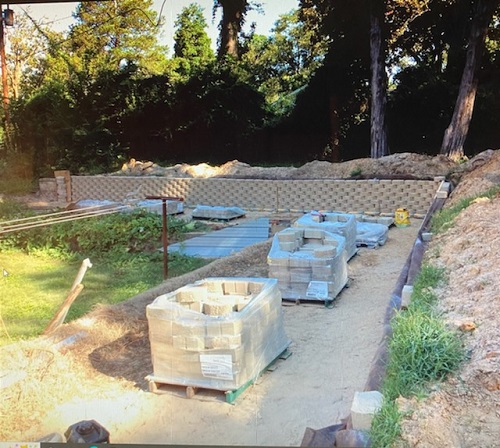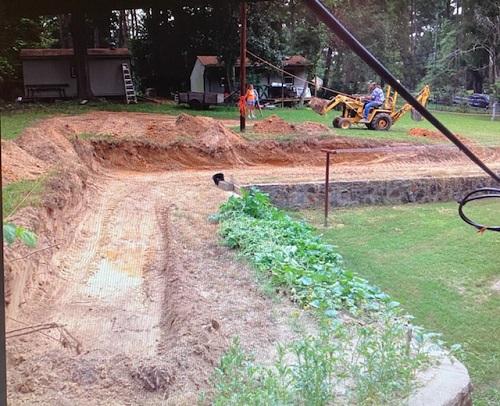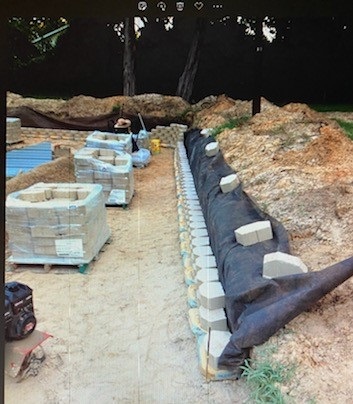 That is some garden construction! The long bed is 25 feet.
Here's something exotic:
Looooooong time and frequent lurker, mainly because I check AoS on my ipad and for some reason, commenting is hinky (not usually possible) via iPad. On the rare occasions I can get a comment thru, it's as "Reine'.

At any rate: This is curcuma, a type of ginger plant. If you look closely, you can see that there are purple flowers growing out of the pink flowers! These blooms last and last. Second photo- same as the first, I just did some sort of filter and liked the way it looked - the flowers seem to pop, and it's easier to see the small purple flowers.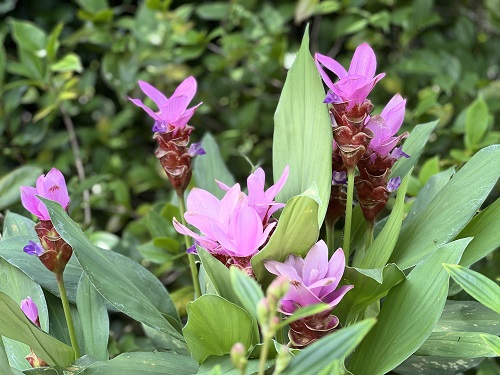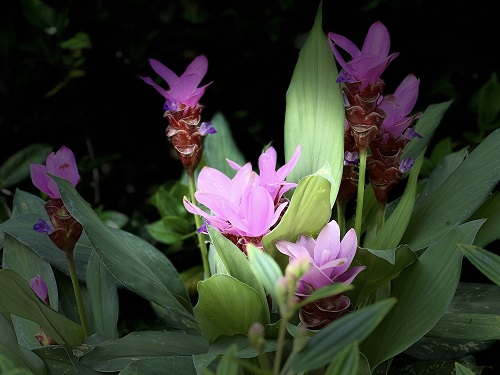 Lovely!
Hope everyone has a nice weekend.

If you would like to send photos, stories, links, etc. for the Saturday Gardening, Puttering and Adventure Thread, the address is:
ktinthegarden at g mail dot com
Remember to include the nic or name by which you wish to be known at AoSHQ, or let us know if you want to remain a lurker.

Week in Review
What has changed since last week's thread? Saturday Gardening, Puttering and Adventure Thread, August 6

Any thoughts or questions?
I closed the comments on this post so you wouldn't get banned for commenting on a week-old post, but don't try it anyway.

posted by K.T. at
01:24 PM
|
Access Comments