« As David Zaslav Goes Straight Savage Cutting and Cancelling Everything #Woke at Warner Discovery, SJWs Start Shrieking About MuhFakeJobs
|
Main
|
THIRD WORLD JUNTA: The DOJ Just Executed a Surprise Raid on the President's Home »
August 08, 2022
Quick Hits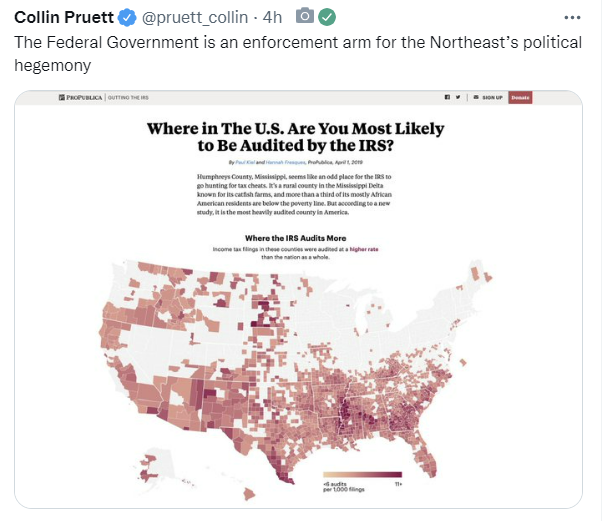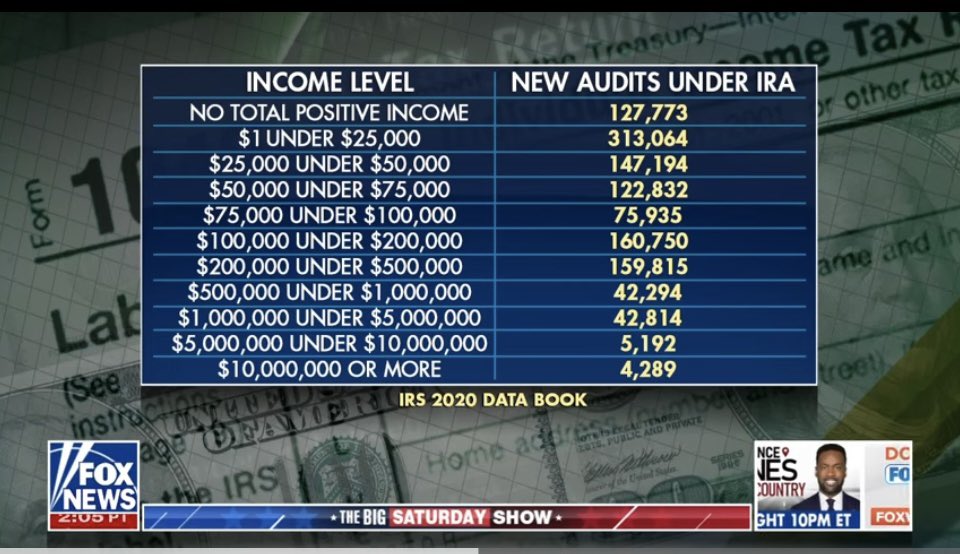 The scramble to re-brand the "Inflation Reduction Act" as the "Everything Except Inflation Reduction Act" is an all-hags-on-deck priority: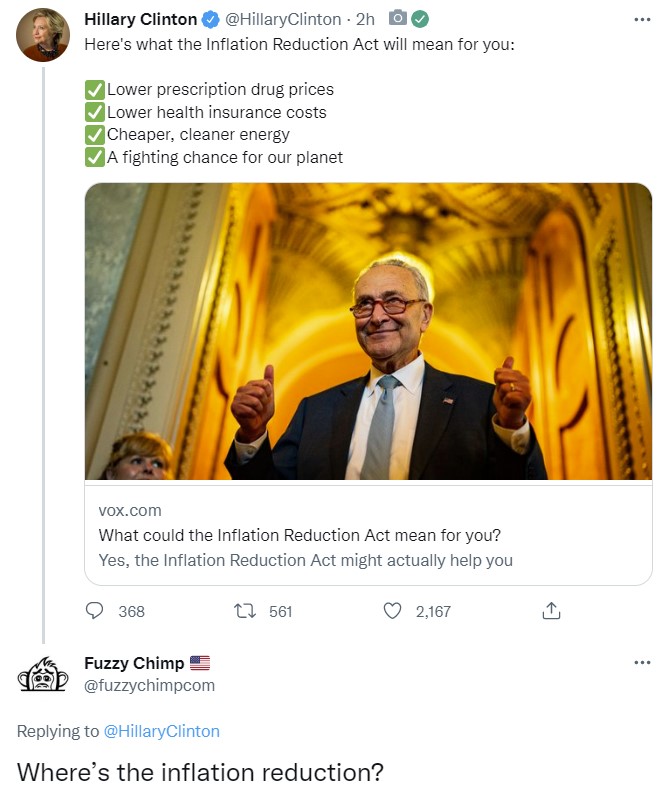 Literal State Media NPR: The GOP "feuded" with the "mainstream media" (no one calls the propaganda corporate media that but themselves any longer).
Are you sure the corporate propaganda media didn't feud with the GOP?
Now the GOP is shutting we, the media out -- and now they're going to get one-sided coverage, and it's all Republicans' fault we'll be giving them one-sided coverage!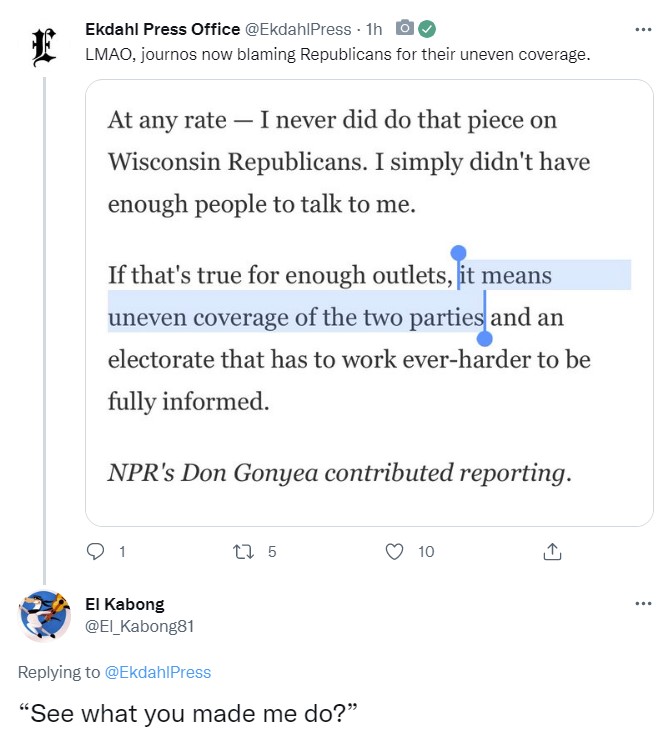 Defund, and also: Cancel their broadcast licenses. They have no right to the airwaves. The airwaves are held in public trust for the public good, not for the good of the most privileged, most over-served 30% of the population.
There should be a diversity of voices heard on the nation's airwaves, not the same c*nty establishment white progressive twats on every single frequency.

(((DeanObeidallah)))
@DeanObeidallah

More of GOP's brutality on display: "Texas GOP governor sends migrants to New York City."
When illegals are being sent to leftwing cities, suddenly it's "brutality."
But even "Hot Air Conservative" Jen Rubin supports sending Texas' illegals to NYC:
Jennifer "Pro-privacy" Rubin
@JRubinBlogger



Replying to @DeanObeidallah



I dunno. Sending people to arguably the greatest city in the world where they'll get work and be welcomed seems good. God forbid they should have to live in Texas-- with gun violence, a flaky grid, forced birth, etc.
Fusilli Spock
@awstar11

I hear Chicago is a great and safe city too.
No "forced births," as Noted Conservative Jen Rubin calls "live births," either.
More reactions to this Noted Conservative at Twitchy.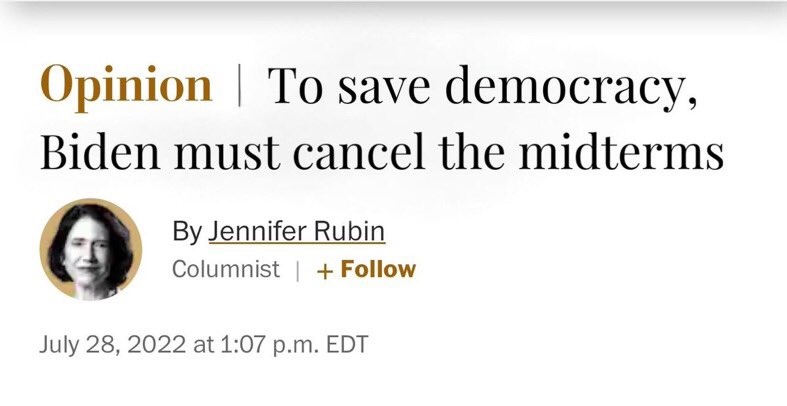 Is that real? No, it's fake, as a thousand "fact" checkers are flooding the zone to let you know.
But that is the kind of thing that NeverTrumpers and the hard left -- but I once again repeat myself -- come very close to saying. When the public disagrees with their Enlightened Urban Effete Cosmopolitan Progressive Religion, they are increasingly brazen about just arguing that we need to Do Something About Democracy, Because It Keeps Being Wrong!
And these people, being, unaccountably, "elites" in the media and government, have the real ability to actually rig an election if they so choose.
And they do so choose.
In fact, they openly bragged about "fortifying" the 2020 election to "save it" from being won by Trump.

The media, the leftwing constellation of dark money groups, and the leftwing tech oligarchy pushes two messages at the same time:
1, the election wasn't rigged and if you say so, you are a Russian Asset and we will ban you and attempt to get you fired and made unemployable, and
2, we want credit for having been daring enough to rig the election for you.
Mollie Hemingway: People should expect there to be major action on FBI corruption if Republicans take power.
Let's change that to people should demand major action. I think we expect nothing.
"The FBI is in complete crisis," Hemingway said. "They have been embroiled in so many scandals, whether it's being way too involved in setting up kidnapping attempts in a way that meddled in the 2020 election, weaponizing the Russian collusion hoax which interfered with so many other elections, going after parents for the crime of wanting to know what curriculum is being taught. You know, covering up this investigation into Hunter Biden by putting out a disinformation operation against it."


"Christopher Wray doesn't seem to think it's a big deal at all. Obviously nothing is going to happen so long as Democrats are in power but when Republicans take the House I think people should expect major action to deal with these two standards of justice at the FBI and Department of Justice," Hemingway said.
Video at the link.
Varad Mehta
@varadmehta



Least surprising thing in the world how quickly the NeverTrumpers are becoming NeverDeSantis. But they were already mostly NeverRepublican, so the surprise would be in they supported anyone who wasn't Liz Cheney or Larry Hogan.
Oh no! Pediatricians are throwing out Baby's First Unneccessary Experimental Vaccine due to lack of demand.
When COVID-19 vaccines for children under 5 finally rolled out in June, doctors expected to face hesitant parents. Surveys had predicted that only one in five would jump at the chance to vaccinate their littlest children right away.

But in the six weeks since, the uptake has proven even weaker than feared.

Nationally, as of figures reported on Aug. 3, 3.83 percent of children age 6 months until 5 years had received at least one dose of vaccine. In Massachusetts, which provided more current data, the number was 11 percent, one of the highest rates in the nation but still lower than any other age group in the state.

Seizing every opportunity to vaccinate, doctors are opening 10-dose vials during regular office visits, knowing they probably won't use all the vaccine and will have to throw some out. Once a vial has been punctured, its contents must be used or discarded within 12 hours.

"It feels yucky. I hate waste," said Dr. Wayne Altman, a family physician in Arlington. His practice has had a comparatively high uptake of vaccine, with about one-quarter of eligible patients getting it. Still, he has not once used up every dose in a vial.
Don't worry, Pfizer's still being paid. That's the real point of this exercise.
"Yucky." You can always tell a leftist because they deliberately speak like children.
They want to be confused with children.
Why would an adult deliberately speak in a childish way, as if desiring to be mistaken for a child?
Who can say why? It's a mystery.
Meanwhile, lefties are still hysterical about anti-grooming measures and complain they won't protect student from grooming, just drive away good educators (who are groomers).
From a couple of weeks ago: The Babylon Bee offered substitutes for the now-banned word "groomer" -- banned precisely because it was accurate.

My favorite, of course, is "Person of Grooming."
Oh, this sad leftist shill is still shilling.
Kevin Smith has weighed in on Warner Bros. Discovery scrapping the Batgirl movie starring Leslie Grace. The move made by the conglomerate has caused shockwaves in the industry and Smith, who is a comic book aficionado and writer, shared his thoughts on his YouTube series Hollywood Babble-On.

"It's an incredibly bad look to cancel the Latina Batgirl movie," Smith said in the video. "I don't give a sh** if the movie was absolute f***ing dogsh** -- I guarantee you that it wasn't. The two directors who directed that movie did a couple of episodes of Ms. Marvel, and it was a wonderful f****ing show and they had more money to do Batgirl than they had to do an episode of Ms. Marvel and stuff."
Note his only complaints about this are based on race.
Here's another charity case who doesn't make money who's upset.
1, your heart had the right idea five years ago, and 2, go make another She-Man movie and then lie about it when people accurately reporting on the bait-and-switch you're pulling.
My wife and I have such a vibrant, intimate sex life that I send her off to swinger's parties with my brother posing as her husband, reports totally normal man with normal heterosexual drive.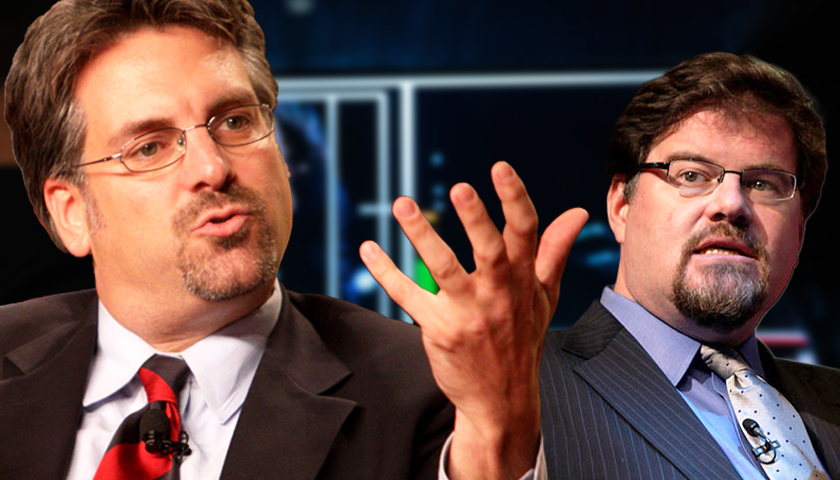 The left keeps insisting that "Dark Brandon" is a super-powerful meme with a musky scent and girthy penis and the right just can't handle the ultra-potent sexual energy of Dark Brandon.
Behold: Dark Brandon, in the real world.

posted by Ace at
06:24 PM
|
Access Comments