« Mid-Morning Art Thread
|
Main
|
Revealed: The Criminal Chris Wray Gave the Senate the Finger Claiming He Had an Unmissable Plane He Had to Catch.
That Plane -- Paid for By the Taxpayers -- Was Taking Him To His Weekend Vacation Venue, Of Course. »
August 08, 2022
The Morning Rant - More Electric Vehicle Follies and Fires; Firefighters Weigh In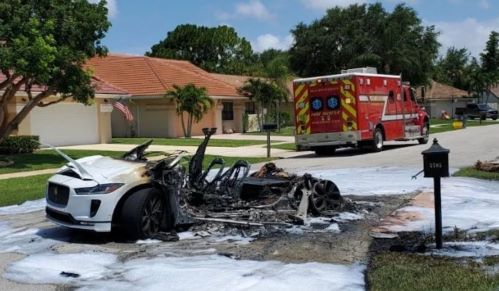 Electric Vehicles may have a place as a boutique, status-symbol car that will never be used for long distance travel or towing. But they are simply not an option for people who do not have the budget for a second car that's limited to in-town driving.
I wouldn't have a problem with EVs if weren't for these two major issues:
1) I'm being forced to subsidize them with $7,500 taxpayer-funded credits to EV buyers. If I shouldn't have to subsidize your Rolex or Gucci bag, why should I subsidize your status-symbol car?
2) EV super-fanboys aren't content to simply drive their EVs, they want to outlaw the gasoline-powered vehicles that the rest of us choose to drive, and force us to drive EVs.
By the way, did you know that the EV tax credit has only benefited affluent car buyers? Only those paying more than $7,500 in federal income taxes in a single year currently receive the full $7,500 tax credit. The EV tax credit has been yet another case of liberal politicians redistributing wealth from the working class to affluent, urban leftists.
If you purchased a Nissan LEAF and owed say, $3,500 in income tax this year, then that is the federal tax credit you would receive. If you owed $10,000 in federal income tax, then you would qualify for the full $7,500 credit.

It's important to note that any unused portion of the $7,500 is not available as a refund, nor as a credit for next year's taxes.
Whenever I write a post about EVs, I get pushback that "the market will decide" about EVs, and that as free market conservatives, we should encourage the competition of EVs. I'm sorry, but there is nothing "free market" about subsidizing the purchase of vehicles favored by gentry liberals. And there is nothing "free market" or conservative about tolerating state and federal governments outlawing the manufacture of internal combustion cars.
Speaking of EV fanboys, in response to that recent Wall Street Journal horror story about an EV trip from New Orleans to Chicago and back, an EV enthusiast writing for ARS Technica thought if he just planned well, he could easily manage the re-charging hassle and drive an EV from Washington DC to upstate New York. It turned out to be another horror story.
ELECTRIC CARS ARE DOOMED IF FAST CHARGER RELIABILITY DOESN'T GET BETTER: If every driver has a horror story about charging, adoption is going to stall
As a smug EV evangelist and self-proclaimed EV expert, I rolled my eyes. "They just didn't plan well enough," I thought to myself, not realizing I was merely hoisting myself on my own petard.

Despite plenty of planning, I still spent almost as much time stationary, arguing with charging machinery, as I did actually putting electrons into the car's battery pack throughout the 600-mile journey.

At each charging stop, in Virginia, Pennsylvania, and New York, I ran into problems. A five-minute wait to see if the car and charger would establish communications was invariably the case. Waiting 10 minutes was not uncommon. Even then, there was no time to relax; more than once, an error somewhere in the loop shut everything down after just a few kWh.

Only one of six charging stops was painless...

Then there was the problem of whether or not all of the chargers at a given location were even functional. At one EA station…two of four chargers were completely inoperable and a third was reduced to just 50 kW.

If you're lucky, you get to the charger when no one else is around, and maybe you're recharging your battery before the third anxious EV arrives on the scene and joins the wait. More likely, you're on the phone with tech support.
*****
Long distance travel in an EV is clearly not feasible. But how far can you actually feel comfortable going in one? The answer is "not very far" if you are also trying to tow something.
Horror stories keep coming in from the automotive press about the atrocious towing range of EVs, and I'm going to keep highlighting them.
TOW NO! THE FORD F150 LIGHTNING STRUGGLED IN OUR TOWING TEST; We towed 3100, 5300, and 7200 pound travel trailers with Ford's electric truck and didn't get very far from home. [Motor Trend – 7/31/2022]

Before you hitch an Airstream to your electric truck and set out to circumnavigate the country, you need to understand this: With the largest available battery pack, a fully charged 2022 Ford F-150 Lightning electric truck has less energy onboard than a regular F-150 with four gallons of gas in its tank.
In other words, you can travel only 50 or 60 miles before you need to go through the awful challenge of trying to re-charge while on the road away from home.
Now that you understand where we're starting from, you won't be as surprised to learn that the towing range of the electric F-150 is dismal.
*****
Speaking of EVs, how's the "EV batteries keep catching on fire" situation coming along.
Not so good. One high-flying EV startup keeps having its EV batteries catch on fire at its factory.
Lucid Had Two EV Battery Fires at Arizona Facility in Four Months [Business Insider – 7/13/2022]
Also, the vehicles themselves continue to spontaneously erupt into flames. Here are some new incidents:
Jaguar I-Pace catches on fire again – is this another Bolt EV battery fire situation? [Elektrek – 8/01/2022] (A picture of this car is at the top of this post, under the headline.)
Another Jaguar I-Pace battery caught on fire without any crash after simply sitting charging in a garage. This is the fourth known I-Pace battery fire that seemingly started on its own, which is starting to be significant considering the relatively small number of units on the roads.

Jaguar also uses LG battery cells like the Bolt EV and Kona EV, which were both recalled for battery fire risks. Is this another Bolt EV battery fire situation?
Take a look at this terrifying photo from two weeks ago. This is was an electric bus operated by CTtransit in Connecticut. It had only been in service for a couple of months. The rest of the electric fleet has temporarily been yanked from service, at least until the wreckage of this electric bus cools.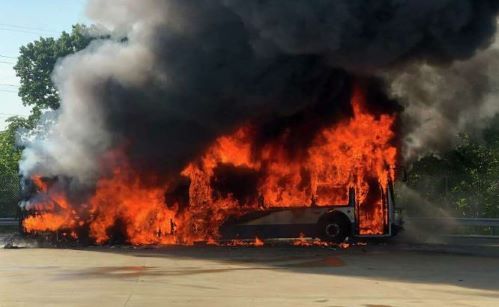 After massive bus fire, CT pulls electric fleet from service [CT Insider – 7/26/2022]
One day after officials touted the passage of the Connecticut Clean Air Act, including plans for thousands of electric vehicles to hit the road, one of the state-run electric buses caught on fire over the weekend. The blaze engulfed a CTtransit bus in a Hamden parking lot Saturday morning, sending two workers and a firefighter to the hospital, officials said.

"Lithium ion battery fires are difficult to extinguish due to the thermal chemical process that produces great heat and continually reignites," Hamden fire officials said.

Two transit workers were hospitalized as a precaution after being exposed to the smoke. A firefighter was also taken to the hospital for heat exhaustion, officials said.
*****
Speaking of the peril for firefighters trying to extinguish burning EV batteries…
Firefighters Issue Warning: EV Fires Require 10x More Water to Put Out, Up to 10,000 Gallons of Water [The Western Journal – 7/06/2022]
… a gas-powered car typically takes less than 1,000 gallons of water to douse it when it catches on fire. But EVs are a bigger problem, he said. When an electric vehicle catches on fire, firemen are faced with a "thermal runaway."

Fremont Fire Department Battalion Chief Gary Ashley said, "The protocol is to start using copious amounts of water, up to 3,000 gallons, so that's what we started doing."
So what. Just pour more water on the burning EV, right? Well, for that kind of volume you need a fire hydrant, which you'll not find along interstate highways or rural roadways.
"In rural areas, especially on interstates where there are no hydrants, this is going to create a logistical issue for emergency response agencies as they're going to have to shuttle the water up that they need," the National Volunteer Fire Council's Tom Miller said.
Ace of Spades reader "Dano" is a firefighter. He confirmed the problem to me, explaining that when they get a call about a burning vehicle, they send the engine that is equipped for fire and extrication. It contains about 500 gallons of water. He told me that of the dozens of car fires he has attended to, none had ever required more than 500 gallons to extinguish until this past winter when he dealt with a burning EV. In Dano's words, "We got called to a vehicle fire and responded within three minutes. The vehicle was fully flashed over and we dumped almost 3,000 gallons of water before it could be loaded on the tow truck." It required a separate tanker truck of water to be dispatched to be able to finally extinguish the burning EV.
*****
General Motors has come up with a nifty solution to deal with the problem of its electric Chevy Bolt spontaneously bursting into flames.
Chevy Offers Bolt Owners $6,000 to Waive Right to Sue Over Battery Fires [Jalopnik – 8/02/2022]
After more than a year of bad news around battery fires, this summer Chevy slashed the price of the electric Bolt and Bolt EUV by as much as $6,000, making the Bolt the most affordable electric car on sale in America. In an effort to appease customers who bought their Bolts before the discount, Chevy offered a cash rebate to existing Bolt owners. But as a tipster points out to Jalopnik, in order to receive the rebate, Bolt owners have to waive all rights to sue GM over the vehicle — including their right to sue if their Bolt battery catches fire.
Sorry GM, but a 100% rebate and a backseat full of fire extinguishers wouldn't be enough to get me to drive that car.
(buck.throckmorton at protonmail dot com)


posted by Buck Throckmorton at
11:00 AM
|
Access Comments