« Anti-White Racist: Whites Can't Be Non-Binary. They're the White Supremacists Who Enforce the Cisnormative Gender Binary on BIPOCs.
|
Main
|
New York Times Publishes Op-Ed From 25-Year-Old Female "Economics Influencer" Absolving Biden of Blame for Economy and Instead Putting It Where It Belongs:
On the "Bad Vibes" The Public Is Putting Out About the Economy, Man »
August 05, 2022
Our Border Isn't Broken, It's Fixed.
It's Fixed Precisely the Way The Regime Wants It To Be
Biden has reduced the number of prosecutions for border crossings by 80%.
NeverTrump cheers, because they are strongly in favor of open borders. They just don't want to call it that.
The Biden administration dramatically reduced migrant prosecutions by nearly 80 percent in the 2021 fiscal year, even as illegal crossings skyrocketed.

...

The precipitous drop in migrant prosecutions illustrates President Joe Biden's break from prior administrations' policies toward illegal immigration. Refraining from bringing criminal charges against the vast majority of individuals entering the country illegally also provides evidence for critics who say the White House is exacerbating the migration crisis on the southern border.

The decline in prosecutions for illegal border crossings also happened amid the worst border crisis in U.S. history. Migrant encounters on the southern border exceeded two million in 2021.
...


"The lack of accountability from this administration encourages the worst people flooding our borders, criminals, to keep violating our laws until they finally commit a crime so egregious that the Department of Justice is forced to prosecute," a senior DHS official told the Free Beacon.

...

The Free Beacon in December reported on deportations plummeting to the lowest number in decades under Biden. The White House has also stonewalled congressional investigations into where DHS is placing illegal immigrants after they are released into the U.S. interior.
The entire immigration system is "buckling under pressure" from the non-enforcement at the border.
Federal authorities don't know the location of potentially hundreds of thousands of illegal immigrants that entered the country last year, many of whom never showed up for their mandatory appointment with Immigration and Customs Enforcement, according to an internal Department of Homeland Security report.

The report shows Customs and Border Protection failed to record the U.S. addresses of around a third of illegal border crossers between March and June 2021, a period during which border agents encountered more than 720,000 migrants along the southwest border.

Many of those migrants failed to report to ICE following their release. Roughly 30 percent of migrants released into the United States between March and September 2021 "did not comply with release terms," according to the report...

To deal with the flood, agents began using "ad hoc methods" such as white boards to track the whereabouts of migrants with little success, the report states....

Under President Joe Biden, immigration authorities have released up to hundreds of thousands of migrants into the United States without court dates. From March to mid-July 2021, roughly 50,000 illegal immigrants were free to live in the United States without a scheduled court date, according to a report from Axios.

James Varney of Real Clear Politics visited an immigration court in New Orleans, partly to con his employer into paying for a trip to New Orleans, and partly to report on how the system actually works.
His report? Basically, the system works exactly as intended.
Except the system is designed to permit the maximum number of illegal aliens into the country while falsely assuring the Rubes of the nation that it's working to deport them.
So yes, according to its design goals: It's a smashing success. Every illegal alien who wants to come into the United States can do so, and can stay as long as they want, and the Rubes who are actually citizens of the United States stupidly believe there's a "system" in place to prevent that from happening.
Despite the hundreds of thousands of illegal aliens entering the country every month, the immigration courts are... snoozy places. Almost ghost-towns.
Over five days during a two-week period in June that officials described as typical this year, two active courtrooms heard about 50 combined cases each morning, wrapping up business by 11 a.m. even though all those cases were continued.

The brief activity seemed puzzling for a system that all sides of the immigration debate agree has been overwhelmed by a growing national backlog of at least 1.8 million cases. For the New Orleans courts, the backlog currently stands at more than 40,000 cases, according to the Transactional Records Access Clearinghouse, or TRAC, at Syracuse University, which focuses on immigration topics.
You'd think that with such an immense backlog, the courts would be bustling with activity, and open all day long.
You would, of course, be wrong.
But the darkly wooded courtrooms -- featuring the Department of Justice seal on to the wall behind the judge (photography not allowed) -- feel more like a sleepy municipal outpost than one of the key cogs in a national crisis.

...

"When I started practicing immigration law in Baton Rouge in 2007," said Ken Mayeaux, one of Louisiana's top immigration attorneys and former clinical professor at LSU Paul M. Hebert Law Center, "there was only one immigration judge in New Orleans and at that time, from initial hearing to final decision, was typically four to six months. Now it's more like four to five years."
Almost as if the intent is to allow illegal aliens to live in the United States so long that they will have children here and then Democrats can say, "But it would be inhuman to evict them now! They've made a life here!
Varney notes that it is tactically advantageous to not have a lawyer present at these initial court hearings -- so virtually no one has one.
If you don't have a lawyer, you get an additional four months in the United States, free.
What kind of effed-up incentive structure is this?
Would not one or two weeks be enough time to find an internet cafe and Google "immigration lawyers"?
Those who do not have a lawyer, which was almost everyone in court the days RealClearInvestigations attended, get a reprieve -- usually a four-month stay to allow time to find an attorney and be placed back on the "master calendar" to sit through the process once again. Immigrants are not entitled to representation, although the court does make available a list of nonprofit clinics that can offer legal advice.
In fact, why not hold the illegal aliens and let them google "immigration attorney" from a holding area?
I'd even go a step further: Why do they need lawyers? This is not a criminal proceeding. The Constitution does not mandate a right to a lawyer when you are petitioning the government for a benefit. And in these cases, the "right" to asylum is based on a free narrative about your claims of persecution in your homeland -- this isn't some kind of technical legal proceeding. It's supposed to be just the asylum-seeker telling the truth in his own words, not being told how to lie for maximum effect by lawyers perpetrating a fraud on the court by instructing their clients to recite a string of perjurious statements known to contain the key claims judges will grant asylum if they hear.
As I said, the system is not failing -- it's succeeding. The system is designed to fail, if the object is to deport illegal aliens.
The real object is to put on a Potemkin Village show of border enforcement for the rubes while making sure anyone who wants to illegally come to the United States can illegally come to the United States.
But the Biden Administration isn't even interested in the Potemkin Village show any longer, Varney reports:
The lack of activity in June was unusual, according to attorneys who practice in immigration court. They also said additional "master calendar" hearings are held by video, and that many days there is a separate room where the court will hear dozens more initial appearances. "It may look like nothing is going on but believe me, there is a lot going on," Mayeaux said. "But this is an abnormal time."

[The Transaction Records Access Clearinghouse] of Syracuse attributes much of the slowdown to the COVID pandemic, but another main cause according to attorneys is what the Biden administration calls "prosecutorial discretion," which it has increasingly used to wipe clear cases against illegal immigrants.


The policy involves the government's lawyers in court, part of Immigration and Customs Enforcement, simply dropping the cases. The new policy to unclog the system by letting illegal immigrants walk came from the so-called "Doyle Memorandum," an internal guidance memo issued by DHS' Principal Legal Adviser Kerry E. Doyle that went into effect April 25.

Under its terms, the government makes an "unopposed motion to dismiss without prejudice ... recipients who have been ordered removed or deported from the United States and are seeking to apply for lawful permanent residence with U.S. Citizenship and Immigration Services."

"You are free to go and live your life, and the government has no interest in removing you from the country," Judge Charlotte Marquez told an immigrant in New Orleans accepting "prosecutorial discretion," adding those terms could change should there be some future lawbreaking.
Not bloody likely.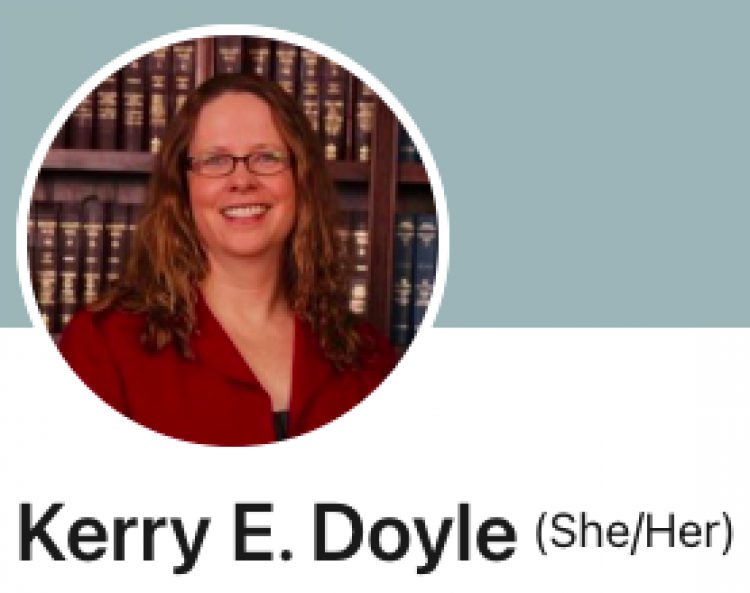 Kerry E. Doyle,
who wrote the Doyle Memorandum
(she/her)

Read the whole thing. It's a good 'un.
Bonus:
Idrees Ali @idreesali114

U.S. Defense Secretary Austin had rejected a request by the D.C. mayor for National Guard troops to help with migrants being sent into the city from Texas, saying that it would hurt troop readiness, a U.S. official says.
Via bonhomme.


posted by Ace at
02:08 PM
|
Access Comments