« GAINZZZ and Stronk Wimmenzzz
|
Main
|
Astonishing Tales of the Sea Cafe »
August 05, 2022
The Man from Libs of TikTok
Twitter is going after conservatives, particularly those that Elon Musk had a regard for, for both payback and pressure. Payback for giving the Purplehair Noserings a heart attack, and pressure to make him go through with the purchase.
FaceBook is now joining in as well: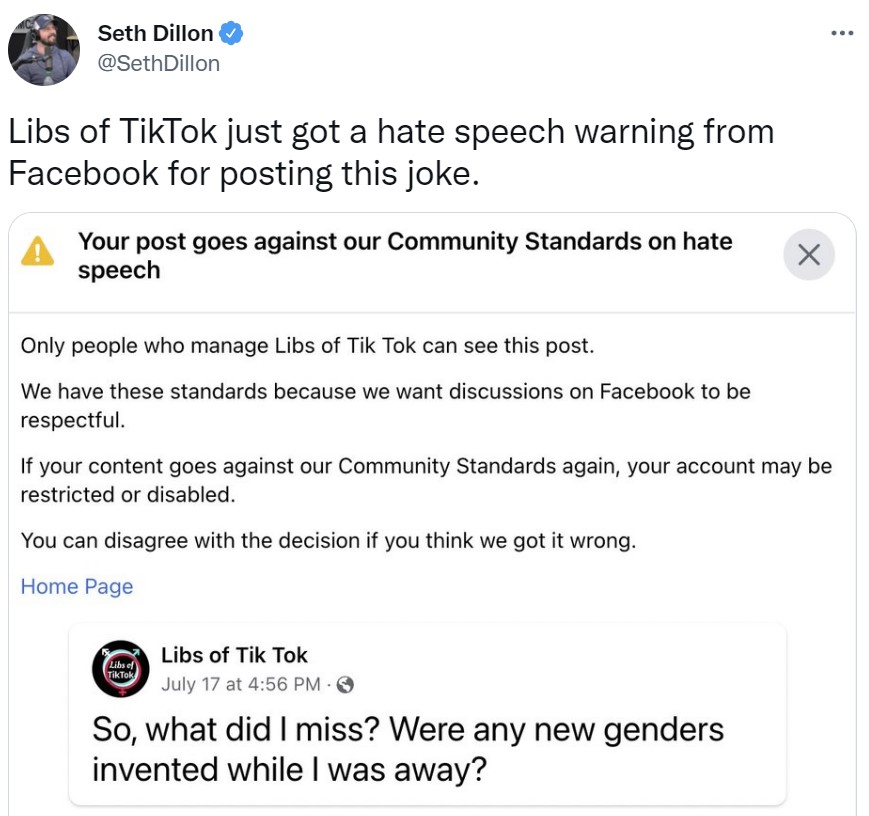 James Lindsey, began calling "Groomers" "child sexuality specialists" because Twitter censors the real word. He predicted he'd be banned within a day or two.
You'll never guess: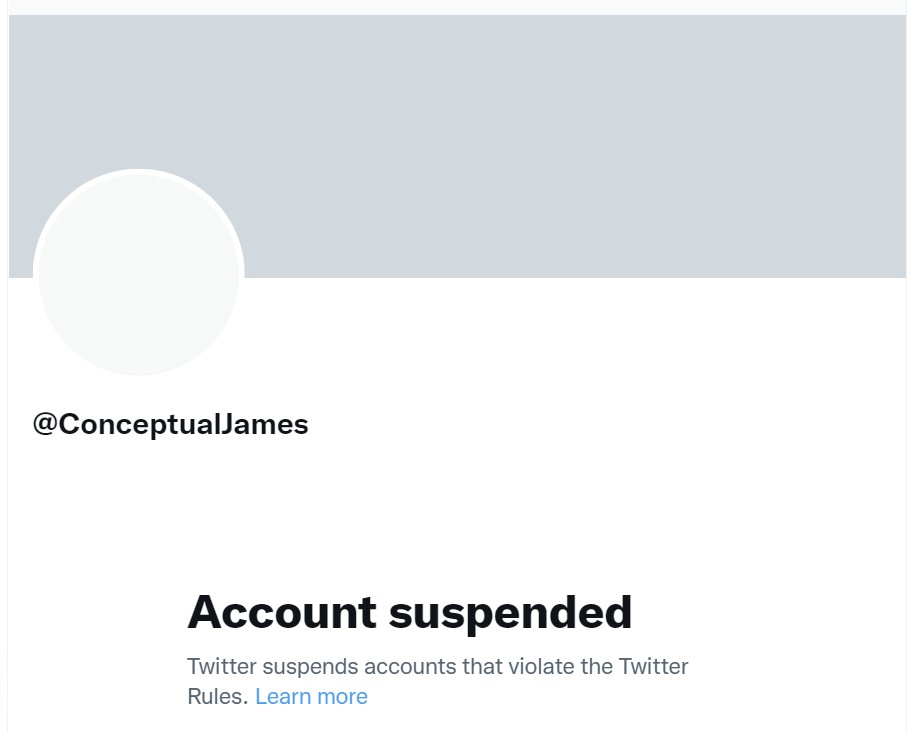 CNN complains that "right wing extremism" has spread to England, where grooming by Child Sexuality Specialists is now also being objected to.
Drag queen storytime in England promotes compassion and inclusion. British far-right extremists are importing US hate against them
These totally-not-sexually-interested-in-children people sure can't seem to stop trying to get close to children.
An ordinary red-brick library in the southern English town of Reading is an unlikely backdrop for the latest front in the battle for equality for the LGBTQ+ community.
Sexual access to children is part of the battle for gay equality?
What happened to "we just want to get married"?
But last week -- in scenes later repeated across the country-- Covid-19 conspiracists and far-right supporters lobbed homophobic and transphobic slurs at parents and children to try to stop the kids from meeting drag queens.
What do "covid-19 conspiracies" have to do with any of this?
If I went digging for the fringe political opinions held by -- or sexual deviancies enjoyed by -- the drag queens, what do you think I'd find?
Does CNN think those would be relevant here?
No, they don't, do they?
"We are Real News, Mr. President," CNN's Jim Acosta lied.
In footage shared online, anti-vaxxer Michael Chaves ​is seen berating parents -- some of whom are carrying infants -- arriving for Drag Queen Story Hour UK, an event at which books promoting compassion and inclusion are read to children.
Which books?
Would it be fair to say that these books also promote homosexuality to children? Would that be a fair interpretation of their content?
Chaves goes on to falsely accuse Sab Samuel, who was performing that day as drag queen Aida H Dee, of being a pedophile. CNN has reached out to Chaves for comment; he has not responded. ​

He told local newspaper The Reading Chronicle, that he was protesting the tour as it was "sexualising children."

As protesters unfurled a banner reading: "Welcome groomers" outside the library, two women who had pretended to be attendees disrupted the reading inside the building, calling Samuel an "adult entertainer" as they terrified parents and children in the process, according to Samuel. At least one mother was seen crying after the incident, Samuel said.
Is a drag queen not an adult entertainer?
The term "groomer" is a homophobic stereotype used to falsely smear queer people and their supporters as child sex abusers.

At the end of the session, Samuel left the library with police protection as demonstrators hurled abuse.

Recent angry confrontations around events involving drag queens in the United Kingdom follow a disturbing precedent from the United States, where right-wing extremist groups ambush similar events and conservative politicians have pledged to criminalize adults taking children to drag shows.
As CNN's slope-shouldered effeminate thumb Chris Cillizza said: "We don't pick sides."
Not all gays are groomers, of course. Some speak out against it.
"Right Said Fred" -- the singers of "I'm Too Sexy" -- appeared on Carl Benjamin's show to object to this bizarre insistence on drag queens shaking their ugly fat asses in children's faces.
If you're a woman and you only want intimate medical care from biological women, I've got bad news for you: it turns out, you're "psychotic."
J.K. Rowling @jk_rowling

Intimate touching without consent is sexual assault. A self-proclaimed doctor says it's 'psychotic' for disabled women to assert the right to female-only intimate care. I'm praying he's not actually an MD, just a standard misogynist here to troll, but either way
Straight men would run tricks on women to touch them. They would get thrown in jail for this and be called perverts. Sometimes they'd be confined to mental institutions for sexual deviancy.
Now if you pressure women to let you touch their vaginas even though they're very uncomfortable with it, you get called Stunning and Brave.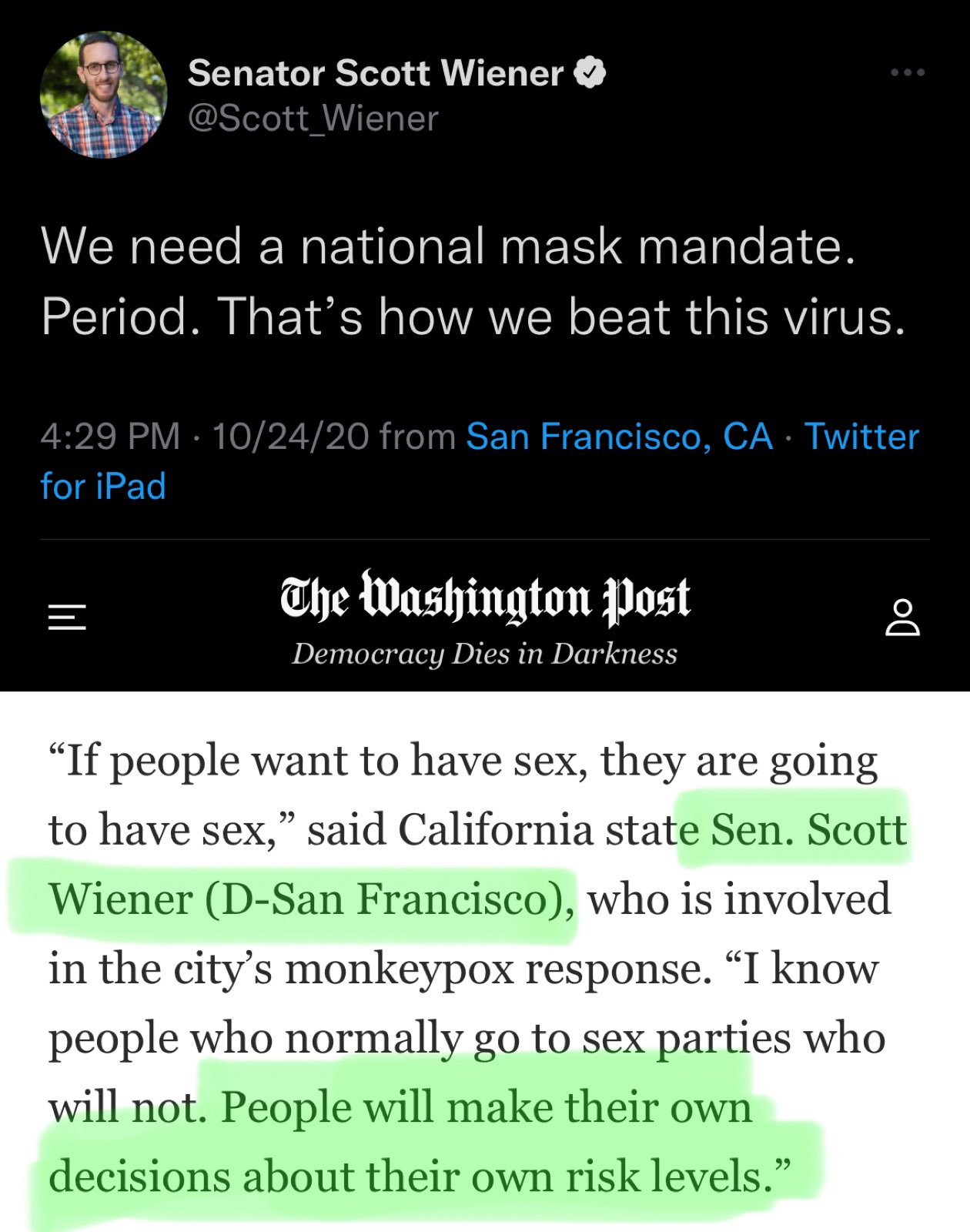 You're going to see enormous cut-backs in federal spending for gay men's health problems.
What about the privilege of being a leftwing progressive in any of the many, many institutions and professions captured completely by the left wing? Can we talk about that privilege or nah?
"Gender creative parenting" with a gender creative parent.
Another one of those "family friendly" drag shows where Child Protective Services should be posted up in the lower block like Dennis Rodman hunting for a rebound.
A narcissist teenager indoctrinating other teenagers in adopting "neo-pronouns" to get attention and social media clout. Facilitated through the greatest foreign psyops operation in history, TikTok.
OUT: Special Needs Students
A 26 year old woman says she was approved for irreversible surgery -- a double masectomy --after only two hours of "counseling." It does appear that the dogma these crazed religious maniacs are operating under is that we all are "trans" so we don't need any counseling; we all should have trans surgery, and should be rushed through the process before we have any evil doubts sent by devils.

Horrifying. Look how young this child is.
What are we teaching children?
Lauren Chen @TheLaurenChen

White progressive moms love having "trans" kids almost as much as they love wine and antidepressants

It gives them a way to have secondhand oppression points and signal how virtuous and tolerant they are
Yeah, and they're literally all making videos about their "trans" kids. These bored sexless jaded c*nts are all evil stage moms who are too lazy and dopamine-depleted to actually be stage moms, so they just buy their kids hormone blockers and start posting to Insta and TikTok.
I just get the strong sense that most of these Trans Moms were real nasty whores when they were younger, like into some really gnarly f*cked up shit to work out their Daddy Issues in the most degrading ways possible, like stuff even I wouldn't even watch on Brazzers and I've got real problems, stuff where you're like, "Wait, is that even sex? Who is this for, exactly?," like really deranged toxic shit like that, and now they're dried up and sexless but still have the powerful urge to transgress sexually, so of course they do it vicariously through their children.

Kelsey Bolar (Harkness)
@kelseybolar

For the past 3 months, I've been working on a devastating story about a Chicago mother who lost custody of the daughter she loves. All because she insists that her daughter is a girl.

After Jeannette Cooper and her ex-husband got divorced in 2015, Cooper got custody of their daughter six days, seven nights a week. The two shared a happy, healthy mother-daughter relationship.

But on July 22, 2019, after a regular custodial visit to her father's house, Cooper's then 12-year-old daughter refused to come home. The next morning, she insisted not only that she was transgender, but that she felt 'unsafe' around her mom.

This was the first time Cooper had learned of her daughter's transgender identity. Prior to that, her daughter had never exhibited signs of gender dysphoria. In fact, her daughter exhibited many more traditionally feminine behaviors and preferences than she ever did.

Since declaring she's transgender 3 years ago, Cooper has seen her daughter for a total of 8.5 hours. Cooper lives less than ten minutes away from her daughter, but isn't allowed to visit. The only way Cooper can communicate with her daughter is by U.S. Mail.

"People who are imprisoned have more communication with their child than I do," Cooper told me. "That's wrong."

A court-ordered investigation found no evidence of abuse and neglect. Instead, documents cite Cooper's need to "further [her] understanding of an[d] support of the minor child as relates to the minor child's gender dysphoria."

Cooper has an understanding of the concept of a transgender identity. It's just not the concept that anyone wants her to have.

Cooper's now missed her daughter's 13th, 14th, and 15th birthdays. Nearing her 16th birthday this August, Cooper found out that her daughter is learning how to drive. "I wish I could teach her," Cooper said. "I think I'm kind of good at that."

Finally ready to tell her story, Cooper is warning parents how gender ideology has become the latest weapon in parental custody battles, severing one of the most fundamental bonds in life under the guise of protecting children. She bravely went on-camera

And finally, please keep Jeannette Cooper and her daughter in your hearts. Cooper's story is incredibly painful, and deeply personal. It is only out of a selfless desire to protect others from experiencing the harms of gender ideology that she decided to publicly tell it.

//end
A short, 8-and-a-half minute video of Jeanette Cooper's story is here.
There's an article at IWF here.
The actor Laurence Fox arranged the "Trans" rainbow flags into a group of four to make a not-so-hidden swastika. The obvious message here is that the trans n@zis are trans n@zis.
Seems pretty simple and obvious.
Because this happened in England, of course, people were arrested for reposting it.
That'll prove that the trans N@zis are not n@zis!

SC_Reviews said, "Let's face it, if you're drinking Bud Light, you're halfway there, anyway."

posted by Ace at
06:23 PM
|
Access Comments