« Twitter Bows to Pressure by Groomers and Begins Censoring the Word "Groomer"
|
Main
|
Monkeypox is Spreading Through the Gay and Bisexual Communities -- But the CDC Can't Recommend a Lockdown for Orgies »
July 25, 2022
"Bee Gone!" Samantha Bee Finally Cancelled For the Old, Good Reasons -- Because She Was an Unfunny Black Hole of Negative Talent That Produced Nothing But Anti-Ratings
Update: The Future of TV?
Also, She was ugly. She's literally hard to look at.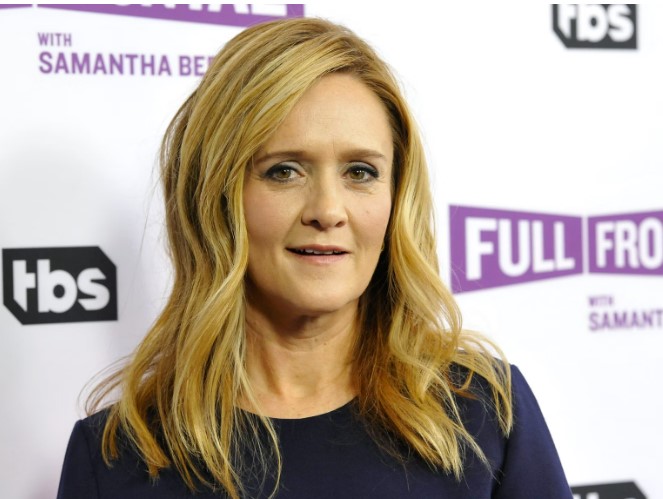 Like Amy Schumer exiting a crystal meth recovery clinic
And there's no visual respite available on her. There's no ocular refuge where you can safely rest your focus and say, "Well this part of her isn't so bad, I'll just post up here for a spell." Her face looks like what would happen if your skull could catch scoliosis. Anywhere you look on this brokedown BTFO whoreclown, your eyes get kicked in their eye-faces by a boot covered in chickenleather skin, invasive dandruff, and distressing facial angles.

Who would've thought the majority of Americans wouldn't like watching a Canadian know-it-all telling them what's wrong with their country? Less people than you'd think, apparently, because Warner Bros. Discovery is giving everyone's favorite unfunny female late night host, Samantha Bee, the boot!

That's right! "Full Frontal with Samantha Bee" won't be back on TBS in the fall, or anywhere else for that matter, according to a Variety report noting a statement from Bee's representatives.

Variety noted something Bee said in 2016 that most likely eventually led to her downfall.

"We do a show to please ourselves," Bee said then. "This gives us an opportunity to say the things we want in the exact way we want to say them."

While that's all well and good to say what you please -- free speech and all. To make a TV show based on what you like and never adjust to what the audience might like about it, shows the arrogance of those like Bee and her far-left writers.


According to Variety:

The end of her show will come as TV is trimming back its late-night antics. WarnerMedia decided to end its long-running "Conan" late-night program on TBS with Conan O'Brien. NBC and the late-night host Lilly Singh, a digital entertainment influencer who had launched a new show on the network in the wee hours of the morning, decided to part ways. Comedy Central, which once boasted three different late-night shows, now only has one, "The Daily Show," on regularly during weeknights. And CBS is mulling cheaper alternatives to replace James Corden when he leaves "The Late Late Show" in early 2023.
With Samantha Bee finally off the air, this frees up zero minutes of my time per week. I don't know what I'll do with this non-time I used to spend not watching her.
Maybe I'll use it to not pursue a hobby I'm not interested in, like soap whittling.
Writer Nick Kangadis notes that few people watch talk shows any longer, especially the staid, corporate, fake, predictable TV talkers, and have migrated to internet based conversationalists.
He also predicts:
The death rattle for classic talk shows, particularly of the late night variety, might just be upon us.
Oh, what a blessing that would be.
I do think the Way of Old Things is passing.
And Samantha Bee is, you know, and Old Thing.
Two Comments:
There's a real problem here and I am surprised that Ace didn't mention it.

Per The Verge, "Samantha Bee has one of the most diverse writer's rooms in late night TV." This is a big damn deal. They're callously canceling a show and causing an extremely diverse writing group to descend into unemployment, simply because the product was awful and the main star is an unbearable, shrill, distasteful harpy. Is this fair? Where's the damn justice? WILL NO ONE THINK OF THE DIVERSITY??????
Posted by: Joe Mannix (Not a cop!)
During Pride Month?!?!
the oligarchs thought they could bring the entire populace along if they controlled all of the venues day and night with preachers who were guaranteed to repeat the party line endlessly.

It didn't work.

there's actually a bigger, more fascinating issue lurking here. The ad revenue model for Television has failed. Now the support by ideological oligarchs model is failing. How does general audience broadcast go on - or does it just die now, with everything going to special interest streaming services?
Posted by: Tom Servo
This is a really, really great point.
I think this second model is the model of the present and the future -- media not supported by revenue, but by highly invested partisan oligarchs who use it for their own advertising/propaganda purposes. The value they extract from it is not monetary, at least not directly; it's in influence and power, which can be used to make money in other areas.
They use corporate TV less as a medium to peddle other people's propagandistic advertising messages and more to propagate their own propaganda messaging. Though they'll still take money to peddle other corporate propaganda, too.
I'm not sure Tom is right that this model is "failing." It's not very profitable, no, but it's not meant to be. At least not directly.
And sure Samantha Bee and others are cancelled, but that doesn't mean the model has failed; in every model, there's still going to be some minimum level of performance demanded. National Review is allowed to limp on, while the Weekly Standard is cancelled. You have to have some numbers to serve the oligarchs. They may agitate for socialism, but they are not themselves running a socialist enterprise.
I do think this is the model. It may fail but I think it's going to be with us for a while.
Coming soon: SorosTV.
Related: Lee Smith has written a lot about how the media relies more and more on hired-gun "research" companies like FusionGPS for "news stories." Of course, these "research" companies are just paid by billionaires and political actors like Hillary Clinton and the DNC to write up often-fake "dossiers" to push propaganda on the country. But they can plant these propaganda stories in the media because they're ex-media themselves and are buddies with people in the media, and because people in media know they might later get high paying jobs with FusionGPS and should do them some favors, and also, because FusionGPS has them on the payroll right now for "research."
It's corrupt.
But right now, our "journalists" -- who already were corrupt propagandists -- are on the payroll of straight-up propaganda factories in the employ of billionaires and sociopathic politicians like Hillary Clinton.
The media has devolved into vanity projects for some time now - look at all the low rent lefty activist pamphlets out there now: Business Insider, RawStory, The Wrap, TalkingPointsMemo, etc, etc.

These are just broad sheets being handed out for free in the streets to anyone that will read them, usually like- minded lefty activists. No has an advertising model anymore.
Posted by: Boswell
Ah yes, this isn't really new at all.
But it's accelerating, I'd say.