« Georgia Guidestones Completely Destroyed, For Safety Reasons; Georgia Bureau of Investigations Releases Video of Explosion and Perp's Car
|
Main
|
Biden Is Draining the Strategic Petroleum Reserve to Its Lowest Level In Almost 40 Years, and Sending This Precious National Asset... to China »
July 07, 2022
Boris Johnson Announces Resignation, But Is Trying to Cling On to Power Until October While Everyone Else Wants Him Out Now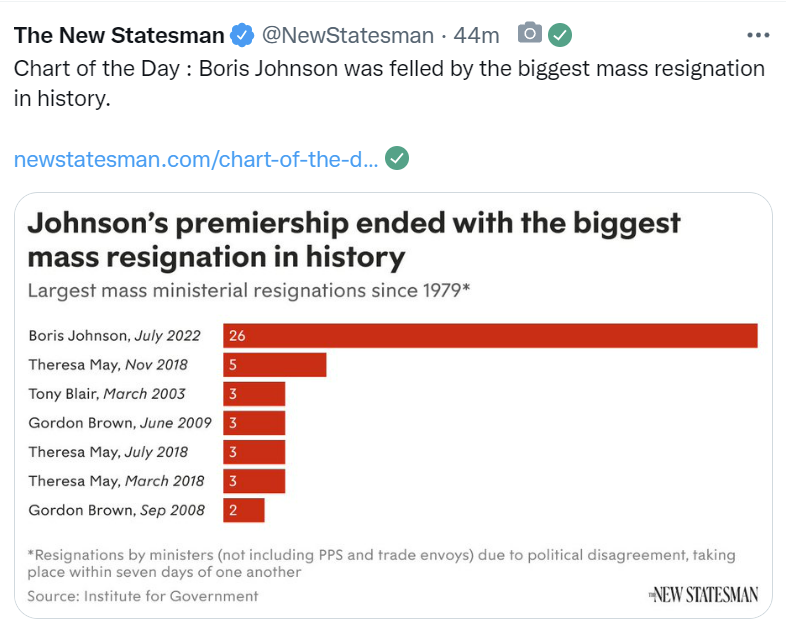 He's still trying to stay on until October, even though he's announced his resignation at some point in the future.
But angry members of his own party are demanding he leave now.
Both the left and right are preparing a "pincer" movement, voting no confidence from both wings, to force him out immediately.
Johnson wants to remain caretaker PM until a new one can be found -- while almost everyone else wants someone else to be caretaker PM until a new, permanent one can be found.
So this isn't quite over. Johnson has been fired, but there is still sharp disagreement about when his firing will take effect.
A FURIOUS campaign to stop Boris Johnson limping on in Downing Street for another three months was thundering tonight.

As the PM assembled his "zombie Cabinet" in No10, a pincer movement of angry Tories and Labour was plotting to prize him out.

Critics demanded Mr Johnson resign immediately and make way for a caretaker PM like Dominic Raab rather than wait until October.

In his resignation speech this afternoon the PM vowed to stick around while a new Tory leader was elected before the party's autumn conference.

Top Tories lashed him for hopelessly clinging on and ramped up efforts to get him out as soon as possible.

Senior MP Sir Bob Neill said: "We should look to have this result not by October, I think, we should do it in the summer. Nowadays most people are on email, we can do it quite easily."

Former Minister George Freeman who resigned this morning said "his authority is gone".

He said: "Fifty ministers have resigned, and I think we're going to have to, in the next few days, select somebody. It's not beyond the wit of man."
I think what Johnson is really plotting is that his Fake Resignation will cause people to cool off on forcing him out, and then he'll have a few months to repair his reputation, and then he can take back his Fake Resignation and just be PM again.
And I think everyone sees through this and is saying "Nah, brah. I think you should leave now."
Robinson Meyer @robinsonmeyer

British Twitter when America has a crisis: This is so depressing. What a dark day for democracy and our neighbours across the pond.

American Twitter when Britain has a crisis: smack barm pea wet gov'na. time to ring the the lollipop man, innit?

posted by Ace at
01:20 PM
|
Access Comments