« "Black Communications Officials:" White Men Have Failed to Position Karine Jean-Pierre For Success
|
Main
|
Indoor Fireworks Cafe »
July 05, 2022
Polls: Terrible
The Harvard-Harris poll has a lot of terrible finding for Biden and the Democrats.
I'll give you the one good one for the Democrats: They are somehow even, 50/50, on the generic congressional ballot question. That's not great for them, because a tie means they're losing, but at least it's not showing them losing, which means they're really losing.
But how are they even, given some of the findings below? 70% of the country say the country is on the wrong track, and 71% say it's on the wrong track economically.
Even worse for Biden, the highest percentage ever say their personal financial situations are getting worse.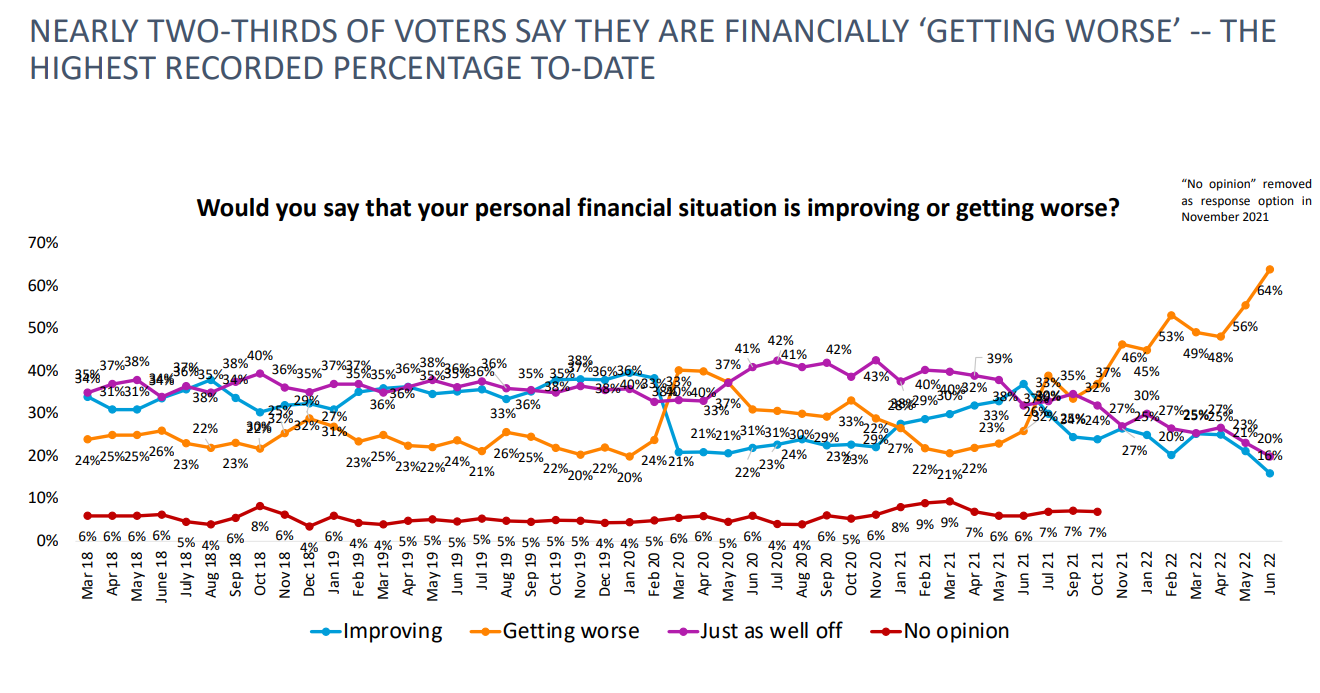 What you assess the country's economic health to be is one thing, but when your own economic health is ailing, that's something else entirely.
39% of the country say we're in a recession now. 49% say we will be in a recession within a year.
Only 12% say we'll avoid a recession.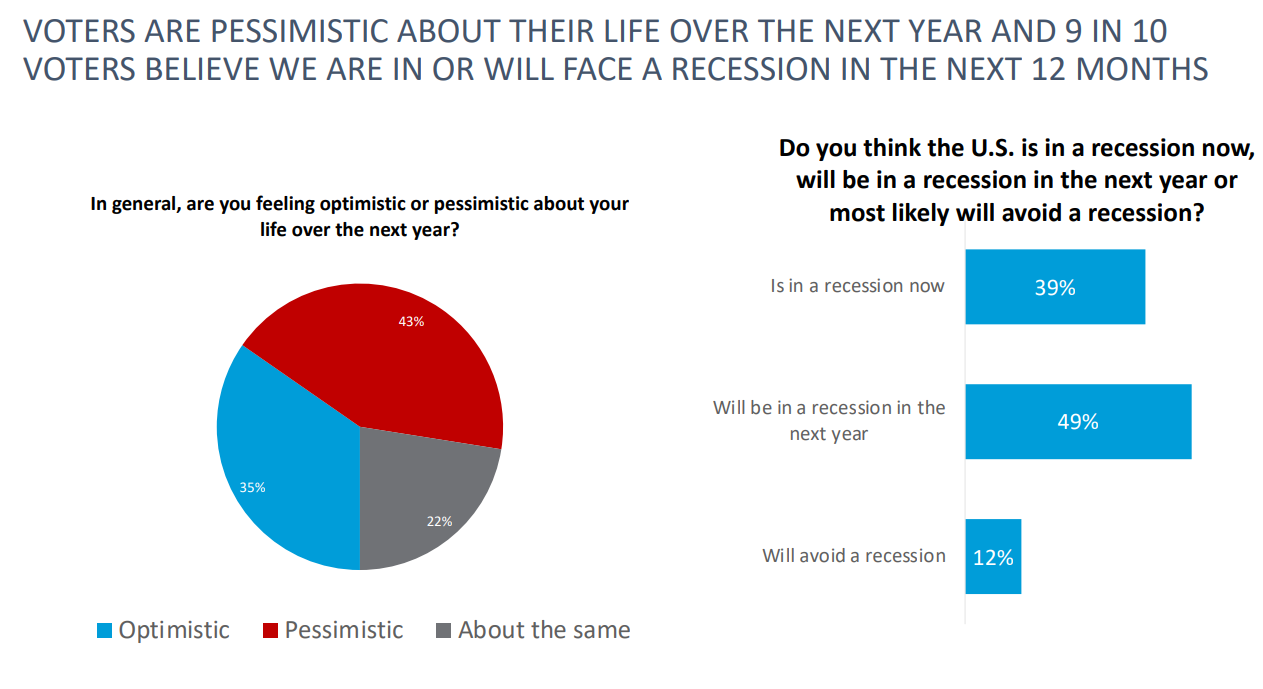 Only 40% of the country say Biden is fit to be president. 64% say he's showing that he's "too old" to be president.
The inserts show the numbers from when these questions were asked in May. The public's assessment of Biden's brain, like his cognitive health itself, has declined.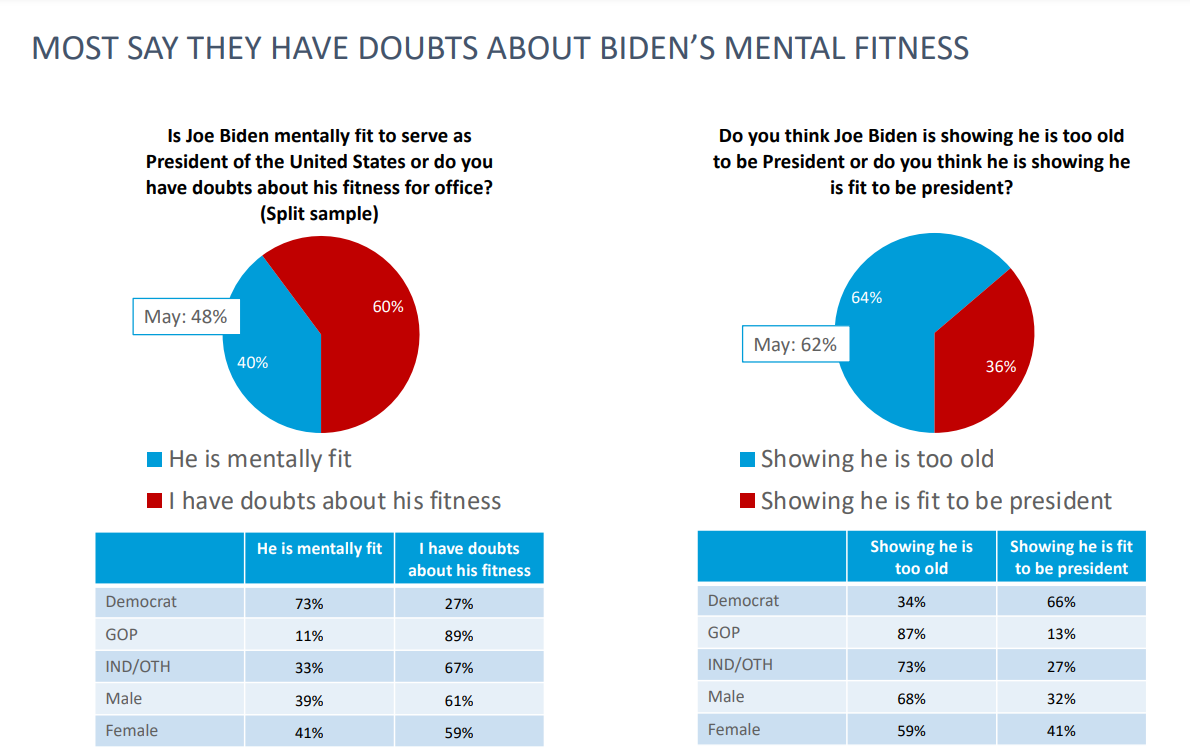 Biden's approval has fallen to 38%. His strong disapproval rate is 40% -- his strong disapproval now exceeds his mere approval. Total disapproval is 57%.
Will Dobbs help the Democrats?
Maybe, but Harvard-Harris doesn't look hopeful for the Democrats:
Leo O'Malley @LeoTOMalley

New polling data out on #Dobbs:

1) Overturning #RoeVsWade: 45% Support/55% Oppose
But hang on now:
2) 37% would ban abortion entirely w/ only rape and incest exceptions

3) 49% support abortion ban after 6 wks

4) 72%!! support abortion ban after 15wks
So a near-majority would ban abortion after six weeks, which is about the time when a fetal heartbeat can be detected. The idea that a Fetal Heartbeat law would be well inside the Overton Window is... amazing.
And 72% -- a crushing supermajority -- would support the Mississippi law's 15 week limitation.
Now I don't expect the Mississippi GOP to stick to that 15 week limitation. They'll ban abortion outright.
Still... assuming that the GOP doesn't push for total bans on abortions in states that won't support it, and keeps to 6- or 15-week bans, at least for now, Dobbs might not be a problem for the GOP.
A Monmouth poll shows abortion to be a relatively low-priority issue:
Ryan Struyk @ryanstruyk Biggest concern via Monmouth poll:

33% inflation
15% gas prices
9% economy
6% bills/groceries
5% abortion
3% guns
3% health care
3% unemployment
2% tuition costs
2% housing/rent
2% safety/crime
1% civil rights
1% climate change
1% coronavirus
1% education
1% illness
That Monmouth Poll also puts Biden's approval at 36%.
And:
Currently, 54% of Americans say the middle class has not benefited at all from Biden's policies. This is up from 36% one year ago and it is also higher than 36% who said the same about former President Donald Trump at about the same point in his term (April 2018 ).
Going back to the Harvard-Harris poll: Only 30% of Democrat voters support Biden for the nomination for 2024.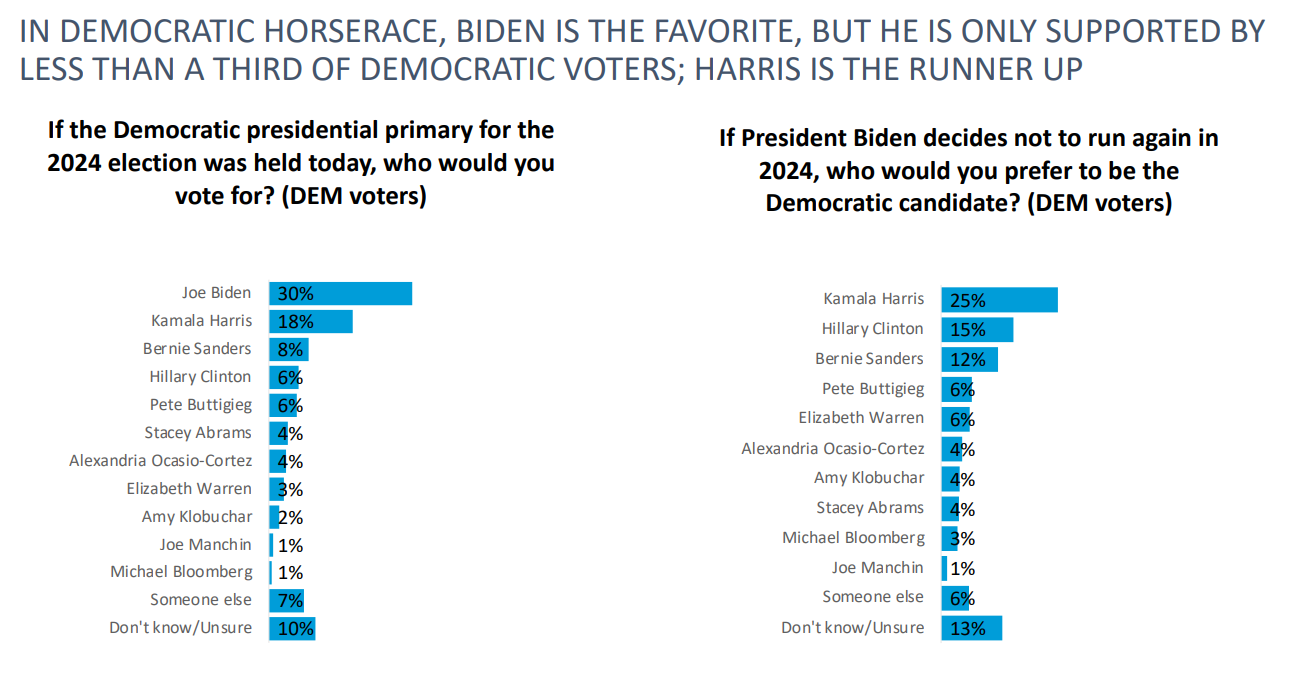 And on Harris being the "favorite" to replace Biden if he should not run (and he really shouldn't), she's really no one's favorite at all.
Nervous Democrats pray for anyone but Kamala Harris as 2024 nominee

Democrats are despairing about the possibility of Kamala Harris becoming the 2024 nominee if President Biden doesn't seek a second term in office, insiders told The Post.

Three polls just this month show more than 50% of Americans hold an unfavorable view of Harris, and those headwinds will likely only increase should Republicans retake the House next year.

"Her main problem is not being a woman or mixed race, her problem is she has low ratings just like President Biden," said Larry Sabato, a professor of Politics at the University of Virginia. "If Biden were riding sky high, she would be doing relatively well as well. She would be seen as a popular successor carrying on a popular president's mandate."

Political donors -- who all requested anonymity to speak freely -- are similarly beside themselves.

"She seems completely useless. No one involved in this administration should be in the running," one significant Democratic donor told The Post.

Democratic insiders have fretted about Harris' own bungled 2020 presidential campaign, during which she dropped out in December 2019, with an operation widely derided at the time as disorganized and riven with infighting.

Since being elected, those issues have continued to simmer, with her vice presidential office frequently in the news for staff turnover, with at least a dozen leaving. In April alone she lost her Chief of Staff, Tina Flournoy, and Deputy Chief of Staff Michael Fuchs. Staffers have griped anonymously that the mood internally is "dour," "chaotic," and that they are "treated like s--t."

"She doesn't know how to build a staff that has a common purpose. You see a lot of her staffers are doing their own thing. There is little guidance from her and it just looks messy all the time and all she can do when asked about it publicly and privately is giggle," lamented a top Democratic staffer on capitol hill.

"I just don't think people are seeing her as a serous contender," he added. "If she weren't the vice president she wouldn't even been ON the list."

Dislodging Harris, however, won't be easy.


posted by Ace at
06:21 PM
|
Access Comments