« Fed Chair Powell: "No Guarantee" We Can Stop Inflation Now Without Crashing Job Market
Stephen Moore: We're Already In a "Soft Recession"
|
Main
|
Seasons Fleeting Cafe »
June 29, 2022
Quick Hits
Biden hits new lows in approval, new highs in disapproval, and, of course and therefore, a new high in net disapproval.
For those whose math skills are about on par with my own: Just look at the alligator's mouth getting bigger!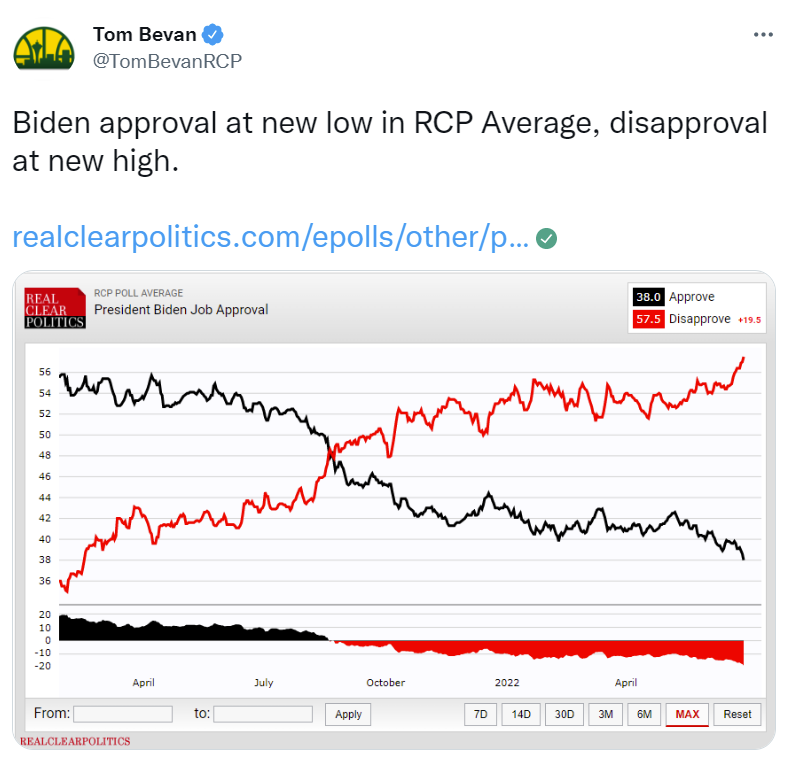 Liz Cheney hugs the witness she coached: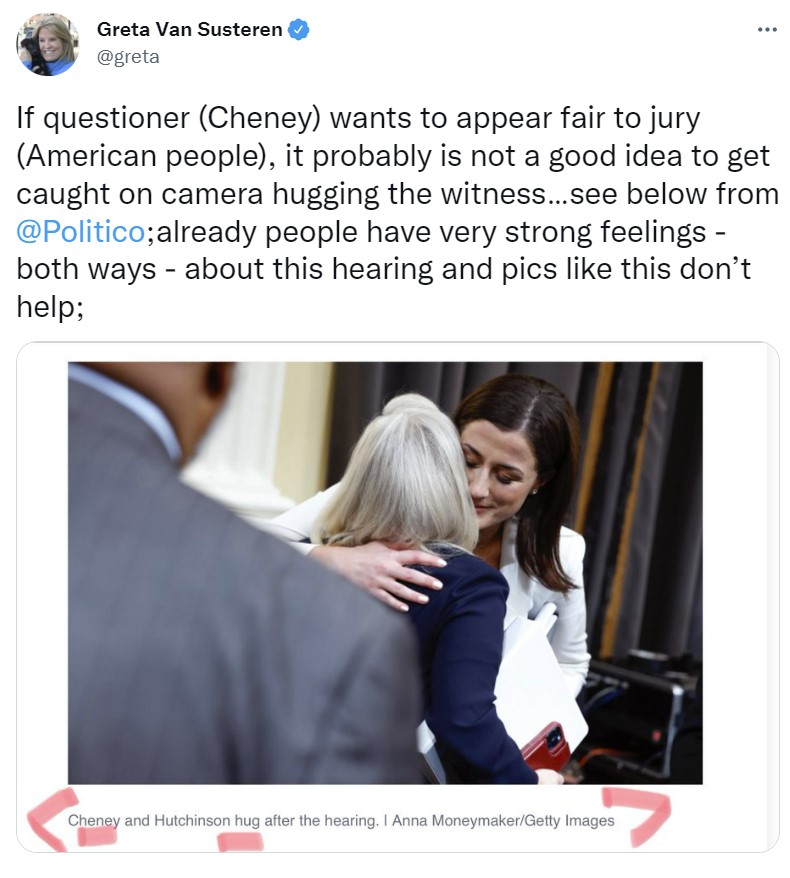 Joseph A. Wulfsohn
@JosephWulfsohn


NBC News was first to report on the Secret Service denial of the Trump-SUV story Cassidy Hutchinson told at the Jan. 6 hearing.

But MSNBC continued hyping it during its primetime Jan. 6, special, waiting til 1 hr 40 min to even mention NBC's own scoop.

Jonathan Karl
@jonkarl

Thank you, Cassidy Hutchinson

Jonathan Karl soon realized he'd outed himself, as if he needed further outing, as a blatant partisan Democrat, so he tried to cover up.
But this isn't cover enough:
Jonathan Karl @jonkarl

Where others have refused, Cassidy Hutchinson was willing, under oath, to tell the world what she witnessed at the White House during the extraordinary events of early January 2021. It is for that reason that I said, "Thank you."
Mollie @MZHemingway


The initial tweet [Jonathan Karl's, above] was bad enough. Doubling down after the testimony was debunked is just horribly worse. These people are corrupt propagandists, and should be treated as such. Not as media.
Mollie @MZHemingway

What happened yesterday is something like if the Kavanaugh confirmation process had been done exclusively by Democrats with only Christine Blasey Ford testifying under oath with zero real questions. How would you treat or amplify such a situation if asked to analyze or cover it?
'
Below, Hunter Biden keeps asking one of his whores if she's "okay," and keeps asking her to affirm that he never hit her -- on camera.
Then he paid her off.
Red speck quotes some of the other language. It's pretty clear that he physically abused this woman and is trying to coach her into saying "he never hit me, your honor, and if he did, I was asking for it."
That video of Hunter and the prostitute. What a charmer. I can see what his dead brother's widow saw in him. Always with the sweet talk. "I didn't hurt you." "I didn't bruise you." "I'm offering you water. Who are you calling?" "I treat you better than other clients do."

What a prince.
Posted by: red speck
As his father would say, after getting her to very reluctantly mumble that he hadn't struck her on camera, "I think you're in the clear."
What kind of Patrick Bateman shit is Hunter putting his hookers through?
David Reaboi, Late Republic Nonsense
@davereaboi

Think about how much "evidence" via second- and third-hand testimony we've seen during this J6 show trial vs how much actual evidence of multiple felonies is on Hunter Biden's laptop.

There's more than enough to go nail Joe himself for shady foreign bribes along with Hunter.
Below, Glenn Greenwald makes sure that The Expert Tom Nichols gets proper credit for advancing a very important, if somewhat controversial, theory.
Glenn Greenwald @ggreenwald

Sometimes people don't get the proper attribution for things they have done.

One of the most vocal and explicit proponents and pioneers of the Great Replacement Theory currently works for @TheAtlantic and is a frequent @JoeNBC guest: the Expert's Expert, @RadioFreeTom.





Glenn Greenwald
@ggreenwald

It's always telling to watch who is and is not permitted to express certain views.


Credit to @redsteeze and @JerryDunleavy and their readers for ensuring @RadioFreeTom's important role in pioneering the Great Replacement Theory is preserved.

Catch him at @TheAtlantic and MSNBC.
Now this might seem funny, and maybe it is, but I'm very troubled by this. Glenn Greenwald is attempting, when we look at the actual tactic deployed here, a cancellation. He's "resurfacing" Tom Nichols' old tweets, which express an opinion which was permissible seven years ago but which is now forbidden by the Ruling Class (or the extremist political commissars who bully the Ruling Class into imposing their censorship policies) and advertising them to Tom Nichols' current (leftwing, cancel-curious) employers.
This may just result in Nichols getting cancelled at the Atlantic, the way obnoxious obese NeverTrumper Kevin D. Williams was when his anti-abortion views were advertised to his new employers.
We may support Greenwald generally and we may oppose Nichols generally but we cannot allow ourselves to descend to emulating the left's tactics to cancel someone, even someone like Tom Nichols.
For if we cancel Tom Nichols--
Ah I'm just fukkin wit ya. Fuck Professor Baloneynipples. Cancel that fat smug spotlight-hungry fuck and oxygen thief and semi-mobile carbohydrate storage unit.
He's a fucking pathetic courtier and monster who supports the censorship of anyone who disagrees with the smug and entitled Ruling Class and if this does get him #cancelled by the smug and entitled Ruling Class he lives to serve, I'll have a Coke and a smile.
All of the NeverTrumpers who have taken positions with the leftwing media have assumed leftwing political positions in an astonishingly short period of time, and not a single one of them has explained their "evolution." Oh, they'll write fifty repetitive columns on why they no longer identify as "Republicans" (three guesses: Orange, Man, Bad), but they never explain why their actual positions have moved to the hard left in the space of a couple of years, without ever explicitly noting any change at all.
I'd like to hear Professor Baloneynipples account for his sudden yet completely-predictable transformation.

And also, I'm 15% of the way towards embracing Jesse Kelly's position: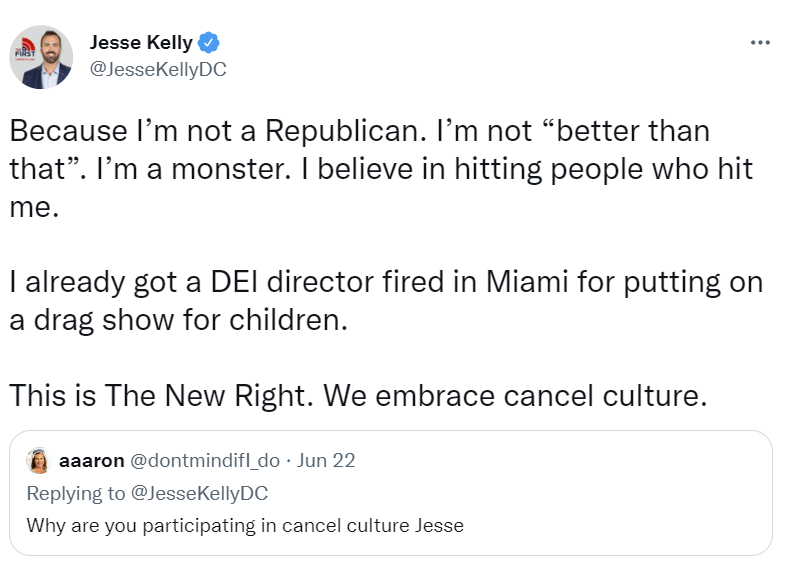 No but seriously the days of "I'll defend anyone's right to free speech" are over. I won't defend anyone who himself won't defend mine, and certainly won't defend people who actively agitate to diminish the sphere of permissible speech and thought. Let them choke on their own prohibitions.

FYI: They can't compel you to give up your passwords. (Yet.)
But they can compel you to show your face to the phone's camera or press your thumb to its thumbprint reader.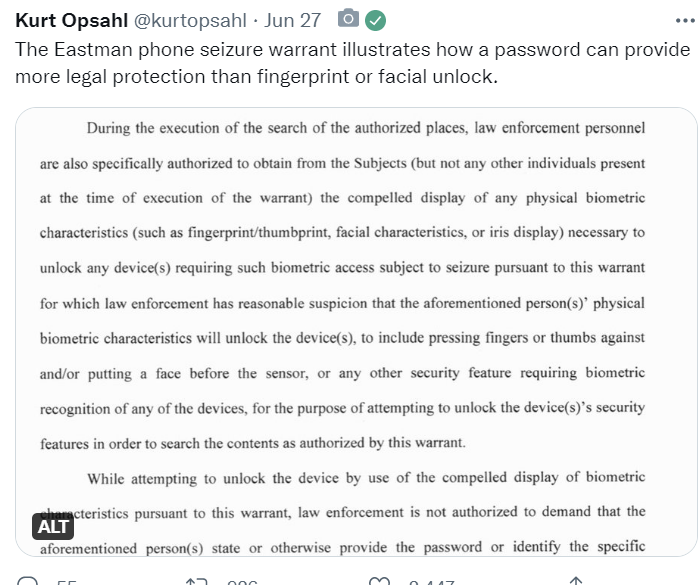 posted by Ace at
06:13 PM
|
Access Comments