« The Morning Rant: Minimalist Edition
|
Main
|
French President Macron Basically Tells Biden That His Plan to Get the Saudis and UAE to Produce More Oil, Rather Than the US Producing It, Is Already a Failure and Cannot Work »
June 28, 2022
46 Illegal Aliens Perish In the Back of a Tractor-Trailer Crossing Border
A dozen more were hospitalized from heat exhaustion.
At least 46 undocumented migrants were found dead in a tractor-trailer in San Antonio, Texas and more than a dozen were hospitalized, authorities said.

Two of those taken to a hospital later died, officials said, bringing the total death toll to 48.

Crews were at the 9600 block of Quintana Road where an 18-wheeler containing up to 100 migrants inside was found abandoned, Fox San Antonio reported. The discovery is part of what is believed to be a human smuggling operation.

...

Authorities at the scene confirmed 46 individuals were found deceased, none of which were children. Officials did not say whether the individuals had migrated from Mexico or elsewhere.
...

"We hope those responsible for putting these people in such inhumane conditions are prosecuted to the fullest extent of the law," the mayor said.

...

McManus clarified the tractor-trailer was refrigerated, however, the refrigeration system was not functioning.

He also said there was no drinkable water found inside the trailer.

...

Rep. Tony Gonzales, a Republican who represents Texas, tweeted about the incident.

"Today in San Antonio it was 102 degrees. Imagine being abandoned inside an 18-wheeler left to die - 42 people died today - will @AliMayorkas even mention their names?"


"At Least 42 People Found Dead Inside Truck Carrying Migrants In Texas. These deaths are on Biden," Abbott tweeted Monday evening. "They are a result of his deadly open border policies. They show the deadly consequences of his refusal to enforce the law."
America's Smartest Woman Karine Jean-Pierre immediately declared that the border is closed.

Charlie Spiering
@charliespiering
"The fact of the matter is the border is closed," says Karine Jean-Pierre in response to Republican criticism of Biden's border security policies causing death of 46 migrants.
Far worse, in my opinion, is yet another corporate shill fake conservative NeverTrumper -- Tim Carney, paid by a Koch property and a longtime Conservative, Inc. shill now working as an editor for the liberal billionaire who used to own the Weekly Standard -- says "Hey, I'm not an open borders guy, but it sure seems to me that Open Borders would solve all of these problems at the border! What do you think, Fellow Conservatives?!"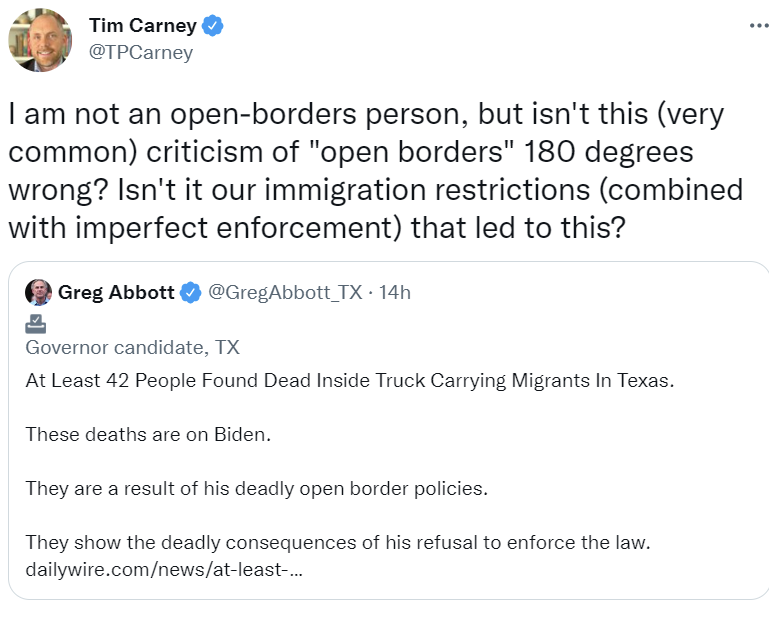 Hey Tim Carney, editor of the corporate libertarian Washington Examiner: If Biden was deporting illegals who made it into the interior of the country instead of letting them remain here forever, then there would be no incentive to sneak across the border, would there?
The problem is not border enforcement at all. The problem is Biden's Potemkin Border Enforcement.
I'm so tired of these left-liberal corporate libertarians who have been put into virtually all positions of power in Conservative, Inc., because the money men are left-liberal corporate libertarians and also have an intense personal distaste for actual conservatism. So they push corporate libertarianism as an acceptable, tolerable form of "conservatism," while insisting it is actually True Conservatism, you bigots.
Tim Carney, you are "an open borders guy."
This is what angers me: I don't mind that people have different political beliefs.
What I mind is that people lie about their political beliefs in order to undermine conservatives and divert them away from conservative goals.
In other words: What I hate are NeverTrumper shills in Conservative, Inc.
If Carney wants to just admit what his real beliefs on immigration are and have an honest debate about his corporate libertarian belief that Borders Are a Lie, then we can have that debate.
But he doesn't want to admit that. He wants to continue pretending he's a conservative because, while corporate libertarianism has almost all of the money behind it, it has very little audience.
They pretend to be conservatives because the audience for conservatism dwarfs the audience for corporate libertarianism.
And, of course, because the corporate libertarians want to Con the Rubes into supporting a left-liberal corporate libertarianism.
As I keep saying: It is on this issue, and their squeamishness of enforcing the border and deporting illegal aliens (they are cosmopolitan urban liberals, and they think it's racist to do this), that NeverTrump broke from the Republican Party on, and not on Trump's "mean tweets" or "unacceptable personal characteristics."
Again, they did not like those. (But most of NeverTrump are real punkmouths on Twitter themselves.)
But the real cause of the schism was on immigration. They are pro-Open-Borders but absolutely refuse to admit that, choosing instead Tim Carney's method of, "Say, just asking questions here, but wouldn't Open Borders solve all of America's problems, Fellow Conservatives?"
They don't want to admit they are on the far left on the border issue because they would lose their influence and their grift and their entire capacity to Con the Rubes, which is what puts food on their well-laden tables.

posted by Ace at
12:11 PM
|
Access Comments