« Pet Peeves: Pretentiously Incorrect Words (And Open Thread)
|
Main
|
Gun Thread: Another June Edition! »
June 26, 2022
Food Thread: CBD-MIA Edition

[The Northern pike (Esox lucius)]
***
Good afternoon and welcome to the Food Thread. My friend and fellow Cob, CBD, is currently a roving individual. Happily Mrs. CBD is by his side and keeping him out of trouble.
During his travels he asked me to step in for him. Because I certainly cannot fill his shoes.
So now that we have the introductory information out of the way, you're probably asking yourself why is the Northern Pike featured above the fold. Good question.
The Northern Pike can be found in numerous states and Canada. It is an aggressive fish and is easily caught. They are delicious to eat as well. However, there is a draw back. They are an incredibly bony fish. And just your normal filleting routine will not remove the pain in the ass "Y" bones.
The "Y" bones can be removed and are easier to remove in larger fish. But what is one to do with the smaller fish commonly referred to as "Hammer handles" or "snakes"?
You can and should pickle them. The nice thing about pickling Northern Pike is you don't need to remove those pesky "Y" bones. Those darn "Y" bones just dissolve. Just fillet the fish if you were filleting any other fish.

Here is an incredibly easy recipe to pickle Northern Pike or any other fish you would like to use: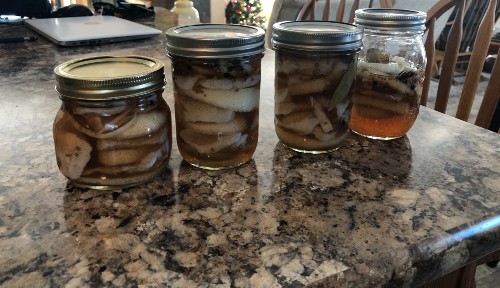 Pickled Fish
Soaking brine: 1 cup canning salt. Mix with 4 cups of water. Cover fish with brine. Refrigerate 48 hours. Rinse with cold water.

After rinsing the fish, cover the fish with white vinegar and refrigerate for 24 hours.

Remove the fish from the vinegar and place fish in layers with alternating red or yellow onion in jar.

Pickling brine: 2 cups white vinegar
1 tsp. whole cloves
1 3/4 white sugar
2 tsp mustard seeds
1 tsp whole allspice
4 bay leaves
1 tsp peppercorns

Bring to a boil, simmer 15 minutes. After simmering cool brine in refrigerator. Pour over the fish. Refrigerate for 2 weeks.
Then enjoy!!!!
It is not recommended you use fresh caught fish for this. Freeze the fish for at least a week to 10 days to kill any parasites that may be present before pickling.
You may say, "Hey, Mis. Hum. Northern Pike is not available to me. What can I use?" The wonderful thing about this recipe is that you can use just about any type of fish. I have pickled Largemouth Bass. They turned out fine. A friend of mine has also pickled Black Crappie. He said they were delicious and I'll take his word about food.
Another fish that will work is Pollock. I really don't care for Pollock fried, baked or broiled. However, this plentiful and inexpensive fish does pickle quite well.
Crackers with cheese spread, pickled pike and onion. A pretty damn tasty treat that is easy to make.
***

Perhaps you would rather grill. Cooking With Fire

It's time to kick off outdoor cooking season! We'll be updating this hub for all things grilling with new fire-kissed recipes, grilling tips and tricks, and gear reviews all summer long.

Well we had burgers cooked inside last night. The damn mosquitoes were horrendous.
I've had gas grills and charcoal grills. I prefer charcoal. Although I've never been known to turn down an entree cooked on a gas grill.
***
Food and cooking tips, Large-breasted Muscovy ducks, young wild pigs, bartenders who use vermouth in Martinis, crisp bacon (although I am moving toward less crisp), low-temperature-roast chicken, and good tomatoes that aren't square, pale pink and covered with Mestizo E.coli: cbd dot aoshq at gmail dot com. Any advocacy of French Toast with syrup will result in disciplinary action up to and including being nuked from orbit. And yes, shaking a Manhattan is blasphemy...it's in the Bible!

posted by Misanthropic Humanitarian at
04:00 PM
|
Access Comments