« Weekend Hobby, Crafting and Bodging Thread
|
Main
|
Saturday Overnight Open Thread (7/2/22) »
July 02, 2022
Saturday Evening Movie Thread - 7/02/2022 [TheJamesMadison]
Mortal Engines


I don't normally focus on just a single film in these posts, but I got Christian Rivers' hilariously bad box office bomb of a film
Mortal Engines
as a rental just to check it out, and I was kind of flabbergasted at the awfulness on display. Adapted from the first in a series of young adult novels by Philip Reeve, using a screenplay by the writing team that gave us
The Lord of the Rings
trilogy, and directed by one of the key visual effects personnel from those films with Peter Jackson acting as producer,
Mortal Engines
is one of the most incomprehensible things I've ever seen. Overstuffed, obvious to the point of obtuseness, overbearing in tone, and overproduced, it is one of the nadirs of bad decisions that pissed away hundreds of millions of dollars in Hollywood with nothing in return.
Several years after its release, it seemed like a fascinating case study in how to not adapt a work, but before I could make that assertion I decided to actually read the book. And then I watched the movie again. Twice. The second time was with the director's commentary on to see if he offered any insight into the adaptation process.
I came away with thoughts.
The Book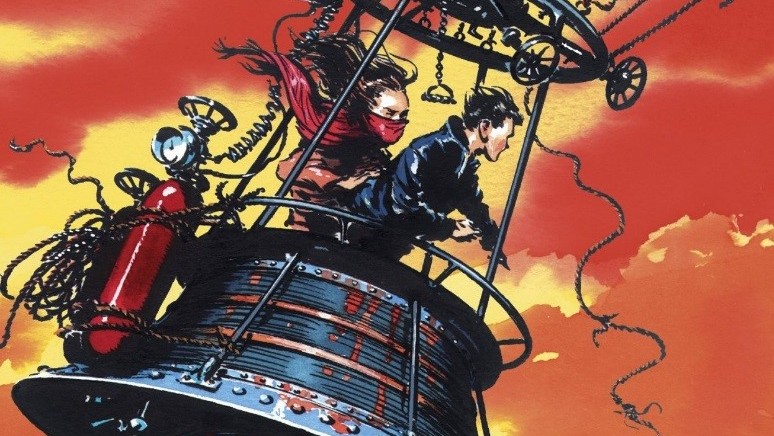 So, let's start with the book by Phillip Reeve. I have literally no idea how this thing made it to publishing, much less spawned several sequels. It is, quite possibly, the worst book I have ever read.
Written in a way that precludes any kind of serious investment in anything that goes on, it's a thin adventure story with characters that could barely called characters who have the bare minimum of interaction with other characters to establish spare character traits that define them while, at the same time, being completely mutable to change their opinions on everything with the introduction of small pieces of information while also, at the same time, refusing to learn from any lesson.
While the characters are frustrating, it's the "shocking" reveals and the terrible world building that irritated me most. A character, Thaddeus Valentine, is introduced in one of the early chapters in such glowing and effusively positive terms that his turn to evil...within the same chapter...is both obvious and not shocking at all, and so much of the film hinges on the main character, Tom, and his near religious-like devotion to Valentine, a man he met once...in that scene. We also end up with a glut of characters introduced throughout the film (the final fifty pages still introduces new characters) like Reeve had no idea how to actually tell a human based story where characters had motivations.
The largest failing is probably the world building. The only reason to really pick up the book is the idea of a world where cities are mobile and consume each other in a concept called Municipal Darwinism is interesting on its face, but the book makes no effort to really dig into it. Aside from a couple of lines about how, literally, a thousand years before there was an age of heavy volcanic activity that forced static settlements to move to survive. Okay, that kind of makes sense in a "don't think too hard about it fantasy" sort of way, but what about the ensuing thousand years? In a time when there aren't massive volcanic eruptions anymore, why would anyone consider the energy consumption to move millions of tons around be preferrable to sitting in one place and growing food? It's thin, at best, and Reeve doesn't seem to understand the limitations of his own ideas. Nothing is really considered in any real depth, and everything about the book falls apart with the least amount of thought.
Also, it's filled with massive coincidences just to keep the story going, my favorite being when Tom and Hester Shaw end up in the middle of nowhere, a bog where no city would dare to tread because of the softness of the ground, only to have two cities drive past them moments later, the first of which crushes someone who's chasing them. It's ridiculous to the point of parody, but it's played straight.
The Adaptation
So, I went into reading the book, having seen the movie first, with the assumption that Peter Jackson, Phillipa Boyens, and Fran Walsh, the writers, had mangled the book. That they had brought in a bunch of material from other books in the series, squashed a bunch of stuff into a limited narrative space, and taken what was surely a halfway decent source and completely bungled the job. Well, this isn't much of a defense of the writing trio, but I have to say that after having read the book, they did a bang up job of adapting the book to the screen. It's pretty damn accurate and reflects the strengths and weaknesses of the book really well. In fact, I'd say that they actually improved on the book in a couple of small and insignificant ways.
That scene where Valentine is unnaturally good to the point of obviousness that he's definitely the bad guy? It's in the movie, not word for word (the conversation now revolves around a toaster instead of vagaries like in the book), but the change of focus onto something tangible and there makes the interactions between Tom and Thaddeus more grounded in something like a real conversation than the book. It's still a dumb and bad scene, but the dialogue works a bit better.
One of the things in the movie that I was positive had been drawn in from later books in the series was the character of Shrike, a sort of immortal robot soldier that had been built from a real man hundreds of years before and raised the character of Hester Shaw from the time her mother was killed by Valentine. His contributions in the film were so little and so unimportant to the actual movement of the plot and story that I was convinced that it had been awkwardly inserted where it didn't belong. Well, the writing trio on the film didn't do that. Shrike's entire story is in the book, but they cleaned it up a bit (there's a bit about the mayor of London having captured Shrike to create new immortal soldiers that's replaced by Thaddeus freeing Shrike from a prison). In both he's largely unimportant to actually getting characters around except to operate as a handful of arbitrary obstacles that just keep Tom and Hester from getting back to London too quickly, but the movie just makes his little sliver of the story a bit cleaner. It's still dumb, but it's cleaner. So, the essence of the book is preserved for the film, just polished slightly.
The film is pretty much the book in movie form. All of the basic narrative deficiencies are preserved to appeal to the fans of the book with no intention on actively digging into the work to find out what worked and what didn't, giving it a full adaptation to film. It's more of a translation than an adaptation. I imagine the fans of the books were reasonably happy with the end result.
Why?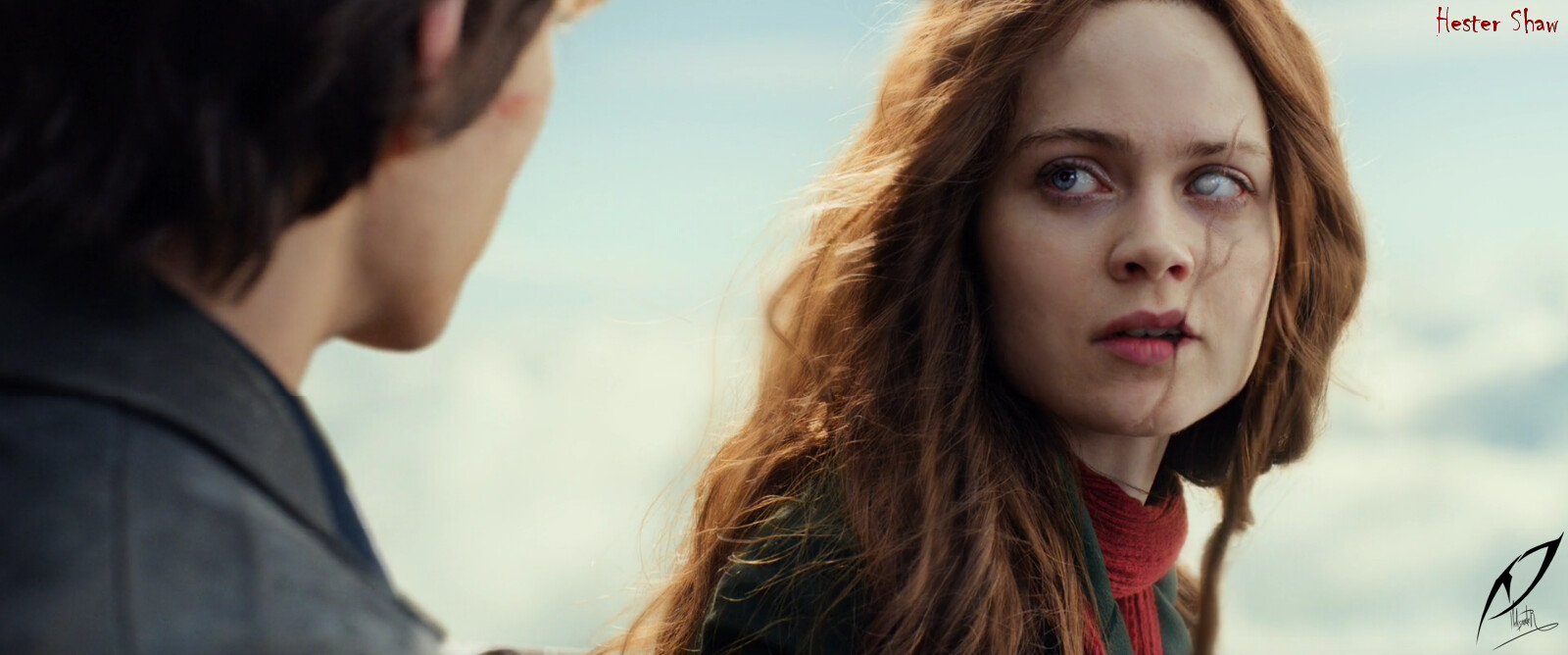 I had a lot of why questions when I finished up my little exercise. Why did Peter Jackson decide to throw not only his producing weight but also the entire efforts of his dedicated writing team (including himself) to adapting it? He apparently acquired the rights back in 2008 with an eye to directing it himself, but why? What was in this story that excited him. He refused to direct it himself after
The Hobbit
because he was so tired, but why did Christian Rivers decide that
Mortal Engines
was going to be his feature film debut?
I honestly don't see the appeal beyond the world building. If I had gotten the assignment or felt the need to bring the world to cinemas, I'd tear out the story almost completely and rebuild it from the barest of narrative bones, approaching more like how Stanley Kubrick treated adaptations rather than how Jackson had treated
The Lord of the Rings
.
I think it highlights the problem in adaptation, especially of works that simply aren't that good. Why preserve the less than quality elements?
This is far from scientific, but I compared the number of ratings at Goodreads of the first books in the
Mortal Engines
,
Hunger Games
,
The Maze Runner
and
Divergent
book series, all books that got at least one mid to large scale cinematic adaptations. Organized from most to least number of ratings it is:
The Hunger Games
: 7.4 million
Divergent
: 3.4 million
The Maze Runner
: 1.2 million
Mortal Engines
: 58,000
The fan base for this book seems to be really, really small. Who were they expecting to come to the theaters on the power of the book's popularity? Who invests this kind of money (at least $100 million) on a special effects laden spectacle with a fan base this tiny? So, who are you going to enrage by tearing out the broken narrative innards (completely rewriting characters, changing the plot, and providing focus that the book never had)? Do they matter when you're trying to appeal to a broader audience?
Financially, I'd say that it's obvious. It was a massive write off for the studio, making only $87 million total across the world while Variety estimated that, combined with marketing costs and theatrical takes, the studio lost $100 million on the project. The movie was poorly received upon its release, and it's gained no levels of love in the ensuing few years. It certainly has its fans, and they're going to be pretty much the only ones to gravitate towards it in the future, artificially inflating the perceived opinion of the film in certain quarters.
I have no answers, though. The movie is a mess. The book was a mess. I have no idea how the thing got published in the first place, much less ignited Peter Jackson's imagination enough for him to invest so much money (don't feel so bad for him, though, he became a billionaire earlier this year).
Still, I'm just left with: Why?
Movies of Today
Opening in Theaters:
Minions: The Rise of Gru
Movies I Saw This Fortnight:
Elvis
(Rating 2/4)
Full Review
"Overall, though, meh. Bloated, aimless, and thin, it has little to nothing to say about Elvis while just trying to hit the high points, but I do love that Baz Luhrmann paint job." [Theater]
The Last House on the Left
(Rating 1.5/4)
Full Review
"I can see a certain, very rough promise in store for Wes Craven in his first film, but it cannot rise above its exploitation roots. He's trying, but he's not yet in a place where he can make it work yet." [Library]
The Hills Have Eyes
(Rating 2/4)
Full Review
"It's not bad, but it's nothing particularly special either." [Library]
Swamp Thing
(Rating 1/4)
Full Review
"It's not very fun, not very involving, and not very good." [Library]
Invitation to Hell
(Rating 2.5/4)
Full Review
"Still, that ending is something else. I kind of loved it. It really wasn't enough to save the whole film, it's simply too dull up to that point to save, but I think it comes reasonably close. If you can make it through the first hour, there's something special towards the end." [
YouTube
]
A Nightmare on Elm Street
(Rating 3/4)
Full Review
"I really do like this film. I think it's a good slasher with real imagination that takes horror seriously instead of just an excuse for gore, but I also feel like it could have really used another rewrite." [Library]
The Hills Have Eyes: Part II
(Rating 0/4)
Full Review
"There is nothing to this film. From a basic narrative point of view, it's dead on arrival. From a visceral, just enjoy the gore, point of view, there's literally nothing to enjoy. There's barely even any T&A. This is probably the worst movie of Craven's career, and I can see why he would disown it." [Library]
Deadly Friend
(Rating 2/4)
Full Review
"Without the bloody violence, this might have been a weird but passable entertainment. With the bloody violence, it gains the dimension of the guffaw which neither elevates nor degrades the rest of the film. It's an odd duck in this final form, though I would be somewhat curious in the original (which seems to have been lost)." [Library]
The Serpent and the Rainbow
(Rating 3/4)
Full Review
"Still, overall, the descent into madness and terror that the film represents as a whole is something that I really did quite enjoy." [Library]
Contact
Email any suggestions or questions to thejamesmadison.aos at symbol gmail dot com.
I've also archived all the old posts
here
, by request. I'll add new posts a week after they originally post at the HQ.

posted by Open Blogger at
07:45 PM
|
Access Comments