« Incredibly, Noted Warfighter (TM) David French Attempts to Take Credit for Overturning of Roe and Casey-- Despite Fact He Actively Campaigned for Both Hillary Clinton and Joe Biden, And Would Have Installed a 6-3 Leftwing Court If He'd Had His Way
|
Main
|
Disney's "Buzz Lightyear" is Such a Huge #Woke Flop that Pixar Faces a Reckoning? »
June 24, 2022
Insurrectionist Alexandria Donkey Chompers Calls the Supreme Court "Illegitimate," Demands People Go "Into the Streets"
Videos below, and article at the Post-Millennial.
AOC's antifa allies have heard her calls to go "into the streets:"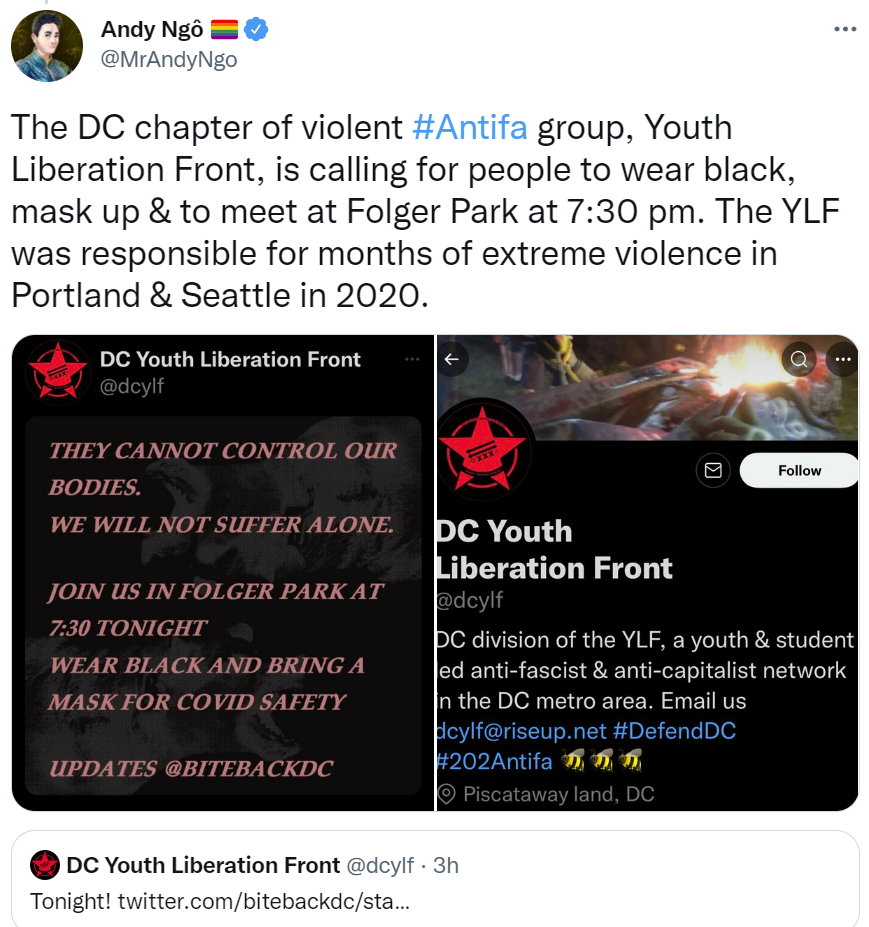 I'm not just joking when I call her and other Democrats -- including Biden -- insurrectionists. When their paramilitary allies commit violence this weekend -- which they will -- I want a J24 commission to probe AOC and Biden and Pelosi and Maxine Waters and all of them to determine what criminal responsibility each bears for inciting and planning the insurrection against rule of law.
And I want all of their cell phones seized. And I want dawn raids.
Joe Biden continued to not call for peace and to not call for "protesters," and some assassins, to stop intimidating justices by "protesting" outside their homes while covered in blood.
He did, however, cut a campaign commercial.

He also marked the Trump-appointed justices -- one who has already had an attempt on his life by a deranged assassin -- for further attacks:
The DOJ itself -- Merrick Garland, vouched for by Andy McCarthy -- announced that it was now part of the #Resistance against the Supreme Court of the United States of America.
Jackson Women's Health Organization Attorney General Merrick B. Garland today released the following statement following the Supreme Court's decision in Dobbs, State Health Officer of the Mississippi Department of Health, et al. v. Jackson Women's Health Organization et al.:

"Today, the Supreme Court overturned Roe v. Wade and Planned Parenthood v. Casey and held that the right to abortion is no longer protected by the Constitution.

"The Supreme Court has eliminated an established right that has been an essential component of women's liberty for half a century -- a right that has safeguarded women's ability to participate fully and equally in society. And in renouncing this fundamental right, which it had repeatedly recognized and reaffirmed, the Court has upended the doctrine of stare decisis, a key pillar of the rule of law.

"The Justice Department strongly disagrees with the Court's decision. This decision deals a devastating blow to reproductive freedom in the United States. It will have an immediate and irreversible impact on the lives of people across the country. And it will be greatly disproportionate in its effect -- with the greatest burdens felt by people of color and those of limited financial means.

...

"The Department strongly supports efforts by Congress to codify Americans' reproductive rights, which it retains the authority to do. We also support other legislative efforts to ensure access to comprehensive reproductive services.

"And we stand ready to work with other arms of the federal government that seek to use their lawful authorities to protect and preserve access to reproductive care. In particular, the FDA has approved the use of the medication Mifepristone. States may not ban Mifepristone based on disagreement with the FDA's expert judgment about its safety and efficacy.
Didn't expect the DOJ to endorse Plan B.
...

"The ability to decide one's own future is a fundamental American value, and few decisions are more significant and personal than the choice of whether and when to have children.

"Few rights are more central to individual freedom than the right to control one's own body.

"The Justice Department will use every tool at our disposal to protect reproductive freedom. And we will not waver from this Department's founding responsibility to protect the civil rights of all Americans."

Below, AOC's and Maxine Waters' insurrection incitements.

Jennifer 'I stand with Ukraine' Rubin
@JRubinBlogger

a state can now execute a woman for refusing to submit to a forced birth even if the "abortion" is within hours of conception. barbarism.
You shouldn't click on this pic of a bent Roe supporter from Drew Hernandez, but I bet you will.
Update: Pink on pink violence.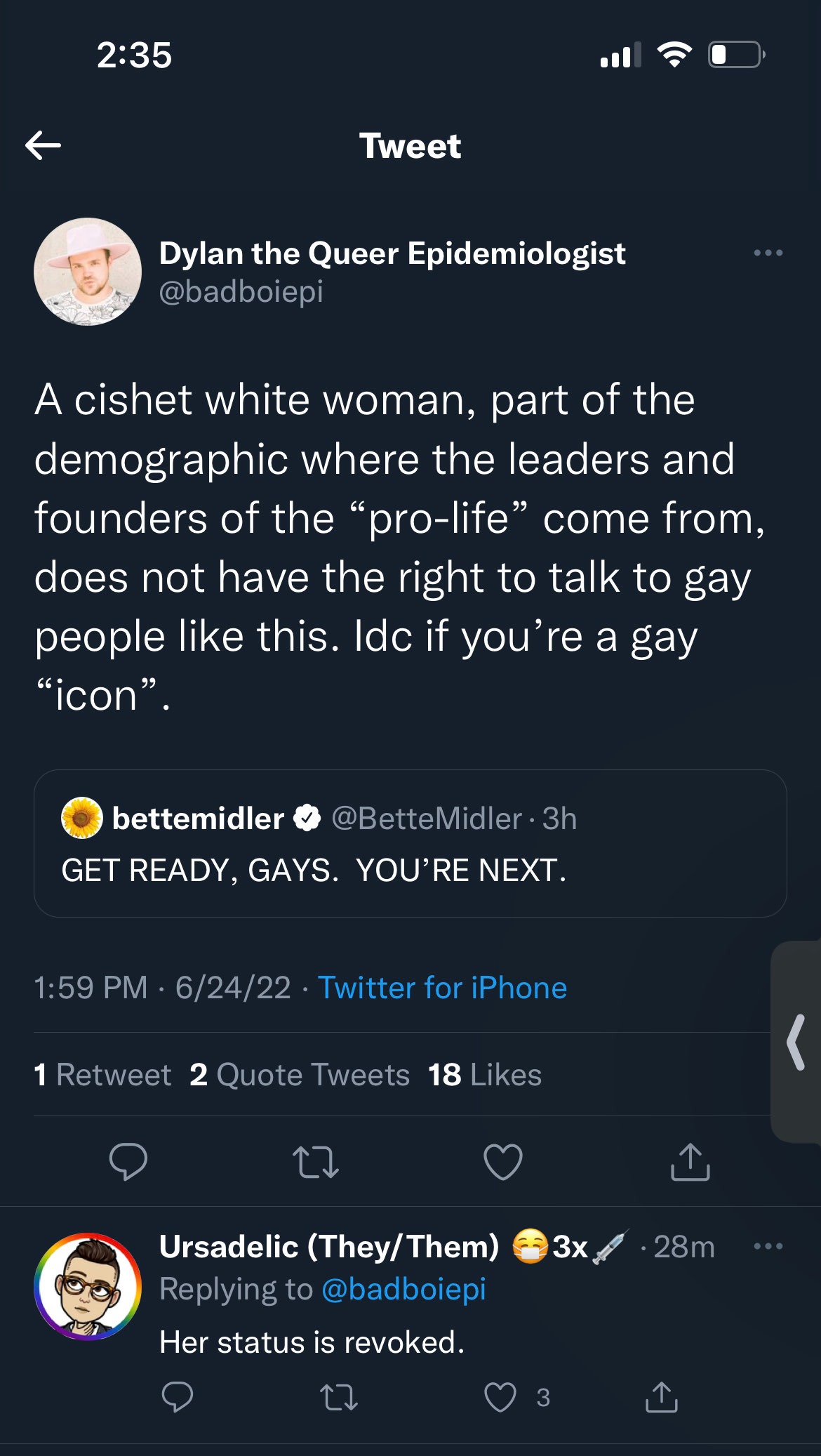 posted by Ace at
02:37 PM
|
Access Comments