« Daily Tech News 10 June 2022
|
Main
|
Mid-Morning Art Thread »
June 10, 2022
The Morning Report - 6/10/22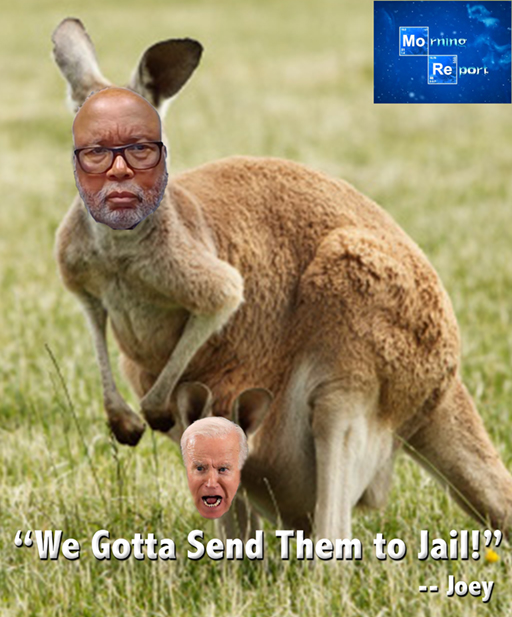 Good morning, kids. The weekend is here and I honestly don't even know where to begin after the events of this week, capped off by the grotesque farce of last night's debased, pornographic display, masquerading as a Congressional hearing. Yes, it was a complete farce except for the fact that it has deadly serious ramifications for this nation, such as it is. Because it sure isn't the United States of America anymore. Not as we knew it or at least imagined it.
Let's just start at the top with this "hearing" on the events of January 6th, 2021, the so-called Capitol riot that has been described as the "worst attack on our precious democracy [*vomit*] than the Civil War, Pearl Harbor and 9/11 combined." In terms of body count, it's risible, although an insult to the memory of those who gave their lives in those events as well as Ashli Babbitt and Roseanne Boyland who were murdered at the hands of agents of this government. Ironically though, it is accurate in terms of being the event that marked the death of the republic because the jackals who coined the phrase are the ones that did us in.
The illegality in the makeup of this committee and its farcical procedures are well known and there's no need to go into the details. As for last night, this is enough of a taste to drive the point home:


The video was presented during the committee's first public hearing as part of a montage that Chair Rep. Bennie Thompson (D-MS) said included never-before-seen footage. The audio was from a Fox News interview of Trump on July 11, 2021.

The committee played Trump's comments — which referred to his peaceful rally, over a mile away — over visuals of clashes between rioters and police. "They were peaceful people. These were great people," Trump was heard saying. "The crowd was unbelievable. And I mentioned the word love. The love — the love in the air, I have never seen anything like it."

In the original context, however, it was clear Trump was referring to his rally, not to the riot at the Capitol a mile away.
Do I even need to add my comments to that? Bennie Thompson should have a sack of flaming horseshit shoved in his face because that footage is the moral equivalent of what was broadcast to the nation last night. And he refused to allow any rebuttal by gaveling a recess immediately afterwards.
While sadly, a lot of people are going to fall for this blood libel — and it is a blood libel as I will elucidate in a moment — $5.00 a gallon gasoline and climbing, empty shelves, devalued currency, perverts trying to rape and mutilate our children, the third world set to pour in over the border and a national violent crime wave sweeping the land while any voices of concern let alone protest are muzzled means a whole hell of a lot more to them, and at the very least just don't give a shit about J-6. At worst, they are angry at the Democrat-Left. Beyond that, a growing number are coming to the realization that while they may not necessarily care for Donald Trump, all of these charges against him are bullshit. And November is just around the corner.
That's what all of this is about, really. The Dems have lost the narrative big time. They're losing blacks, Latinos and now young people in droves. They may not have voted for Trump or even like Trump but they sure as hell did not vote for this. Just to reiterate, polling shows a very large percentage of the country now believe that the 2020 election was indeed "compromised." They may still believe Biden won, but that 80 million-vote blowout? Not so much. In time, the truth that we have known since the magical toilet overflow in Atlanta, will out. But that's down the road.
Psaki-Psircling back to blood libeling, the Democrats' chickens are indeed coming home to roost. Unfortunately, on our heads.


In his first network interview in 118 days, [so-called quote-unquote "president"] Joe Biden pledged on "Jimmy Kimmel Live!" Wednesday night to jail political opponents connected in any way to the events on Jan. 6, 2021. The next morning, Biden's FBI arrested lead Michigan GOP gubernatorial candidate Ryan Kelley, who was at the Capitol on the day Democrats have christened as a somber national holiday.

Kelley was arrested Thursday morning on "unspecified" charges, according to The Detroit News, after federal law enforcement raided his home near Grand Rapids. . .

. . . The opportune timing of his arrest is reminiscent of the fall of 2020, when one month before the presidential election, FBI agents uncovered a supposed kidnapping plot aimed at incumbent Michigan Gov. Gretchen Whitmer, a Democrat, to generate anti-Trump headlines of extremism. In April, a jury refused to convict four men trapped in the conspiracy as evidence mounted that the FBI spearheaded the operation as a means of entrapment.
It's funny. Donald Trump first coined the phrase "lock her up!" regarding Hillary Clinton. Frankly, for the borderline if not actual treasonous crimes she and Slick Willy committed over the course of their careers selling America out by the pound to the highest bidder as well as the 2016 Russia Collusion hoax, should both face life in Leavenworth, if not the gallows. But what has Biden and his henchmen at the DOJ/FBI done? Trump up (pun intended) charges against any perceived political opponent and go after them.
Political terrorism via governmental persecution straight up. And when that fails, you incite violence against political enemies up to and including SCOTUS justices and Congressmen. The rhetoric is dangerous in the extreme. More so because a completely corrupt law enforcement and judicial apparatus will look the other way while a propaganda media arm will celebrate you as some sort of hero.
Pennsylvania Democratic congresswoman Chrissy Houlahan has attributed her past electoral success to her focus on "civility" and "unity." Now, she says the Republican Party is "diseased" and must be "cleansed."

Houlahan's comments came during a May 27 appearance on the Daily Beast's The New Abnormal podcast, which saw the congresswoman disparage Republicans as deplorable and anti-democratic. 

"This is, in my opinion, a diseased Republican Party. And it needs to be cured and cleansed," Houlahan said. "So the stakes of having a Republican, as an example, in my seat are more than just policy differences. They are democracy, in my opinion."
So, "Hot Lips" is into ethnic cleansing? Frankly, it sounds better in the original German but more and more, there is a very receptive audience to her. And it's chilling.
According to a recently released poll, nearly half of male Democrats under the age of 50 (44 %) say it's acceptable to assassinate a politician "who is harming the country or our democracy," the highest percentage of any age/gender/party demographic.

The poll, which was conducted by Tulchin Research for the Southern Poverty Law Center (SPLC), also found that nearly a third of younger Democrat women and younger Republican men agreed with the statement, as did 40% of younger Republican women.

Perhaps the most striking aspect of the poll is the generational difference. Older men and women of either party are significantly less likely to approve of the assassination of political opponents than their younger counterparts.

Party identification aside, it is clear that the younger generations are not being taught to respect the lives of others, particularly of their political opponents. This is a perilous path, especially when you consider the way the Democratic Party frequently accuses Republicans of being threats to democracy — while demonstrating that the violent rhetoric of Chuck Schumer was likely more dangerous than we thought.
It's one thing for BLaM-tifa to toss hate shakes, Molotov cocktails and fists in blue inner city hell holes. It will be quite something else if they try venturing further afield. For those playing along at home, this is why we have a Second Amendment. These people are sowing the wind and are going to reap the whirlwind.
Have a good weekend.
ABOVE THE FOLD, BREAKING, NOTEWORTHY
"'The nations of the West are hurtling toward the abyss,' Hazony warns. Democratic institutions are increasingly at risk and the bonds of social unity in nation after nation are fraying. The dilemma for many of us is that we are living in uncharted territory without a compass to provide direction."
Somewhere Near Davos, Hanging from a Cleft

"The FDA has been seriously inconsistent in its actions regarding baby formula suppliers."
Why Was Abbott Labs Shut Down?

"Handing American sovereignty over to the UN is still on Biden's 'to do' list. . . The Biden [junta's] bid to surrender American control over public health emergencies in the United States to the World Health Organization fell short at the UN's 75th World Health Assembly in Geneva last month, but there is no reason to believe Biden won't try again."
Biden's WHO Takeover
FOILED LEFTIST-DEMOCRAT SCOTUS ASSASSINATION PLOT
NOTE: The opinions expressed in the links may or may not reflect my own. I include them because of their relevance to the discussion of a particular issue.
ALSO: The Morning Report is cross-posted at CutJibNewsletter.com if you want to continue the conversation all day.
Follow us on Twitter: @CutJibNews
Follow us on Instagram: @Cutjibnewsletter

posted by J.J. Sefton at
07:38 AM
|
Access Comments