« Daily Tech News 27 May 2022
|
Main
|
Mid-Morning Art Thread »
May 27, 2022
The Morning Report - 5/27/22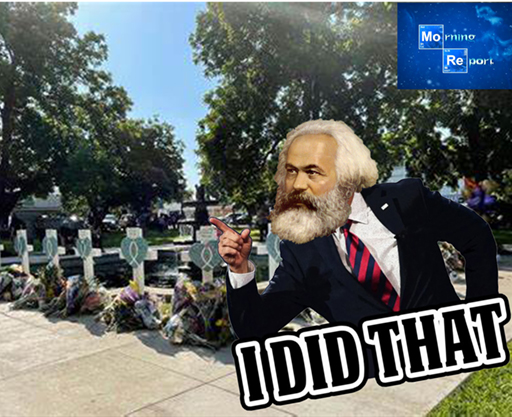 Good morning, kids. The weekend is here and I'm probably not going to be able to properly articulate what I'm thinking and feeling in the wake of the past few days, to the extent that I might come off sounding like a tone-deaf idiot (something that, believe it or not, has happened on more than one occasion), but I'll attempt it anyway.
I'm just not that concerned about the mass shooting in Uvalde, TX. It's not that I don't care, or that I'm unfeeling. I weep for the victims. It is a tragedy; one made that much more tragic by the naked politicization of the victims and by the fact that those who dare point the finger are as guilty of the act of mass murder as the deviant in question who pulled the trigger. It's not about guns, and it has never been about guns.
It's about the mental state of the shooter. And the cultural rot that infected our society by Godless Communists from within and without since the Second World War that has destroyed the family, morality, ethics and personal responsibility is the reason this happened. It's not only why this and the relatively rare mass shootings we have had to endure happened (the media lies about the frequency notwithstanding), but the crime and dissolution that has killed tens of thousands of our children and wasted the lives of millions more. You can add the shooter and all the shooters to that list as well. But let me be clear that it does not nor can it ever absolve them of their guilt, but for lack of a better descriptor they too were "victims" in a sense of Leftist mind rape that fucked them up royally.
I'm not that concerned because the same forces of evil that led to this mass shooting are doing things, via incompetence or malice aforethought that are already leading to the deaths and suffering of millions of us. Andrew Cuomo, and his fellow angels of death in blue governors' mansions intentionally killed thousands of frail, vulnerable senior citizens by forcing others infected with the General Tso's Sickness to live with them, all for the sake of keeping their Medicare funds solvent. And there's the death of many thousands more by drug overdose, alcohol abuse, suicide and untreated diseases because of the lockdowns, the deaths of and/or exacerbated by the Peking Pox because cheap, proven, readily available anti-viral therapeutics were prohibited but expensive vaccines were pushed and mandated; vaccines that VAERS indicates have killed or maimed possibly tens of thousands.
21 beautiful souls wiped out in one horrible morning in Uvalde and the Left go ballistic, pun intended. A dozen or so equally beautiful yet deeply troubled souls are wiped out every weekend in Chicago alone, a city that has been run top to bottom by Democrats for decades. Ditto Baltimore, Detroit, Compton/South Central, etc. etc. etc. Where's the outrage? Where's the anger? Where are the cries of "we must act now!?"
6 people killed and 62 injured when a Leftist-inspired terrorist mowed them down in a Waukesha, WI Christmas parade. I don't seem to recall either Michael Moore or Rob Reiner blowing a fuse over that one. Ditto the mass shooting last month in a Brooklyn subway station where, miraculously, no one was killed. The psycho who walked up to a stranger on the Q Train last Sunday and just blew him away? Meh, small potatoes, right?
Speaking of southern Texas, did you see this fun factoid down in the Immigration Section?


DOJ: 56% of Federal Arrests in 2020 Took Place in 5 Judicial Districts Along U.S.-Mexico Border
"Among those five border districts, the greatest number of arrests took place in the Texas Southern district, where marshals processed 25,270 arrests. That equaled 21.0 percent of the national total of 120,112."
I recall Malig-Nancy Pelosi describing these angels as having "the spark of divinity" in them. Along with monkey pox and Chinese COVID, dengue, scarlet fever, yellow fever, typhus, measles and tuberculosis and all sorts of diseases heretofore wiped out up here, they also have intentions or raping, robbing and murdering anyone they might encounter, as well as tons of everything from marijuana all the way up to crystal meth and fentanyl. Yeah, the fentanyl that took the life of their Saint George Floyd, not the knee of Derek Chauvin, but I better withdraw that before Nina Skankowicz has me thrown in jail for disinformation peddling and besmirching the name of a deity. The fentanyl that is killing thousands of other American youths whose lives are bereft of innocence, joy, purpose, wonderment and hope, having been robbed of them by the aforementioned half-century of cultural/spiritual rot. The fentanyl coming from Communist China that really is tantamount to an act of war.
Weep for the children of Uvalde? Sure. But you're going to be weeping for your own children before long. And guns will have precious little to do with it.
Americans can't afford to buy a used car or even gas because the Left doesn't want them to drive. They can't buy homes because the Left wants to destroy the suburbs and force everyone to live in megacities. They have trouble buying meat because the Left wants them to eat soy.

The same is true for the whole exercise in planned economic misery that we're experiencing.

Take Hoover's "A chicken in every pot and a car in every garage" and reverse it. That's the goal. What we're living through is not an unintentional accident: it's the American Holodomor.

The Left doesn't want you to be able to drive, buy a home, or enjoy a burger.

Naive Republicans will say that, "Biden is not paying enough attention to the border" or "Biden is not paying enough attention to inflation".

That's like saying Jack the Ripper wasn't paying enough attention to cutting up prostitutes. . .

. . . This is not a conspiracy theory. The only assumption being made here is that the Left is achieving its stated goals as the result of a plan rather than a series of accidental coincidences.

Too many Republicans are failing to hold the Left accountable by refusing to state what is going on. Hanlon's Razor, "never attribute to malice that which is adequately explained by stupidity" is fine when it's not being applied to an ideology that is achieving its objectives through its actions.

That's not a conspiracy theory, it's policy.

Pasting Biden's "I Did It" stickers on gas pumps is fine, but he's completely expendable.

If Americans don't understand that our misery isn't an accident or incompetence, but part of a plan then the downward cycle will continue to play out with increasingly worse outcomes.
When I said guns will have very little to do with it, in the context of Daniel Greenfield's observations, I take that back. If you are unarmed, either the government will compel you to do things or roving bands of desperate people. Either way, same outcome. That is if you and you children don't starve or freeze to death first. Who will be left to weep for them?
Stolen elections indeed have consequences. But it wasn't stolen on Election Night 2020 or even the year before. It was stolen decades ago by evil people with evil intents. Much like Islam, Socialism is generational. It never ceases, it never rests. It has poisoned our society by first and foremost stealing the souls of our children, having done so for easily two to three generations if not longer.
We are going to have to cleanse this evil to end this insanity or bring it down to a level approaching rarity. Ironically, we're getting to a point where the only way to do that is with guns. And that too will be the fault of the heathens who drove us to this point. God help us. And God help the evil bastards who are bringing about our destruction.
Have a good weekend. Memorial Day Weekend. A time when we remember with reverence all those who gave their lives to defend this nation and our freedom.
You talk about weeping? They're looking down from Heaven and shaking their heads.
The End of America: 100 Days That Shook the World available here.


ABOVE THE FOLD, BREAKING, NOTEWORTHY
SECOND AMENDMENT, UVALDE MASS MURDER
NOTE: The opinions expressed in the links may or may not reflect my own. I include them because of their relevance to the discussion of a particular issue.
ALSO: The Morning Report is cross-posted at CutJibNewsletter.com if you want to continue the conversation all day.
Follow us on Twitter: @CutJibNews
Follow us on Instagram: @Cutjibnewsletter

posted by J.J. Sefton at
07:49 AM
|
Access Comments