« Quick Hits
|
Main
|
Baby Goat Slumber Party Cafe »
May 26, 2022
Eat Uter-o's For a Healthy Menstrual Cycle
"What?," Libs of TikTok asks.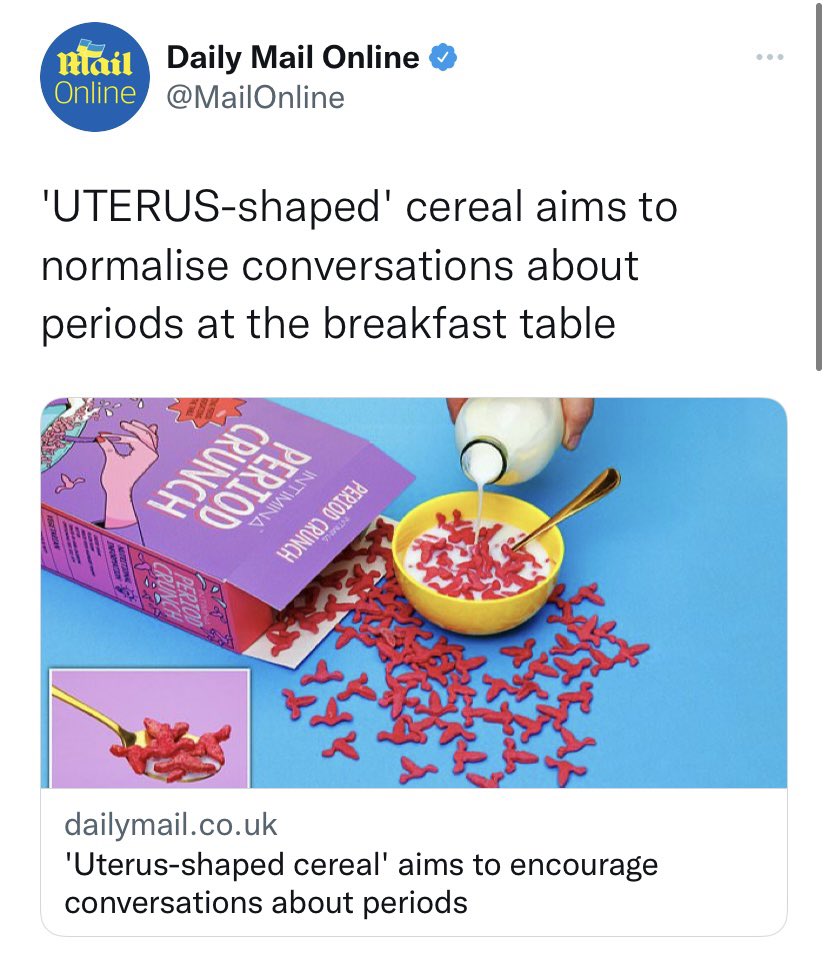 AWFLs (Affluent White Feminist Leftists) who have no real problems except for an excess of time and money and a lack of achievements and sexual interest from men keep inventing fake minor catastrophes for them to fix, and one of the slightest, silliest, most trivial of all their fake minor catastrophes is the made-up non-existent problem of "Period Shaming" which they are certain happens... somewhere in the world. Probably somewhere in the third world, in places they would never actually visit to gather actual knowledge about the existence of this hypothesized Period Shaming, because these places are dirty and smelly and lacking Starbucks and lousy with Wogs.
But it makes the AWFL Karens feel good to slay imaginary and very, very trivial dragons, and their husbands don't mind them spending the money as long as it keeps them busy so they can sleep with younger, hotter, and more interesting women, so Karen will continue Making the World Safe for Menstruation.
Make womb for breakfast! 'UTERUS-shaped' cereal aims to normalise conversations about periods at the breakfast table

Intimina developed Period Crunch to encourage families to discuss periods

Raspberry-flavoured cereal resembles the entire female reproductive system

Swedish company claims conversations about periods are not 'truly normalised'

By JOE DAVIES HEALTH REPORTER FOR MAILONLINE

PUBLISHED: 10:56 EDT, 25 May 2022 | UPDATED: 10:59 EDT, 25 May 2022

A 'uterus-shaped' cereal has been launched with the goal of putting conversations about periods on the table.

Feminine care brand Intimina developed its raspberry-flavoured 'Period Crunch' to encourage families to discuss menstruation more openly at breakfast.

Despite being marketed as womb-shaped, the cereal actually resembles the entire female reproductive system.


The wheat-based cereal -- a PR stunt which won't actually ever go on sale -- is dyed red to mimic the colour of blood.

Intimina claims conversations about periods are not 'truly normalised' and it wanted to 'make a statement' about the issue.

Although it won't ever be stuck on supermarket shelves, people can get a free box by contacting the Swedish company.

A survey of more than 2,000 people by the company found 48 per cent of girls and women are too embarrassed to talk about their period.
I get diarrhea when I have dairy now. I usually don't talk about that. That does not make it a stigma that needs to be "fixed" by Sexless, Frigid Hysterical Karens whose wombs are as lifeless as the sun-side of Mercury.

posted by Ace at
06:06 PM
|
Access Comments