« Cops Waited 40 Minutes to an Hour To Enter School After Gunman Had Entered;
Loved Ones of Children and Teachers Begged Cops to Go In and Stop Him, to No Avail
|
Main
|
Professor Bungles Falls to 36% Approval in Reuters/IPSOS Poll, With 59% Disapproving »
May 26, 2022
Obama: As We Begin Identifying the Murdered Innocents, Let's Not Forget Another Murdered Innocent -- George F***ing Floyd
You scumbag piece of garbage.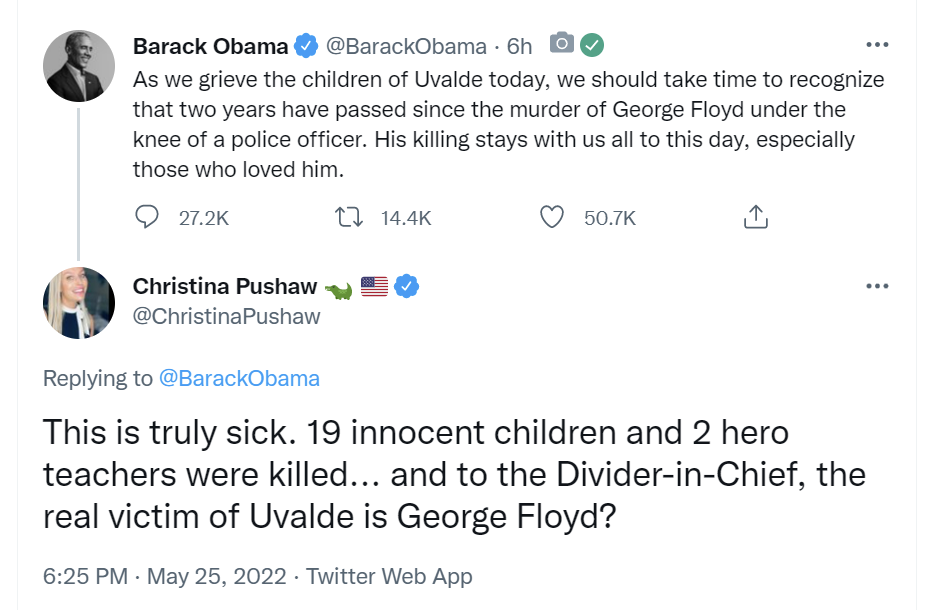 "As we grieve the children of Uvalde today, we should take time to recognize that two years have passed since the murder of George Floyd under the knee of a police officer." Obama tweeted. "His killing stays with us all to this day, especially those who loved him."

As authorities in Texas were identifying the victims of the slaughter and reckoning with its aftermath, some critics slammed Obama for also invoking the death of Floyd, who was murdered by Minneapolis police officer Derek Chauvin during an arrest on May 25, 2020.


Seth Dillon, the CEO of the right-wing news publication The Babylon Bee, tweeted sarcastically: "'It sucks those kids died, but remember George Floyd? He's who I'm still thinking about.' -- Barack Obama."

Emanuel Rincon, editor-at-large at the conservative Latino publication El American, wrote: "The families of more than 20 people (mostly children) killed yesterday do not deserve this disrespect."

Barrington Martin II, a former congressional candidate from Georgia, bristled at Obama seemingly conflating the school shooting with Floyd's murder.

"Those babies were truly innocent, he wasn't. Let's not put them in the same sentence of a man who's [sic] untimely death was used to unleash a summer's worth of chaos in the name of faux social justice," he tweeted, referring to the months of protests that broke out after Floyd's death.

Jason Whitlock, the host of the right-wing podcast "Fearless," issued a full-throated condemnation of Obama's remarks: "Let's stand George Floyd on the dead bodies of slaughtered children. This is one of the worst tweets in history."

Other critics of the 44th US president expressed their dismay more succinctly, with pundit Matt Walsh simply writing: "What in God's name is wrong with you."
For his part, Professor Bungles also praised the Summer of Blood and Fire two years ago which helped deliver him his fake election "win:"
But Democrats are in full Never Waste a Crisis mode, seeking to somehow turn the crime issue to their advantage.
By the way, Time Magazine made an epically accurate "typo" in their headline about that:
TIME @TIME

Correction: Beto O'Rourke confronts Texas Gov. Abbott about gun control during Uvalde press conference https://ti.me/38jVrxH


The original version of this tweet misspelled Beto O'Rourke's name. It is Beto, not Beta
Actually his name is "Robert Francis O'Rourke." He is not Hispanic. He's not even a Latinexexex. That's some bullsh!t this little layabout rich bitch made up when he decided he needed to finally Get a Real Job so he decided to run for a statewide Student Government job.
RedState thinks Texans will despise Beta for this grisly stunt:
And that's all she wrote for Beto O'Rourke, who is about as Hispanic as I am Chinese. The Irishman did not have much of a chance of defeating Abbott in the first place; this little stunt just sealed his fate. It would be one thing if he held his own press conference or shot a video in which he criticized Abbott and other Republican officials for not doing enough to stop these types of atrocities. Whether one agreed with his arguments is irrelevant -- it's how these types of issues should be handled.

But it's quite another to disrupt a press conference in which Abbott is explaining to the public how the incident went down as the state is in mourning. The murdered children and two teachers are not even in the ground yet and O'Rourke is using their deaths to score cheap political points. Sure, this stuff plays well for fellow leftists who have no problem exploiting deaths to push for gun control, but for the average Texan, this ain't it.

For starters, his stunt was probably the most indecent thing he could have done at that moment. He took a tragedy and made it about himself and his campaign. Secondly, he's doing it to push for further restrictions on firearms, which isn't exactly a popular sentiment in Texas.
Former Obama scumbag, now a CNN analyst scumbag, really went all-in on Never Wasting a Crisis, somehow contriving an opportuning to use the event of a mass slaughter of children to propagandize for... calling for open borders.

And, by the way: Former Bush and McCain spokeshag, and one of the most venally stupid women in politics and media (and that is saying something), Niccole Wallace is very very sad at how badly Beta was treated when he turned an official police press conference about murdered children into a political campaign event:

posted by Ace at
01:00 PM
|
Access Comments