« Mid-Morning Art Thread
|
Main
|
Disaster for Democrats As Judge Strikes Down Their Highly Gerrymandered New York District Map »
May 20, 2022
The Morning Rant – Buck Shots [5/20/2022]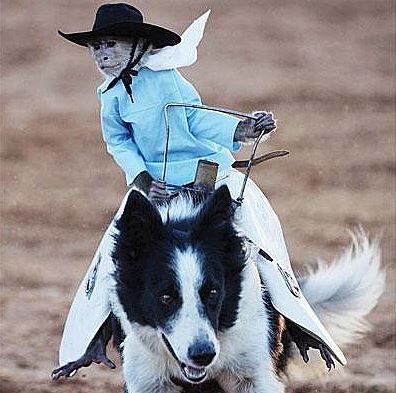 Should Americans Die To Protect A Country (Finland) Whose P.M. Calls Us Racists?
Finland's Prime Minister, who smeared Trump-voting Americans as being racist, has generously decided that she is now willing to let those racist Americans fight and die to protect her country. How thoughtful.
Sharing an 830-mile border with Russia, which is in a war-making mood right now, Finland has reconsidered its commitment to neutrality, and it now wants to join NATO and be part of America's security umbrella.
Finland and Sweden confirm intention to join NATO; Announcements signify historic shift in policy in Nordic countries [The Guardian – 5/15/2022]
Finland's prime minister, Sanna Marin, said she hoped parliament would confirm the decision "in the coming days", adding that as a member of Nato, Finland would help reinforce not just the 30-member, US-led defensive alliance but also "strengthen the EU, whose voice in Nato can become stronger".
If she's willing to let Americans onto Finnish soil and die on her country's behalf, you'd think she has great respect for us, right?
Uh, no. She hates us. This tweet of hers is from November 2016.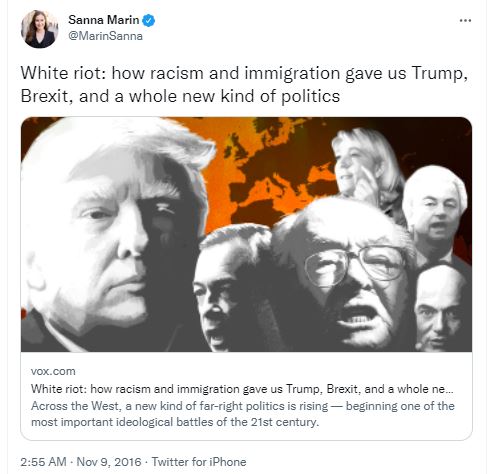 She thinks we're a bunch of nasty racists. And after Trump's election, she was happy to go on Twitter and tell the world that we're a bunch of nasty racists.
I am sick of Americans being asked to put their lives on the line to protect Europeans who hate us. The Americans who would be asked to take up arms and defend her country against Russia are the same American demographic that she slandered.
We disappointed her once by voting for Trump. How about we disappoint her again by refusing to come to her rescue?
Countries that elect leaders who slander the United States and the character of our people are not worth spilling one drop of American blood to protect.
*****
DeSantis & Florida GOP Are Going To Deny Newspapers Revenue From Legal Notices
A GOP governor with the backbone to simply fight back against the media is rare enough. DeSantis not only fights back, he goes on offense.
You know those legal notices from local governing agencies that are published in newspapers? Why can't they be published online instead? Well, doing that would deny newspapers a nice stream of revenue. Which, come to think of it, is a darn good reason to publish them online.
Did the Florida Legislature pass this bill to punish newspapers? Some lawmakers say yes
In Florida, local governments are required by law to publish certain notices in print newspapers or on newspaper websites. Those notices include updates on government meetings and budgets, code enforcement notifications and hazardous waste disposal notices.
With almost no local newspaper competition anymore, the monopoly local fish-wraps get a steady stream of taxpayer revenue from these notices – revenue that helps fund their biased left-wing journalism.
House Bill 7049, which now heads to DeSantis, would eliminate the requirement for local governments to publish those notices in a third-party publication. Instead, governments would be allowed to publish them on a county website.

The measure cleared the Senate 26 to 13, and the House 79 to 40, mostly along party lines.
Ron DeSantis' Press Secretary, Christina Pushaw, saw fit to rub a little salt in the media's wounds.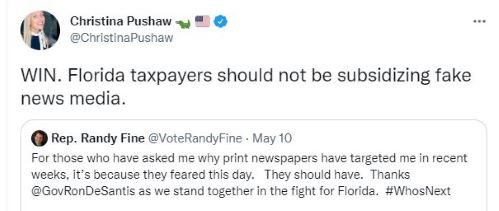 *****
Speaking of Christina Pushaw
Ms. Pushaw, like her boss, is so refreshing. She doesn't just defend DeSantis from the media. She punches back – hard - and she gets the media to lash out at her in partisan anger. At which point she has won, because she has forced them to reveal that they are biased partisans with a liberal agenda, rather than anything close to objective.
The media has an unhinged hatred of Ms. Pushaw, desperate to find some way to destroy her or cancel her. Only Trump, DeSantis, and Tucker Carlson are as hated as Pushaw by the media. And she wears it like a badge of honor.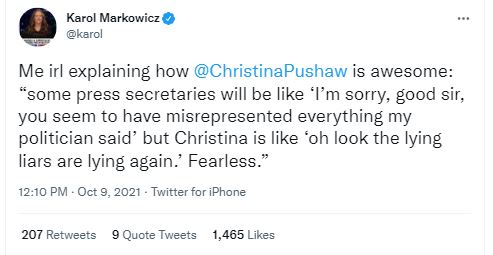 We need more Ron DeSantises running state governments, and we need more Chistina Pushaws battling the media.
(buck.throckmorton at protonmail dot com)


posted by Buck Throckmorton at
11:00 AM
|
Access Comments