« The Morning Rant – Buck Shots [5/20/2022]
|
Main
|
White House Distances Itself From Disinformation Governance Board »
May 20, 2022
Disaster for Democrats As Judge Strikes Down Their Highly Gerrymandered New York District Map
Democrats spent 2021 doing two things: 1, complaining piously about Republican congressional gerrymanders (a "gerrymander" being the redrawing of congressional district boundaries in a census year to favor one party or the other), and 2, drawing the most grotesquely partisan and bizarre gerrymander borders imaginable in the states they controlled, especially in New York State.
The map was so bizarrely gerrymandered it raised eyebrows all over the country.
Democrats had been counting on this masterpiece of non-Euclidean geometry to offset some of the pickups Republicans would see around the country.
Even the New York Times was a bit stunned by the Democrats' brazenness:
New York's new congressional map, redrawn by ruling Democrats, gives the party's candidates a clear leg up in nearly every corner of the state and could knock out as many as five Republican seats.

But when party leaders in Albany introduced the proposed lines on Sunday, many onlookers quickly seized on what seemed to be a singular example of mapmakers' partisan excess: a freshly drawn district now held by Representative Jerrold Nadler, a powerful Manhattan Democrat.

Indeed, with its serpentine shape, Mr. Nadler's reimagined district -- New York's 10th -- is almost comically contorted and overwhelmingly favors Democrats. It stretches 15 miles through 15 different State Assembly districts from Mr. Nadler's home on Manhattan's Upper West Side to Brooklyn, jumping over New York Harbor and making three sharp turns to take in small strips of Carroll Gardens and Boerum Hill, before broadening out to encompass all of Prospect Park, Borough Park and Bensonhurst.






By the way, if the current district also looks oddly-shaped -- well, that was also gerrymandered for the Democrats' benefit.
Baffled onlookers and partisans alike quickly dubbed it a "Jerrymander," playing off Mr. Nadler's name and the term long given to the practice of politicians drawing favorable political lines for their party's advantage.

Republicans, known for their own gerrymanders in other states, gleefully shared screen shots of the district to accuse Democrats of hypocrisy.

They were not alone. "This is why people don't trust politicians," wrote Pat Kiernan, a local morning news anchor on NY1, on Twitter. "And the Democrats have given up any high ground they had over Republicans on gerrymandering."
The map was also drawn in this crazy snake-like way to avoid a more natural map which would have the unwanted effect of pitting two long-serving Democrat hacks against each other -- Nadler of the Upper West Side vs. Carolyn Maloney of the Upper East Side.
But a judge threw out the map approved by hack corrupt governor Hochul as too bizarre and partisan to be legal, and substituted its own map.

The new map, drawn up by the court's special master, combines the Upper West Side and Upper East Side into a more geometrically sensible bloc. (Also ethnically uniform -- now it's almost all super-wealthy white ultra-liberal Karens, with some minority-dominated projects and student housing mixed in.)
And so Nadler will be forced to battle Maloney in a primary.
And also puts a lot more New York districts into play for Republicans throughout the state.
Democratic efforts to gerrymander New York's congressional districts in their favor backfired spectacularly on Monday -- forcing the party to eat its own for survival.

Three imperiled Republican seats appear to no longer be in jeopardy and one of two powerful New York Democrats will be out of a job, under new district maps unveiled Monday by a court-appointed expert.

US Rep. Nicole Malliotakis (R-Staten Island, Brooklyn) saw her district redrawn by special master Jonathan Cervas of Carnegie Mellon University to no longer include the heavily Democratic area of Park Slope, former Mayor Bill de Blasio's Brooklyn neighborhood.

Two other districts upstate that were configured by Democrats in what Republicans dubbed Gov. Kathy Hochul's "Hochulmander" were also redrawn by Cervas to remain more GOP-friendly.

And in a stunning move, Cervas redrew two districts represented by entrenched Democrats in a way that now pits House Judiciary Committee Chairman Jerry Nadler (D-Manhattan, Brooklyn) and House Oversight Committee Chairwoman Carolyn Maloney (D-Queens) against each other.

...


Democrats now outnumber Republicans, 19-8, in New York's congressional delegation, which is set to shrink by one due to changes in population nationwide

The gerrymandered districts were expected to boost the Democratic edge to 22-4 but Monday's proposed changes -- combined with widespread expectations of Republican gains in November -- could narrow it to 16-10 or less.
RedState points out that the Democrats were counting on the New York "Jerrymander" or "Hochulmander" for their national ambitions.
A court-ordered map in New York has been adopted, and it's lights out for Democrats heading into November. While the original Democrat map, which was struck down by the state's Supreme Court, had a likely outcome of 22 D-seats to 4-R seats, the new map puts as many as 12 seats in play for the GOP.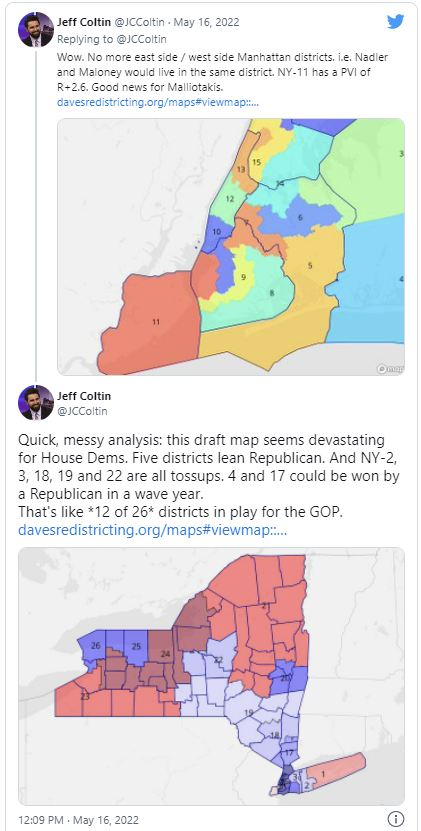 It seems unlikely the GOP would get many W's in NY, but just blocking the Democrats from picking up the seats they expected from the Jerrymander/Hochulmander is good enough, given the GOP expects a lot of W's elsewhere.
It's not all bad news for Democrats: Red Bill DiBlasio says he's going to run for Congress in the redrawn 10th district.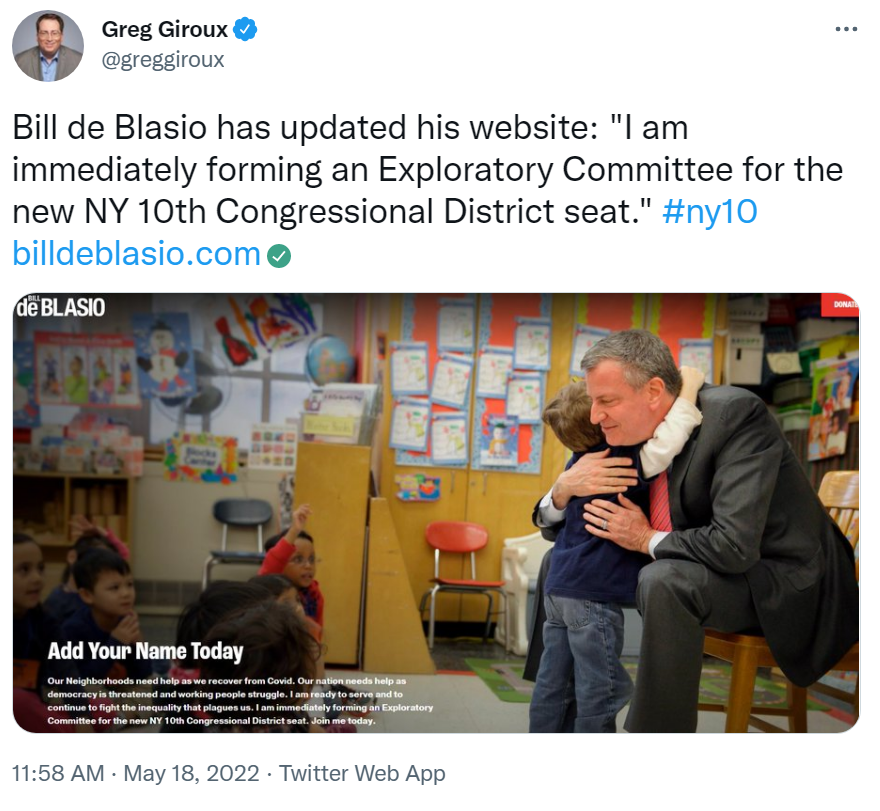 posted by Ace at
12:14 PM
|
Access Comments