« Megyn Kelly: I Don't Believe For One Second That Don Lemon Didn't Pay His Accuser to Go Away
|
Main
|
Quick Hits »
May 19, 2022
Sports Illustrated Reveals Its Cover Model, and... Well At Least It's Not a Dude With a Dick
Sports Illustrated revealed its Swimsuit Issue cover model who was, of course, very, very chubby.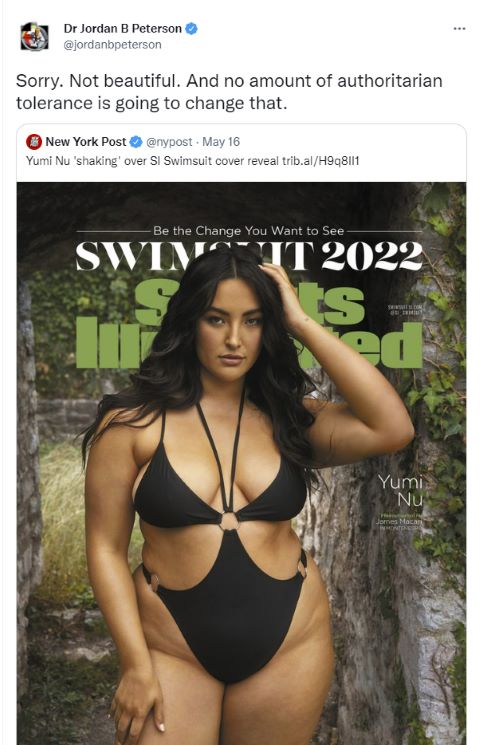 Eh, she's okay for a chubby girl and some men like chubby girls.
But, she is non-traditionally attractive, if she's attractive at all.
And furthermore, Sports Illustrated used to be for the most beautiful girls in the entire world. Absolute cream of the crop.
Guys who find Yumi Nu attractive do not have to wait all year to see a girl who looks like her in the SI Swimsuit Issue. They can just go to the beach. Because most girls these days are overweight, and the beaches will be absolutely filled with overweight girls.
(And most of the overweight girls will have bigger chests -- Sports Illustrated went out of its way to not only find a plus-sized model, but a plus-sized model whose chest is modestly-sized compared to the rest of her. Kudos! Can't let the boys have anything, huh, Sports Illustrated?)
So this continues the iron trend: Men are not permitted their pleasures. In place of pleasure, men get lectures about what they should find pleasurable.
A female commenter -- maybe Lizzy's Phone (I gotta do something about getting Lizzy unbanned!) -- remarked that women have it just as bad as regards the constant lecturing from the media. It's not just men's media which is invaded by woke SJWs constantly lecturing men, this commenter asserted; women's media is also infested by wokescolds constantly lecturing women. I think she mentioned the annoyance of every third article about the most important female actresses spotlighting trans "actresses" like Lavernia Cox and Penelope Nardz. (I made the last one up.)
Point taken as to that, but, let me point out that those examples are of woke content being inserted amidst content of the traditional kind which actually does appeal to women. In other words, yes, absolutely, wokescolds are definitely forcing women to pay a Woke Tax in women's media, making women read about woke shit and having to read articles until they groan with exhausted agreement that yes, Penelope Nardz's lived experience as a woman for the last five years of being a "woman" makes her an absolute expert on being a woman.
But past that Tax, women are getting the content they're actually looking for in women's entertainment.
Meanwhile, in men's entertainment, men are getting the Gals of the WNBA, fifty-five year old women showing off their caesarian-section scars, and cover models who are here to teach us that Beauty Comes in All Sizes.
Yes, this is all very, very Empowering for Women, I'm sure.
What about for Men? Do men ever get to be empowered? Or played to? Or considered?
And of course Playboy is slapping transgenders on the cover.
This isn't just a tax we're forced to pay to get the content we actually want. The content we actually want is entirely replaced by this crap.
Men just aren't allowed to have the things we like. We're to be henpecked, harried, bullied, and reprogrammed until we like the things that Feminist Karens demand we like.
Below, Gary Beuchler complains that Moon Knight -- a badass mercenary, "Marvel's Batman" -- becomes a cutesy-poo low-T soyboy who chats with talking sillybilly hippo goddesses and then gets saved by the real star of the show, a Strong Female Superhero no one's ever heard of but we all Needed Even Though We Didn't Know It.
It's just over and over and over again. "How can we turn this male-skewing entertainment into something women will like, or which can teach men how to be better women?"

posted by Ace at
04:34 PM
|
Access Comments