« Quick Hits 2: Judge Blocks Biden's Effort to End Title 42 by Monday
|
Main
|
Sea Action! Cafe »
May 20, 2022
Increased Testosterone Gives Democrat Voters Conservative GAINZZZ
(A semi-disguised GAINZZZ thread.)
This is a study from last year but The National Pulse is giving it some exposure now.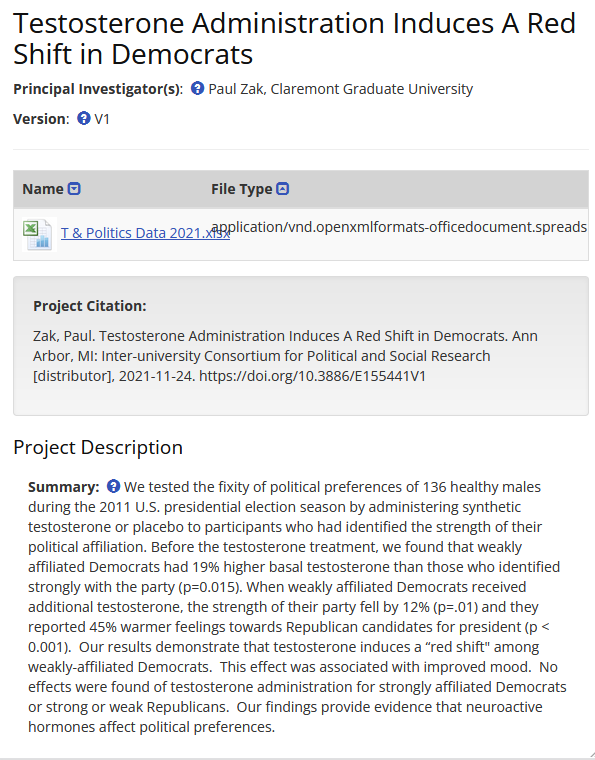 The study -- Testosterone Administration Induces A Red Shift in Democrats -- was published on November 14th, 2021 by Professor Paul Zak, the Director of the Center for Neuroeconomics Studies at Claremont Graduate University.

"His research has made a substantial impact in explaining the variation in human social behaviors and has been cited by other scholars over 18,000 times placing in the top 0.3% of all scholars," explains his professional biography.

Zak's latest findings reveal a link between testosterone levels and political preference through analyzing 136 voting-age males throughout the 2012 election season.

"Our results demonstrate that testosterone induces a "red shift" among weakly-affiliated Democrats," summarized the paper.
Or "NeverTrumpers," I think they could say.
Researchers administered synthetic testosterone or placebo to participants who previously disclosed their political affiliations, allowing researchers to track how the hormone affected participants' politics.

"When weakly affiliated Democrats received additional testosterone, the strength of their party fell by 12 percent and they reported 45 percent warmer feelings towards Republican candidates for president," explained the study.

"Before the testosterone treatment, we found that weakly affiliated Democrats had 19 percent higher basal testosterone than those who identified strongly with the party," the study continues, reiterating the correlation between individuals with lower testoreone having left-wing political beliefs.


A recent study suggests, again, that going on a one-week "digital detox" can have "significant" benefits for well-being.
Asking people to stop using social media for just one week could lead to significant improvements in their well-being, depression and anxiety, and could in the future be recommended as a way to help people manage their mental health, say the authors of a new study.


The study, carried out by a team of researchers at the University of Bath (UK), studied the mental health effects of a week-long social media break. For some participants in the study, this meant freeing up around nine hours of their week that they would otherwise have been spent scrolling Instagram, Facebook, Twitter and TikTok.

The results--published today in the US journal Cyberpsychology, Behavior and Social Networking--suggest that just one week off social media improved individuals' overall level of well-being, as well as reducing symptoms of depression and anxiety.

For the study, the researchers randomly allocated 154 individuals aged 18 to 72, who used social media every day, into either an intervention group where they were asked to stop using all social media for one week, or a control group, where they could continue scrolling as normal. At the beginning of the study, baseline scores for anxiety, depression and well-being were taken.

Participants reported spending an average of 8 hours per week on social media at the start of the study. One week later, the participants who were asked to take the one-week break had significant improvements in well-being, depression, and anxiety over those who continued to use social media, suggesting a short-term benefit.

...

"Many of our participants reported positive effects from being off social media with improved mood and less anxiety overall. This suggests that even just a small break can have an impact.

Cal Newport, a computer science professor and author of the book Deep Work I've recommended, has suggested that people take a "digital detox" away from the internet for years. As well as a "digital declutter."
The more detailed process I propose is called the digital declutter. It asks that you begin by taking a 30-day break from optional digital technologies in your personal life. These include any apps, services, or web sites that aren't necessary for your work or play a vital role in your daily routine. For most people, these optional technologies include social media, online news and entertainment sites, games and streaming videos.

For technologies that play both a vital and a distracting role, specify rules to separate the former role from the latter. For example, if your job requires you to occasionally post on your company's social media account, this shouldn't be an excuse for unrestricted social media browsing on your phone. Instead, put aside some set times on your calendar to complete your professional social media work from your office computer, and then otherwise avoid these services during the declutter period.

There are two motivations for taking a 30-day break. The first is to detox from the compulsive urge to tap a screen at the slightest hint of boredom. It's difficult to think clearly about your digital life while you still feel an addictive pull to its algorithmically optimized charms.

The alluring noise emanating from our screens provides an easy distraction from the bigger questions about what really matters.

The second purpose to this long duration, however, is arguably more important: to get back in touch with what you actually value. The alluring noise emanating from our screens provides an easy distraction from the bigger questions about what really matters; what we want to do with limited time here on earth. This month-long reprieve provides the space needed to revisit these questions, and through both self-reflection and experimentation, form some tentative answers.
It goes without saying that there should be a special exception for Ace of Spades only.
So: Tell me 'bout yo' GAINZZZ!
What kind of GAINZZZ do you have? Anyone starting a new exercise or dietary regime?
Any new PROJECTZZZ or PLANZZZ?

posted by Ace at
06:15 PM
|
Access Comments