« Adam Kinzinger: "I have opposed a ban [on AR-15s] fairly recently. I think I'm open to a ban now."
|
Main
|
Update to "Central Park Karen" Story »
May 30, 2022
The Drone War in Ukraine: Is This Going to be a Problem For US?
In every war there's some new wrinkle in tech and this seems to be that new wrinkle in this one.
I mentioned yesterday that the Ukrainians were having success in taking out Russian tanks and armored personnel carriers using consumer level quadcopter or octocopter drones, ranging in price from $10,000 to $20,000, and using them to drop fairly cheap munitions with such high accuracy that the effectiveness of the smallish explosives were greatly multiplied.
For comparison, military drones often cost $2 million. The US Predator drone costs $40 million per drone.
Here are some troops modifying a quadcopter to carry grenades. It's a simple operation that can be done in the field with, basically, fishing line and duct tape.

The munitions being dropped here include just a grenade being held in a clear plastic cup -- the cup, I guess, to keep the handle from springing out and detonating the grenade until it falls out of the cup.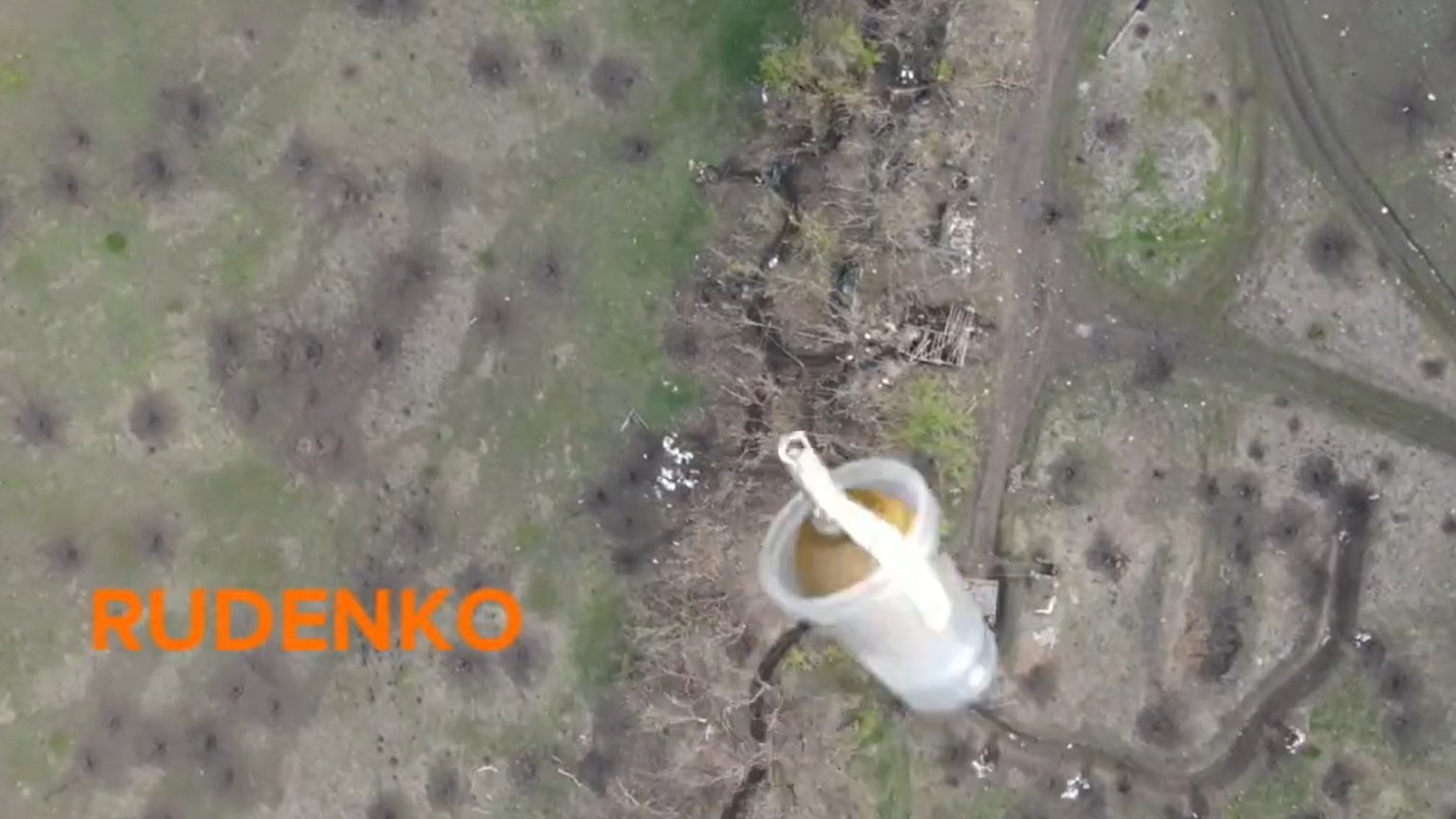 This is some seriously technologically-asymmetrical warfare. Or I guess actually the drones are technologically advanced; they're just super-cheap.
Other munitions include dinky mortar rounds which have little effect as battlefield weapons, but when dropped from a drone with great accuracy, suddenly become very, very effective.
They also drop heavier rounds, but the drones can only lift so much weight, of course, so there's a limit to how big the bombs can be.
They modify munitions that weren't designed to be dropped by adding fins and fairings, some of which are printed on 3D printers to make them aerodynamic and stable as they fall. Another cheap add-on. (Beyond the expense of the 3D printer itself.)
I don't think that this sort of weapon was used against us in Afghanistan or Iraq, or at least not to any great extent.
Videos below of the great effect that these very tiny munitions can achieve. It should be kept in mind that the drones are, for all practical purposes, silent and invisible, so these attacks come out of nowhere, and are, in a way, "terror attacks," in that the enemy cannot anticipate them, and so has to worry that they can come at any time.
And there's really no defense against them. I guess a very sophisticated radar system could detect the drones, but platoons in the field don't have that.
It should also be remembered that tanks and armored vehicles have their weakest armor on their roofs so they are all especially vulnerable to attacks from the top. I mean, a tank wouldn't be vulnerable to a grenade, but it would be vulnerable to an attack from the top from a heavier mortar round it wouldn't normally be in danger from.
This is especially the case with Russian tanks, which have a very exploitable design flaw that allows their stores of shells and propellent explosives to be detonated from within the tank by a sufficiently powerful blast near the turret.

Here, a drone-dropped grenade kills three Russian troops firing on Ukrainian positions with an RPG. Killing three troops isn't such a huge thing, except... they were able to do this at virtually zero cost (just the cost of a single grenade) and zero risk. And they can just keep repeating this.
There's video of Russians attempting to catch up to the Ukrainians' drone warfare game but failing, so far. But I don't know if that's real video or more propaganda designed to make the Russians look stupid.
And it might also be that the Ukrainians came into the war with skill at using drone warfare because maybe the CIA had already drawn up the plans for using consumer drones as munitions delivery platforms and just told the Ukrainians how to do it. That would assume the CIA still knows what it's doing, which I doubt.
In any event, there is now a way for a very underfunded guerilla army to use dirt-cheap weaponry they buy off of Amazon to take out million dollar tanks and armored personnel carriers, which is something the US will have to worry about going forward.
US tanks are a lot better armored than Russian tanks, and US tanks don't have that lethal design flaw, but the general idea that a small drone dropping a smallish bomb right on to the top of a tank with terrific accuracy is going to be a threat for the US.
The US will be better able to adapt to that threat, because we'll be able to deploy automated roof radar and gun phalanx systems that shoot falling bombs out of the sky. But we will have to adapt and add those guns to tanks and APCs.
I suppose the US can just selectively turn off GPS positioning which would help blind these drones, or at least make it hard to guide them to targets over long distances. But only over long distances; a lot of their sorties are done just by eyeing the landscape through the videocamera, and over pretty short distances. So just shutting down GPS for the enemy (if we can do that, which I assume we could) would only be of marginal benefit.

posted by Ace at
04:00 PM
|
Access Comments