« Gardening, Puttering and Adventure Thread, May 21
|
Main
|
The Weekend Hobby Thread »
May 21, 2022
Ace of Spades Pet Thread, May 21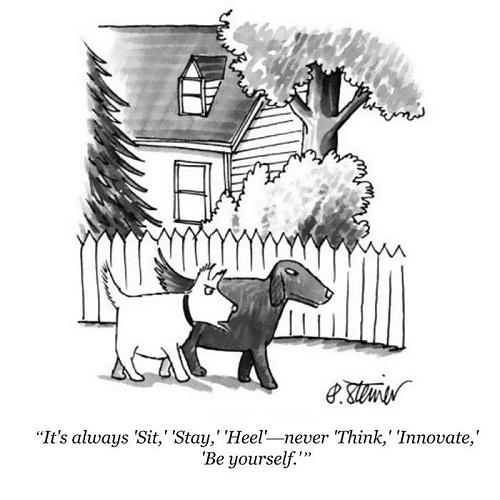 Courtesy someone whose nic MisHum can't remember
Good afternoon and welcome to this weekly respite from most of the outside "civilized" world -- the Ace of Spades Pet Thread.
Thanks for stopping by. Ask someone for a treat, kick back and enjoy the world of animals.
Reminder: For current events and politics, the Thread before the Gardening Thread (a couple of threads below) is almost always an Open Thread.
Speaking of the "civilized world", we have a piece on dog psychology today: Why dogs are very good boys
There's something about dogs that truly makes them man's best friend. Our loyal, slobbering pets rescue those in need and are extremely social, but until recently we never figured out why dogs and humans get along so well.
By analyzing DNA samples taken from a variety of dogs and wolves, vonHoldt and Monique Udell, a scientist from Oregon State University who studies animal cognition and collaborated on this research project, identified four mutations that seemed to influence social behavior in those dogs. In particular, they found mutations on a gene called WBSCR17, which vonHoldt says she studied back when she was working on her doctoral thesis, and two transcription factor genes.

"We found that these mutations were frequent in many populations and breeds, possibly suggestive of their role in personality variation," says vonHoldt.
In humans, when that gene is deleted from one of two paired chromosomes, it can lead to a condition called Williams-Beuren Syndrome, which involves stunted social development and overly-friendly behavior, not unlike the traits that separate good little pups from vicious wolves and coyotes.

VonHoldt explains that they found a great deal of variability in regards to this mutation when they looked at wolf genetics, but the mutation was almost entirely absent in coyotes. "Some wolves are dog-like in their degree of sociality, while some dogs may also display more wolf-like or less social behaviors," she says. The differences among wolves could explain how domestication occurred, with friendlier animals living in a closer proximity to people and passing those social genes down to their pups, vonHoldt explains.
Ever seen a pet coyote? Next up for study: cats.
So what went wrong here, Hadrian the Seventh?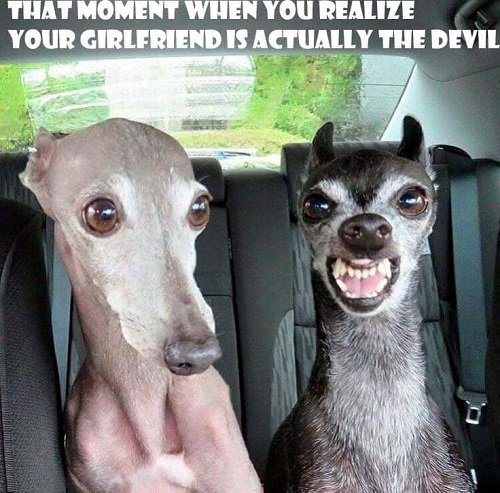 * * *
Meet The PetMorons
Here are some temporary pets, sort of: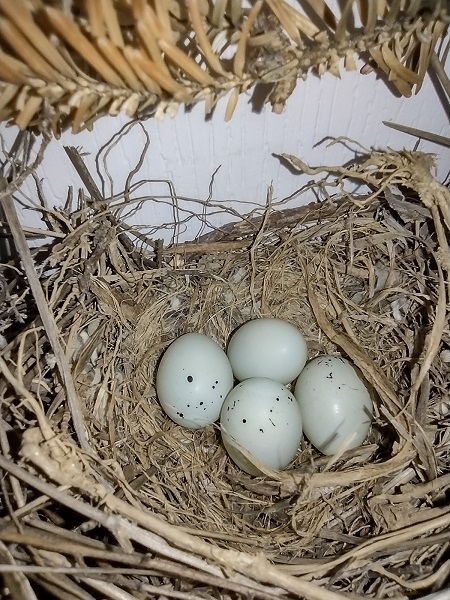 I've been meaning to take this Christmas wreath down, but we're slackers here at Chez Publius. Meanwhile, a bird decided to build a nest in it!

There are 4 eggs. They have dark speckles on a grayish background, and are about 1/2" long. Can anyone identify them from the attached photo?

Thanks!
Miley, the Duchess
A nice surprise!
* * *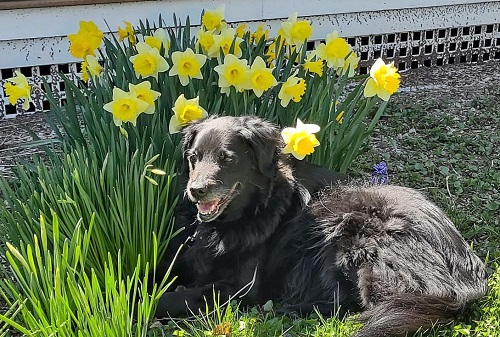 You've shown Fenway a few time. This was just too good of a pic to not share.

Sadly, Fenway has been diagnosed with terminal cancer and only has a few short months left with me. I keep telling myself she is 12 yrs old and what a great journey it has been. But it is a gut punch none the less. Working on a couple of "best day ever" days with her while she can still get around comfortably.

Anyways, wanted to share this happy moment.

Our Country is Screwed
Thanks for sharing this beautiful photo, so we can remember the good times with you.
* * *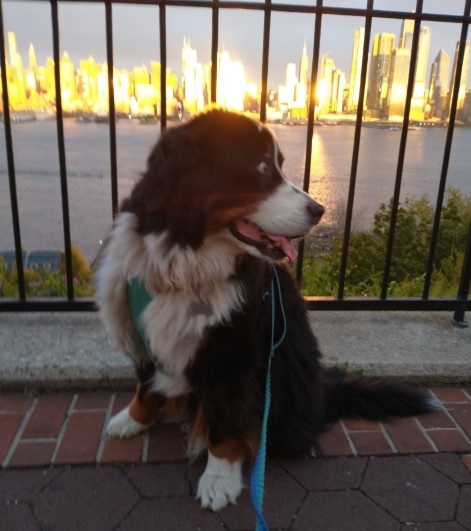 Stella is bravely and cheerfully undergoing treatment for histiocytic sarcoma in the lungs, a very nasty cancer. You wouldn't know it to look at her. Here she is on an evening walk, enjoying the scenery and hanging out. JuJuBee
What a lovely, brave girl.
* * *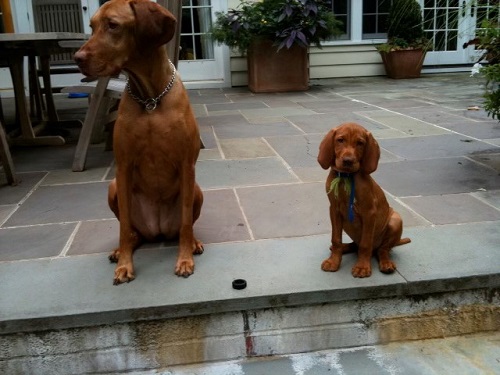 &&&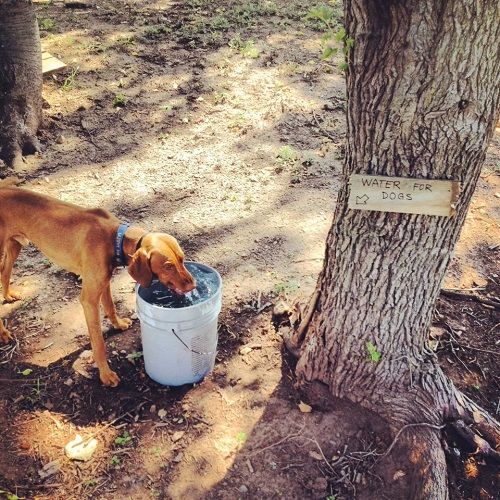 &&&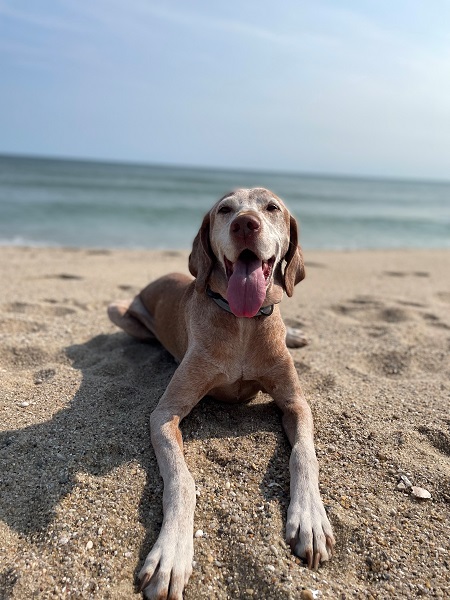 Murphy, my best friend and hiking buddy, met a too-early end a few days ago, due to an undiagnosed heart issue (which we couldn't have done much about anyway, had we known). As tribute to his memory, I attach a couple of pics from which I hope you will choose.

1. As a puppy, with his drill sergeant

2. On a hot day in his middle years, enjoying the water gift of a nice local farm owner who let us traverse his fields on many happy hikes

3. Last summer, on his favorite Massachusetts beach, after once again scaring away the enemy seals.

We miss him horribly, of course, and I hope we meet again some day for a nice walk.

Thanks for the Pet thread!
MTF
What a terrible shock to lose your buddy! The photos make a wonderful pet essay, not just about Murphy, but also about a great older dog and a kindly farm owner. You will have some great memories.
* * *
Love those PetMorons! Thank you for sharing your pets with us.
If you would like to send pet and/or animal stories, links, etc. for the Ace of Spades Pet Thread, the address is:

petmorons at protonmail dot com

Note to Bird Dog: Was there a photo with your story?

Remember to include the nic or name by which you wish to be known at AoSHQ, or let us know if you want to remain a lurker.
Until next Saturday, have a great week!
* * *
If you start feeling nostalgic, here a link to last week's Pet Thread, May 14. Pet poetry and some great pet stories. The comments are closed now so you won't accidentally ban yourself by trying to comment on a week-old thread, but don't try it anyway.

posted by K.T. at
03:23 PM
|
Access Comments