« Let Dr. Oz Tell You All About the Need for Transgender Reassignment Surgery for Young Children
|
Main
|
Quick Hits »
May 13, 2022
Despite White House's Denials, Federal Tax-Payer Funded Drug-Use "Harm Reduction" Packages Do Contain Crack Pipes
The White House lied about this before, and they just lied about it again.
Incidentally, it wasn't just the White House -- and Jenny Pflapjacks -- lying about this.
All of the "journalists" of the leftwing media and "pfactcheckers" checked zero pfacts but pronounced Jenny Pflapjacks to be telling the truth about the crackpipes.
But Free Beacon did what "Real Journalists" don't dare to do -- they left their homes, departed their computer screens, and actually entered The Real World to put their hands on real, physical objects that exist in the real world.
And they found the "harm reduction kits" in five east coast cities do in fact contain crack pipes.
And what are the "Real Journalists" (who read Twitter all fucking day long) and "pfact checkers" (who check no facts) going to say now?
Yes, Safe Smoking Kits Include Free Crack Pipes. We Know Because We Got Them. Free Beacon Investigates: Five cities, five free crack pipes


Crack pipes are distributed in safe-smoking kits up and down the East Coast, raising questions about the Biden administration's assertion that its multimillion-dollar harm reduction grant program wouldn't funnel taxpayer dollars to drug paraphernalia.

The findings are the result of Washington Free Beacon visits to five harm-reduction organizations and calls to over two dozen more. In fact, every organization we visited--facilities in Boston, New York City, Washington, D.C., Baltimore, and Richmond, Va.--included crack pipes in the kits.


The kits became the subject of national attention in the wake of a Free Beacon report in February indicating that a $30 million harm-reduction program was set to fund the distribution of free crack pipes in "safe-smoking kits." Pressed on the matter in a Feb. 9 press briefing, White House press secretary Jen Psaki issued a full-throated denial.

"They were never a part of the kit, it was inaccurate reporting," Psaki said of the pipes. "A safe smoking kit may contain alcohol swabs, lip balm, other materials to promote hygiene and reduce the transmission of diseases."
But the Free Beacon went out to the centers distributing the kits, and found crack pipes in most of them. And even in the ones that didn't contain crack pipes -- the centers told them they wanted to include crack pipes, but they weren't available for purchase.
...

The Free Beacon's findings contradict claims from a raft of fact-checkers who, based on the White House's ex-post-facto denial, deemed the Free Beacon's reporting false.

A USA Today headline asking, "What's inside a safe smoking kit?" answered: "No, it's not a crack pipe." The outlet based its fact-check solely on the administration's denial and does not appear to have done any additional research on safe smoking kits. The author, Michelle Shen, did not respond to a request for comment.

All she did was take the White House's denial and "report" it as "fact."
The Free Beacon has pictures of the crack pipes and all the contents of the "harm reduction kits."
Are the pfact checkers going to claim that the pictures are photoshopped?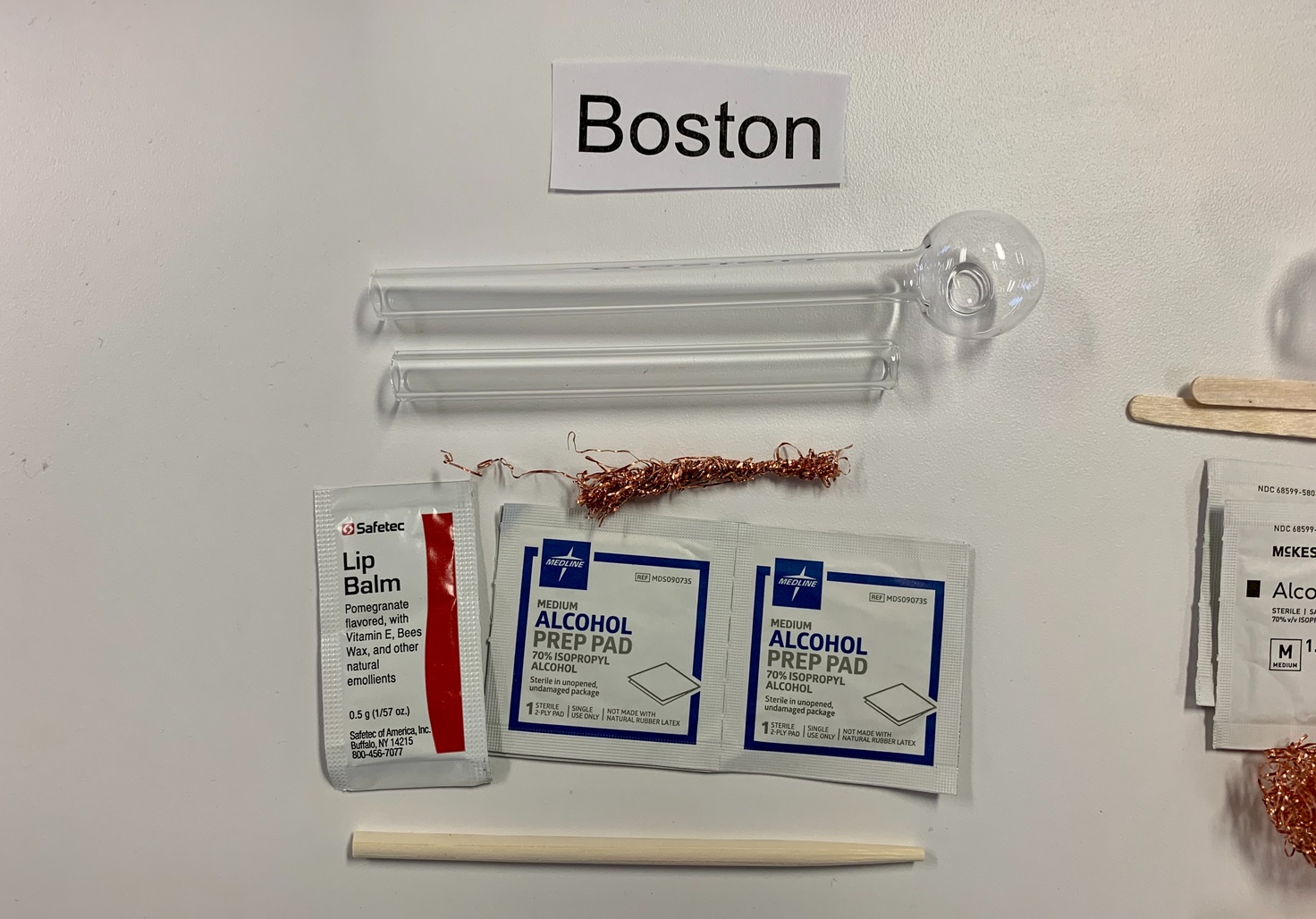 Above: Conspiracy Theory Pipes
Will they ever leave their fucking basements to ever do any actual reporting in the real world?
Answer: No.
Video below of Pflapjacks Jenny again denying that there are crack pipes in the kits despite physical proof of the crack pipes in the kits.
She also says that the pictures of crack pipes in the kits constitute a "conspiracy theory."
That's an important word -- because that's one of the pretextual reasons the Biden Administration and its Ministry of Truth uses to demand that the social media monopolies it controls either delete or suppress negative stories they don't like, or slap a CONTENT WARNING on them claiming the stories are "MISSING CONTEXT" or are otherwise likely false.
Drew Holden @DrewHolden360


We have the crackpipes, Jen


The President's press secretary is calling critical reporting about her admin a "conspiracy theory" in a blatant attempt to get the coverage pulled from social media/memoryholed.

Earnestly authoritarian.
And yes, this nasty, ugly double albino-sharkfin-chested troll is using that word deliberately.
This gangster government is always invoking "conspiracy theories" and "disinformation" and "harm" and "threat to public health" when they want the social media monopolies they control to kill stories that are politically harmful to them.