« Magic Pets Cafe
|
Main
|
Daily Tech News 13 May 2021 »
May 12, 2022
From The Halls Of Montezuma, To The Shores Of ONT
Today's ONT will reach back to our roots as a "smart, military blog".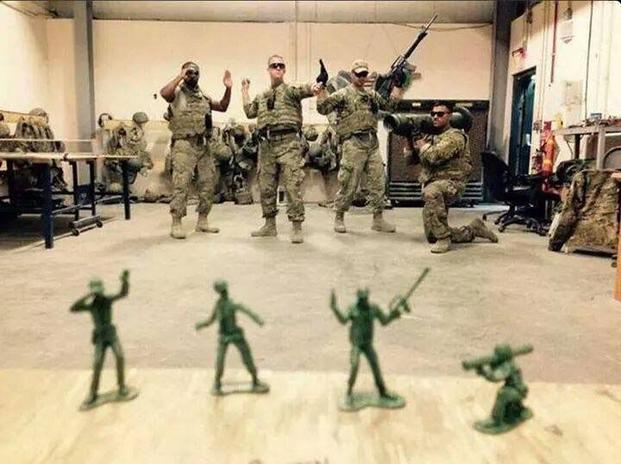 Balls. Of. Titanium.
Have you ever heard the story of Pardo's Push?

Incredible story from Vietnam of an F-4 literally pushing another damaged F-4 out of enemy airspace.
Knowing their planes were badly damaged, both crews climbed their crippled F-4s to 30,000 feet to preserve fuel and to enable them to glide as far as possible after they ran out. The remaining aircraft in the strike force had no alternative but to continue heading back to Ubon. Pardo could see the fuel leaking from the other F-4, and he radioed to Aman: Earl, you've been hit badly; you're losing fuel.

Aman answered him: We know; we're getting ready to bail out.

Pardo and Wayne knew that if that happened, their comrades would face certain capture or death. Pardo yelled into his radio: Don't jump! We're going to do our damnedest to help you fly out of here!

What happened next will amaze you. Incredible men. Incredible feat. Of course, they were only following in the footsteps of their fathers, who fought the big one over Germany
Superbomber!
As reported by the Pittsburgh Tribune, Rojohn was piloting a B-17 Flying Fortress in the New Year's Eve attack on a synthetic oil factory in Hamburg when all hell broke loose. Besieged by heavy anti-aircraft flak near the target and wave after wave of strafing by German fighters, 12 of 37 planes were downed and 100 crewmen were killed.

Dugo explains;

'Rojohn's B-17 collided mid-air with a bomber below it and became hooked together in what has become known as the "Piggyback flight." A propeller and top guns of the lower B-17 were jammed into Rojohn's B-17 and he and his co-pilot, William Leek, were unable to free their plane.

…

'Rojohn and his co-pilot landed the conjoined planes on German soil near Wilhemshaven. Rojohn's plane slid free upon impact, and the lower plane exploded and burned. Rojohn would undergo two weeks of interrogation by the Germans. They thought Rojohn was piloting a new eight-engine warplane the Allies had developed rather than it being the accidental joining of two planes in mid-air! The Germans thought it was a Superplane!'

Of course, it's not only in the USAF or USAAF that you can find tales of amazing derring-do. This happened this week in Florida.
Just A Walk In The Park, Kazansky
Passenger with no flight experience land(s) plane in Florida after pilot passed out

Pilot on a Cessna passes out, and a passenger is talked through landing the plane, which he safely does. There's film of the landing at the link, and I've seen professional pilots do a far worse job. To add a bit more pathos to the story, the guy who wound up landing the plane was on his way to Florida to meet his pregnant wife. You never know how you're going to react to a stressful situation until it happens, in this case the guy stepped up to the plate and coolly hit it out of the park.
(The section title is, of course, a quote from Top Gun. The new one is coming out in two weeks, anyone planning on seeing it?)
And Then There's This Guy

I'm not a pilot, but don't they teach you not to retract your gear when taxiing? OTOH, maybe they figured that it didn't need to be said. I mean, I don't think I'd need to be told that.
A Smart Military Blog
Watch This Russian T-72 Tank Turret Get Absolutely Catapulted Into The Sky
This is from Ukraine. 12 tons of steel launched dozens of yards into the sky. What's interesting is that this happened well behind the front lines, leading to speculation that the tank was attacked by a loitering munition. Loitering munitions are basically drones, like the US made Switchblade or Phoenix Ghost systems, that have anti-armor capabilities. Which kind of begs the question: is the era of armor over? You can build a hell of a lot of drones for the price of one tank. I wonder if the tank-mounted anti-missile system the Israelis use would be an effective defense against these drones? Probably, but what about when these drones start mounting lasers? You know it's in testing somewhere. What then?

The Internet War

If Vietnam was the first "television war", the Ukraine might be the first "internet war", in a way that our forays in the sandbox weren't. What do I mean? Well, here's a thread, posted on Twitter(!), from a guy claiming to be a Ukrainian EOD expert, detailing a mission he undertook to destroy a Soviet Russian bridgehead:
Is it true? I have no idea. In what may be peak 2022, the guy ends his story with a request for funds and lists his PayPal account! Unreal.

The Spoils Of War

Russians plunder $5M farm vehicles from Ukraine -- to find they've been remotely disabled
Some of the machinery was taken to a nearby village, but some of it embarked on a long overland journey to Chechnya more than 700 miles away. The sophistication of the machinery, which are equipped with GPS, meant that its travel could be tracked. It was last tracked to the village of Zakhan Yurt in Chechnya.

The equipment ferried to Chechnya, which included combine harvesters -- can also be controlled remotely. "When the invaders drove the stolen harvesters to Chechnya, they realized that they could not even turn them on, because the harvesters were locked remotely," the contact said.
The equipment now appears to be languishing at a farm near Grozny. But the contact said that "it seems that the hijackers have found consultants in Russia who are trying to bypass the protection."
Now go look at all of the nice, shiny, new computer controlled options on your car and ponder the implications of the above story. Want to try and convince me that there isn't a scenario whereby the government disables the cars of those that it deems "deplorable"? I'm listening.

Technical Thread

This one's pretty far out of my league. Cannon cockers, does what he's saying make sense to you? If so, what do you think the implications are?

Mitt Crenshaw
Russia has proven in Ukraine that militarily they're a Quaker Cannon. They may wind up winning, but they have no chance of threatening Europe, and frankly I'd bet on Poland if they tried. They have a declining population and a weak economy dependent on fossil fuels staying expensive. They aren't much of a threat to us. Now do China, or do your buddies in the WEF not want that?

Fighting Karens, From The Sky
I would love to know what's going on here. They appear to be dropping a stick of women out of the plane, and not quickly either. I hope they have a big DZ. I was amused to note that one gal was wearing a mask as she jumped, until I realized that COVID is an airborne virus, and then it made sense. One wag suggested that it was the 11th Airborne (probably a veteran of the 82nd or 101st), but did you know the 11th is back? Last week they announced that they were redesignating U.S. Army Alaska as the 11th Airborne Division. The ONT salutes the new Arctic Angels.
Tonight's ONT has been brought to you by souvenirs you shouldn't bring home: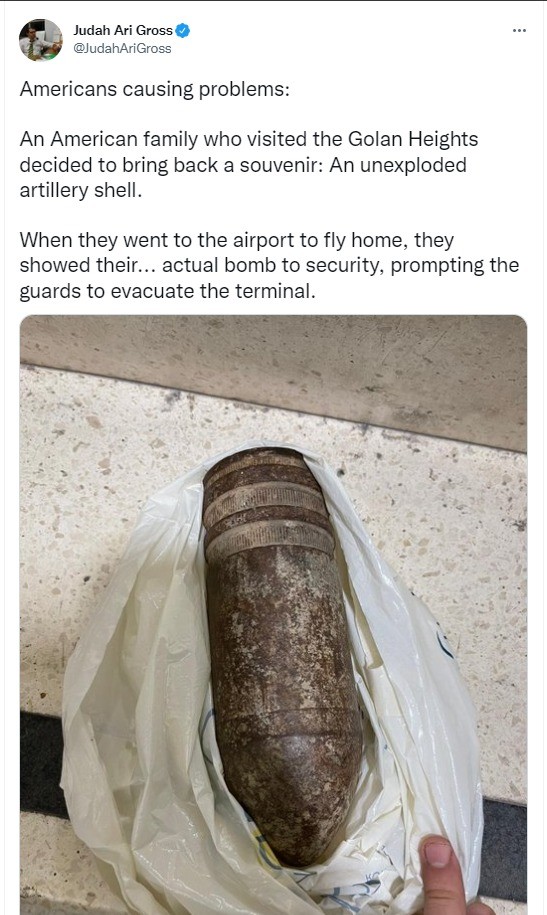 posted by WeirdDave at
10:00 PM
|
Access Comments