ę Jenny Pflapjacks Claims Biden Has Been On Top of the Baby Formula Crisis But Biden Hasn't Ever Mentioned It And She Won't Even Say When He Was First Briefed On It
|
Main
|
Let Dr. Oz Tell You All About the Need for Transgender Reassignment Surgery for Young Children Ľ
May 13, 2022
Sports Illustrated Has the Perfect Models for the Swimsuit Issue: The Hotties of the WNBA (And They're Here to Talk About Social Justice, Too!)
Well, I'll say this: Some of them look okay, and it's better than what they've been putting in the swimsuit issue recently, which is dudes in wigs.
But obviously none of them are eye-candy for men.
But that's the point: Men aren't allowed pleasure any longer. Men's pleasure is sinful.
Woke feminist women are here to take all pleasure away from men and replace that with stern indoctrination.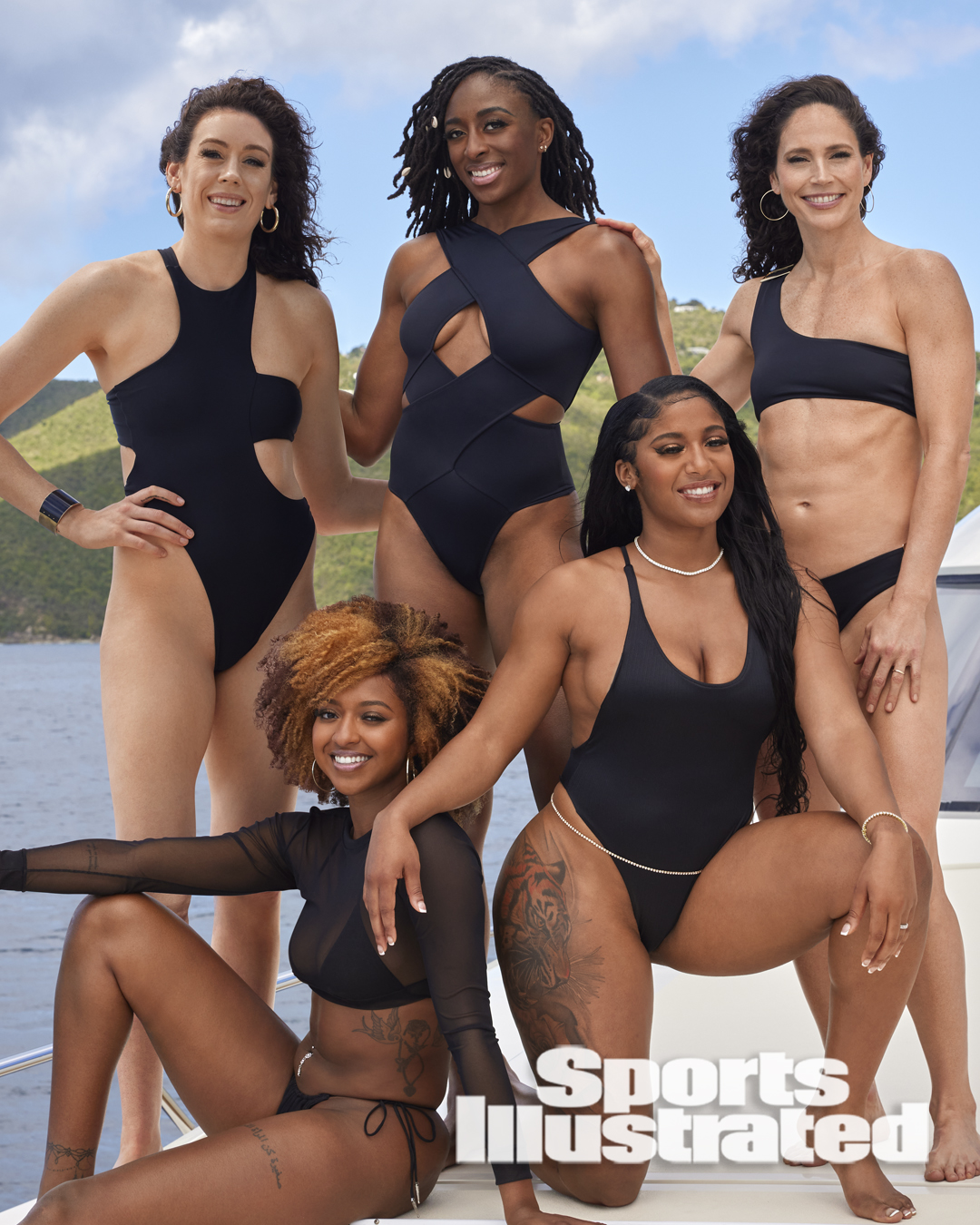 This caption runs with the photo:
"These players not only dominate on the court but are tirelessly leading the charge in speaking out on social justice issues- fighting for racial justice and equality and working together to create sustainable change." -- @mj_day
Ooh, fun.
And who is "MJ_Day"?
MJ Day she/her Editor, Sports Illustrated Swimsuit
Great. You're doing a bang-up job taking over male entertainment properties, ladies.
I think it's just great that the Swimsuit Issue now exists solely to "challenge men's conception of what female beauty" is.
Notice that men are no longer allowed to enjoy anything without having our conceptions "challenged." Weird how women's conceptions and desires are constantly constantly pandered to, while men's are perpetually "challenged."
Now, if you thought that just having some unconventionally-unattractive women in the swimsuit issue to "challenge men's standards of beauty" would be the end of it, boy, you are living in the Fool's Paradise of 2019, buddy.
No, you're also going to need to Listen to your Lecture.
One of the WNBA's top players hailed the issue as a victory for social justice, or something, in a word salad.

"We represent a variety of things: of course women, women of color, members of the LGBTQIA2+ community and much more...
WNBA players? Women of color and lesbian? For real?!
Holy shit, walls are spinning, reality is melting all around me, my sense of self is dissolving and I don't know how to feel any longer...
"The [Swimsuit] issue for so many years has been iconic and has represented a lot for women," declared Sue Bird.
No it didn't, it meant exactly nothing to women. But it meant something to men, and angry, bitter, resentful feminist women knew that.
So it had to be taken away from men.
"Now you are seeing an evolution in what that can mean and what that can look like, and I think the WNBA players being a part of that is what makes it special. There is no better group of women to showcase that evolution."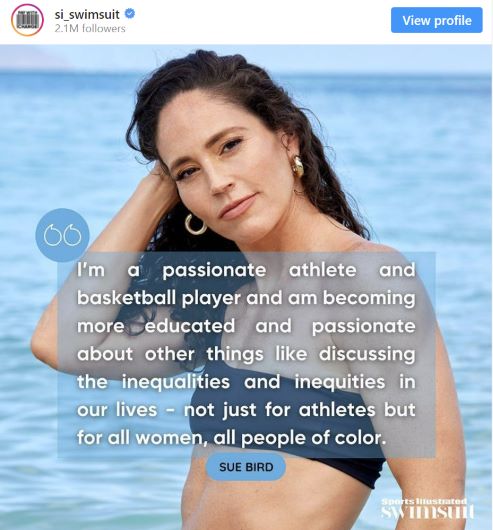 I changed my mind. Let the trannies play against them. I want to see this Stunning and Brave idiot get powerdunked on by a six foot eight nine auroch-in-lipstick named Chloe.
And the issue continues Yass Kweening throughout.
I don't have any problem celebrating older women with caesarean section scars, but again, I notice that nothing that women like is being taken away from them to empower unconventionally-attractive men.
Outkick the Coverage has more, including this:
And starting this year, SI announced it would only work with "brands who are helping drive gender equality forward" and that the iconic swimsuit issue is "changing the cost of doing business from a monetary value to a currency of doing good."

I'm a broken record with this, but men's entertainment can only justify its existence by agitating for political causes that please women. Pleasing men is not enough. In fact, pleasing men, of itself, is sinful and ugly and crude.
Women's entertainment does not have to justify itself. Pleasing women is enough.
Ah, I'm enjoying the corporate media sacrificing male properties on the bonfire of #MeToo and driving their value to zero. Burn, Hollywood, Burn.

Meanwhile, Rich Strike -- the 80-1 underdog that only entered the field of the Kentucky Derby the day before the race because another horse scratched, and then pulled off an amazing upset -- will not run in the Preakness.
The horse will be rested so it can focus on the Belmont Stakes.
Grumble, no chance of a Triple Crown.
Sad.
This is infuriating: the owner of Rich Strike posted a joke a few weeks back about Kamala Harris.
Which has prompted ESPN to... do an "investigation" into him, looking to cancel him.
ESPN couldn't make the Kentucky Derby about race, so they switched to politics.

On Wednesday, during an Outside the Lines episode, ESPN host John Barr interviewed Eric Reed , Kentucky Derby winner Rich Strike's trainer, and asked Reed if he had ever tweeted anything remotely negative about Vice President Kamala Harris.
He had -- or at least someone with his name had -- which ESPN knew, because they'd done the Real Journalism of doing a Twitter search on him.
And they were ready to spring their gotcha on him.
Oh good, ESPN is setting up another lecture about Stunning and Brave women for us.
Reed denied the tweet was his.
It's about time we start funding organizations to start collecting scalps from the media.
How long do they think people are going to put up with this for before we start putting money into a kitty to pay for private detectives and our own social media "Real Journalists"?
Meanwhile, the Washington Post -- corporate newsletter and personal bully-bat of Jeff Bezos, the clownish billionaire Lothario and Silicon Valley tech asshole -- is attempting to bully the video game industry into taking a stance on abortion: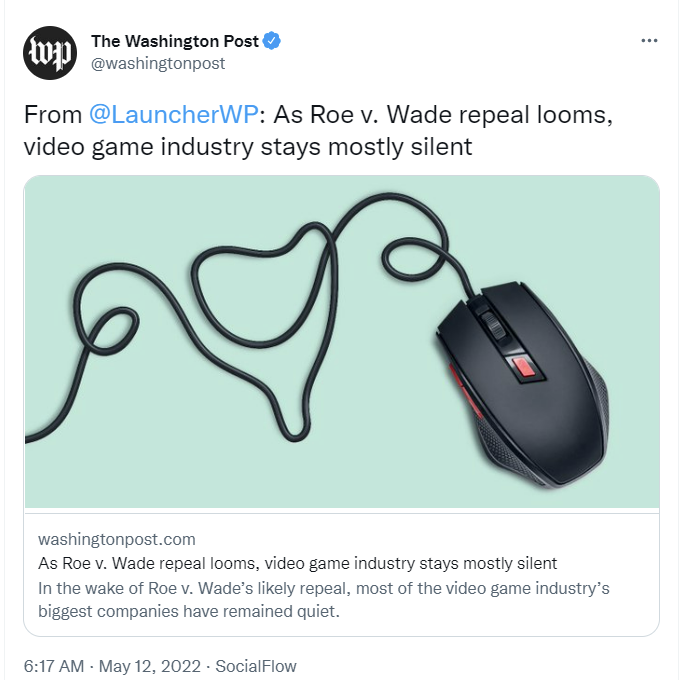 As I keep saying: No male pastime is permitted to exist unless it can justify its existence by becoming a propaganda mill for leftwing political causes, particularly leftwing feminist causes. Women don't like videogames, therefore men should not play videogames, therefore videogames should not exist unless videogames turn themselves into platforms for constant leftwing feminist propaganda.
Only by doing that do they justify their existence. Men are not allowed to experience pleasure unless they are simultaneously being indoctrinated in leftwing feminist/LGBT political doctrine.
Are there any female entertainments or hobbies which are pressurized to include pro-second-amendment messaging? No, of course not; that's just the punchline of an old Maddox video.
It's only men who receive this second-class-citizen, second-class-human treatment.
And it's the media the tech monopolies which are responsible for pressuring all corporations to impose San Francisco Woke Autocracy on us, using corporations as their enforcement thugs.
And who is central to both of those? Jeff Fucking Bezos.
The Washington Post has been the worst, wokest Bad Actor for the last ten years. It has pushed every nasty Puritan Woke Pogrom in the country for a decade.
It's time for conservatives to get behind a push to unionize Amazon and to start seriously pushing to brand Amazon a monopoly in both the the online sales sector and the internet infrastructure sector.
"Libertarian" my ass. This cocksucker is an authoritarian Maoist revolutionary.

posted by Ace at
01:28 PM
|
Access Comments