« Daily Tech News 12 May 2022
|
Main
|
Mid-Morning Art Thread »
May 12, 2022
The Morning Report - 5/12/22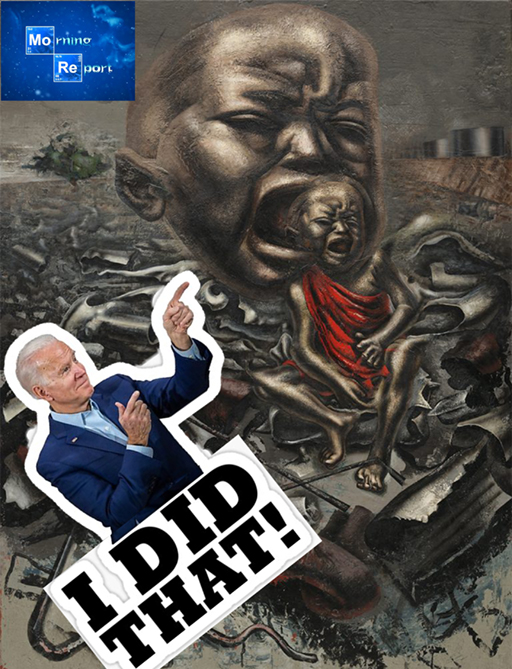 Good morning, kids. Thursday and while, as usual, we have the veritable linkapalooza on issues that each in their own right are at or near flaming-skull level, I'm going to focus in on one story that on any other day in this ongoing nightmare would get lost in the sauce but for me is setting off a fire alarm.
The New York Times reported Tuesday: "A Baby Formula Shortage Leaves Desperate Parents Searching for Food." A headline once impossible in America.

On Wednesday, incoming press secretary Karine Jean-Pierre was asked who at the White House was "running point" on the baby shortage. She had no idea.

Instead, she assured reporters that the Food and Drug Administration (FDA) was rushing to make sure formula is "safe." She blamed "Abbott's voluntary recall of infant formula products," which took place after four infants were hospitalized, and two died, though there is no proven link yet with the formula itself, according to the FDA.(The White House cannot get its message straight: on Monday, press secretary Jen Psaki said the FDA had "issued" the recall.)

Meanwhile, desperate mothers are considering their options: driving for hours to find formula somewhere; trying to restart breast-feeding; or even trying to create their own homemade substitutes, which the government has advised them not to do.

They face the prospect of being unable to feed hungry, panicked, and crying infants, who are incapable of understanding why their mothers, who have nurtured them every moment of their lives thus far, are somehow, suddenly, declining to feed them.
Step back and pause for a moment and put everything aside -- all the depredations, abuses and outrages visited upon us for the past several years and ramped up by orders of magnitude in just the past 16 months -- and let this sink in. The United States of America. Historically the most prosperous, abundant, wealthiest and freest society that ever was or ever will be. The nation, and especially its people, who have helped feed the starving and cure the sick out of its own pocket and generosity of its own heart, that gave (and continues to give) its blood and treasure to liberate the world from tyranny twice in a generation as well as a Cold War.
That same United States of America today finds itself on the brink of running out of baby formula.
Ho. Lee. Fook.
The $30.5 trillion dollar question is, how in God's name did we let this happen? That, of course, is a rhetorical question, but perhaps the answer lies in the response by what can only be described as a glittering jewel of pig-ignorance and cold-blooded reptilian hatred that craves only one thing: power. In other words, a typical leftist:
Former Ohio State Senator Nina Turner (D) complained on Wednesday that Republicans were doing more to try to outlaw abortion than they were to address the shortage of baby formula.

"There's a national shortage of baby formula. That means babies are going hungry. Instead of taking care of our nation's children, conservatives are worried about banning abortions. Sickening," she tweeted."
You should read the responses. Interesting solution she and her Twitter minions seem to be offering. Instead of stopping her party from continuing to grind the economy into dust, we need to kill babies in the womb to prevent more mouths to feed. That's more than just an interesting solution; it has all the hallmarks of being a "final solution." Mercifully for the people of Ohio, this insect who, besides being Bernie Sanders' co-campaign chair, has a hate on for Jews, white people and the free market, was soundly defeated in her bid for a House seat, albeit by someone who's merely a relatively sane Trotskyite by comparison.
These people are manifestly irresponsible, so ideologically driven as to border on mental derangement, and because they have a near complete stranglehold on the levers of power and the instruments of control that maintain that power, pose an absolute, undeniable, existential threat to every man, woman and child -- in and out of the womb -- in this country.
Co-blogger and friend CBD has made the case that the straw that will break the camel's back, as it were, from both an electoral and perhaps a long-term societal standpoint is our children. When parents saw firsthand via remote learning the mind-, body- and soul-rape of our kids from CRT Jive Kampf and sexual grooming, that was a watershed moment. In fact, it had been going on for years if not decades but thanks to being locked down with the panic over General Tso's Sickness it was on full display for anyone who had eyes to see and gave a shit. As we saw with the parents in Loudon County, they had both as well as a giant collective set of lungs, vocal cords, and most importantly the cojones to stand up and use them.
To CBD's point, we can and have put up with a lot of shit over the years, but when you come for our kids - with the clear intention now, and excuse my language, of trying to come IN our kids, you are going to get a reaction. Yet, instead of backing off and engaging in a period of introspection or even compromise, the left doubles, triple and quadruples down. They have to; they're true believers in every sense of the word and will brook no quarter with those whom they view as evil and standing in the way of the paradise on earth they think they can create.
In October of 2021, Merrick Garland issued a memorandum that expressed concern about a "disturbing spike in harassment, intimidation, and threats of violence against school administrators, board members, teachers, and staff who participate in the vital work of running our nation's public schools."

"Threats against public servants are not only illegal, they run counter to our nation's core values," Garland wrote at the time. "Those who dedicate their time and energy to ensuring that our children receive a proper education in a safe environment deserve to be able to do their work without fear for their safety."

To combat this alleged problem, Garland announced a 30-day plan that would have the FBI working with U.S attorneys across the country to discuss "strategies for addressing threats against school administrators, board members, teachers, and staff, and will open dedicated lines of communication for threat reporting, assessment, and response."

The memorandum arrived less than a week after leaders of the National School Boards Association wrote [so-called quote-unquote "president"] Joe Biden a letter claiming that "many public school officials are also facing physical threats because of propaganda purporting the false inclusion of critical race theory within classroom instruction and curricula . . ."

. . . The whistleblowers reportedly claimed that the FBI opened investigations with the threat tag all over the country. Of the examples cited, one FBI investigation centered on a mom flagged by the National Threat Operations Center snitch-line, who was described as a "right-wing" member of the group "Moms for Liberty." The investigation sparked after she allegedly told a local school board "we are coming for you." The FBI later determined that the mother was no threat and that her rhetoric referred to a peaceful transfer of power through school board elections.

Another investigation centered on a dad who "fit the profile of an insurrectionist" because he "rails against the government" and owned lots of guns.

While the letter noted how the FBI ultimtately dismissed these investigations, the two congressman were still troubled by the fact precious law enforcement resources were used to probe parents that were merely exercising their First Amendment right.
And now the Department of Homeland Security is attempting to set up this so-called "Disinformation Governance Board." A Ministry of Propaganda by any other name would still reek to high Heaven as bad. But I digress. On the latest episode of our award-winning podcast, both CBD and Joe Mannix discussed the case of Nicolae Ceaucescu. He, too, like the Democrat-Left, had a complete stranglehold on the levers of power and the instruments of control that maintain that power. And then a random event, the attempted arrest and removal of a dissident Hungarian pastor, touched off mass national riots and a bloody revolution that saw Ceaucescu and his wife tried and executed.
And here we are in 2022 with the economy in ruins, our military decimated even as the Junta is itching to wag the dog against Putin, stagflation imminent, gasoline and diesel through the roof, criminals running wild in the streets with tacit and outright approval of corrupt DAs, persecution and censorship of political opposition and perhaps a summer of organized civil unrest and violence funded and approved of at the highest levels.
Forgetting elections for a moment, will any or all of that be enough to engender a "great reset" to coin a phrase? Who knows. But when mothers cannot feed their babies, on top of the fact that there is a drive to turn those that survive to adolescence into catamites and sex slaves, then all bets are off.
The End of America: 100 Days That Shook the World available here.


ABOVE THE FOLD, BREAKING, NOTEWORTHY
NOTE: The opinions expressed in the links may or may not reflect my own. I include them because of their relevance to the discussion of a particular issue.
ALSO: The Morning Report is cross-posted at CutJibNewsletter.com if you want to continue the conversation all day.
Follow us on Twitter: @CutJibNews
Follow us on Instagram: @Cutjibnewsletter

posted by J.J. Sefton at
07:39 AM
|
Access Comments