« National Science Teachers Association Holds Seminar on "Queering Your Classroom" Advising Teachers to Refer to Students As "People With Penises" or "People Who Can Get People Pregnant;"
Course Is Recommended for Kindergarten Teachers
|
Main
|
Before the Catastrophe Cafe »
May 11, 2022
Ultra-MAGA Quick Hits
Tucker's new bio: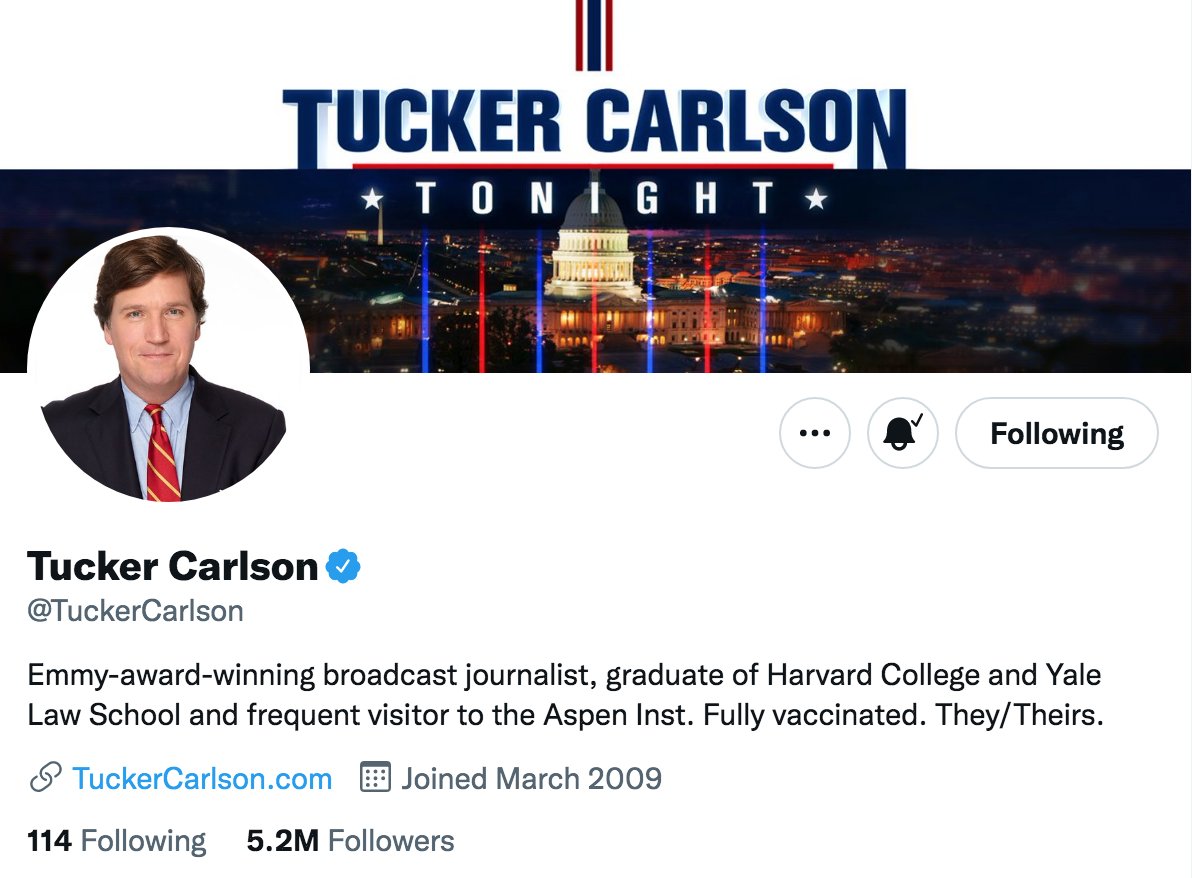 Charles Schumer failed to "codify Roe" into law, managing to solidify a bipartisan majority against him. The bill lost 49-51, all Democrats except Manchin voting aye, all Republicans plus Manchin voting no. Note that Sinema voted for the ultra-abortion bill.
"Codifying Roe" is a misnomer, as the bill he introduced is far more extreme than even the judge-made rule of Roe is. The pro-abortion bill that 49 Senate Democrats voted for is absolutely blood-thirsty and guts-hungry, even by abortion-hawk standards: It would have overturned all state restrictions on abortion, making abortion (including partial-birth abortion) legal in all states until the moment of crowning, and would have demanded that Catholic hospitals perform abortions no matter what their religious objections.
It also eliminated parental consent laws.
Oh, and it specified that abortion was a right belonging not just to women, but to "transmen" and "non-binary" individuals as well.
Collins and Murkowski proposed an abortion bill they could have supported by Schumer refused to entertain it; he did not want to water down his bloody bill. What he wanted was an issue, not a solution. He didn't want a bill that any Republican could vote for; he wanted to be able to say "The Ultra-MAGA crowd all voted against this."
"To me, that would be the reasonable, rational thing to do. The bill we have today to vote on, Women's Health Protection Act ... make no mistake, it is not Roe v. Wade codification, it is an expansion. It wipes 500--500 state laws off the books. It expands abortion," he said.
71 There is no part of this tweet that is correct.

Where is our ministry of truth when we need it?

@ZekeJMiller

WASHINGTON (AP) - Senate Democrats' bill to write Roe v. Wade into law blocked by GOP-led filibuster as Supreme Court weighs abortion case.
Posted by: JackStraw
A Fox News poll shows a three-way statistical dead heat for the Pennsylvania Senate Republican primary, with Mehmet Oz at 22%, McCormick at 20%, and Barnette at 19%. 20% are undecided and the rest are scattered between other candidates.
There was some Internet Drama earlier today, which was partly my fault, as people began to wonder why Barnette wasn't producing her DD-214 discharge records, but then she produced them and everything seems to be in order.
It turns out it was just all St. Elmo's Fire, electric flashes of light that'd appear in dark skies out of nowhere. Thanks for reminding me of that scene, garrett, I know that's your favorite scene in your favorite movie. He says he "really loves Billy and wishes that he could be Billy's saxophone."
By the way, CBS' longtime abortion "reporter" Kate Smith is now, get this, the president of Planned Parenthood. Brian Stelter interviewed her -- or, let's say, afforded her a venue in which she could further propagandize -- and she claimed that people who accused her of having long smuggled her intense pro-abortion views into her "news reporting" are filthy liars. In fact, she screamed that the media has "STANDARDS!" which prevent any bias from ever entering any of its reportage, so shut up, you stupid fools, you filthy peasants, you savages.
NPR has its eye on the most important story:
Of course, how could we have forgotten? How will this impact the transgender community?
I denounce myself for forgetting, for one split second, to keep the almighty transgender community top-of-mind at all times, as I am legally required to do now.
Anybody who believes that Schumer's house is protested "three or four times per week," and somehow we've never seen pictures of this and Schumer has never complained of it before, raise your hand.
I see no hands raised.
Meanwhile, Jen Psaki continues insisting that righties are protesting school boards -- where you're actually invited to give you opinion on how the school boards are operating with your tax dollars -- so what's the big deal if antifa black bloc terrorists are now menacing Supreme Court justices outside their homes?
Notice she has no answer for why Merrick Garland sprang into action to sic the FBI on parents appearing, as they are invited and legally permitted to do, at school boards, but has done nothing at all about the people illegally picketing outside justices homes, except to say "neener-neener, Republicans don't complain about these other situations."
Okay, but why isn't the DOJ treating antifa black bloc terrorists as terrorists, Jen?

posted by Ace at
06:34 PM
|
Access Comments