« Daily Tech News 9 May 2022
|
Main
|
Mid-Morning Art Thread »
May 09, 2022
The Morning Report - 5/9/22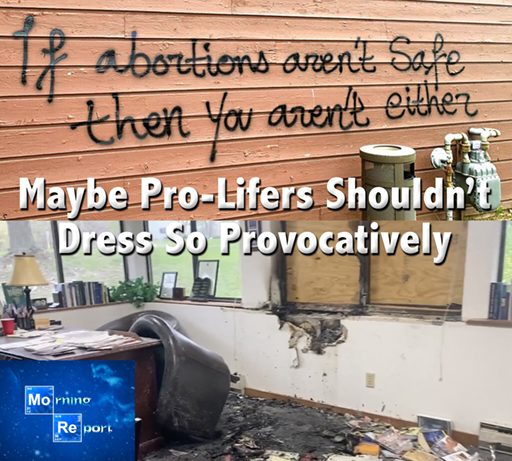 Good morning, kids. Monday and as the saying goes, "Projection ain't just a river in Egypt." I give you this headline from Friday:
CNN Warns of "Far Right" Violence After Roe v. Wade Leak

Yes, that makes perfect sense, doesn't it? Seemingly score one of the most crucial political and societal victories, via one of the most significant decisions ever handed down by the Supreme Court -- and burn it down as a way to celebrate? Well, "THIS is CNN" after all, and I guess they look at it like Detroit after the Pistons win an NBA championship, or something. Meh, they just lie. THAT is CNN," and it's not even clever. It's so massive and obvious a lie as to be laughable, and yet there is still a sizable segment of the populace that gets its news from them and swallows it like a Hebrew National going down Kamala's gullet.
Despite threats of violence from this Ruth Sent Us pseudo-terrorist group in the wake of the justices' addresses being doxxed, and actual reports of vandalism at Catholic churches in the Denver area, while at the same time everyone from Biden to Obama to Fauxca-hontas Warren and others have openly called for sustained protest and public coercion, a pro-life organization's offices in Madison, WI were firebombed over the weekend with a message spray-painted on a wall:
"If abortions aren't safe, then you aren't either."
Yup. Sounds exactly like Tony Perkins and Phyllis Schlafly.


The attack on Wisconsin Family Action, located in Madison, came a week after an early draft of a United States Supreme Court majority opinion leaked last week that indicated the controversial Roe v. Wade decision would likely be struck down.

No one from the organization was in the building at the time of the attack, which included a Molotov cocktail that was thrown through a window and failed to ignite. Whoever was behind the attack set another fire nearby that burned part of a wall. . .

. . . Julaine Appling, president of the organization, said that the attack was "a direct threat against us.""Imagine if somebody had been in the office when this happened," she said. "They would have been hurt.
Oh, come now! This was obviously a reverse Jussie Smollett, as the crack reporters of CNN will say (emphasis on "crack"). Very clever these "reich-wing" Nazi "white supremacists." Might have gone a bit overboard with the Molotov cocktails but no doubt, they gave advance warning. Just like there were no Jooz at the World Trade Center! (SARCASTIC). Sheesh.
I wrote on Friday that despite everything the Left has done, going on 60 years if not longer, to fundamentally transform disfigure America into a Godless socialist dictatorship, the potential for overturning a talisman proving its success has got to be a shock to the system greater than the elections of Reagan and Trump. We're still here and we're still a majority. The question remains, are we a force to be reckoned with?
Prime lurker Victor Davis Hanson:


Despite the 15-month catastrophe of his regime, the level of his own unpopularity remains understandable but still remarkable. After all, in 2020 voters already knew well of his cognitive deficits and the radicalism of his agenda. They saw both clearly starting in 2019 and during the 2020 Democratic primaries, the primary debates, and the general election.

So what did Biden's voters imagine would happen when a cognitively challenged president, controlled by hard-Left subordinates, entered office—other than what he has done? . . .

. . . Americans feel there is no remedy for this downward spiral until November. To get a sense of their dilemma, imagine a Richard Nixon in 1973 caught lying during Watergate but with Spiro Agnew waiting in the wings without a trace of scandal—except with one difference: the current media is now attacking not the president's shortcomings, but the [so-called quote-unquote] president's critics who point them out. . .

. . . Most of the country has awakened to the fact that the Trump-Russia collusion story was essentially a Hillary Clinton campaign effort to destroy a political opponent, a presidential transition, and a presidency. And they know Clinton will never be indicted for her conspiracies and racketeering even if her minions rat her out to seek reduced charges for themselves.

That hoax was followed by an impeachment vote over a phone call based on two more lies: 1) the Biden family was neither corrupt nor used Joe Biden's office as vice president and his future political career to leverage payments from Ukraine, and 2) Donald Trump canceled military aid to Ukraine rather than sent them critical Javelin anti-tank missiles put on hold by the Obama Administration.

Americans know Google, Facebook, and Twitter censors were all enlisted in the effort to destroy a former president and his outspoken supporters. And they know there is no real remedy unless two or three more enlightened billionaires follow Elon Musk's lead.

If Roe v. Wade were to be repealed, many Americans in red states will remain appalled that some blue states will allow abortions, especially late-term abortions after 22 weeks. But nearly all will accept the rule of constitutional democracy and thus the states' rights to make their own laws that do not conflict with federal legislation as passed by Congress and signed by the president.

These red-state citizens know the opposite is certainly not true: blue state officials will do all they can to attack those who disagree with them, who consider abortion the destruction of human life in the womb. Expect more California-style official travel bans.
Aside from not recognizing the "buffoonish riot" as he describes it as the premeditated DOJ/FBI Reichstag Fire entrapment scam that it actually was, Dr. Hanson has in this essay laid out what is for all intents and purposes an indictment of and, for me, a declaration of war against the Left. At the same time, it's also a requiem for our society. Even if we win everything back this November and in '24, how do we restore the nation as founded or at least some semblance of a fig leaf of an illusion of a pipe dream of political "civility" when this Enemy within will continue to do all it can to annihilate us, politically and quite probably physically? What cannot go on, will not go on. And this cannot go on. It really is us or them.
But that said, despite all of the forces arrayed against us, I do believe in my heart of hearts that we will prevail. A great backlash is coming. We know it and they know it. Hence, "Disinformation Governance Boards," J-6 committees and prosecutions, and overt acts of political intimidation and terrorism in the form of mostly peaceful riots and now mostly peaceful attacks on churches and SCOTUS justices.
And if that doesn't get us, Russian nukes in Ukraine or even here at home just might. Friend and friend of the blog Michael Walsh:


America is now flirting with disaster as it engages with a wounded, nuclear-armed bear that won't hesitate to use theater or tactical nukes if it feels an existential threat. And why wouldn't it? It's seen this movie before. Even Jill Biden is currently kicking sand in Putin's face. Meanwhile, here at home, the U.S. is cratering almost as surely as the Soviet Union, riven by irreconcilable domestic moral and political differences; all of its principal constitutional edifices under attack by the Left, including the Supreme Court; the economy circling the drain; the supply chain thoroughly disrupted by an outrageous medical alarum bordering on a malignant hoax; our woke military emasculated; and our civic faith in almost every institution destroyed. Meanwhile, a gerontological elite that rivals in its longevity the Struldbruggs in Swift's Gulliver's Travels continues to heedlessly shuffle its way toward disaster.

So what will it take to bring America to either its senses or its knees? What does victory look like in this pointless war? In 1945 Soviet soldiers waved the hammer and sickle over the ruins of Berlin. In 1989, I stood at the crumbling Wall between the Brandenburg Gate and the Reichstag, and somehow wound up with some Grepo's cap as a souvenir. Luckily, the Cold War never quite turned hot. But if this war -- Biden's War -- goes nuclear, what will be left to grasp? A handful of radioactive dust? Pray that somebody in Washington comes to his senses, and soon -- but don't count on it.
The End of America: 100 Days That Shook the World available here.


ABOVE THE FOLD, BREAKING, NOTEWORTHY
NOTE: The opinions expressed in the links may or may not reflect my own. I include them because of their relevance to the discussion of a particular issue.
ALSO: The Morning Report is cross-posted at CutJibNewsletter.com if you want to continue the conversation all day.
Follow us on Twitter: @CutJibNews
Follow us on Instagram: @Cutjibnewsletter

posted by J.J. Sefton at
07:27 AM
|
Access Comments