« Mid-Morning Art Thread
|
Main
|
Supreme Court Justice and Author of Dobbs Draft Opinion Sam Alito Reportedly Flees with His Family to an Undisclosed Location as Death Threats Intensify and Wisconsin Pro-Life Office is Firebombed »
May 09, 2022
The Morning Rant: Buck Shots [05/09/2022]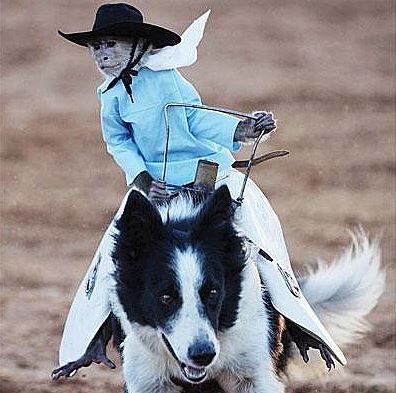 *****
We're Still Not Done Punching Back At Disney
When Florida Governor Ron DeSantis successfully resisted Disney's efforts to allow elementary school teachers to discuss their sexual penchants in the classroom, DeSantis didn't stop there. He decided to keep punching back, and he (and the Florida legislature) revoked Disney's self-governing privileges.
Conservative, Inc. howled in protest, of course, at the revocation of Disney's special status. I genuinely believe they were cheering for Disney the whole time, but they pretended (after the fact, naturally) to be satisfied with DeSantis repelling Disney's obscene advocacy. But then the faux-conservatives begged DeSantis to lay down his arms and not seek any more victories. It was desperately important to Charles C.W. Cooke and his National Review peers that Disney face no consequences for their effort to push various sexual lifestyles on kindergartners.
Disregarding the frauds in legacy conservative media, real conservatives continued to fight back. Not only did the Florida legislature strip Disney of its special self-governing status, but conservatives in Congress are now looking to strip away other special privileges that Disney enjoys.
GOP congressman looks to strip Disney of no-fly zones over theme parks.
Rep. Troy Nehls, R-Texas, is looking to strip Disney of its no-fly-zone privileges over both of its stateside theme parks.

"Major corporations should not get unreasonable privileges just because they have the ability to bankroll Congress, especially when they are trying to force their ideology on our children," Nehls told Fox News Digital in a Monday statement.

"He argued Disney wants to avoid airplane noise and aerial advertisement for other theme parks and entertainment options in Orlando."
Bobby's Burger Joint and Lizzy's Day Care don't enjoy no-fly privileges over their businesses. Neither should Disney. And if someone wants to fly a banner over Disney's parks that Disney's CEO doesn't want his patrons to see, well too bad. He ventured into partisan, woke politics when he shouldn't have. Let him deal with the consequences.
It's not enough to simply repel woke corporations, one time, in their battle against normal Americans. Woke executives must suffer major consequences, so that they think twice before becoming political partisans and taking the left's side in the culture wars.
*****
PR Firm To Corporations: Keep Your Mouths Shut Regarding SCOTUS & Roe vs Wade
The pushback against Disney is having the desired effect.
A few days ago there was this satisfying story in the Wall Street Journal:
Disney's Clash With Florida Has CEOs on Alert: State's pushback against the company shows the risks executives may confront
Right after that there was the bombshell leak from the Supreme Court about Roe vs Wade. And suddenly all those woke and politically vocal corporations like Coca-Cola and Delta Airlines had nothing to say. Weird.
Oh, this is interesting:
PR giant advising corporate clients to stay silent on abortion rights [Popular Information]

Prominent PR firm Zeno is trying to spare its clients from becoming the next Disney. Zeno's clients include Coca-Cola, Salesforce, Hershey's, Netflix, Starbucks, Astra-Zeneca, AT&T, and many others.
Zena sent a template to its staff to share with clients about how to deal with media inquiries about the Supreme Court leak. Here is some of what it advised:
"Do not take a stance you cannot reverse, especially when the decision is not final. This topic is a textbook '50/50' issue. Subjects that divide the country can sometimes be no-win situations for companies because regardless of what they do they will alienate at least 15 to 30 percent of their stakeholders… Do not assume that all of your employees, customers or investors share your view."

"Do not engage with direct questions about your company's position. Whether in direct messages or public-facing posts, do not respond to questions about where your company stands on this issue."
*****
Boeing Is Moving Its HQ (Again) To Be Close To Its Most Important Client
Remember when Boeing moved its headquarters from Seattle to Chicago in 2001, shortly after its acquisition of McDonnell Douglas? All the Ivy League business school types cheered how the move was a triumph of management over engineering. Boeing executives with their fancy MBAs could now apply their management brilliance without having to be surrounded by all those icky engineers who were obsessed with design and safety.
There was also the promise of 20 years of tax breaks from Chicago and the state of Illinois worth about $60 million.
Well, Boeing subsequently went through a PR nightmare when its 737 Max airliners started falling from the sky, and federal regulators started questioning why those planes were ever certified in the first place. (Apparently "Keep 737s airborne" was left out of Boeing's goal-setting sessions.) Its tax breaks in Illinois also recently expired.
So Boeing is moving again. And you'll never guess where it's going. Oh wait, Boeing is a major defense contractor that is in the doghouse with federal regulators for its 737 problems. You know exactly where Boeing is moving.
Boeing to move corporate headquarters from Chicago to Arlington, Virginia
Where else would they consider? Boeing is moving to metro Washington DC, where it can be up close and personal with its most important customer and regulator, the federal government.
Moving headquarters to Arlington will bring Boeing closer to key customers such as the Pentagon and Department of Defense officials, the company said. The move will also place Boeing closer to federal regulators.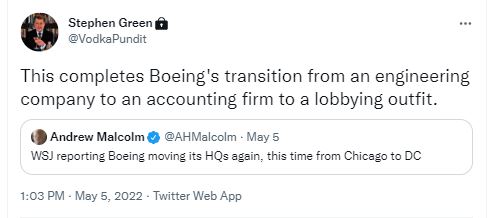 (buck.throckmorton at protonmail dot com)


posted by Buck Throckmorton at
11:00 AM
|
Access Comments