« Mid-Morning Art Thread
|
Main
|
As Threats to Kill Supreme Court Justices Increase, an Antifa-Style Group Publishes the Addresses of the Justices;
Jen Psaki and the Biden Administration Refuse to Condemn »
May 06, 2022
The Morning Rant: Samantha Power and the Catastrophe of Government-Imposed Organic Farming
In western countries, the modern left has its own religion, which I jokingly refer to as The Sustainable Organic Church of The Carbon Apocalypse. While it's fun to mock them, their religion is a death cult. Their goals of eliminating carbon energy and eliminating modern agriculture would kill an unthinkable number of people.
Sri Lanka banned all non-organic pesticides and fertilizers in 2021 and the results were, well, apocalyptic.
I'll get to that in just a moment, but first, here is Samantha Power, a Biden official with the title of "Administrator of the United States Agency for International Development," gushing about using the current fertilizer shortage as a catalyst to replace modern agriculture with fertilizer-free, organic agriculture.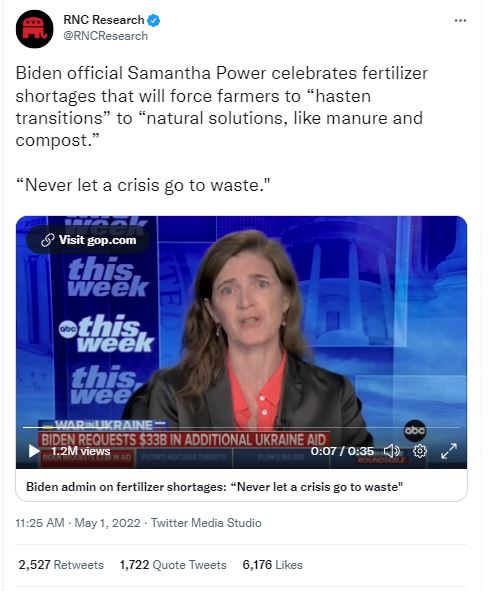 Fertilizer shortages are real now because Russia is a big exporter of fertilizer. And even though fertilizer is not sanctioned, less fertilizer is coming out of Russia.

As a result, we're working with countries to think about natural solutions like manure and compost, and this may hasten transitions that would have been in the interest of farmers to make eventually anyways, so...

Never let a crisis go to waste.
"Never let a crisis go to waste." This ghoul is willing to starve the world in her pursuit of organic religious obedience.
We have a recent example of just how quickly her organic utopia can collapse an economy and starve its people. Sri Lanka just tried it.
IN SRI LANKA, ORGANIC FARMING WENT CATASTROPHICALLY WRONG - A nationwide experiment is abandoned after producing only misery [Foreign Policy – 3/05/2022]
Sri Lankan President Gotabaya Rajapaksa promised in his 2019 election campaign to transition the country's farmers to organic agriculture over a period of 10 years. Last April, Rajapaksa's government made good on that promise, imposing a nationwide ban on the importation and use of synthetic fertilizers and pesticides and ordering the country's 2 million farmers to go organic.
So how'd it go?
The result was brutal and swift. Against claims that organic methods can produce comparable yields to conventional farming, domestic rice production fell 20 percent in just the first six months. Sri Lanka, long self-sufficient in rice production, has been forced to import $450 million worth of rice even as domestic prices for this staple of the national diet surged by around 50 percent.
So a country that had been able to feed itself was suddenly unable to feed itself, thanks to organic farming. It's a good thing there were still other less-enlightened countries producing non-organic rice for Sri Lanka to import, thus averting starvation.
The ban also devastated the nation's tea crop, its primary export and source of foreign exchange.
Having destroyed its tea crop that it formerly exported, Sri Lanka now lost a major source of foreign revenue. So where would the revenue come from to pay for the imported rice needed to stave off starvation? Yeah, that proved to be a problem. The country's currency collapsed.
Faced with angry protests, soaring inflation, and the collapse of Sri Lanka's currency, the government finally suspended the policy for several key crops—including tea, rubber, and coconut—last month, although it continues for some others.
The good news is that the government is backing away from the fertilizer ban. The bad news is how much human suffering that policy brought on in such a short time.
Human costs have been even greater. Prior to the pandemic's outbreak, the country had proudly achieved upper-middle-income status. Today, half a million people have sunk back into poverty. Soaring inflation and a rapidly depreciating currency have forced Sri Lankans to cut down on food and fuel purchases as prices surge.
At its most benign, organic food is a status-seeking way of buying groceries, providing a fancy hood ornament for basic foodstuffs, with consumers also getting a satisfying dose of smugness as a reward for the premium they paid. For farmers willing to take lower crop yields in exchange for higher margins on their agricultural products, why not? More power to them if the math works.
However, while lower crop yields on a small fraction of farmland are no big deal. Lower crop yields across ALL farmland set the stage for mass food shortages.
Replacing "artificial" fertilizers with manure is simply not a substitute. There isn't enough land or livestock to produce enough manure. And by the way, the same people agitating to eliminate artificial fertilizers are also the ones agitating to eliminate meat. No meat production equals no manure production.
"Poverty is the natural state of mankind" goes the famous phrase. Sri Lanka plunged its country into food shortages, poverty, and economic collapse in very short order, thanks to organic agriculture. That debacle is a reminder of just how quickly we can revert to mankind's natural state.
Given the opportunity to fully implement their green agenda, Samantha Power and her co-religionists would inflict widescale poverty on the US as surely and swiftly as happened in Sri Lanka.
[buck.throckmorton at protonmail dot com]


posted by Buck Throckmorton at
11:00 AM
|
Access Comments