« Democrat Ohio Senate Candidate Tim Ryan: Why No I Don't Think There Should Ever Be Any Limits on Abortion
|
Main
|
"True Conservative" Lincoln Project: We're All-In For "Fundraising" For Abortion-Without-Limits Tim Ryan »
May 05, 2022
"How Dare They!" Vice President Who No One Has Positioned for Success Channels Greta Thunberg
Video below.
Don't take her outrage too seriously.
What's been really outraging her lately, two leftwing "journalists" report, is... Biden's staffers not standing at attention when Her Gracelessness enters the room.
"We have a scene in the book in which she's feeling disrespected because she sees staffers in the West Wing when she walks into the room, who are not standing for her, and they always stand for President Biden when he walks into the room. And she had her chief of staff telephone somebody in the West Wing and say, 'She's noticed this. Please tell the staff. When the VP walks into the room, they are to stand.'"

Burns chimed in to suggest there was an "unmistakable context of identity for this too" since the "Biden inner circle is overwhelmingly white," "largely male," and "have largely been with Biden for a very, very long time."
The gals of The View don't care about Kamala Harris being incompetent at her actual job, but they definitely do care about women not getting all the perks and privileges they believe are due to them.
Especially if she's a WOC.
Especially if she's a Woke WOC!
She's a Wokkie!!!
"Well, protocol is protocol. So, they need to follow that," huffed co-host Sunny Hostin despite the fact it's unclear what the actual protocol is.

The solution proposed by co-host Whoopi Goldberg was to drag everyone into "a giant meeting" and lecture everyone. "Because we know that everybody has little microaggressions that they may not be aware that they're putting out there," she said.

And if they still wouldn't worship Harris, then they should be fired. "So let's have this big meeting and if I see you do it again, you're out," she declared.
Some people are asking, "Hey, wait -- what do you mean, women's rights are under attack, bigot?!?"
"Harris isn't a biologist," conservative radio host Dana Loesch also noted.

The Daily Wire commentator Matt Walsh wrote, "Kamala Harris is a despicable transphobe. Stop invalidating the lived experiences of pregnant men."

YouTuber and conservative Viva Frei provided a sarcastic critique of the vice president's speech. "Kamala Harris, in a wanton act of bigotry and misogyny, callously presupposes the gender - and definition - of 'woman'. Or worse, she deliberately denies the existence of non-woman birthing persons. She's cancelled, right? Them's the rules?"
Actually, a leftwing student newspaper, I think, actually did rake her over the coals for her transphobia, but I can't find that right now and I have to post.
And some other Wokies were still flying the freak flag for "birthing people:"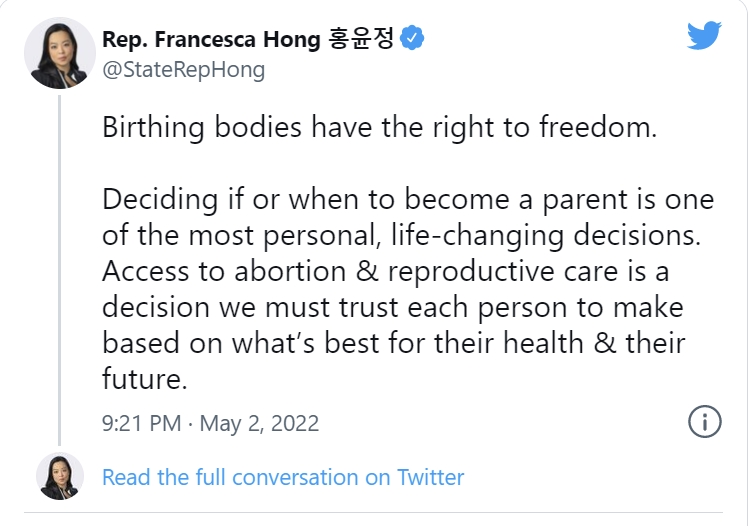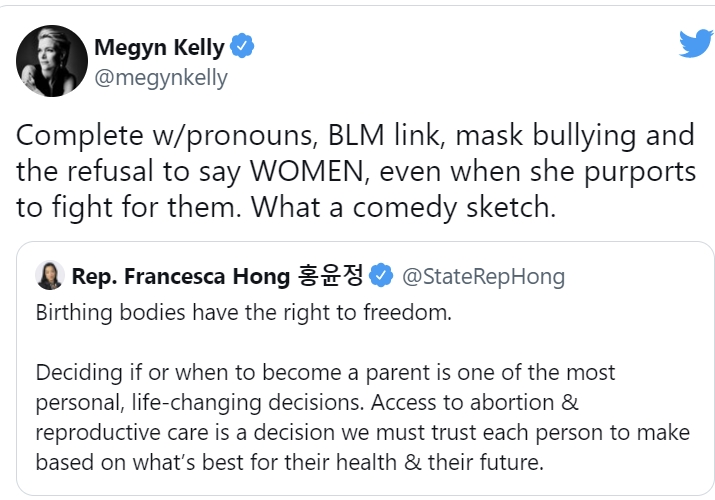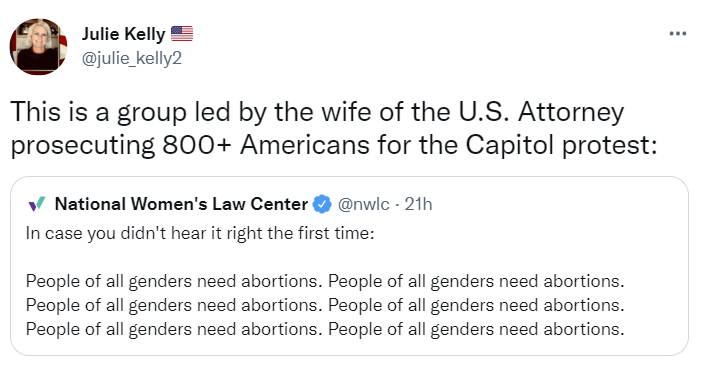 posted by Ace at
01:22 PM
|
Access Comments