« "Fictosexual" Man Marries a Hologram Bride, But Now Finds It More Difficult to "Bond" With His Fantasy Phanto-Wife
|
Main
|
Quick Hits »
April 26, 2022
Twitter's Top Lawyer -- Who Has Pushed for Ever More Censorship With the Indignant Fury of a Holy Inquisitor -- Cries In Meeting With Employees
UPDATE: MUSK CALLS HER CENSORSHIP OF THE HUNTER BIDEN LAPTOP STORY "INCREDIBLY INAPPROPRIATE"
SEE UPDATE! Elon Musk offers a preview of Gadde's fate. She should be crying. And updating her Monster.com listing.
Vijaya Gadde is the super-SJW lawyer who pushed and pushed to make it against the rules on Twitter to refer to any transgender by his correct pronouns. She pushed the claim from the transgender lobby that it is "violence" and "causes harm" to ever acknowledge their actual sex.
You can see this gender-bent ideological maniac debating Tim Pool, with her dum-dum boss Jack Dorsey (then-CEO of Twitter), on the Joe Rogan show.
Right off the back in this debate, she's defending the censorship of Dr. Sean Baker for pushing the carnivore diet. Soon thereafter, she and Jack both claim that there will be no censorship of people suggesting that vaccines are unsafe, that that's not against the rules.
Yes, that would change in a few years, huh?
Essentially, she's been pushing the line that anything the left claims "causes harm" must be censored and that the idea that all this censorship causes harm to free speech just isn't a consideration we should worry about.
So you now have the background for why I'm laughing about Vijaya Gadde crying like a Goth girl in a Cure video.

Monday was an emotional day at Twitter -- even for its executives.

Shortly after billionaire Elon Musk bought the powerful social media platform, top Twitter lawyer Vijaya Gadde called a virtual meeting with the policy and legal teams she oversees to discuss what the new ownership could mean for them.

Gadde cried during the meeting as she expressed concerns about how the company could change, according to three people familiar with the meeting. She acknowledged that there are significant uncertainties about what the company will look like under Musk's leadership.

Twitter spokesperson Trenton Kennedy said Gadde became emotional when discussing her team's impact and the pride she feels in them.

...

Gadde, who has worked at Twitter since 2011, is the key executive charged with overseeing Twitter's trust and safety, legal and public policy functions. She is seen internally as Twitter's "moral authority" and the executive tasked with handling sensitive issues like harassment and dangerous speech.

...

She has shepherded Twitter through some of its most contentious political battles, including the decisions to remove all political advertising and to boot former President Donald Trump from the platform in the wake of the Jan. 6 attack on Capitol Hill -- a position that has earned her devoted fans within Twitter, as well as a large contingent of right-wing critics.


But as news of Musk's official takeover broke, policy and legal employees fretted at the meeting about what his leadership could mean for Twitter's carefully crafted online speech rules, including its policies against hate speech, misinformation and even political advertising.


...

Gadde herself has advocated strongly for ensuring that Twitter's policies protect its most vulnerable users while protecting free expression -- a position that is at odds with Musk's.

"I'm often inspired by the vigorous debates on controversial issues that occur on Twitter, but I've also been seriously troubled by the plight of some of our users who are completely overwhelmed by those who are trying to silence healthy discourse in the name of free expression," Gadde wrote in a 2015 Washington Post op-ed. "At times, this takes the form of hateful speech in tweets directed at women or minority groups; at others, it takes the form of threats aimed to intimidate those who take a stand on issues."
This is how they end free speech: They claim that "free speech" can only really happen when they exclude the people who are arguing with women and minorities and especially trans people.
Disagreement with protected "marginalized" people is definitionally "hate speech:" if you're not affirming them, it's "hate."
When you argue with these people, they feel chilled from expressing their opinions, and do not offer them.
So you have to censor men, especially white men, and straight people.
Then the "marginalized" people can speak freely.
Then you have "free speech."
For... some people.
But they're the people who matter.
Gadde holds one of the most controversial positions at Twitter: Her teams decide how to moderate content. That's made her a target of right-wing criticism, particularly when Twitter blocked the distribution of a New York Post article about President Joe Biden's son, Hunter Biden, in 2020. She faced a renewed wave of criticism after multiple reports confirmed she was behind the decision to ban Trump from Twitter.

"No matter what we do we've been accused of bias," she told Bloomberg News in 2020. "Leaving content up, taking content down -- that's become pretty much background noise."
"I don't listen to my critics at all. It's just waah, waah, waah to me."
It's unclear so far what Musk's acquisition will mean for Twitter -- and for Gadde's future with the company.
Let me clarify it for you: The bitch is gone.
UPDATE: Elon Musk responds -- yeah, she's gone.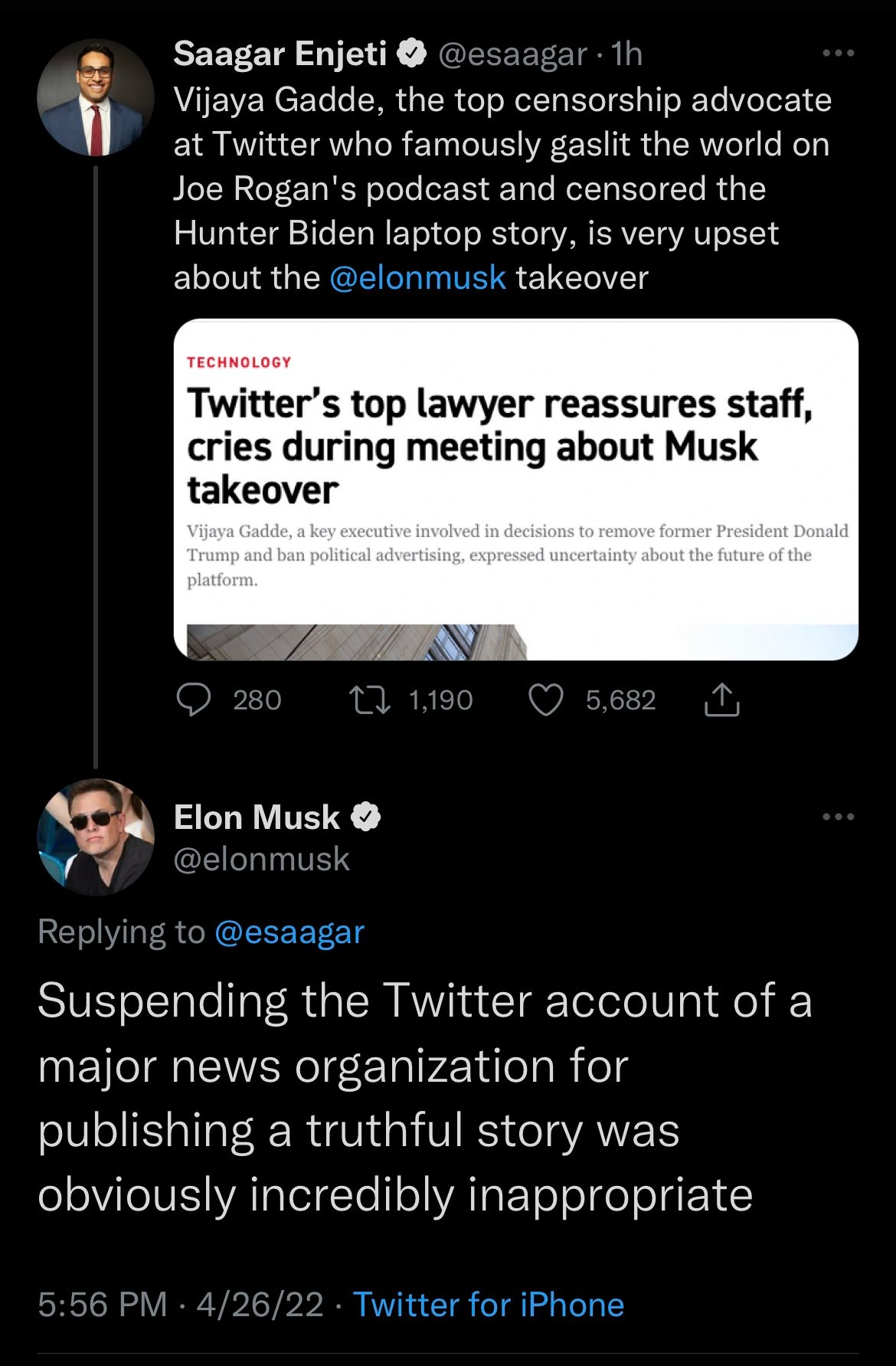 Also soon to be gone: Parag Agarwal.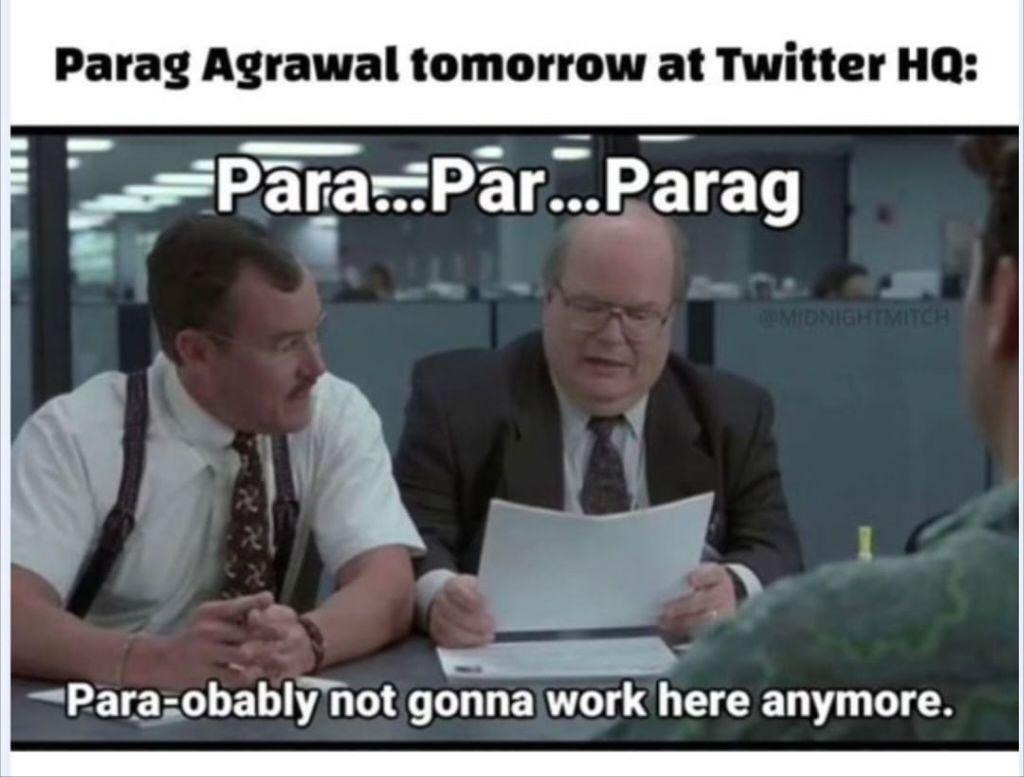 More fallout:
Suddenly billionaire Jeff Bezos is tweeting about conflicts of interests involving billionaires owning media companies!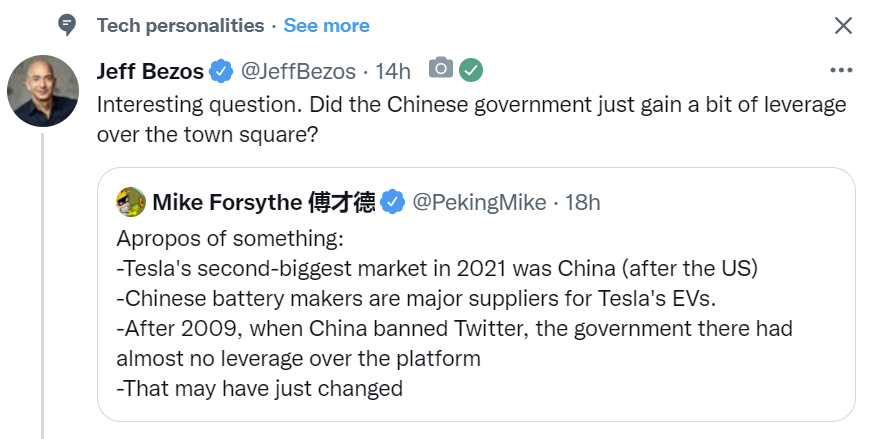 Note that the Bezos-owned Post frequently published a special "supplement" which was straight-up paid propaganda from the Chinese Communist government.
Washington Post readers were treated to an eight-page "advertising supplement" on Thursday touting the achievements and talking points of the Chinese government in a section of the paper that's off-limits to Post editors.

The special section, dubbed "ChinaWatch," came with a warning declaring, "Content in this advertising section was prepared by China Daily, and did not involve the news or opinion staff of The Washington Post."

China Daily is owned by the Communist Party of China. Regular readers of the Post have seen similar sections in the past, and countries such as Russia have published similar sections in other papers, but Thursday's version raised eyebrows as China's ruling Communist Party has been in the news for a variety of topics amid a trade war with President Trump.

...

"We have run the China Watch advertising supplement for more than 30 years. The China Watch advertising supplement has always been clearly labeled as such. Every page of each advertisement states that the supplement was prepared by China Daily and did not involve the news or opinion departments of The Washington Post. In addition, the layout and format of the supplements differs from our editorial content in a number of ways, including headline style, body font and column width," a Washington Post spokesperson told Fox News. The newspaper did not comment on how much money it received for publishing the special section.

But Bezos is worried about Chinese influence on Twitter, eh? He's taking money straight from the Chinese Communist money and won't stop taking it, but he's worried about the pernicious influence of Chinese money on a much wealthier media billionaire than him, huh?
Sounds like someone has some envy. Sounds like someone's worried they're not being talked about like they're top dog any longer.

This sad raving lunatic old woman needs to be separated from her money by a defamation lawsuit. I know Musk doesn't need the money, but this old woman needs to be taught to mind her manners: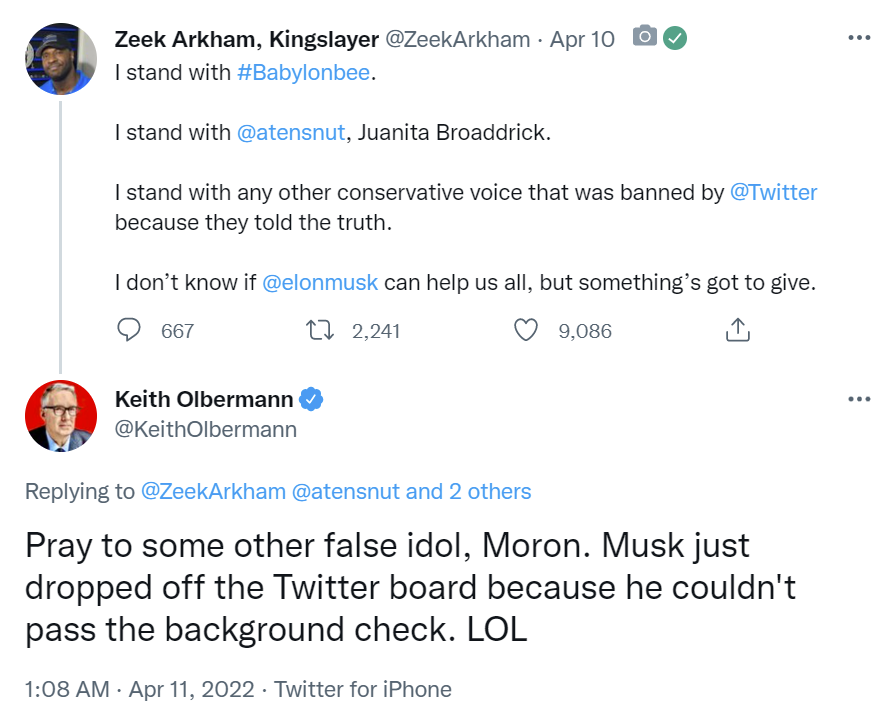 He just literally makes things up and shouts them.

posted by Ace at
05:41 PM
|
Access Comments