« Saturday Morning Coffee Break & Prayer Revival
|
Main
|
Gardening, Puttering and Adventure Thread, April 30 »
April 30, 2022
End of the month close-out on curiosities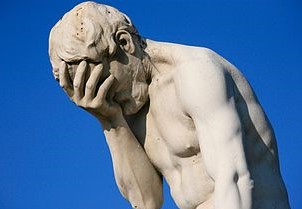 The Ministry of Truth
I love to see the New York Post running this editorial:
Insane as it is that the Department of Homeland Security has created a Disinformation Governance Board, it's utter madness that the woman running it is Nina Jankowicz, who's a veteran disinfo spreader.

She embraced and promoted the bogus Clinton-campaign-created Trump-Russia dossier. And she waged war on The Post's true and accurate reporting of Hunter Biden's laptop.

As our first laptop stories ran, The Associated Press reported: "Disinformation experts say there are multiple red flags that raise doubts about their authenticity, including questions about whether the laptop actually belongs to Hunter Biden, said Nina Jankowicz."

She also told the AP: "We should view it as a Trump campaign product." . .
Look: She's a career left-wing partisan, from her days working at the National Democratic Institute to her Fulbright-Clinton fellowship to her gig at the left-leaning Wilson Center where she routinely did media hits with NPR, CNN, PBS and so on while placing New York Times and Washington Post opeds. Hiring her for this job just shows how detached from reality and broad American society the entire Biden team has become.

Plus, why does the administration even need another disinformation czar when it already has Jen Psaki?
Go get 'em, New York Post! You deserve it.
I liked the reference to the Wilson Center. Wilson was not exactly a model for civil rights or the free flow of information. They quote John Adams, not Wilson, on their home page. Heh.
In their "programs" they have a podcast on conflict resolution and peacebuilding in Ukraine and the Western Hemisphere. I thought that was unusual. I haven't listened to it.
The New York Post also touched on the possibility that the chief attorney for Twitter, the one who probably banned the New York Post, might lose her 17 million dollar a year job. That would be a shame.
Europe
Just a couple of links:
VDH: Is Ukraine our Spanish Civil War? And also, Remembering Orwell's Bad Republicans.
What a mess. Wonder if that Wilson Center podcast in the previous segment has any insights into preventing something similar?
Electric buses are randomly exploding in Paris.
Dramatic. Green Energy!
Elon Musk Buys Twitter
Okay, before we get into Elon Musk, how about that Adam Schiff?
The Federalist Editor-in-Chief Mollie Hemingway let Congressman Adam Schiff (D-CA) have it after Elon Musk's Twitter deal prompted him to question whether the billionaire entrepreneur would do enough to stymie the spread of "disinformation."
Others piled on.
"Adam Schiff worrying about disinformation is like Godzilla worrying about Tokyo's skyline," Eddie Zipperer joked.
Ain't THAT the truth!
And this is a bit concerning: "Antiracist" advisor to the United States military: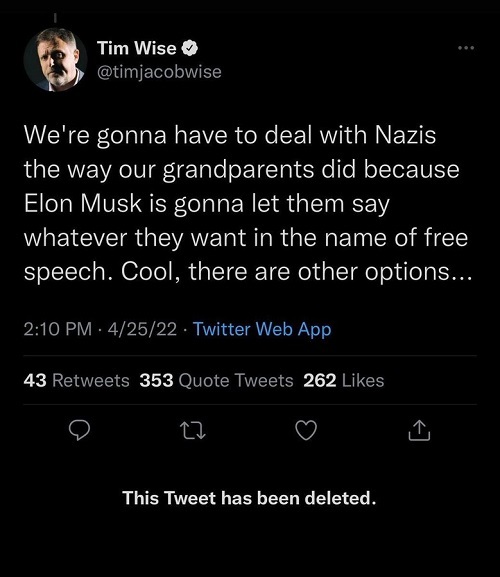 Dr._No prepared a little reminder for us:
I liked Buck Throckmorton's discussion this week of oligarchs in connection with the Musk buyout of Twitter. Here with some additional sober thoughts, lefty Bret Weinstein wrote a thread on left vs. right and the reaction to the takeover of Twitter. It's interesting:
There is something wildly distorted about our discourse at the moment, but it is almost impossible to be even handed in describing it because the distortion is so one-sided. To be balanced would be to be wildly unfair to one side. And it isn't my native side. I'm a lefty.
Team Blue has an incredible weapon stretching from the Whitehouse to Facebook, running through Homeland Security, the CDC and every single university in the country. But SURPRISE, @elonmusk just took over the trigger of the weapon. Of course the end is neigh! Why wouldn't it be?

The hard part is for team blue to explain why it is freaking out as if the end coming when the only end that is really coming is the end of its monopoly on discourse in a country where no one is supposed to have one.

Pay attention to who's freaking out. They're confessing.
Bret also linked this kinda quirky, too-good-to-miss piece by Mike Solana on Pirate Wires:
Welcome to the Clown World. Boy, do we have ground to cover.

The social internet is always a Dali painting -- surreal and horrifying and beautiful. . .

But even by the gutter standards we've come to accept from media, this has been a month for the books.
In straight reporting, from Axios to The New York Times, the "unfettered" freedom to speak is now characterized as a radical position. In the pages of The Washington Post, there was a call for direct government intervention in our speech platforms. Just a crazy op-ed? I would have thought perhaps, prayed, and called it a night. But then President Obama entered the fray.

Last week, the former president flew to Stanford and delivered an hour-long speech on the dangers of social media. While not entirely horrible, the highlight was this: After referring to himself as something very close to a free speech "absolutist," the term we now use for people who simply believe in regular free speech, Obama openly toyed with the concept of government intervention on our speech platforms. The rules he would consider were left vague, but included anything that "helped democracy," the rule of law, and recognized the rights, freedoms, and dignity of all citizens. Of course, to achieve goals like this, almost any draconian censorship can be justified.
Obama's tactics here are of a kind we've seen from media and government for the last five years. No laws were plainly proposed, because no law concerning the regulation of speech can be easily enacted -- it's that pesky Constitution, you see. Obama's goal was to bully tech workers into doing censorship on our government's behalf, which is why his chosen audience was the next generation of Google engineers rather than Congress. Until recently, the legal loophole for would-be censors in government was simply asking, or threatening, a bunch of billionaires in tech to do it on your behalf. Today, at least one billionaire stands apart.

So, is the world about to end? I think it probably won't.

First and foremost, what we're about to get is drama. I mean all-caps DRAMA. From media to government, there are going to be takes like you have never seen. . .
In terms of strategic particulars, it's unclear what Elon will do. The man is good, but let's be real: He's chaotic good. . .

All of our trend lines have drifted toward authoritarianism, not just domestically or internationally at this moment, but historically. Freedom is an incredible aberration, and while it is a right, it doesn't come without a fight.

So thank you, Elon. If you screw this up we're probably doomed. No pressure.
* * * * *
Funnies
Steven Hayward's Week in Pictures, Kleptocracy Edition
* * * * *
Music
Take me away: Ravel: Miroirs III. Une Barque sur L'Ocean

Hope you have something nice planned for this weekend.
This is the Thread before the Gardening Thread.
Serving your mid-day open thread needs
* * * * *
Last week's Thread: Racist Math and English, except in Florida
Comments are closed so you won't ban yourself by trying to comment on a week-old thread. But don't try it anyway.

posted by K.T. at
11:13 AM
|
Access Comments