« Daily Tech News 22 April 2022
|
Main
|
Mid-Morning Art Thread »
April 22, 2022
The Morning Report - 4/22/22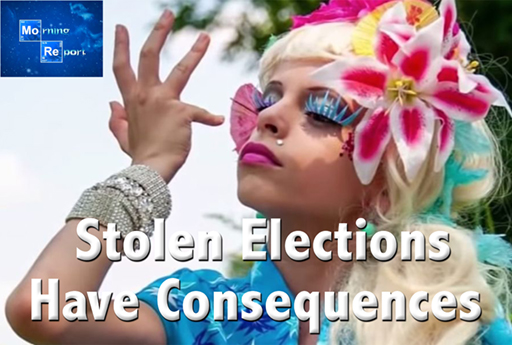 Good morning, kids. The weekend is here and with everything going on, I'd like to remind everyone how we got here in the first place; a seriously compromised election brought about by the evisceration of whatever fig leaf of voter integrity there might have been prior to the "two weeks to flatten the curve" that was aided and abetted by individuals and institutions allegedly on our side.
Before going any further, let me state for the record that no matter how much I appreciate what he did for this country, Donald Trump himself bears a good portion of the blame by going along with the psy-op that used the Chinese COVID as cover, which allowed all of the aforementioned to occur. Whether he seeks a third term or not, the magnitude of stealing a national election - the greatest crime in our history - must not and cannot be allowed to be swept under the rug. Yet, from a practical political perspective, running on that and that alone is probably not the best idea, and God bless PDT he seems to be doing just that and in his own sledgehammer style that, for sure in this instance, tends to put the focus more on his personality than the facts.
But that said, in the wake of the complete hack hit-job "interview" with Pierced Organ, he of the Limey overbite, some very crucial revelations only serve to bolster what Trump said and what we all saw happen with our own eyes on Election Night 2020.


The complaint alleges that "Fulton County's Advance Voting poll closing tapes are a fraudulent, un-certified, unsigned, and un-checked false representation of over 311,000 ballots that no court could legally accept."

Joe Biden's state-certified margin of victory in the state was only 11,779 votes.

This comes on the heels of a recent report from Just the News indicating that at least 36 memory cards had to be prematurely removed from Dominion Voting System tabulation machines, "raising new concerns about chain of custody and belatedly discovered memory cards."

The new complaint accuses Fulton County of violating state law "regarding the closing of ballot scanner polls and tampering with ballot scanners," as seals had broken and flashcards were removed at the end of early voting on Oct. 30, 2020. . .

. . . According to independent investigative journalist Kevin Moncla, Fulton County "removed the flashcards from 109 tabulators and closed them out on different machines, and it leaves them wide open — unsecure and open to manipulation."

"If those flashcards were put into another machine, then we would never know it," he added. "They could have scanned — added additional votes, and we would have no idea."
You will recall that around 9:00PM Eastern, Trump was in the lead in Georgia by a seemingly insurmountable 356,945. Ditto in five other states with similar margins. Yet, by daybreak, Joe Biden was in the lead in Georgia by 11,779 votes. Beyond what the article states, recall that in Atlanta as well as Detroit, Milwaukee and elsewhere, the vote count was stopped and GOP observers forcibly ejected as the windows and doors to the counting centers were sealed.
Not a smidgen of corruption! And that's just Georgia. Recounts and audits have been attempted in fits and starts in Wisconsin, Arizona and Pennsylvania where enough proof, despite both Democrat and RINO stonewalling either hint at or show similar findings. 81 million votes, my ass. Look, they stole it. They know they stole it and we know they stole it. But let's face some facts: Biden has been installed and there is no force on this earth that is going to remove him and put Donald Trump back in the Oval Office. What's done is done. But as I stated earlier, and the other day, it cannot be allowed to either be swept under the rug or worse, turned on its ear as a conspiracy theory with which to both ridicule us the aggrieved and worse, use as a legal precedent to have us banished from the public discourse, fired from our jobs and even imprisoned.
Right now, there are scores of Americans no different than you or I who are still languishing in prison for, at worst, trespassing. Hell, they didn't even trespass since it has been proven that the Capitol Police actually unlocked the doors and allowed people into the building where they did no more than gawk at the drapery and statuary. And yet, what is provably nothing less than Malig-Nancy Pelosi's personal goon squad murdered two unarmed women, Ashli Babbitt and Roseanne Boyland, in cold blood while dozens of paid agents and informants of the FBI egged on the crowd to become violent, (See: Ray Epps) or engaged in vandalism themselves. See: BLM thug John Sullivan.
The estimable Julie Kelly nails it, yet again.
Ravi Satkalmi, a former high-ranking NYPD official, took over the Capitol Police's expanding intelligence unit this month. But his agency suffered a major humiliation Wednesday night after it forced the evacuation of the Capitol and surrounding buildings after spotting "an aircraft that poses a probable threat." Staff scrambled to exit the buildings in a panic, and news outlets interrupted coverage with "breaking news" bulletins about the suspicious aircraft.

Roughly 15 minutes later, Capitol police backtracked and announced there was no threat; the aircraft, it turned out, was a U.S. Army plane preparing to perform a parachute stunt at the Washington Nationals baseball game. After issuing an "all clear" notice, a USCP senior security official told Fox News, "This is not supposed to happen. It looks bad."

While the gaffe was heavily mocked on social media, the Capitol Police's most ardent defender came to the rescue. House Speaker Nancy Pelosi (D-Calif.) quickly released a statement commending Capitol Police's "heroism" and "exemplary service."

Blaming the Federal Aviation Administration for allegedly failing to notify Capitol Police about the event, Pelosi promised to investigate what happened. "The unnecessary panic caused by this apparent negligence [by the FAA] was particularly harmful for Members, staff, and institutional workers still grappling with the trauma of the attack on their workplace on January 6th," she said in a written statement.

Pelosi and her Democratic colleagues—who in 2020 readily took a knee in the Capitol building to honor George Floyd—have found the one police department they not only routinely describe as "heroic" but deserving of billions of new dollars courtesy of American taxpayers: the U.S. Capitol Police.

Since January 6, 2021, congressional Democrats have lavished the federal law enforcement agency with praise, medals of honor, and loads of cash to fund everything from more officers to a "Wellness and Trauma" program to help officers cope with the aftermath of the four-hour disturbance that resulted in the death of four Trump supporters.

Over the past 15 months, however, the department has morphed into Pelosi's own little Secret Service. While purporting to defend "Congress, the U.S. Capitol, and our democracy," Capitol cops act more as a narrative enforcer for Democrats, particularly as it relates to the events of January 6. . .

. . .As it perpetuates the Democrats' narrative about January 6, Capitol Police are also doing Pelosi's political dirty work. A Politico report earlier this year revealed the department's extensive "intelligence" gathering operation targeting Republican lawmakers, staff members, donors, and constituents. Capitol Police spies . . . er, investigators scoured social media accounts and conducted background checks on associates of congressional Republicans. "For example, the unit scrutinized a meeting that Sen. Rick Scott (R-Fla.) held with donors in a private home," Molly Woodruff Swan and Daniel Lippman reported in January. "Analysts eyed the homeowner's and attendees' social media accounts and looked for any foreign contacts they had" . . .

. . . . Clearly, this agency cannot be trusted; like the FBI, the Capitol Police is a corrupt enforcement arm of the Democratic Party. And now, it plans to take its partisan show on the road by opening offices in other states, including California and Florida.

Congress should not have a police force unaccountable to the public. Capitol Police, rather than perform its duties, have instead demonstrated allegiance to congressional Democrats at the risk of public safety.

Defund—and disband—the U.S. Capitol Police.
Preach it, sister. It should be noted that the aim of this kangaroo court J6 Commission is not only out to nail Trump but abuse the law by sliming any public figures who attended the Stop the Steal Rally - over a half a mile away from the Capitol building where the "riot" was happening - as an insurrectionist, and thereby prevent them from running for office. God forbid you're a private citizen since the junta is encouraging friends and family to rat you out, ostensibly to "preserve our precious democracy" (*vomit*).
Just as a reminder, those of us who are insisting that fighting the sexual abuse and ultimate sexual enslavement of our children to the all powerful State as well as the indoctrination via Jive Kampf crackpot racialist theory is the absolute hill to die on and a political super-weapon to defeat the Left - and it is - this same corrupt DOJ and FBI at the behest of the junta that stole the election is targeting us for daring to confront the indoctrinators and sexual deviants mutilating our children.
Meanwhile, in another part of the forest, here are a couple of items that while wholly unsurprising nevertheless raise the blood pressure to dangerous levels.


New York Times reporters Alexander Burns and Jonathan Martin offered a recording on Tuesday's broadcast of MSNBC's "The Rachel Maddow Show," allegedly of House Minority Leader Kevin McCarthy (R-CA) telling Rep. Liz Cheney (R-WY) that he would recommend to then-President Donald Trump that he should resign.

Earlier today, a spokesman denied the report that McCarthy called for Trump's resignation from the upcoming book, This Will Not Pass: Trump, Biden, and the Battle for America's Future, authored by Burns and Martin.
So, okay, there's a whole mess of agitprop organs and pimps in that pull quote that should be taken with grain of salt the size of Jupiter. But given what we know of the subjects involved, and of course past experience, their denials ring hollow. Especially since the two of them are on tape.
Worse still is your favorite Chinless Chao-hound Mitch McConnell:


Following the [January 6] incident, McConnell was grateful to Democrats for taking action against his long-time political opponent, the New York Times reported. After it become certain that House Democrats would use January 6 as a potent political cudgel against conservatives, McConnell agreed with Democrats that Trump should be impeached.

"The Democrats are going to take care of the son of a bitch for us," McConnell purportedly said. "If this isn't impeachable, I don't know what is."
Q-E-fucking-D.
So, okay, I totally get it. Going on about "we wuz robbed!" isn't going to accomplish jack. But we were robbed -- after being kicked in the groin by the Deep State and then stabbed in the back by the GOP and the so-called "conservative" punditry.
Maybe a political ad with the image of someone's little kid in drag with the accompanying headline Stolen Elections Have Consequences is worth a try.
Meh, what the hell do I know? Have a good weekend.
The End of America: 100 Days That Shook the World available here.


ABOVE THE FOLD, BREAKING, NOTEWORTHY
NOTE: The opinions expressed in the links may or may not reflect my own. I include them because of their relevance to the discussion of a particular issue.
ALSO: The Morning Report is cross-posted at CutJibNewsletter.com if you want to continue the conversation all day.
Follow us on Twitter: @CutJibNews
Follow us on Instagram: @Cutjibnewsletter

posted by J.J. Sefton at
07:27 AM
|
Access Comments