« Daily Tech News 19 April 2022
|
Main
|
Mid-Morning Art Thread »
April 19, 2022
The Morning Report - 4/19/22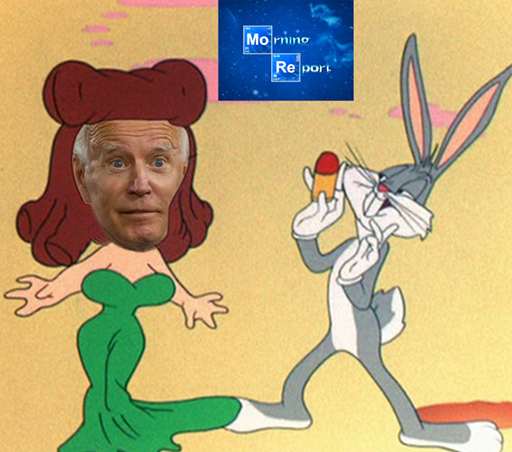 Good morning, kids. Tuesday and the good news is that a federal judge in Florida, and a Trump appointee to boot, threw out the junta's mask mandate for airline travel. On the other side of the ledger, SCOTUS ruled against an Air Force colonel who objected to getting the injection over religious reasons. While Cheap Justice Roberts naturally ruled with the other Maoist hacks-in-black, Trump appointees Brett Kavanaugh and Amy Coney Barrett joined them. What an infuriating farce this whole thing is. It does illustrate two separate issues, aside from the efficacy of masks and vaccinations, the latter being less and less effective as time goes on (and provably poisonous in more instances than our overlords want us to know) and the former about as effective a prophylaxis as chainlink fences are in shielding one from fleas.
First, even when government is prevented from inflicting its edicts on the citizenry by the courts does it carry over to the private sector? As small business is either wiped out or absorbed into larger and larger corporations, whose c-suites are more and more in line with the globalist agenda, they become de facto enactors and enforcers of policies that either are (or at least were not too long ago) politically toxic or judicially dubious. As a case in point, I noticed a job posting for a freelance gig that was completely remote yet the employer required any hire to be vaccinated. Aside from the obvious lunacy, what gives them that right? If mandates are no longer required in restaurants, theaters and museums in NYC for example, why are they still enforceable in the workplace? These are all rhetorical questions, of course. It's completely illogical and capricious.
The second issue this brings up is the nature of the Judiciary itself. The Founders never intended for a nine-person panel (assuming it remains unpacked) to act as the ultimate Oracle of Delphi to make irreversible decisions that affect every man, woman and child in the nation for all time. And yet, that is exactly what happens every June as their decrees are handed down. 99% of the time, they all go in one direction: Left. The other one percent of the time they go Hard Left. Even with originalists or strict constructionists on the court, somehow the Constitution remains a "living and breathing" document. Ironic since those who regard it as such and those who have put them on the bench have dedicated themselves to that document's death.
You have to wonder about those who look at Roe v. Wade as absolutely inviolable would feel the same way about Plessy v. Ferguson, Korematsu or even Dred Scott. If, God-willing, Roe is struck down, aside from the insane reaction from the Ba'al worshippers, do you think that Leftist attorneys general will prosecute abortionists in their jurisdiction?


In anticipation of a possible U.S. Supreme Court reversal of Roe v. Wade Michigan governor Gretchen Whitmer and the state's radical attorney general, Democrat Dana Nessel, have launched a pre-emptive two-pronged attack on the existing state law that criminalizes most abortions.  Last Thursday, Whitmer filed a lawsuit demanding judicial recognition of abortion as a protected right under the Michigan constitution.

The same day, Planned Parenthood filed a lawsuit to block enforcement of the 1931 law, naming Nessel, in her capacity as attorney general, as a defendant.  In transparent coordination with Whitmer and Planned Parenthood, Nessel, the same day, announced in an "impromptu" press conference her refusal to defend against Planned Parenthood's lawsuit.  In a move described as "highly unusual," she also said "she will not even set up a conflict wall in her office to defend the case, not unless or until she is ordered by a court."

Highly unusual, but not for Dana Nessel, who navigates the intricacies of the law the way a power mower navigates a field of daisies.  Her long, loud advocacy for unrestricted legal abortion, which includes her campaign promise not to prosecute abortionists under the 1931 law if Roe is overturned, means she's got a glaring conflict of interest . . .

. . . This tag-team approach, an example of collusive litigation, has become a Democrat specialty.  You see it when activists file a "friendly lawsuit" against a state (or the federal government) with a Democrat attorney general, who then either settles in the activists' favor or refuses to defend the lawsuit, handing the activists what they want by default.

We saw this tactic when Democrats changed voting rules in North Carolina in 2020 to tip the election.  The extralegal changes, first imposed on the pretext of a [Chinese] COVID emergency, were made permanent by "a legal settlement agreement entered into by Democrat N.C. Attorney General Josh Stein and the majority-Democrat State Board of Elections with plaintiffs represented by well-known Democrat lawyer Marc Elias" — a virtual "'one-party deal that circumvented the legislature'" . . .

. . . Nessel is claiming that her refusal to defend the Michigan abortion law, or prosecute anyone who violates it, lies within her "prosecutorial discretion as to whether to file charges against someone."  We've seen similar claims from "Trojan horse prosecutors" who won state and local elections thanks to millions poured into their campaigns by [Nazi collaborator and convicted felon] George Soros.

But these claims about prosecutorial discretion are bunk.  Last summer, Senator Tom Cotton wrote that refusing to charge criminals for entire categories of crimes "transform[s] prosecutorial discretion into prosecutorial nullification."  The power "to emphasize or deemphasize the importance and severity of certain criminal prosecutions" doesn't give them the power of "unilateral fiat to abolish laws they don't like.  The legislative branch is solely empowered to repeal laws, not prosecutors" . . .

. . .But power-drunk officeholders like Whitmer and Nessel, if they're allowed to get away with it, will impose their own policy preferences on the entire state, consulting nothing more than their own partisan agenda.
Note the section I emphasized above. This was the same sort of tactic Obama and Holder used to finance their political hit squads. Use the DOJ to go after political enemies like oil companies, pharmaceuticals, banks, what-have-you for alleged discriminatory practices, irrespective of whether these companies engaged in them or not. Of course, they did; it has to be racism! Exxon may be worth billions but Uncle Sugar and his consigliere are worth TRILLIONS. And just like that, Johnny Fontaine's boss signs the deal cutting him loose. But instead of him getting a check, Obama and Holder get it. And they pass it on to BLM, Antifa, Color of Change, the NAACP etc. etc., and at the same time all manner of radicals, deviants, incompetents, freaks and geeks get a seat in the C-suite. It's essentially the same racket that Jesse Jackson and Al Sharpton perfected and got filthy rich off of. While that was penny ante stuff in comparison, it was horribly damaging to society.
These days of course, with non-stop Marxist indoctrination from pre-K through post-grad, the racket might actually become a thing of the past. And thus, we come full Psaki-Psircle back to my original point of the so-called private sector becoming not just the enforcers of Leftist policies that heretofore had a snowball's chance in Hell of passing in Congress or even the bureaucracy or by executive order, but the actual government itself.
When you look at the words and deeds of individuals like the aforementioned Nazi collaborator Soros, Klaus Schwab of the WEF and Blackrock's Larry Fink to name the biggest of the big three (and there are many more of course), then much of what I'm talking about comes into sharper focus. Seen in that light, much if not all of what's going on in the world today looks quite different from what we're being led to believe. It does not in any way, shape or form excuse the actions of bad actors, but it does help to explain who's zoomin' who.
The End of America: 100 Days That Shook the World available here.


ABOVE THE FOLD, BREAKING, NOTEWORTHY
Richard Fernandez: "If anything is to blame for the sad state of the world with its energy shortages, looming famines, public health theater, inflation, and war, it is Bad Luck."
Prisoners of Our Own Device

Julie Kelly: "In its myopic mission to punish political dissidents, the Justice Department and D.C courts are destroying the basic tenets of American jurisprudence and liberty."
Mom of J6 Political Prisoner: "We Are Half Alive"
NOTE: The opinions expressed in the links may or may not reflect my own. I include them because of their relevance to the discussion of a particular issue.
ALSO: The Morning Report is cross-posted at CutJibNewsletter.com if you want to continue the conversation all day.
Follow us on Twitter: @CutJibNews
Follow us on Instagram: @Cutjibnewsletter

posted by J.J. Sefton at
08:27 AM
|
Access Comments