« Dig Dog Cafe
|
Main
|
Daily Tech News 15 April 2022 »
April 14, 2022
Of All Sad Words The Tongue May See, The Saddest Are These: "ONT"
It's Thursday, my dudes. What better time to look at a picture of an owl after a rainstorm?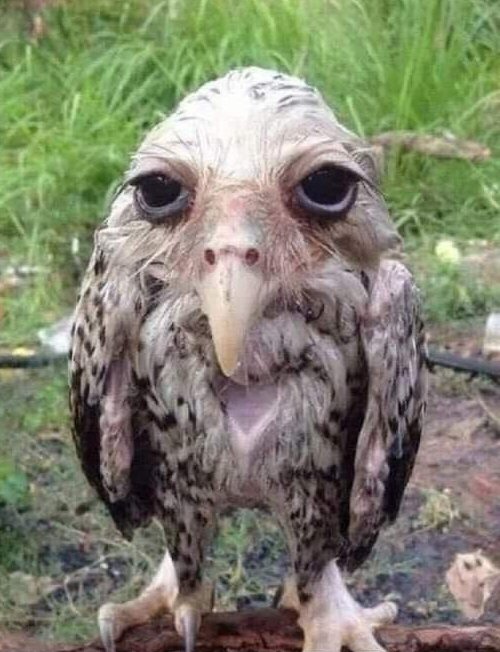 Cool, If True

I want one.

Witch Hunt
We have here a failure of both journalism and academia. They have abandoned their vaunted skepticism—the role for which society depends on them the most—in favor of blinkered tunnel vision with both hands over their ears. The Boston Globe's hyperventilated reporting erroneously describes Sabatini's ex as a "graduate student," so vulnerable that they won't even print her name or age. But in reality, she is a woman in her thirties, a fully credentialed PhD, who filed a public lawsuit, represented by a former US District Court judge.  The Globe thus infantilizes its subject while taking its readers for fools.

But for the accused, the process is the punishment, and it doesn't take compelling proof of guilt to lose everything. For months, Dr. Sabatini has been cut off from his lab and his life's work. Worse, he has been irreversibly stigmatized by mere accusations. In the current fever swamp that is our discourse, will any other institution have the integrity to look at the facts with a level head and give Sabatini a chance to continue his life-saving research?

Now, I don't know anything about the situation at MIT, don't really care, but it does bring up an interesting point, and the topic of today's question.
The US has always been an aspirational nation, and nowhere more so than it its attempt to live up to the ideals that it was founded upon. No one can plausibly argue that a nation that practiced slavery when it was founded was living up to the ideal "all men are created equal", but in the 200+ years since then it has worked toward that goal, through a Civil War, Jim Crow, the Civil Rights movement, etc. I would argue that it achieved that goal by the 1980s. You could make a similar argument about the treatment of women, both under the law and in society. The funny thing is, having achieved the goal, we haven't stopped. We got to equality and said "Fuck that, lets keep going back into inequality, only it'll be pointed the other way!" So today's question is, how do we roll things back – just a little, to actual equality (I certainly don't want to roll back to Jim Crow days or earlier) – and then stop there. Is it even possible, or is the best we can hope for a wildly swinging pendulum, back and forth, for ever and ever?

Stupid Article Of The Day

Pay Me More or I Quit: Workers Play Risky Game With Their Bosses

I just don't understand the tone of the whole article. Worker has job A, gets offer for job B, which pays more. Worker then either A)asks current employer to match the offer and stays or B)takes job B. Why is this controversial in any way? I mean, that's the way things work. Who thinks it isn't?

The Truth Will Out
California Bill Openly Admits Abortion Was Always About Killing Babies
It's not Just California, it's Maryland too. And Colorado. The latest tactic of the pro-infanticide crowd is using the term "perinatal", which means the times after birth (up to two months in some cases) in their infanticide bills, making actions like those of Gosnell not just encouraged, but protected. These people are beyond sick.

Magic Minute

If you want to know how the slight of hand is done, watch this bit by Penn & Teller using clear cups. In any event, it's not about how, I know how. Hell, I know HOW to hit a 90 mph fast ball. Doesn't mean I could do it. It's about how well he pulls it off.
Sexual Misconduct

I Asked My Husband for an Open Marriage. Now He's Being Completely Unreasonable.
It's not quite as bad as expected from the title, the woman saved herself for marriage and has never really enjoyed sex with her husband and wants to experiment with other people to find out what she likes. And husband didn't do any favors by flip flopping on yes/no to the question, but the "advice" columnist seems aghast that any husband could expect monogamy. How dare he not let her run around like a dog in heat! What's lacking from the whole thing is the suggestion that she experiment with her husband. I mean, they're married, they can do whatever they want, and it seems to me that would be the place to discover her kinks.

'Teacher of the Year' Randi Chaverria allegedly gave student oral sex in classroom
Run of the mill teacher molesting a student story, but I saw the headline and couldn't help but wonder "Hmm, I wonder if it was her students that voted her TOTY".
History Minute
The son of a French nobleman, he was recruited into the war by Ben Franklin, and became one of the Colonial Army's best engineers. Who was he?
Answer: Louis le Bègue Duportail (Highlight)

It's A Mystery
Why the experts keep getting it wrong
Short answer: Bias and groupthink.
Tonight's ONT has been brought to you by shootouts:

posted by WeirdDave at
10:52 PM
|
Access Comments