« Subway Shooter Is Black Nationalist Who Repeats the Racial Poison Routine In the Leftwing Media
|
Main
|
Matt Yglesias' Substack: Republicans May Have 60 Senate Seats After 2024 »
April 13, 2022
20-Year-Old Man Rushed to Hospital With "Crunched" Lung Due to Masturbating Too Hard
Note that the NY Post files this under the "LIVING" vertical.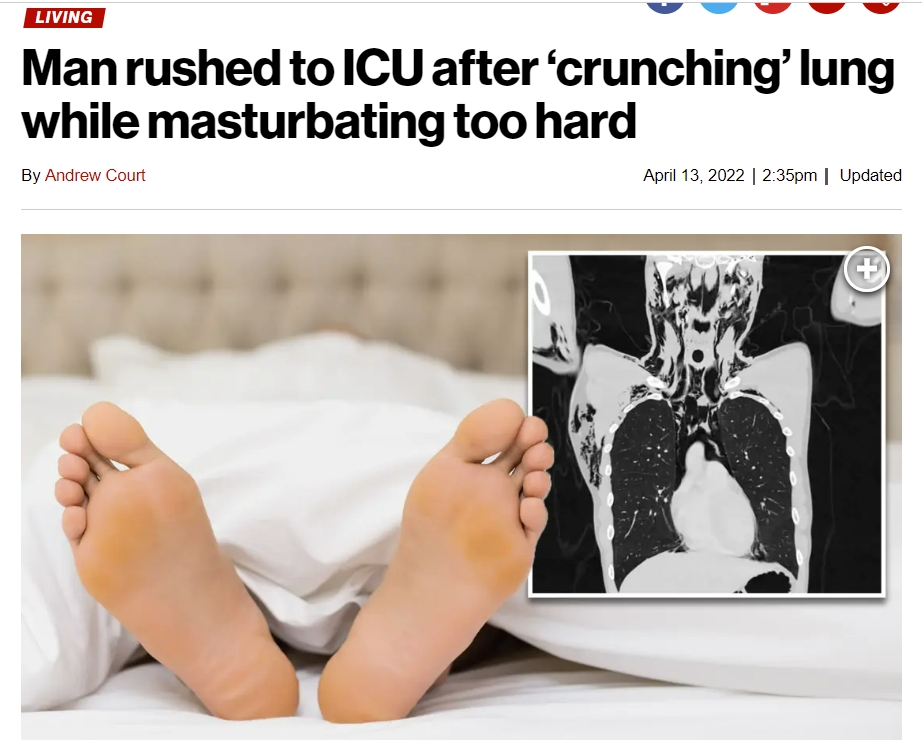 This is not the happy ending for which he was groping.

A 20-year-old man survived after being admitted to an intensive care unit with an excruciating lung injury brought on by overly aggressive masturbation, according to a new study in the May issue of the journal Radiology Case Reports.
I had Overly Aggressive Masturbation's red vinyl Japanese import EP from Stiff Records.
The self-loving Swiss citizen recently rushed himself to Cantonal Hospital, in the city of Winterthur, after experiencing "crunching" pain and a shortness of breath amid his solo stroking session.

Subsequent X-rays revealed the man was suffering from spontaneous pneumomediastinum -- a painful but typically "benign disease" whereby air leaks from the lung and becomes lodged in the rib cage, the Journal of Thoracic Disease reported.
Is that what that is? I thought it was an invisible leprechaun whistling appreciatively at my Cuban Dick-Press variation.
Science Direct described the autoerotic emergency as "a rare condition that usually affects young men in their twenties." Researchers added that smokers are at an increased risk of SPM, which can be brought on by violent coughing, excessive vomiting or strenuous physical exercise.
I only smoke after masturbation, if there was too much friction.
...

According to Science Direct, the pleasure seeking patient is the first to suffer an SPM after masturbating.
No, he's just the first Glory Hound to run off to the hospital to get credit for it.
No but seriously, he has set the bar the rest of us will have to struggle huffily to clear.
A Brazilian man had to undergo emergency after reportedly shoving a dumbbell up his butt during an ill-advised attempt at self-gratification.
GAINZZZ.
...

So far in 2022, a 54-year-old Brazilian man was admitted to the hospital after shoving a 4.4-pound metal dumbbell up his anus in the pursuit of pleasure, and a 37-year-old self-proclaimed "virgin" from Indonesia got a 6-foot-long string stuck in his penis during a botched sex game.
The weird thing is, the botched sex game was just Parcheesi. I don't know how that even works.

posted by Ace at
04:34 PM
|
Access Comments